Pay
Pay rates for make-up artists vary depending on their ability, how often they work, and what type of work they do.
Source: careers.govt.nz research, Media Makeup, 2019; and Screen Industry Guild, 2019.
Job opportunities
Chances of getting a job as a make-up artist are good due to a shortage of workers.
Pay
Pay for make-up artists varies depending on skills, experience and where they work.
Pay for make-up artists in salons and stores
Make-up artists in salons and stores usually earn minimum wage, and often work part time.
Make-up artists working as team leaders or managers can earn up to $30 an hour.
They may receive bonuses, commissions and staff discounts.
Pay for make-up artists in television
Assistant make-up artists in television – usually freelancers – earn from $25 an hour.
Make-up team leaders – usually employees – earn from $30 an hour.
Pay for make-up artists at New Zealand film production companies
Make-up artists in film earn from $250 per half day, or $500 per day.
Make-up designers – who create the overall make-up look for a production – earn from $350 per half day, or $650 per day.
They receive time and a half over 10 hours, and double time after 12 hours, and may charge kit fees. 
Pay for freelance make-up artists
Freelance make-up artists' income depends on how often they work, and the success of their business.
Recently qualified freelance make-up artists with some work experience usually start on $50 an hour.
Experienced freelance make-up artists usually earn $70 to $130 an hour.
Senior freelance make-up artists who also style hair can earn $150 an hour or more.
They may also charge for travel and food.
Source: careers.govt.nz research, 2019; Media Makeup; and Screen Industry Guild, 'New Zealand Crew Rates', 2018.
(This information is a guide only. Find out more about the sources of our pay information)
What you will do
Make-up artists may do some or all of the following:
consult with clients about the look they want
read scripts and research the background to historic film or television productions
write make-up sheets explaining what make-up look should be applied
put make-up on clients and style their hair for special occasions and performances
clean and sanitise their brushes and equipment
make facial and body moulds (prosthetics) for actors to wear
sell cosmetics
create social media make-up demos, or give make-up lessons in person.
We have to sterilise our brushes, and I shampoo and condition them. I don't want to pass on a cold sore or eye infection.

---

Te Warena

Hair, Make-up and Special Effects Artist
Skills and knowledge
Make-up artists need to have:
knowledge of different types of skin and hair, and how to work with them
knowledge of hygiene and how to avoid spreading infections
an understanding of make-up, the latest styles and colours, and how to apply them
basic hairstyling skills 
an understanding of camera and lighting techniques
research skills, so they can make sure they use the correct make-up style for actors' needs
sales skills.
Make-up artists who are self-employed also need business, marketing and social media skills.
Working conditions
Make-up artists:
may work long or irregular hours, including early mornings, weekends and evenings if they are working in television or film, or normal retail hours if they work in a store
work in hair and beauty salons, stores, clients' homes, dressing rooms, film studios and on location
may work in stressful conditions with short deadlines, or outdoors in all weather conditions
may travel locally, nationally or internationally.
What's the job really like?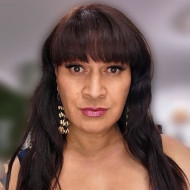 Te Warena
Hair, Make-up and Special Effects Artist
A dream that came true
Te Warena got into make-up at an early age, and has worked on major films and travelled the world with her career.
"Nana bought me a paint set when I was six, and I put the paint on my face. I knew I was going to do make-up – my dream was to win awards, to see what I could achieve."
Te Warena's now won many awards, and her favourite is a local one. "I'm proudest of my Absolutely Positively Wellingtonian award, and it's the only one I display."
The reality of film work  
Te Warena says make-up artists working in film have to be available all day, and film days are long.
"When I get a phone call saying, 'Darling, are you available to work on Monday at 4am?', I always say 'Yes.'
"You have to be the first person on set and the last out – 18-hour days on your feet."
Proudest moments are supporting family events
Although Te Warena has worked on hair, make-up and special effects for films such as King Kong and The Hobbit, it's her role in people's lives that she counts as most important.
"It's more of an honour for me to contribute to people's special days. I do weddings – they are special days – but my greatest honour was to do the make-up for my brother, mother and grandmother after they passed away."
Make-up artist video
Kiekie Stanners talks about life as a make-up artist – 2.29 mins.
Hi, I'm Kiekie and I am a make-up artist.
As a make-up artist,
I paint faces and essentially I'm doing art on a
living, breathing canvas.
I work in the theatrical make-up industry,
so that involves me working in fashion, backstage on runway shows,
working in fashion editorial, working with designers,
working with celebrity talent for concerts, going on tour,
in a very fast-paced make-up industry.
So today I am going to be doing Taylor's make-up for a special event tonight.
I'm thinking we will do like a really beautiful beauty look,
but just a little bit heightened because it's for a special event.
I can look at a face and I can almost instantly know what I want to use and what
I want to create in terms of make-up. To be a good make-up artist,
you need to have a really steady hand. Um, that comes with practice though,
and experience. I chose a career in make-up artistry,
almost by default. I knew that I was very creative.
I knew that I loved a fashion and beauty environment,
and I knew that I loved to work really quickly. A qualification goes a really
long way, but it's not a 100 % necessary.
I came to work on a beauty counter and I had zero make-up experience whatsoever,
so I had a lot to prove.
I feel like that gives you a little bit more fire and a bit more passion to be
the best at your craft and to learn as much as you can. And in my opinion,
it is one of the greatest places that you can learn from by going and working in
a counter environment because you're working with different faces every
single day. Building a kit is probably the most daunting thing.
It can obviously be quite a costly experience to build a make-up kit.
Knowing your products well enough so, you know,
instead of having to buy 20 foundations,
you know that you can buy 10 and mix 2 of them together to get your in-between
shade. That's the beauty of being an artist.
You know how to manipulate a makeup kit to make it work for you.
So there you go that's my finished,
special occasion glam on Taylor for an event she's going to tonight.
If this excites you guys in any way,
and you are excited by the world of make-up artistry,
come and give the industry a try.
Entry requirements
There are no specific requirements for becoming a make-up artist. However, you may find it useful to have:
a certificate or diploma from a polytechnic or make-up school
a portfolio showing your make-up ideas and style.
Secondary education
No specific secondary education is required for this job. However, design and visual communication (graphics), media studies and drama are useful.
Personal requirements
Make-up artists need to be:
able to relate to people from a range of cultures and backgrounds
adaptable and good at solving problems
good listeners
accurate, with good attention to detail
reliable and organised
able to work well in a team 
motivated, with initiative.
You need to be a great team player – proactive, professional, and a good listener. Only the best hair and make-up artists survive in the New Zealand marketplace.

---

Bianca Fallon

Hair and Make-up Team Leader
Useful experience
Useful experience for make-up artists includes:
work as a beauty therapist, beautician or hairdresser
work at a cosmetic counter, or other customer or retail work
paid or voluntary make-up work for theatre or film.
Physical requirements
Make-up artists need:
clear speech and good hearing
normal colour vision 
good eyesight (with or without corrective lenses)
good hand-eye co-ordination
the ability to spend long hours on their feet.
Find out more about training
NZ Hair and Beauty Industry Training Organisation (HITO)

(04) 499 1180 - info@hito.org.nz - www.hito.org.nz
Check out related courses
What are the chances of getting a job?
Chances are good for make-up artists
Demand for make-up artists who have completed a full film, television, fashion and SPFX (special effects) course is increasing as more commercials, films and television programmes are being shot in New Zealand.
Network and volunteer to improve your chances of finding a first job
Networking, and having work experience can help you find a job.
You can network and market yourself by:
joining industry organisations such as WIFT NZ (Women in Film and Television) or Ngā Aho Whakaari (Māori in screen production)
attending industry events and introducing yourself, particularly to make-up designers (who create the overall make-up look for films or other productions)
checking industry magazines and websites for new productions and contacting their make-up designers directly
reading and advertising on networking websites and social media pages for the arts
being professional on social media when you showcase your make-up work, and in personal pages.
You can gain work experience by:
training at make-up schools that offers internships and job placements
volunteering for amateur and drama school productions.
It's also useful to have experience in hairstyling, hairdressing, beauty therapy and customer service.
According to the Census, 540 make-up artists worked in New Zealand in 2018.
Types of employers varied
Make-up artists may work for:
hair and beauty salons
television, film, magazine and theatre productions
department stores, cosmetic stores and pharmacies
fashion design companies and magazines.
Some make-up artists work freelance or run their own business.
Sources
Black, E, 'Inside New Zealand's Beauty Boom', 30 September 2017, (www.stuff.co.nz).
Ensor, D, co-director, The Makeup School, careers.govt.nz interview, October 2018.
Gatanela, J, 'M.A.C suspends beauty services and cancels makeover appointments in NZ', Beautydirectory, 16 March 2020, (www.beautydirectory.co.nz)
Iqbal, N, 'The New Beauty Elite', Otago Daily Times, 13 August 2018, (www.odt.govt.nz).
MECCA website, accessed June 2020, (www.meccabeauty.co.nz).
Stats NZ, '2018 Census Data', 2019.
(This information is a guide only. Find out more about the sources of our job opportunities information)
Progression and specialisations
Make-up artists may progress to:
set up their own business
become make-up designers, who create the overall make-up look for films, television commercials, fashion shows or make-up collections.
Make-up artists who work in retail stores and hair and beauty salons may move into managerial or training roles. 
Make-up artists may specialise in:
hairdressing and wig application
prosthetics – casting facial and body moulds for costumes
video tutorials
body painting.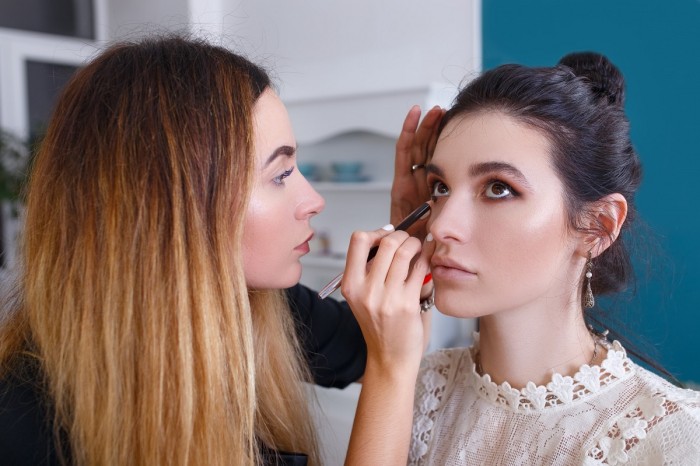 Last updated 8 June 2023