Tailor/​Dressmaker
Kaihanga Kākahu
Tailors/dressmakers design, make, alter or repair clothing. They may specialise in certain types of garments.
Pay
Tailors/dressmakers with one to two years' experience usually earn
Tailors/dressmakers with more than two years' experience usually earn
Source: YourStyle Tailoring.
Job opportunities
Chances of getting a job as a tailor/dressmaker are poor due to limited demand for their services.
Pay
Pay for tailors/dressmakers varies depending on their skills and experience.
Tailors/dressmakers starting out can expect to earn about $15 an hour. 
Those with one year's experience earn about $16 an hour.
Those with two or more years' experience, and particularly those who make and fit wedding outfits, can earn between $17 and $20 an hour. 
Source: YourStyle Tailoring.
(This information is a guide only. Find out more about the figures and diagrams in our job information)
What you will do
Tailors/dressmakers may do some or all of the following:
discuss customers' garment requirements
take customers' measurements
estimate how much the garment will cost to make
source materials
mark and cut the material according to the design
add necessary padding and shaping and sew the garment pieces together
fit the garment on the customer
do alterations
design or alter patterns.
Skills and knowledge
Tailors/dressmakers need to have:
sewing skills and knowledge of tailoring techniques
knowledge of a range of sewing equipment 
understanding of garment construction, and pattern-making skills
knowledge of human body shapes
clothing design skills
knowledge of different fashions
knowledge of fabric types, colours and fabric care
cutting skills.
Tailors/dressmakers who run their own businesses also need to have accounting and business skills.
Working conditions
Tailors/dressmakers:
work full or part-time hours. Self-employed tailors/dressmakers may work irregular hours, including evenings and weekends
work in their own homes, workrooms, factories or showrooms
may travel locally to visit clients to show fabric ranges and do fittings. If working for a large company, they may also travel to visit clients in other areas.
What's the job really like?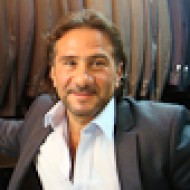 Antonio Antonopoulos - Tailor
A practical decision that paid off
When he was just 17, Antonio Antonopoulos started an apprenticeship with his uncle, who had a tailoring business. "Basically I had dropped out of school, and didn't know what else to do," he says.
But this practical choice turned out very well – by the time he was 21, Antonio owned his first tailoring shop in Wellington, which soon grew to two more shops.
Gathering skills over different continents
After a tailoring factory he had set up began to struggle, Antonio moved to London to set up shop for the next 13 years. This experience in London's competitive tailoring industry honed his skills further. On his return to New Zealand, Antonio again started a successful business in clothing alterations and made-to-measure suiting for formal wear.
Patience in the face of challenges
Antonio is the first to admit it's not an easy job. "You need a lot of patience to do this job – if you've got a customer taking ages to decide on the right trouser length you just can't say, 'Trust me, I've been doing this for 30 years.'
"You need not just sewing skills but customer service skills because it's not just about sitting at the machine. I think I've got to where I am because of my personality, and the customers liking me."
What's hot
Indulging your passion for clothing and design.
Being your own boss if you have your own shop.
What's not
Customers who may be demanding and hard to please.
Work that may be repetitive.
Entry requirements
There are no specific entry requirements to become a tailor/dressmaker. However, employers may prefer you to have one of the following:
National Certificate in Clothing Manufacture
Diploma or Advanced Diploma in Fashion Design and Technology
Bachelor of Design (Fashion).
Tailors/dressmakers may work towards the National Certificate in Clothing Manufacture on the job.
Secondary education
Entry into a tertiary training programme usually requires at least NCEA Level 1 in English and maths.
Other useful school subjects include clothing and textiles, art and technical drawing.
Personal requirements
Tailors/dressmakers need to be:
creative, with an eye for colour
quick and neat
accurate, with an eye for detail
able to work well under pressure
good at maths, so they can make calculations and take measurements accurately
able to be honest with their clients about how clothes look on them
good at customer service
good communicators and listeners, with the ability to interpret a client's requirements.
You need to be fast and good with your hands – this is not a job you can do with slow and clumsy hands.

Antonio Antonopoullos - Tailor
Useful experience
Useful experience for tailors/dressmakers includes:
work in the clothing industry
craftwork
work with fabrics
any other sewing work.
Physical requirements
Tailors/dressmakers need to have good hand-eye co-ordination and good eyesight (with or without corrective lenses).
Find out more about training
Competenz

0800 526 1800 - info@competenz.org.nz - www.competenz.org.nz

Fashion Industry New Zealand (FINZ)

(09) 3771747 - info@finz.co.nz - www.finz.co.nz
Check out related courses
What are the chances of getting a job?
Online clothing companies impact local businesses
Demand for tailors/dressmakers has fallen as customers increasingly buy from online clothing companies that provide made-to-measure clothing at lower prices.
However, tailors who make high-end business clothing have managed to maintain a steady business, as business customers still prefer to employ a tailor/dressmaker to take their measurements, to ensure a good fit.
Practical experience important for tailors/dressmakers
Practical experience is important for getting work as a tailor/dressmaker. Many people who become tailors/dressmakers have experience in other clothing-related roles such as:
Types of employers varied
Employers of tailors/dressmakers include:
high-end and businesswear tailors
wedding and special occasion wear makers
corporate wardrobe manufacturers.
Some tailors may specialise in garment alterations. This is often done on contract to clothing retailers, though some also offer their services to the general public.
Sources
Antonopoullos, A, owner, YourStyle Tailoring, Careers New Zealand interview, April 2013.
Ministry of Business, Innovation and Employment,  '2003-2013 Occupation Data' (prepared for Careers New Zealand), 2013.
Statistics New Zealand, 'Census of Population and Dwellings', 2014 (www.stats.govt.nz).
Progression and specialisations
Experienced tailors/dressmakers may start their own business. Tailors and dressmakers can specialise in a range of areas including:
wedding and special occasion gowns
bespoke suits
corporate wear
work wear.
Last updated 13 November 2017