Pay
New meteorologists usually earn
Meteorologists with experience usually earn
Source: MetService, 2020; NIWA, 2020 and Glassdoor, 2020.
Job opportunities
Chances of getting a job as a meteorologist are average due to stable numbers of people in the role.
Pay
Pay for meteorologists varies depending on skills, experience, and where they work.
Pay at MetService
At MetService, where most meteorologists work:
New meteorologists usually start on $47,000 to $60,000 a year.
After four to seven years' experience they usually earn between $60,000 and $90,000. 
Senior meteorologists with 8 to 10 years' experience can earn from $90,000 to $120,000. 
Meteorologists at MetService also earn extra allowances for doing night and weekend shifts.
Pay at research institutes and universities 
At research institutes and universities, meteorologists usually earn between $70,000 and $165,000 a year. 
Sources: MetService, 2020; NIWA, 2020; and Glassdoor, 2020.  
(This information is a guide only. Find out more about the sources of our pay information)
What you will do
Meteorologists may do some or all of the following:
monitor and study weather systems and atmospheric patterns using satellites and radars
study and predict weather conditions and climate trends using computer forecasting models
prepare weather maps and forecasts for the media, and shipping and airline companies
design experiments and equipment to measure air quality and composition, ozone, greenhouse gases and pollution
be involved in public awareness programmes about the weather
supervise the work of people in other technical roles 
teach and supervise students at universities
write up results of experiments and publish work in scientific journals.
Skills and knowledge
Meteorologists need to have:
knowledge of atmospheric physics, chemistry, meteorology, physical geography and maths to understand weather, cloud systems, and past and present climates
an understanding of what affects the weather in certain regions
skill in performing experiments and operating scientific equipment.
Working conditions
Meteorologists:
usually work eight-hour shifts at MetService 
usually work regular business hours at universities or research institutes, but may work longer hours in the field
mostly work in laboratories and offices, but may work outdoors when doing fieldwork
may travel nationally and overseas to do research, attend conferences or work with other scientists.
What's the job really like?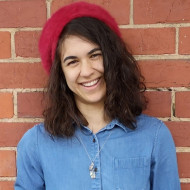 Tahlia Crabtree
Meteorologist
Watching out for unusual weather patterns
"It's a fascinating career," says meteorologist Tahlia Crabtree. "Every day the weather will present a new problem for you to think about."
Tahlia is part of a team that writes MetService weather forecasts.
"We have unique local weather but sometimes this can change – we might see a hot northwest wind in Christchurch in the middle of winter, for example – so it's important we let people know to give them time to prepare." 
Curiosity about rainbows led to a career   
"I was always curious about atmospheric phenomena, wondering why clouds are different shapes and how rainbows form. This led me to read books on physics and maths, taking up weather related projects at high school, and doing a Masters in Meteorology."
Juggling different weather forecasting tasks
"Meteorology is an applied science and involves different tasks. You could be drawing a weather map, thinking about the forecast in three days' time while updating the current forecast, as well as tracking a thunderstorm moving towards a city.
"I also do video weather presentations, and provide weather information to the public and the media. My goal is to do more of this communications work."
Tahlia Crabtree is of Ngāiterangi, Ngātiawa and Ngāpuhi descent. 
Meteorologist video
Katie Hillyer talks about life as a meteorologist - 2.10 mins.
Hi, my name is Katie.
I'm a MetService meteorologist and welcome to my Day In The Life video.
A meteorologist is someone who looks after the weather, essentially.
We want everyone in New Zealand and the wider region that we cover to stay
safe. Safety is the number one critical issue.
This right here is the forecast room.
On this side here we have the aviation section. I'm an aviation forecaster,
which means that anything that people are doing in the skies, I'll work with.
Not just pilots for commercial airlines, but also private.
Your uncle who has a pilot's licence, helicopter pilots, gliders,
maybe even skydivers.
With the way aviation is split up, is we've got a North and South Island
forecaster. And then we've got a volcanic ash shift,
which is what I'm working today.
Watching out for volcanic ash in the atmosphere to alert pilots because it's
extremely hazardous. Not all volcanoes get their own webcam,
unfortunately.
And we need to use other modes to keep track of all of them.
Satellite imagery is really our number 1.
We use satellite imagery to determine if what we're seeing is volcanic ash or
other things.
The route I took was doing a maths and geophysics degree at university
and then applying to the MetService Master of Meteorology training program.
My favourite thing about being a meteorologist is the investigative nature of it
is really fun, and you come in every day, try to assess what's gonna happen,
and then you get to find out the next day if that happened.
It's really rewarding.
If I were to give advice to people who want to become a meteorologist,
at some point in your career, especially early on, you will be doing shift work.
So you have to know that that's a lifestyle that you'll be okay with.
And secondly, being curious is really important.
Always try and grow your curiosity.
Entry requirements
Requirements for meteorologists
To become a meteorologist you need to complete a trainee meteorologist programme and gain a Master of Meteorology.
You need to have a Bachelor of Science in maths or physics to be accepted into the programme, but other majors are considered if there is enough maths and physics included.
MetService and Victoria University of Wellington oversee the traineeship programme.  
Requirements for researchers in meteorology
To become a meteorology or climatology researcher at universities or research organisations, you usually need a Masters or Doctorate in physics, chemistry, maths, geography, meteorology or a related area such as atmospheric physics.
Secondary education
NCEA Level 3 is required to enter tertiary training. Useful subjects include English, physics, chemistry, maths and geography. 
Personal requirements
Meteorologists need to be:
good at problem solving and planning
curious and observant 
good communicators with an ability to write reports and research papers
organised and able to work to tight schedules
persistent, patient and motivated
able to work well in a team.
Meteorologists working in research need to have good investigative and analytical skills. 
You have to be able to meet deadlines because people need your forecasts to make their own decisions – the media, boaties sailing the Cook Strait or airports before a plane takes off.

---

Tahlia Crabtree

Meteorologist
Useful experience
Useful experience for meteorologists includes:
practical work experience in the environment, physical science or geography
weather-related interests such as surfing, gliding, flying, skiing, tramping, diving and fishing.
Physical requirements
Meteorologists need to be reasonably fit and enjoy working outdoors because some field work may be involved.  
Find out more about training
MetService

(04) 470 0700  - enquiries@metservice.com - www.metservice.com

National Institute of Water and Atmospheric Research (NIWA)

0800 746 464 - enquiries@niwa.co.nz - www.niwa.co.nz
Check out related courses
What are the chances of getting a job?
Chances best doing a traineeship at MetService
Opportunities to become a meteorologist in New Zealand are average due to low turnover and high competition for vacancies.
Your best chance of getting a weather forecasting job is through a traineeship at MetService.
According to the Census, 168 meteorologists worked in New Zealand in 2018. 
MetService and Crown research institutes main employers
Most meteorologists work for MetService or Crown research institutes such as the National Institute of Water and Atmospheric Research (NIWA).
A small number may be employed by:
government agencies such as the Civil Aviation Authority or Ministry for the Environment
research consultancies 
regional and city councils

state-owned enterprises, such as Meridian Energy
universities.
Sources
Renwick, J, professor of physical geography, School of Geography, Environment and Earth Sciences, Victoria University of Wellington, careers.govt.nz interview, May 2020.
Stats NZ, '2018 Census Data', 2019. 
Webster, C, meteorological capability manager, meteorological advice and training, MetService, careers.govt.nz interview, May 2020.
(This information is a guide only. Find out more about the sources of our job opportunities information)
Progression and specialisations
Meteorologists at MetService may progress to work in:
severe weather forecasting
management positions such as project or team leader
training roles
computer modelling
marketing and consulting.
Meteorologists working as researchers may progress to senior research scientist, policy analyst or managerial roles. 
Meteorologists can specialise as climatologists, who study ozone and air quality, greenhouse gas emissions, weather hazards and agricultural productivity, and renewable energy.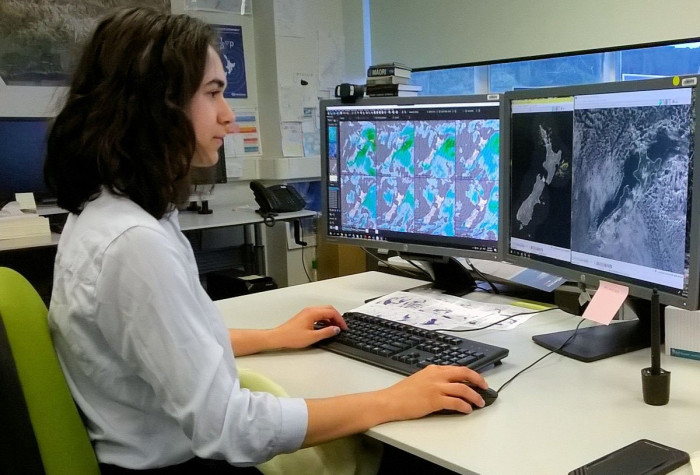 Last updated 15 June 2023