Geologist
Kaimātai Aro Whenua
Alternative titles for this job
Geologists study Earth processes, such as earthquakes, floods and volcanic eruptions, to predict future events. They also advise on natural hazards and how to develop or use the Earth's land and resources.
Pay
New geologists usually earn
Senior geologists usually earn
Source: GNS Science, 2021.
Job opportunities
Chances of getting a job as a geologist are average, as the occupation is relatively small but demand is growing steadily.
Pay
Pay for geologists varies depending on qualifications and experience.
Graduate geologists usually start on $65,000 to $75,000 a year.
Mid-level geologists usually earn $85,000 to $120,000.
Senior geologists who lead groups of scientists on projects can earn $120,000 to $180,000.
Geologists working in the private sector may earn more than this.
Source: GNS Science, 2021.  
(This information is a guide only. Find out more about the sources of our pay information)
What you will do
Geologists may do some or all of the following:
study the Earth's structure and processes such as how soils, rocks and faults form
collect, examine and analyse rocks, minerals and fossils
give advice and write reports on managing land effectively, resource management and risk of natural hazards such as landslides
survey the land and seabed to help prepare geological maps
draw maps using specialist computer software
carry out geological research to locate natural resources such as minerals and groundwater
monitor and investigate changing climate conditions
monitor the geotechnical conditions of mine sites
write up research results and present findings
teach at universities.
Skills and knowledge
Geologists need to have knowledge of:
the processes (such as volcanic eruptions) that shape the Earth, and how rocks and fossils are formed
how to identify and analyse geological samples and materials
research methods and how to analyse the results of their studies
how to perform experiments and operate scientific equipment
how to use Geographic Information Systems (GIS) – tools for capturing, storing and analysing geographic data
how to use computer-based models to understand real-world events.
Geologists in mining need to know how a mine operates, how to locate mineral deposits, how to extract rock or mineral, and how to manage a drilling programme.
Data skills are becoming increasingly valued in geology. I grew a lot of my computer and statistical skills working for a private company.

---
Working conditions
Geologists:
often work regular business hours, but may work irregular hours at mine sites
work in a range of places, including offices, laboratories and mine sites
may work underground in dark, dirty and enclosed conditions
may spend time travelling to worksites in New Zealand or overseas.
What's the job really like?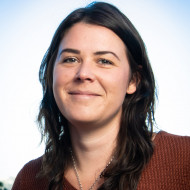 Dr Georgia Grant
Geologist
Learning about rising sea levels
Geologist Dr Georgia Grant says learning about climate change has become her passion.
"I discovered a new method of understanding past sea level change in New Zealand by studying how changes in the Whanganui Basin related to loss of ice in Antarctica."
This earned Georgia the Royal Society's Hatherton Award in 2020 for best research by a PhD student.
Geology – a move away from fossil fuels
"From a young age I was interested in the natural world and its history," says Georgia.
"And I liked how geology was becoming less about oil and gas mining and more about how the Earth changes over millions of years. You're often putting pieces of the puzzle together from fossils and marine sediments and developing a conclusion."
Working on many climate change projects
"I'm involved in six climate projects, as there's funding available for early career scientists in this area. In one project I'm looking at how climate change affects flooding in the Hauraki Gulf, and in another, I'm working with iwi to see how land use has impacted the health of the harbour."
Georgia aims to do more coastal hazards work in the future. "Before we build sea walls, for example, we need to understand what's happening to the land in the long term because of changing sea levels and tectonics [processes that control the Earth's crust]."
Geologist video
Ruth van Dam talks about life as a geologist – 2.32 mins.
One of the cool things about my office is finding little drawings from my
son in my notes. Just every now and again. Uh, this is a dragon.
He's very inventive. My name is Ruth van Dam and I'm an engineering geologist.
A rock doctor I've been called.
An engineering geologist looks at the soil and rock to assess the condition and
to provide parameters for an engineer to design a structure.
So geology is more of the subsurface,
the history of the earth and the solar system.
And to a certain extent the universe. I am looking at some samples that we took
for building a bridge. So these are rock samples.
These were gathered from the ground using a drill rig that gets drilled down
into the ground and then they pull it back up and inside is all of this.
I'm 6 years in to my career and it took 4 years of study.
I did a Bachelor of Science in engineering geology,
and I did a postgraduate honors year.
My postgraduate studies took 1 year.
I chose to do it because I was finding it difficult to find a job with just
an undergraduate degree. My cultural background is Pakeha and Māori.
I have a a great respect for the land that we work on.
As an engineering geologist, we are the ones who break ground.
And so I always take a moment to pause and reflect. It's always really important
to me that the project managers have gone through the correct protocols and
addressed the tikanga and have included the iwi at an early stage.
This is a 3D geological model.
We've built a 3D model of our predicted geological conditions.
So we bring in the information that we take from those samples,
and we've used that to construct these different layers.
And we can use this estimation to show how it interacts with our design.
So if we were going to put a road through here,
we can get the design and also bring that in and lay it on top and we can adjust
our design accordingly. When I was at high school,
I took a bunch of fun subjects, things that I liked,
like art history and classics and geography.
But art has actually come in handy because it's very useful to be able to draw
outcrops of rocks. So if you see a cliff,
if you can draw it that's very useful. So yeah,
that was an unexpected skill from school that worked. Geography was also useful.
And trigonometry I'm afraid. It doesn't matter what you already know.
Are you interested in it? Go for it.

Entry requirements
To become a geologist you need to have a Bachelor's or Master's degree in geology or Earth science, or in a related area such as engineering geology.
A PhD is preferred for research roles in Crown research institutes and universities.
Secondary education
A tertiary entrance qualification is required to enter further training. Useful subjects include maths, physics, biology, chemistry, geography and English.
Personal requirements
Geologists need to be:
patient and observant
motivated and methodical
good at maths and able to solve problems
good at planning and organising
skilled communicators for writing reports and other publications.
Useful experience
Useful experience for geologists includes:
computer-coding skills
work in electronics
work as a geological field assistant or science technician
any practical fieldwork. 
Physical requirements
Geologists need to be reasonably fit and healthy for fieldwork. Those working in underground mines need to be able to work in confined spaces.
Registration
Engineering geologists may apply to Engineering New Zealand to become a professional chartered geologist (PEngGeol).
Geologists of any specialisation can apply to The Geological Society to become an internationally chartered geologist (CGeol).
Find out more about training
Engineering New Zealand

(04) 473 9444 - hello@engineeringnz.org - www.engineeringnz.org

GNS Science

(04) 570 1444 - www.gns.cri.nz
Check out related courses
What are the chances of getting a job?
Climate change and environment focus for geologists 
Opportunities for geologists working to protect the environment are growing steadily. This is because the main focus of geology has changed from extracting oil, gas and minerals to managing natural hazards and monitoring human impacts on the environment.
Environmental geologists do a range of work, including:
using computer modelling to increase understanding of the natural world 
developing New Zealand's geothermal energy resources
locating water sources as droughts increase
dealing with pollution and waste disposal.
According to the Census, 852 geologists worked in New Zealand in 2018. 
Increase your chances of finding geology work
Qualifications and experience in engineering geology, hydrogeology, and geothermal geology are particularly useful for environmental work. If you are studying geology, it's useful to consider doing a joint degree in subjects such as geography, environmental science, business or finance.    
As a geology graduate you can increase your chances of finding work by:
getting work experience during your training and having employers supervise your research
having your research published in peer-reviewed publications 
building your network of contacts by attending and presenting at conferences 
having good technical skills and being able to operate Geographic Information Systems (GIS) equipment   
being adaptable – for example, taking an entry-level role as a technician.
Geologists can apply for postgraduate scholarships, internships and summer scholarships at research organisations such as GNS Science.  
Consultancies main employers of geologists
Most geologists work for consultancies and private companies, including engineering firms.
Geologists may also work for:
Crown research institutes (CRIs) such as GNS Science (the largest CRI employer of geologists), the National Institute of Water and Atmospheric Research (NIWA), and Manaaki Whenua – Landcare Research
local authorities such as regional and city councils
universities, as teachers and lecturers
mining and drilling companies.
Sources
Brook, M, head of Earth science/associate professor of applied geology, The University of Auckland, careers.govt.nz interview, May 2021. 
Hillman, J, marine geologist/geophysicist, GNS Science, careers.govt.nz interview, January 2021.
Ministry of Business, Innovation and Employment, 'Occupation Outlook: Scientists', accessed January 2021, (www.mbie.govt.nz).
Stats NZ, '2018 Census Data', 2019.
(This information is a guide only. Find out more about the sources of our job opportunities information)
Progression and specialisations
Geologists may specialise in:
engineering – investigating sites for infrastructure projects, and managing natural hazards, and those created by human activity
mining – analysing geological data to locate new mineral resources, and advise on mine production plans
environmental geology – helping to prevent contamination of soil and groundwater
volcanology – studying how volcanoes form and erupt
marine geology – studying hazards (such as earthquakes) and their effects on coastal areas, ocean resources, and coastal and marine ecosystems
paleontology – using fossil remains to understand extinct and living organisms, and their environment.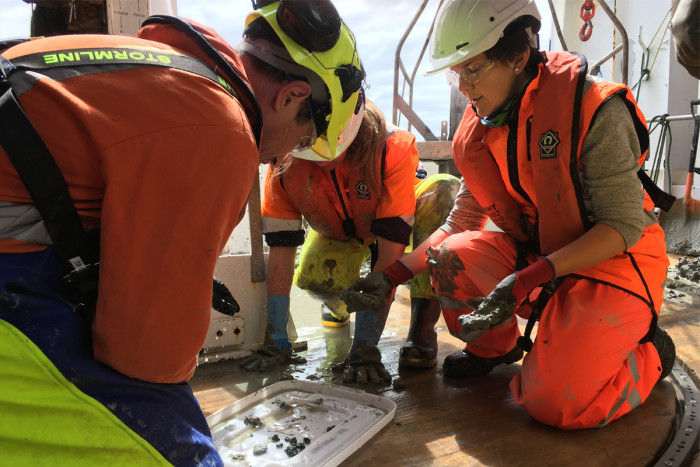 Last updated 18 April 2023