Flight Instructor
Kaiwhakaako Waka Rererangi
Alternative titles for this job
Flight instructors teach people how to fly aeroplanes, helicopters or other aircraft.
Pay
Entry and mid-level flight instructors usually earn
Experienced and senior flight instructors usually earn
Source: IAANZ, April 2023.
Job opportunities
Chances of getting a job as a flight instructor are good due to increased demand for their services.
Pay
Pay for flight instructors depends on experience, their employer, and what type of aircraft they teach in.
C category (entry-level) flight instructors usually earn between minimum wage and $30 an hour, and some may work part time or on contract.
B category (mid-level) instructors usually earn between minimum wage and $70,000 a year.
A category (senior) instructors can earn between $70,000 and $100,000 a year.
Flight instructors are usually paid by the number of hours they spend in the air and doing ground work.
They may also be paid a retainer. Larger organisations have more students and tend to pay higher salaries. 
Source: International Aviation Academy of New Zealand (IAANZ), April 2023.
(This information is a guide only. Find out more about the sources of our pay information)
What you will do
Flight instructors may do some or all of the following:
prepare flight training programmes
teach students how to fly an aircraft safely
teach students the principles of flight, aircraft operations, and aviation rules and theory
carry out and teach pre-flight checks on aircraft
teach students how to use aircraft controls, and how to fly during the day, at night and with instruments
test students' skills and knowledge, and write student reports
teach qualified pilots about new equipment and different aircraft
teach students aviation law and Safety Operation Policies (SOPs).
Skills and knowledge
Flight instructors need to have:
excellent skills in flight planning, flying, navigation and risk-management 
knowledge of how to interpret weather information and how weather can affect an aircraft
knowledge of the techniques and theory of flying
knowledge of aircraft systems, civil aviation laws, safety rules and emergency procedures
teaching skills.
Working conditions
Flight instructors:
may work part time, or long and irregular hours, including evenings and weekends, and may be on call
work in classrooms, on flight simulators and in training aircraft
work in conditions that can be challenging due to rough weather and working with learner pilots.
What's the job really like?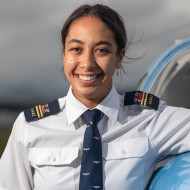 Grace Tirikatene
C-Cat Flight Instructor
What's it like being a flight instructor?
My role as a flight instructor is incredibly rewarding seeing my students achieve their goals. 
I get to teach students the skills and knowledge required to safely fly an aircraft and see their smiles as they progress through their training.
How hard was it to qualify as a flight instructor?
I always knew I wanted to fly, and I was eager to start as soon as I could. I started flying during high school and even accomplished my first solo when I was 16 years old.
After high school, I stared full time study at a flight training organisation located at a busy international airport, as that environment would help me with my long term goal of being an airline captain.
Five flight tests and 21 exams and about 18 months later I achieved my Private Pilot Licence (PPL) Commercial Pilot Licence (CPL) and Multi Engine Instrument Rating (MEIR).
From there, I decided that the next step for me was wanting to teach others how to fly to fulfil their dream of flight like I did! After an intense 8 week flight instructor course I achieved my C Category Flight Instructor Rating.
It was a lot of hard work and long hours, especially training to be an instructor as it was fast paced and a lot to learn, but it was something I was passionate about so I stayed motivated and enjoyed it.
What do you enjoy most about your job?
Easily my favourite thing about my job is seeing my students come in with little to no knowledge about flying and then seeing them reach their goals both in the classroom and in
air! I also enjoy watching my students develop into leaders. 
As a C-Cat flight instructor I am so fortunate to have a lot of opportunities to upskill. As a pilot there is continuous study for exams and flight tests. I am looking forward to achieving my B-Category instructor rating in the future. "
Entry requirements
To become a flight instructor, you need:
a Commercial Pilot Licence (CPL)
a Flight Instructor Rating (C Category).
Commercial Pilot Licence
To get a CPL you need to:
be at least 18 years old
hold a current Private Pilot Licence (PPL)
complete at least 200 hours of flying
hold a current class 1 medical certificate
pass all CPL theory papers, written exams, and an English language test
pass a flight test with a flight examiner
satisfy the Civil Aviation Authority's fit and proper person requirements – for example, by showing you don't have serious convictions.
The CPL enables you to fly small aircraft such as those used for scenic and charter flights.
Flight Instructor Rating
In addition to a CPL, flight instructors need a Flight Instructor Rating (C Category). You can train and qualify for this at an aero club or flying school.
Gain CPL and Flight Instructor Rating through tertiary study
You can also gain your CPL and your Flight Instructor Rating (C Category) as part of completing either of the following qualifications:
New Zealand Diploma in Aviation – Aeroplane and Helicopter (Level 6) with strands in airline preparation and flight instruction
Massey University's Bachelor of Aviation.
You need to pass the ADAPT pre-pilot screening test and attend a selection interview to enter these courses.
Secondary education
There are no specific secondary education requirements to become a flight instructor. However, NCEA Level 2 English, maths and physics are preferred.
A tertiary entrance qualification is required to enter further training.
Additional requirements for specialist roles:
To specialise in teaching people how to fly remotely piloted aircraft (drones), you usually need a Remotely Piloted Aircraft System (RPAS) qualification.
Personal requirements
Flight instructors need to be:
safety-focused
supportive, patient and positive
excellent communicators with good people and leadership skills
able to think logically, follow procedures and act responsibly
proactive and good at making decisions under pressure
good at record-keeping and time management.
People don't get things first-off – you need to be very patient with them and understanding, but you also need to know what your own limits are.

---

Sarah Etchells

Flight Instructor
Useful experience
Useful experience for flight instructors includes:
teaching
work with machinery
customer service
weather forecasting.
Flying experience is also useful, for instance through Gateway, Air Cadets, Walsh Memorial Flying Camp, Young Eagles and gliding. 
Physical requirements
Flight instructors need to have:
good hearing and eyesight (with or without corrective lenses)
good reflexes and co-ordination
a good level of fitness and health, as they must pass a medical exam every year.
Find out more about training
Aviation New Zealand

Civil Aviation New Zealand (CAA)

Flying New Zealand

ServiceIQ
Check out related courses
What are the chances of getting a job?
Flight instructors in demand after COVID-19 recovery
There's increased demand for flight instructors because:
international students are again able to travel to New Zealand to learn to fly
demand for pilot training is up within New Zealand
increased demand for aeroplane pilots, as well as more older pilots retiring, means flight instructors are being hired as aeroplane pilots. This opens up more positions for flight instructors.
According to Aviation New Zealand, 188 fixed-wing (aeroplane) and 13 rotary (helicopter) flight instructors worked in New Zealand in 2019.
Flight instructors may get work at the flight school where they trained
Flight schools may prefer to hire former students as flight instructors because they know their students' abilities and skills. Some schools only hire former students.
When you are deciding on a flight training programme, ask schools about job opportunities, and whether they have an ongoing need for flight instructors.
Types of employers varied
Flight instructors may work for:
aero clubs
flying schools
airline academies
Massey University
the New Zealand Defence Force.
Some major airlines, such as Air New Zealand, also employ flight instructors.
Sources
Anthony, J, 'Air New Zealand looking to hire pilots for turboprop fleet', 4 March 2022, (www.stuff.co.nz).
Boeing, 'Pilot and Technician Outlook 2022-2041', 25 August 2022, (www.boeing.com).
International Aviation Academy of New Zealand, careers.govt.nz interview, March 2023.
Civil Aviation Authority, 'Flight Training Safety Report – Autumn/Winter 2019', accessed June 2020, (www.aviation.govt.nz). 
Civil Aviation Authority, 'How to Be a Pilot', January 2019, (www.aviation.govt.nz).
Griffin, D, and Murrie, J, 'Pilot Career Progression in New Zealand: A Study Conducted by NZALPA and Massey University School of Aviation', 30 November 2018, (mro.massey.ac.nz).
Hendry-Tennent, I, 'Government Warned 12 Months Ago New Zealand Risked Losing Pilots if Something Wasn't Done', 11 July 2022, (www.newshub.co.nz).
O' Dwyer, E, 'Trainee Pilots Allowed Back in the Country a "Boost" to Aviation Industry', 28 October 2021 (www.stuff.co.nz).
(This information is a guide only. Find out more about the sources of our job opportunities information)
Progression and specialisations
Flight instructors may progress to become senior instructors, or work as airline pilots once they have gained enough flying hours.
Flight instructors usually teach people to fly either aeroplanes or helicopters.
They may also specialise in:
particular types of aircraft such as propeller, jet, light or large commercial aircraft
agricultural flying
how to operate drones.
Last updated 11 May 2023