Helicopter Pilot
Kaiwhakarere Toparere
Alternative titles for this job
Helicopter pilots fly helicopters to transport people, spread fertiliser and bait, or provide air rescue and ambulance services. 
Pay
Helicopter pilots with up to three years' experience usually earn
Helicopter pilots with more than three years' experience usually earn
Source: Aviation New Zealand, May 2020.
Job opportunities
Chances of getting a job as a helicopter pilot are poor for those wanting to enter the role, but average for those with experience.
Pay
Pay for helicopter pilots varies depending on skills, experience and the type of work they do.
Entry-level helicopter often work part time and may start on about $20 an hour or $42,000 a year.
Helicopter pilots with three to five years' experience can earn between $45,000 and $80,000.
Senior helicopter pilots can earn $100,000 to $180,000 or more.
Source: Aviation New Zealand, careers.govt.nz interview, May 2020.
(This information is a guide only. Find out more about the sources of our pay information)
What you will do
Helicopter pilots may do some or all of the following:
prepare and check flight plans
do preflight checks of weather, equipment and the helicopter
calculate the amount of fuel needed for flights, and refuel the helicopter
explain flight and safety details to passengers
control the helicopter on the ground and in the air
Specialised helicopter pilots may also:
provide a commentary to tourists during scenic flights 
apply fertiliser, bait or other chemicals to farmland or conservation areas
work with other emergency services (such as hospitals or search and rescue services)
muster animals such as sheep, horses or cattle
carry and dump large buckets of water to put out fires.
Skills and knowledge
Helicopter pilots need to have:
excellent flying skills
knowledge of flight theory and flight planning
skill in interpreting flight plans, weather and navigation data
understanding of civil aviation laws
knowledge of helicopter mechanics.
Working conditions
Helicopter pilots:
may work regular business hours, or weekends, or do on-call work
work in conditions that are often noisy, and can include hazards such as bad weather or smoke

may travel nationally or internationally for work.
Entry requirements
Commercial helicopter pilots
To become a commercial helicopter pilot you need to have a Commercial Pilot Licence - Helicopter, also known as CPL(H). To get this you need to:
hold a Private Pilot Licence (PPL)
complete at least 200 hours of flying
pass a Class 1 medical exam, written exams, an English language test, and a flying test
satisfy the Civil Aviation Authority's fit and proper person requirements,

You can gain your CPL(H) as part of completing a New Zealand Diploma in Aviation - Aeroplane and Helicopter (Level 6) with strands in airline preparation and flight instruction.
You need to pass the ADAPT pre-pilot screening test and attend a selection interview first.
Flying instructors
As well as a CPL(H), flying instructors need a Flight Instructor Rating (C Category).
Military helicopter pilots
To become a military helicopter pilot, you need to join the navy or airforce and complete their training. 
Secondary education
There are no specific secondary education requirements to become a helicopter pilot, but NCEA Level 3 English, maths, physics and computing are useful.
Personal requirements
Helicopter pilots need to be:
responsible
good at planning, thinking logically and following procedures
excellent at working under pressure
able to make quick, sound decisions
good leaders
skilled communicators
able to relate to people from a range of cultures and backgrounds
resilient.
Useful experience
Useful experience for helicopter pilots includes:
experience in the industry you want to fly in, for example, for rescue helicopter work experience as a medic
flying experience
customer service roles
engineering or mechanical work.
Physical requirements
Helicopter pilots need to have:
good hearing and eyesight (with or without corrective lenses)
good reflexes and co-ordination
a good level of fitness and health (to pass a medical exam every year).
Find out more about training
Aviation New Zealand

Defence Careers

Flying New Zealand

Service IQ
Check out related courses
What are the chances of getting a job?
Helicopter pilot jobs hard to find
Opportunities for helicopter pilots are poor because:
it's a small occupation
there are few job vacancies
there's an oversupply of graduates
there's decreased demand for scenic flight operators, due to the effects of the COVID-19 pandemic.
However, there is still some demand for experienced helicopter pilots, particularly in agriculture.
According to the Census, 534 helicopter pilots worked in New Zealand in 2018.
How to get your first helicopter pilot job
Your chances of getting a helicopter job are best if you: 
work as ground crew for a helicopter operator (often part-time) and gain flying hours
gain the necessary ratings to work as a helicopter flight instructor 
consider travelling overseas to work (you'll need an aviation licence for the country you want to work in).
Most helicopter pilots work for small companies
Most helicopter operators in New Zealand employ fewer than 10 staff. Some helicopter pilots are self-employed or work as flying instructors.
Helicopter pilots can also work for businesses involved in:
agriculture
forestry
oil and gas exploration
mustering (gathering livestock)
search and rescue
tourism.
Sources
Civil Aviation Authority of New Zealand, 'Pilot Licence Statistics', accessed March 2020, (www.caa.govt.nz).
Nicholson, J, chief executive, Aviation New Zealand, careers.govt.nz interview, May 2020.
Stats NZ, '2018 Census Data', 2019.
(This information is a guide only. Find out more about the sources of our job opportunities information)
Progression and specialisations
Helicopter pilots may progress to set up their own business, move into safety manager or operations manager roles, or become flying instructors.
Helicopter pilots may specialise in a number of roles, including:
Agricultural Helicopter Pilot

Agricultural helicopter pilots apply agricultural chemicals or fertiliser, flying close to the ground.

Air Force/Navy Helicopter Pilot

Air Force/Navy helicopter pilots fly military helicopters. 

Charter Helicopter Pilot

Charter helicopter pilots work in oil and gas, tourism and forestry areas.

Firefighter Helicopter Pilot

Firefighter helicopter pilots put out large fires, dropping water from buckets they carry.

Mustering Helicopter Pilot

Mustering helicopter pilots round up animals such as sheep and horses.

Rescue Helicopter Pilot

Rescue helicopter pilots work with search and rescue services and fly people to hospital.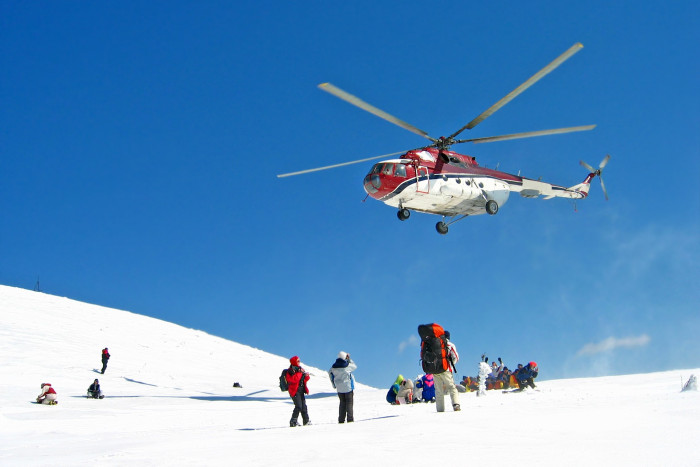 Last updated 30 August 2022