Helicopter Pilot
Kaiwhakarere Toparere
This job is sometimes referred to by alternative titles
Helicopter pilots fly helicopters carrying people or cargo.
Pay
Helicopter pilots with one to three years' experience usually earn
Helicopter pilots with more than three years' experience usually earn
Source: Heliworx and Flying Horse (Helicopter Services) Ltd, 2016.
Job opportunities
Chances of getting a job as a helicopter pilot are poor due to a small pool of jobs and a high number of people applying for available positions.
Pay
Pay for helicopter pilots depends on the rating (licence type) that they hold – which corresponds to their completed flight hours and terrain experience – the type/size of helicopter they fly and the company they work for. Helicopter pilots are usually paid an hourly rate for flying hours, and a percentage of company turnover. 
Entry-level helicopter pilots usually earn about $41,000 a year (based on a 40-hour week), though many only work part-time when first starting so they may earn less than this.
Helicopter pilots with three to five years' experience can expect to earn between $45,000 and $80,000.
Very experienced helicopter pilots may earn $100,000 to $180,000 or more.
Sources: Heliworx and Flying Horse (Helicopter Services) Ltd, 2016.
(This information is a guide only. Find out more about the figures and diagrams in our job information)
What you will do
Helicopter pilots may do some or all of the following:
prepare or check flight plans
do preflight checks, including checking weather conditions, equipment and helicopter condition
calculate the amount of fuel needed for flights, and refuel and load the helicopter accordingly
brief passengers on flight and safety details
control the helicopter on the ground and in the air
write reports and keep a flight log.
Specialised helicopter pilots may do some of the following:
provide commentary to tourists during scenic flights 
apply fertiliser or other agricultural chemicals
communicate with other emergency services (such as hospitals or search and rescue services)
round up sheep, horses, cattle or other groups of animals
navigate the helicopter in dangerous conditions such as smoke
carry large buckets or tanks of water to put out fires.
Skills and knowledge
Helicopter pilots need to have:
excellent flying skills
knowledge of flight theory and flight planning
skill in interpreting flight plans, weather and navigation data
understanding of civil aviation laws
knowledge of helicopter mechanics.
Working conditions
Helicopter pilots:
usually start out working part time in a ground role and with experience progress to full-time work. They may work regular business hours or weekends or work on-call
may work more in some seasons than others – for example, those working in the forestry or tourism industry may do more hours over summer
may travel nationally or internationally for work.
What's the job really like?
Kyhala Miller
Helicopter Pilot
Work around an active volcano
Flying passengers to and guiding tours around White Island – New Zealand's most active volcano – is all in a day's work for helicopter pilot Kyhala Miller. "A good part of our job is guiding various walks and giving commentaries. We learnt about Māori culture and stories, so we can explain more about the significance of the region to our passengers."
Multitasking in mid air
"It's demanding giving a commentary while flying the aircraft and listening to the tower and other traffic. I make my passengers aware of this – finding that balance was something I had to learn initially."
Kyhala had to adjust to working in the tourist industry with its busy season. "During the summer, staff may be closing up to go home and customers walk into the office and ask for a flight. Then it's a case of making hay while the sun shines."
But it's the clients that make the job for Kyhala. "They are so thankful – it's quite humbling and makes you realise what a great career it is."
Entry requirements
To become a helicopter pilot you must have a Commercial Pilot Licence – Helicopter (CPL-H).
To get a commercial pilot licence you must:
be at least 18 years old
hold a current Class 1 medical certificate
hold a current New Zealand Private Pilot Licence (Helicopter)
pass 12 written exams on topics such as meteorology, navigation, air law and principles of helicopter flight
complete a minimum of 150 hours' flight time
satisfy the Civil Aviation Authority's (CAA) fit and proper person requirement
pass the English Language Proficiency test.
Training to become a helicopter pilot can be done through private flight schools or with the New Zealand Air Force and Navy.
Secondary education
There are no specific secondary education requirements to become a helicopter pilot, but Level 3 NCEA with English and maths is preferred. Physics and computing are also useful subjects.
Additional requirements for specialist roles:
For specialised roles, more flying hours and experience is required in the particular industry or conditions.
Personal requirements
Helicopter pilots must be:
calm, confident and alert
adaptable
able to work well under pressure
good at following procedures with attention to detail.
Useful experience
Useful experience for helicopter pilots includes:
experience in the industry you aim to fly in – for example, if you want to work as a rescue helicopter pilot, experience as a medic is useful
flying experience
customer service roles
engineering or mechanical experience.
Physical requirements
Helicopter pilots need to have good hearing and eyesight (with or without corrective lenses) and good reflexes and co-ordination. They should also be fit and healthy, and must pass a medical test every year.
Find out more about training
Flying New Zealand

0800 422 635 - dave@flyingnz.co.nz - www.flyingnz.co.nz

The Royal New Zealand Air Force

0800 1 FORCE - www.defencecareers.mil.nz

Service IQ

0800 863 693 - www.serviceiq.org.nz
Check out related courses
What are the chances of getting a job?
More graduates than jobs
The number of people graduating with helicopter pilot licences and looking for entry-level work each year is greater than the number of positions that become available. Because of the difficulty finding work as a helicopter pilot, many people who graduate with licences do not go on to work in the role. 
Demand highest for experienced helicopter pilots and ground staff
Demand is highest for experienced helicopter pilots as they have completed more flight hours so are more employable. For entry-level pilots, the best chance is to work in a ground crew position (often part time) for a helicopter operator and slowly gain more flying hours and trust from the employer until a pilot position becomes available.
Many pilots look overseas for work
New Zealand helicopter pilots are well regarded internationally because of their experience flying in New Zealand's harsh weather conditions and mountainous environment. Because of the limited job market in New Zealand, many travel overseas to find work. However, helicopter pilots will need an aviation licence for the country they'll be working in, so they must pass more tests before they are able to work.
Most helicopter pilots work for small companies
More than 200 helicopter operators exist in New Zealand. Most are small companies employing fewer than 10 staff, or owner-operators. There are only a few larger companies that have 30 staff or more. Helicopter pilots can also work for businesses involved in:
agriculture
forestry
oil and gas exploration
mustering
search and rescue
the Army, Navy and Air Force
tourism.
There are also opportunities to work as instructors at flying schools or for the Navy or Air Force.
Sources
Frazer, S, pilot, Inflite, Careers New Zealand interview, May 2016.
Latham, J, director, Flying Horse (Helicopter Services) Limited, Careers New Zealand interview, May 2016.
Ministry of Business, Innovation and Employment, '2006-2014 Occupation Data' (prepared for Careers New Zealand), 2015.
Mitchell, J, line pilot, Kapiti Heliworx, Careers New Zealand interview, May 2016.
Sinclair, J, executive officer, New Zealand Helicopter Association, Careers New Zealand interview, May 2016.
Progression and specialisations
Helicopter pilots may progress to be a flying instructor, move into managerial positions or go on to run their own helicopter businesses.
Helicopter pilots may specialise in flying particular types of helicopters, or in the following roles:
Agricultural Helicopter Pilot

Agricultural helicopter pilots apply agricultural chemicals or fertiliser to farmland. They fly close to the ground and need to have knowledge of chemicals/fertilisers.

Air Force/Navy Helicopter Pilot

Air Force/Navy helicopter pilots fly military helicopters for the armed services. 

Charter Helicopter Pilot

Charter helicopter pilots fly for various industries including oil and gas, tourism and forestry.

Firefighter Helicopter Pilot

Firefighter helicopter pilots put out large fires such as bush fires. They need to be very skilled as they fly in smoky and dangerous conditions.

Helicopter Flying Instructor

Helicopter flying instructors teach new helicopter pilots how to fly.

Mustering Helicopter Pilots

Mustering helicopter pilots help round up animals including sheep or horses for farmers. They need to know about animal care and farming.

Rescue Helicopter Pilot

Rescue helicopter pilots work with search and rescue services and fly people to hospital or between hospitals. They need to be very skilled as conditions are often dangerous, particularly in winter months.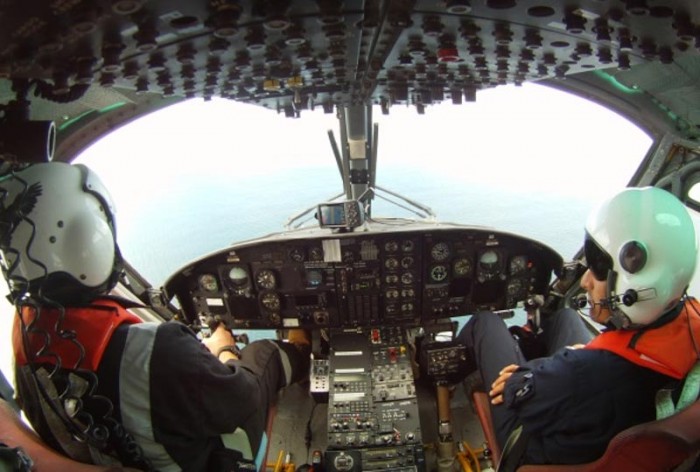 Last updated 13 June 2017