Flight Attendant
Tūmau Waka Rererangi
This job is sometimes referred to by alternative titles
Flight attendants make sure that passengers travelling in aeroplanes are safe and comfortable.
Pay
Flight attendants usually earn
Flight service managers usually earn
Source: Air New Zealand, 2016.
Job opportunities
Chances of getting a job as a flight attendant are poor in most regions, but good in Auckland and Christchurch.
Pay
Pay for flight attendants depends on whether they are working on domestic, trans-Tasman or international flights.
Flight attendants usually start on between $31,000 and $35,000 a year.
With more experience they can expect to earn between $40,000 to $45,000, plus allowances.
Flight service managers can earn up to $60,000.
Flight attendants get meal, accommodation, uniforms and grooming allowances. Allowances are usually between $10,000 and $12,000 a year.
Source: Air New Zealand, 2016.
(This information is a guide only. Find out more about the figures and diagrams in our job information)
What you will do
Flight attendants may do some or all of the following:
look after passengers' comforts, needs and safety during flights
check emergency and safety equipment before each flight
prepare and check the catering, bar and cabin before each flight
greet passengers, help them stow their luggage and check that they are seated safely
demonstrate aircraft emergency procedures and safety features to passengers
serve and clear away food and drinks
hand out, and help passengers complete arrival documentation on international flights
keep in contact with other members of the flight crew
use their knowledge of first aid to help sick passengers.
Skills and knowledge
Flight attendants need to have:
knowledge of flight and emergency procedures
ability to operate emergency equipment
hospitality skills for serving food and drinks
first aid and medical skills
ability to assist people with special needs, such as young children or people with disabilities
ability to give tourists tips and guidance on their stay in New Zealand.
Working conditions
Flight attendants:
work shifts including evenings, weekends and public holidays. International flight attendants may be rostered up to 18 hours a shift, and may spend up to 10 days away from home depending on where they are flying
work at altitude, often in cramped conditions
may work in conditions that are uncomfortable or dangerous, and may have to deal with stressful or difficult situations, such as turbulence.
What's the job really like?
Jacqui Chapman
Flight Attendant
Travelling for work has its perks
Jacqui Chapman thrives on the constant travel involved in her job as a flight attendant. "Many times when I've been in Wellington and there's an exhibition at Te Papa, I've thought, 'I would never have got the chance to see that otherwise.'
"If you do a six-day trip, you build up a rapport with the people you've worked with, and then you might have the opportunity to go to a Robbie Williams concert in Brisbane with four or five work buddies – it's great!"
Physical effects of working at high altitude
"This job does take a toll on your body and sleep. You need to be more proactive about your diet and sleeping habits than you normally would. So, I find out where I can buy fresh food at each stopover. You just have to be a little creative."
Watching others develop
Jacqui has moved up to the role of cabin supervisor, and helps train staff. "Sometimes I work with people who are shy, so I really enjoy seeing them gain confidence. It's not just about building up your own skills. You get an intrinsic reward from helping someone else out, and seeing them develop."
What's hot
Enjoying the romance of travel.
Socialising with workmates in exotic locations.
What's not
The physical effects of working at altitude.
Having to be vigilant about keeping good sleeping and eating habits.
Entry requirements
To become a flight attendant you must:
be a New Zealand permanent resident
be at least 18 years old
have 18 months' (minimum) experience in a customer service role 
hold a current first aid certificate 
hold a current passport without restrictions
pass aviation security clearance checks.
Individual airlines may have additional entry requirements. For example, some airlines have height restrictions or require flight attendants to be able to swim at least 50 metres. Most airlines require prospective flight attendants to be assessed as part of the interview process or complete a pre-employment training course.
Once accepted for work on an airline, trainee flight attendants attend a training course and complete assessments before starting work as flight attendants. Each airline has its own training programme that helps flight attendants maintain and develop their skills and knowledge on the job. 
It is useful for flight attendants to be fluent in another language such as:
Cantonese
Fijian
French
German
Japanese
Mandarin
Samoan
Spanish 
Tongan.
Secondary education
Flight attendants usually need to have NCEA Level 3, including English. Languages are also useful.
Personal requirements
Flight attendants need to be:
customer-focused and friendly
good communicators who can interact well with people from a range of cultures
responsible, practical, and professional
able to work well in a team
efficient, organised, resourceful and alert.
Useful experience
Useful experience for flight attendants includes:
customer service
nursing
teaching
nannying
tourism or hospitality work
work in a travel agency
work that involves speaking another language.
Physical requirements
Depending on the airline, flight attendants may need to:
pass a lift and reach test, which usually requires flight attendants to be between 160cm and 185cm tall, and able to lift heavy bags and emergency equipment
pass a medical exam
be able to swim 50 metres unaided
have a certain standard of eyesight to carry out emergency procedures without glasses.
Find out more about training
New Zealand School of Tourism

0800 102 020 - www.nzschooloftourism.co.nz

Service IQ

0800 863 693 - www.serviceiq.org.nz
Check out related courses
What are the chances of getting a job?
Best opportunities with Air New Zealand in Auckland and Christchurch
The growing tourism industry means Air New Zealand – the main employer of flight attendants – is flying to more destinations. The organisation is expanding its fleets in Auckland and Christchurch, where the largest domestic and international airports are based.
As a result, flight attendant numbers are expected to rise steadily over the next five years to 2021, with strong demand for entry-level and senior flight attendants in Auckland and Christchurch.
Outside of these two locations, opportunities for flight attendants are poor.
Advantage to speak more than one language
Being able to speak more than one language increases your chances of getting a job as a flight attendant.
Air New Zealand key employer
Air New Zealand is the biggest employer of flight attendants.
Flight attendants may also work for other international airlines, or regional and corporate carriers. These include:
The Royal New Zealand Air Force
Qantas
Virgin Pacific.
Sources
Air New Zealand Careers, 'Flight Attendants – Hiring Now for 2016', accessed May 2016, (www.careers.airnz.co.nz).
Holley, E, Air New Zealand, human resources, Careers New Zealand interview, May 2016.
Ministry of Business, Innovation and Employment, '2006-2014 Occupation Data' (prepared for Careers New Zealand), 2015.
Statistics New Zealand, 'International Visitor Arrivals to New Zealand: March 2016', 26 April 2016, (www.stats.govt.nz).
Urlich, C, Air New Zealand, talent acquisition consultant, Careers New Zealand interview, May 2016.
Progression and specialisations
Flight attendants usually progress from working on domestic flights to working on international flights, or into senior roles such as lead flight attendant or purser. 
They may also choose to transfer to ground-based jobs such as check-in agent, or customer service roles.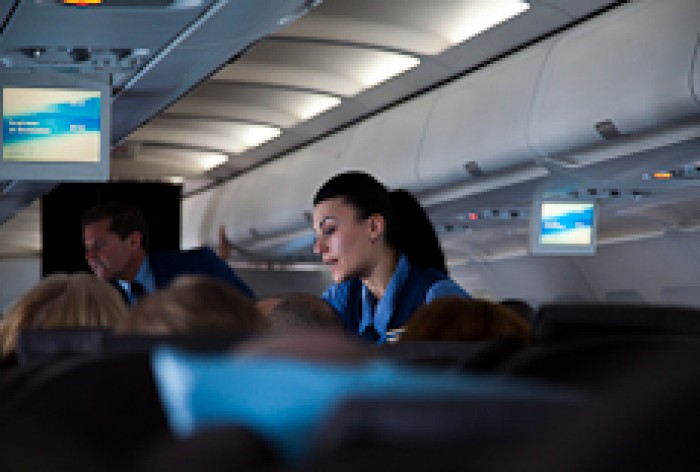 Last updated 1 September 2017