Flight Attendant
Tūmau Waka Rererangi
Alternative titles for this job
Flight attendants make sure that passengers travelling in aeroplanes are safe and comfortable.
Pay
Flight attendants usually earn
Job opportunities
Chances of getting a job as a flight attendant are poor due to limited demand for their services.
Pay
Pay for flight attendants varies depending on whether they work on domestic, trans-Tasman or international flights.
Flight attendants usually earn between minimum wage and $50,000 a year.
Flight attendants may also receive meal, accommodation, uniform and grooming allowances.
Source: Seek, 2023.
(This information is a guide only. Find out more about the sources of our pay information)
What you will do
Flight attendants may do some or all of the following:
look after passengers during flights
check emergency and safety equipment before each flight
prepare and check the catering, bar and cabin before each flight
greet passengers, help them stow their luggage and check that they are seated safely
demonstrate aircraft emergency procedures and safety features to passengers
serve and clear away food and drinks
use their knowledge of first aid to help sick passengers.
Skills and knowledge
Flight attendants need to have:
knowledge of flight and emergency procedures
ability to operate emergency equipment, such as defibrillators
hospitality skills for serving food and drinks
strong customer service skills
first aid and medical skills
ability to assist people with special needs, such as young children or people with disabilities.
Working conditions
Flight attendants:
do shift work, including evenings, weekends and public holidays. International flight attendants may be rostered up to 18 hours a shift, and may spend many days away from home depending on where they are flying
work at altitude, often in cramped conditions
may work in conditions that are uncomfortable or dangerous, and may have to deal with stressful or difficult situations such as turbulence
travel locally or internationally.
What's the job really like?
Jacqui Chapman
Flight Attendant
Travelling for work has its perks
Jacqui Chapman thrives on the constant travel involved in her job as a flight attendant. "Many times when I've been in Wellington and there's an exhibition at Te Papa, I've thought, 'I would never have got the chance to see that otherwise.'
"If you do a six-day trip, you build up a rapport with the people you've worked with, and then you might have the opportunity to go to a Robbie Williams concert in Brisbane with four or five work buddies – it's great!"
Physical effects of working at high altitude
"This job does take a toll on your body and sleep. You need to be more proactive about your diet and sleeping habits than you normally would. So, I find out where I can buy fresh food at each stopover. You just have to be a little creative."
Watching others develop
Jacqui has moved up to the role of cabin supervisor, and helps train staff. "Sometimes I work with people who are shy, so I really enjoy seeing them gain confidence. It's not just about building up your own skills. You get an intrinsic reward from helping someone else out, and seeing them develop."
Flight steward video
Sarah Anderson talks about her career as a flight steward with the Royal NZ Air Force – 1.50 mins. (Video courtesy of Defence Careers)
Sarah: Welcome aboard, my name is Sergeant Sarah Anderson [and I'm] a flight steward in the Royal New Zealand Air Force.

I've always had a passion for wanting to travel the world and seeing different countries and cultures has always been something I've been interested in. I've had the opportunity to travel from my small hometown of Havelock to Antarctica, Dubai, Hawaii and up to Russia and Japan.

My most favourite place that I've been to is Antarctica and my first time there we were told there was penguins outside. So we raced outside and we realised that they weren't real, it turns out there was three cardboard cut-outs. So that was kind of a bummer but still really, really cool.

My most favourite person that I've had the honour to serve is Prince Charles and Camilla. They came to New Zealand last year and we got to serve them and show them New Zealand.

Your roles and responsibilities as a flight attendant involve emergencies and how to deal with them, that's our first and foremost responsibility, followed closely by customer service of our passengers.

It's not 24/7, you can have your own life. For example, this weekend is duck-shooting weekend so I'm all ready to go for that. I am also in the pageant world. I have been able to represent New Zealand overseas in Singapore and Bangkok. I like it because I can be in the military and I can also experience the glitz and glamour of the pageant world.

It has been the best experience and I encourage anyone who wants to travel and get paid to do it to join that dotted line and come along and be in the Air Force.

Making new friends, travelling the world, and serving the country are my three passions. Choose yours below to find the career you love.
Entry requirements
There are no specific requirements to become a flight attendant. However, a New Zealand Certificate in Aviation (Flight Attendants) Level 4 may be useful.
Once accepted for work on an airline, trainee flight attendants usually attend a training course and complete assessments before starting work. Each airline has its own training programme that helps flight attendants maintain and develop their skills and knowledge.
Secondary education
There are no specific secondary education requirements to become a flight attendant. However, languages and English are useful.
Personal requirements
Flight attendants need to be:
customer-focused and friendly
good communicators
able to relate to people from a range of cultures and backgrounds
responsible and professional
resilient and calm in stressful situations
able to work well in a team
organised, resourceful and alert.
Useful experience
Useful experience for flight attendants includes:
customer service
nursing
teaching
nannying
tourism or hospitality work
work in a travel agency
work that involves speaking another language.
Physical requirements
Depending on the airline, flight attendants may need to:
pass a lift and reach test, which usually requires flight attendants to be between 160 and 185 centimetres tall, and able to lift heavy bags and emergency equipment
pass a medical exam
be able to swim 50 metres under 2 minutes unaided
have a certain standard of eyesight to carry out emergency procedures without glasses.
Find out more about training
New Zealand School of Tourism

0800 102 020 - www.nzschooloftourism.co.nz

Service IQ

0800 863 693 - intel@serviceiq.org.nz - www.serviceiq.org.nz
Check out related courses
What are the chances of getting a job?
According to the Census, 3,015 flight attendants worked in New Zealand in 2018.
Advantage if you speak more than one language
Being able to speak more than one language increases your chances of getting a job as a flight attendant.
Useful languages to know include:
Cantonese
Fijian
French
German
Japanese
Mandarin
Samoan
Spanish 
Tongan.
Air New Zealand key employer
Air New Zealand is the biggest employer of flight attendants.
Flight attendants may also work for:
Jetstar
Qantas
the Royal NZ Air Force.
Sources
Air New Zealand, careers.govt.nz interview, Jan 2021.
Stats NZ, '2018 Census Data', 2019.
(This information is a guide only. Find out more about the sources of our job opportunities information)
Progression and specialisations
Flight attendants usually progress from working on domestic flights to working on international flights, or into senior roles such as lead flight attendant or purser. 
They may also choose to transfer to ground-based jobs such as check-in agent, or customer service roles.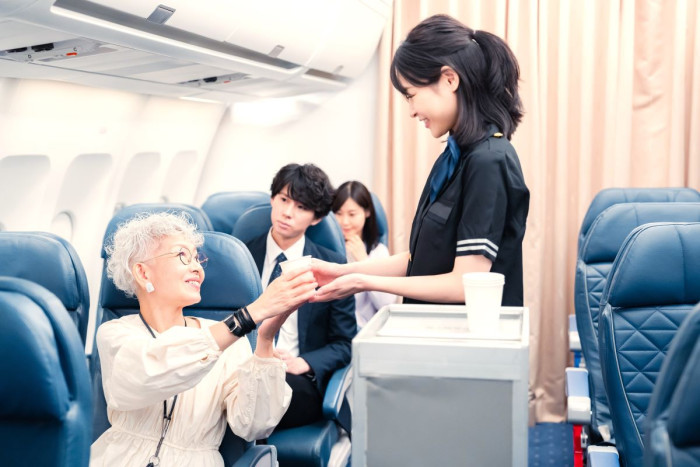 Last updated 4 December 2023