Tow Truck Operator
Kaitaraiwa Taraka
This job is sometimes referred to by alternative titles
Tow truck operators drive and operate trucks to tow vehicles that have broken down, been damaged or illegally parked.
Pay
Tow truck drivers with one to two years' experience earn
More experienced tow truck operators can earn
Source: Auto Salvage, 2016.
Job opportunities
Chances of getting a job as a tow truck operator are good due to a high turnover of workers.
Pay
Pay for tow truck operators varies depending on experience.
With less than two years' experience tow truck operators usually earn between $16 and $18 an hour.
Experienced tow truck drivers and/or those with extra licences such as heavy haulage may earn up to $26 an hour, or more.
Most towing companies pay an hourly rate, but some pay a flat rate for each call out.
Some tow truck operators have their own trucks, and contract their services to a towing company. They are usually paid a fee for each vehicle they tow, and can earn $100,000 or more a year (before tax and truck costs).
Source: Auto Salvage, 2016.
(This information is a guide only. Find out more about the sources of our pay information)
What you will do
Tow truck operators may do some or all of the following:
tow confiscated, stolen, impounded or abandoned vehicles for the Ministry of Justice, the police, or local councils
tow illegally parked, broken down or unwanted vehicles to panelbeaters, mechanical workshops, vehicle dismantlers or to the towing company yard for impounding
remove vehicles from crash sites for the police
unlock vehicles (without keys)
jump start vehicles 
keep records of vehicles that have been towed
deal with customers and take payments
maintain their tow truck.
Skills and knowledge
Tow truck operators need to have:
the ability to operate a tow truck safely and tow vehicles without damaging them
an understanding of the locking mechanisms of different types of vehicles to be able to move vehicles without using keys
basic mechanical skills to fix minor mechanical problems or be able to release the handbrake
knowledge of their local area and access to maps.
If tow truck operators tow or recover heavy vehicles, they need to know about Transit New Zealand's overweight vehicle policy, Land Transport New Zealand's over-dimension vehicle policy, and the permits used by these authorities.
Working conditions
Tow truck operators:
usually work in shifts, including nights or weekends, and are not permitted to work for more than 13 hours in one day or 70 hours in one week
work from their truck and depot, and outside on roadsides and in parking lots
work in conditions that can be dangerous, such as accident scenes and busy roads.
What's the job really like?
Pete Hansen
Tow Truck Operator
What's your most unusual call-out?
"A guy took his wife's Porsche for a drive, but he went flying off into the water at Shelly Bay. He was wearing heavy work boots and got his foot stuck because the pedals were so close together."
Police divers attached hooks to the wreck and Pete and a workmate winched the car to shore. "It was written off, but fortunately he was alright…"
What sort of jobs do you typically attend? 
"We mainly do breakdowns, but we also get call-outs to attend crashes. Nine times out of 10 you'll know straight away what to do. Other times you've got to take a bit more in; such as, if the car's gone into a house, you have to think 'If I pull it out, is a wall going to fall down?'"
Can dealing with irate people be difficult?
"If you encounter someone who looks like they're headed for a confrontation, you try to steer them from it. I used to work at the airport as a parking warden, so I learned a few skills there about how to calm people down. If you can help them out, they calm down and you end up best of friends."
Entry requirements
To become a tow truck operator you need to:
have a full, clean driver's licence for at least two years
obtain a V endorsement for vehicle recovery services on your licence, which includes a two-day course and test
pass a police fit and proper person check
provide a medical certificate and pass an eye test.
If you want to set up your own tow truck business, you'll need a vehicle recovery service licence.
Secondary education
There are no specific secondary education requirements to become a tow truck operator, but a competent level of English is useful.
Additional requirements for specialist roles:
To specialise as a tow truck operator you need to complete the appropriate licence for the vehicles you are towing or driving. Such as:
a Class 2 or heavy vehicle licence, if the truck you are towing weighs more than 4,500 kilograms
a (D) or dangerous goods endorsement on your licence, if you tow vehicles that carry hazardous substances.
Personal requirements
Tow truck operators need to be:
honest and reliable
calm, helpful and diplomatic when dealing with customers
good at record-keeping
efficient and able to work well under pressure.
Useful experience
Useful experience for tow truck operators includes:
any work with vehicles
work as a truck driver or other driving experience
work with cranes or forklifts
customer service experience.
Physical requirements
Tow truck operators need to be reasonably fit, as the job involves stretching, bending, lifting and climbing, especially in difficult salvage situations.

Tow truck operators must pass an annual medical test.
Find out more about training
New Zealand Transport Authority

0800 822 422 - www.nzta.govt.nz
Check out related courses
What are the chances of getting a job?
High staff turnover
Turnover among tow truck operators is high, so vacancies are common. Your chances of securing a job are best if you can work weekend and evening shifts.
Tow truck operators work for small businesses
Most tow truck companies are small businesses employing between five and 15 operators.
Sources
Butler, M, manager, Auto Salvage, Careers New Zealand interview, August 2016.
Ministry of Business, Innovation and Employment, '2006-2014 Occupation Data' (prepared for Careers New Zealand), 2015.
Ngatuere, M, senior policy adviser, Road Transport Forum New Zealand, Careers New Zealand interview, August 2016.
Progression and specialisations
Tow truck operators may progress into management roles or running their own tow truck business.
Tow truck businesses may specialise in:
towing illegally parked vehicles
towing large vehicles such as trucks and buses or heavy haulage vehicles.
Tow truck operators may also move into other transport-related jobs, such as heavy truck driving.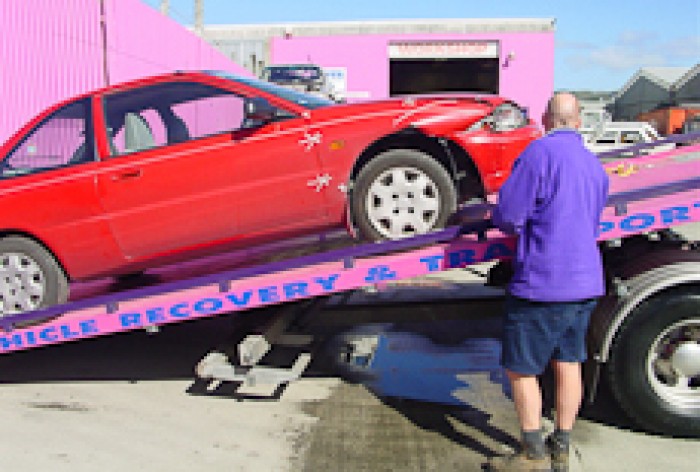 Last updated 2 February 2018