Train Driver
Kaitaraiwa Rerewhenua
Alternative titles for this job
Train drivers drive passenger or freight trains. They may shift (shunt) carriages and wagons using trains or remote controls.
Pay
Trainee train drivers usually earn
Qualified train drivers and team leaders can earn
Job opportunities
Chances of getting a job as a train driver are average because opportunities vary by region, and competition for vacancies is high.
Pay
Pay for train drivers varies depending on their experience and role. 
Trainee train drivers usually earn $27 to $43 an hour.
Qualified train drivers usually earn $47 to $53 an hour.
Team leaders and trainers can earn up to $58 an hour.
Shift work and overtime increases their take-home pay.
Source:  Transdev Wellington, Hyundai Rotem and Rail and Maritime Transport Union, 'Multi-Employer Collective Agreement – 3 July 2022 - 2 July 2024', 2022.
(This information is a guide only. Find out more about the sources of our pay information)
What you will do
Train drivers may do some or all the following:
drive trains, either in cabs or with remote controls
keep to schedules, and stop at stations to pick up or drop off passengers
link and unlink carriages and wagons
drive a locomotive (train engine) or use remote controls to shunt (push or pull) carriages and wagons to make up new trains
check locomotives
read about maintenance work happening on the tracks they drive on, and any rule changes
operate points (levers that switch tracks)
communicate with train control, other drivers and shunters, and passengers
prepare documents about wagon loads
act promptly and comply with safety rules during emergencies or breakdowns
identify and fix or report faults with their equipment.
Skills and knowledge
Train drivers need to have knowledge of:
emergency and safety procedures and first aid
how to operate a locomotive (train engine) and its mechanics, including air brakes and electrics
rail-operating codes and signals
safety rules and regulations
the correct way to use radio equipment
shunting (pushing and pulling carriages and wagons using trains or remote controls).
Working conditions
Train drivers:
do shift work, including nights and public holidays
work in drivers' cabs, outside in railway yards, and on train tracks in all weather
work in confined spaces and conditions that are hazardous (because they work with large machinery), and sometimes stressful (because there is a risk of hitting cars, animals or people on the tracks)
travel within or between cities each day.
What's the job really like?
Train driver video
Train drivers talk about the highlights and challenges of their job – 1.35 mins. (Video courtesy of KiwiRail)
First train driver: I've been driving trains now for the past 32 years. I enjoy the life of a locomotive engineer for the solitude that you have when you're out by yourself. You're doing your job, and there's just you.

Second train driver: I like the challenge of a heavy long train over a challenging track. There's a good sense of achievement when you get to the other end.

Third train driver: It's different, because you are not stuck in an office from 9 to 5, you're out there and every day's different – it's never the same.

Fourth train driver: I've always wanted to be a train driver.

Fifth train driver: You're pretty much your own boss.

Second train driver: For me, the least favourite route has got to be the suburban area, because of the volume of people – people at the side of the track, people on platforms, people on level crossings and unfortunately a lot of people don't have situational awareness about what's going on. So often we see them with earphones in, and a cellphone in front of them

First train driver: Yeah, with the earphones, they just can't hear the bells.

Fifth train driver: I'm lucky, so far not to have been involved in an actual incident, but I've had lots and lots of countless near misses.

Second train driver: Your heart goes into your mouth, you reach for the brake, you know that if something goes wrong you're not going to stop.

Fourth train driver: Before you cross over the tracks, remember, always.

Second train driver: Always.

Third train driver: Always.

Fifth train drive: Always expect trains, in either direction, at any time.
Entry requirements
Becoming a train driver
To become a qualified train driver you need to:
have a full, clean driver's licence and no criminal convictions
pass strict tests to show you are physically and mentally capable of being a train driver
pass medical, drug and alcohol tests
successfully complete on-the-job theory and practical training 
complete a New Zealand Certificate in Rail Operations (Level 4).
Becoming a shunter
To become a shunter, who shifts (shunts) carriages and wagons using trains or remote controls, you need to:
pass a basic entry test and a medical test, which includes drug testing
take training and induction courses run by KiwiRail.
Secondary education
No specific secondary education is required for this job but maths, English, and construction and mechanical technologies to at least NCEA Level 2 is useful. 
For Year 11 to 13 students, the Gateway programme is a good way to to gain industry experience. This programme may help you gain a job but doesn't reduce the amount of time it takes to complete your training. 
Personal requirements
Train drivers need to be:
safety-conscious
able to stay alert for long periods while working alone
punctual
able to think ahead and anticipate problems
able to stay calm under pressure and in emergencies
good communicators, in person and by radio.
Useful experience
Useful experience for train drivers includes:
physical work in a setting where safety is important
work in a shunting yard or other train-related work
mechanical or engineering work.
Physical requirements
Train drivers need to have:
good hearing and eyesight (with or without corrective lenses)
accurate colour vision to correctly recognise signals and other instructions
good reflexes
excellent fitness and health, and good strength as they need to lift train parts that can weigh up to 25 kilograms.
They also need to be comfortable working in confined spaces.
Find out more about training
KiwiRail

careers@kiwirail.co.nz - www.kiwirail.co.nz

Transdev
Check out related courses
What are the chances of getting a job?
Demand for train drivers average, but expected to increase
Opportunities for train drivers are average because a number of train drivers are retiring, which creates vacancies, but competition for positions is high.
However, opportunities for train drivers are expected to increase in the long term. This is because the 2018-27 Government Policy Statement on Land Transport includes up to $400 million for rail improvements, including more commuter rail services and more rail freight trips.
According to the Census, 1,134 train drivers worked in New Zealand in 2018.
Most train driver work is in Auckland and Wellington
Your chances of getting train driver work are best in Auckland and Wellington, which have major freight depots and urban commuter networks.
The Auckland City Rail Link will increase demand for train drivers in Auckland as it will extend the network and allow more trains to travel on all lines. One hundred new train drivers will be needed.
KiwiRail recruits train drivers in Hamilton, Palmerston North and Christchurch for freight operations.
Shunter opportunities limited
Shunters, who shift (shunt) carriages and wagons using trains or remote controls, tend to leave the role after a short time because the role is physically demanding.
However, the occupation is small so it can still be difficult to secure a position.
Two employers of train drivers
Train drivers work for:
KiwiRail – driving freight and long-distance passenger trains
Transdev – driving local Auckland and Wellington commuter trains.
Sources
Dunkin, V, talent acquisition manager, KiwiRail, careers.govt.nz interview, October 2018.
KiwiRail website, accessed September 2018, (www.kiwirail.co.nz).
Maskell, L, senior recruitment consultant, Transdev Auckland, careers.govt.nz interview, October 2018.
New Zealand Transport Agency, 'Draft Transport Agency Investment Proposal 2018-27', April 2018, (nzta.govt.nz).
Stats NZ, '2018 Census Data', 2019.
Transdev website, accessed September 2018, (transdev.co.nz).
Wilson, S, 'Auckland City Rail Link to be Bigger and More Expensive', 24 July 2018, (www.nzherald.co.nz).
(This information is a guide only. Find out more about the sources of our job opportunities information)
Progression and specialisations
Experienced train drivers may move into managerial or training roles. They may also progress to become station managers or train controllers.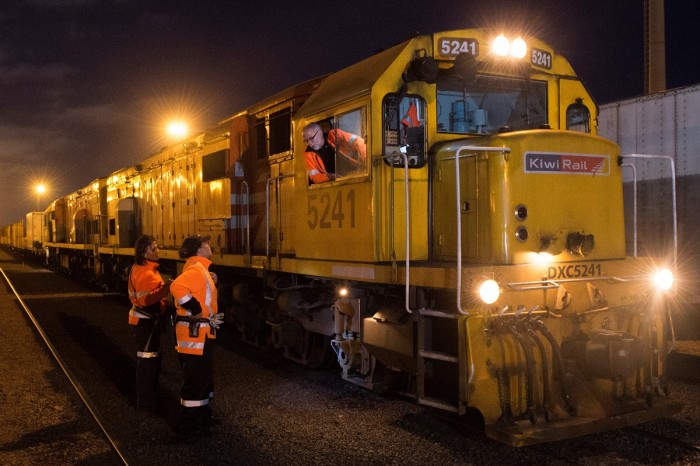 Last updated 24 July 2023