Crane Operator
Kaiwhakamahi Wakaranga
Alternative titles for this job
Crane operators use cranes to move objects such as materials on construction sites, containers on wharves, and heavy parts in factories.
Pay
Crane operators usually earn
Experienced large crane operators usually earn
Source: Crane Association of NZ, 2018.
Job opportunities
Chances of getting a job as a crane operator are average for inexperienced crane operators, but good for those with experience.
Pay
Pay for crane operators varies depending on experience, qualifications, location and the type of crane.
Trainee crane operators, who work as dogmen, usually earn $18 to $20 an hour.
Experienced crane operators usually earn $26 to $35 an hour.
Experienced crane operators operating large cranes in dangerous conditions can earn $60 to $70 an hour.
Source: Crane Association of New Zealand, 2018.
(This information is a guide only. Find out more about the sources of our pay information)
What you will do
Crane operators may do some or all of the following:
check their crane's air, water, oil, fuel and lifting equipment
drive mobile cranes to work sites
set up cranes and make sure they are secure
organise the lift plan and allocate work to the team
make sure loads are not too heavy for the crane, and identify and control any hazards
follow directions from a team member on the ground 
lift and move loads and place them in the required position.
Crane operators usually start by working as dogmen, who rig (attach) loads to cranes and direct crane operators from the ground.
Skills and knowledge
Crane operators need to have knowledge of:
safety rules that govern cranes, such as regulations for road operations
safe working load limits for various cranes
how to prepare and rig (attach) loads for lifting 
how to maintain and operate cranes, including operating computerised controls
ground-to-crane hand signals.
Working conditions
Crane operators:
often work irregular hours, including nights and weekends
work in various locations outdoors or inside, including construction sites, warehouses and wharves
work in most weather conditions, except high winds and heavy rain
travel locally to work sites.
What's the job really like?
Crane operator video
Daniel finds out what it's like to be a crane operator – 7.42 mins.
Daniel: Hi my name's Daniel, I'm 17 from Mount Maunganui and I'm learning what it takes to work in and around cranes.

Clinton: Daniel is headed to HEB Construction at Mount Maunganui. HEB is a large civil engineering company. Among their many construction projects they build roads and bridges. Daniel already has a part-time job here and he's keen to learn about cranes.

Daniel: Hi there, nice to meet you, Daniel.

Mani: Yeah, Mani, HEB Structures.

Clinton: Mani Wilkinson is a crane supervisor for HEB.

Mani: I started myself as just a hammer hand, got into the cranes slowly.
There's a skill there that no one can just instantly have and know everything about it. Patience is really the hardest one, it doesn't come straight away. We also need to know a lot about obviously the theory and the rigging behind things to know that what you are actually lifting is going to be safe.

I suppose there's a lot of responsibility then if you're running someone in the man cage and you're taking them to a certain height. The responsibility is all on you that you're gonna bring them home safely at night.

Clinton: The Mount Maunganui HEB site makes precast concrete panels and beams for structures and roading projects. Lee Lidlow supervises training here.

Lee: The precast yard that we've got here, just over to the left here. They'll make anything in this part of the yard. And everything is done with cranes moving the precast concrete around.

Clinton: So time for Daniel's first driving lesson with Mani.

Mani: Here we have a seven tonne RK70 which is probably a perfect start for someone who wants to learn the ropes. It's quite simple to drive.

As you see on your left hand side you've got two leavers there. This red one is your slew, it'll make you go left and right. This one's the winch. This is boom up and boom down so if you pull it towards you it's going to go up.

Daniel: Oh yeah yip.

Mani: If you pull down it'll go down.

So if you want to gently hold the red leaver and if you slowly pull that towards you, without pushing this forward at all just try and hold that one leaver.

The RK70, they're so mobile and useful, even today on our major bridge jobs they end up coming on to move moulds or put on barriers with less footprint so that's their benefit of being light.

Daniel: That was the first time I've operated and picked up something and it's definitely harder than it looks.

So what's this crane?

Mani: Oh this is our P and H 125 tonne yard crane. It's served its purpose out on our sites back in the day and now its back in the yard. It does all our precast lifts.

Daniel: So what's hard about driving these cranes?

Mani: You have to have the ability to multi-task your hands and try and do more than three things at the same time. As well as be able to predict hazards as they arise.

Clinton: Modern cranes are complex and drivers need to commit themselves to considerable training. The Skills Organisation is there to help.

John: The qualifications vary so from 12 months to perhaps 24 months. And depending on the equipment they're using and how technical the particular equipment is will depend on the length of the qualification.

The support we provide to the apprentices and the trainees is varied including literacy, numeracy, support with their reading. And then perhaps later in some of the other qualifications they do there is also support for perhaps leadership and some management training.

Clinton: Back in the yard panels are being moved. They are extremely heavy and have to be lifted into the vertical position using a special table.

Lee: He's going to set one set of chains onto the tilt table then we're going to lift that tilt table up to almost the vertical and then a guy goes up on the ladder as we can see here. And he's always hooked on with a inertia reel to stop him from falling.

He goes up there to transfer the chains onto the concrete panel. The crane operator, Stu up there, is going to be slewing and he's going to be luffing up at the same time to get that panel off the bed and up into a vertical position.

Daniel: Oh, okay. Yip, yip.

Lee: And we've got to slew around over the rear of the crane and put the panel into the toast rack to support it.

Clinton: HEB are building a section of the new Waikato Expressway. The largest structure of the project is the Karapiro Gully viaduct.

Today, huge casings are being hammered into the ground. They will provide the foundations to support the viaduct.

Mani: Well we see here we've got a 280 tonne crane here. It's installing casings up the top here which is obviously going to be our foundations for our bridge. They'll be going in maybe 30 to 40 metres into the ground.

Clinton: Before they head down to the site. Daniel finds out about the signals used by the crane driver's dogman, the driver's on-ground assistant.

Mani: So that's going to be up on the hook, alright? And this is going to be down on the hook. When we luff up that's you lifting your boom up. There's luff down, take the boom down.

The 280 is pretty much the pride of our fleet. But in saying that it's modern, it's got every safety feature there is. It's got cameras. But its operation isn't that fast which is perfect for new guys as well.

Clinton: This 280 is around two million dollars' worth of gear, and lucky for Daniel, he's getting the chance to give it a go.

Mani: This is your main hook, your auxiliary, and your boom. And they're quite close together so you can actually operate them within your fingers.

Daniel: Oh, yip.

Mani: So we just slowly go around, we've got no one there, we're good to slew. We're not going to hit anything behind us. If you go up on the hook, feel that click?

Daniel: Yeah, yeah I feel that.

Mani: Cool eh?

The computer side of things, you know the radius is letting you all know your boom angles. All that's new, in the old days all you had, if you were lucky, was a bell telling you you're overloaded. Now we've got traffic lights telling you that once you're in the, when you're in the orange you're getting there. When you're in the red, you're pretty much down the road.

Daniel's shown us some very good promise. He's light on his hands and he understands what the computer's about and how the ratings work and yeah I thoroughly enjoyed showing him.

Daniel: Yeah it's been good, it's been interesting learning lots of things, picking up some objects and moving the cranes around was yeah a real good experience.

Clinton: The Skills Organisation manages industry training for all crane operating jobs. You can start at 16 years old as a general construction hand and work your way up to dogman and then operator.

The crane certificate program has [NCEA] Level 3 certificates for dogman and crane operator. Training involves a certain amount of theory but the greater part is hands on.

You are part of the future of New Zealand with a sense of pride in building something New Zealanders use.
Entry requirements
To become a crane operator you need to complete on-the-job training and gain a New Zealand Certificate in Crane Operation (Level 3). You can also gain a New Zealand Certificate in Crane Operation (Advanced Crane Operation) (Level 4).
The industry training organisation Skills oversees crane operator training.
Secondary education
There are no specific secondary education requirements to become a crane operator. However, construction and mechanical technologies, English, and maths are useful.
Year 11 and 12 students can learn more about the construction industry, and gain relevant skills, by doing a National Certificate in Building, Construction and Allied Trades (Level 1 and 2) through the BConstructive programme.
For Year 11 to 13 students, the Gateway programme is a good way to gain construction industry experience.
These programmes may help you gain an apprenticeship, but do not reduce the amount of time it takes to complete it. 
Additional requirements for specialist roles:
To become a mobile crane operator you also need to:
hold the appropriate heavy vehicle licence (depending on crane size)
be at least 18 years old to drive a mobile crane on the road.
Personal requirements
Crane operators need to be:
responsible and careful
able to work well independently and in teams
patient and observant
good communicators
good at decision making.
To be a good crane operator you need to be responsible, patient and have good hand-eye co-ordination A strong focus towards safety is critical.

---

Scott McLeod

Managing Director, McLeod Cranes
Useful experience
Useful experience for crane operators includes:
working as a dogman on the ground below a crane, attaching loads and communicating with the crane operator
building or engineering work
truck driving
operating earthmoving or other heavy machinery.
Physical requirements
Crane operators need to be reasonably fit, have good eyesight (with or without corrective lenses), and good hearing. They must also be comfortable working at heights.
Find out more about training
Crane Association of New Zealand

(04) 473 3558 - info@cranes.org.nz - www.cranes.org.nz

Skills

0508 754 557 - support@skills.org.nz - www.skills.org.nz
Check out related courses
What are the chances of getting a job?
Strong demand for experienced crane operators
Experienced crane operators are in high demand due to:
a construction boom that is predicted to peak in 2020, meaning more building work
the aging crane operator workforce – as crane operators reach retirement age there are openings for new staff.
Chances of getting work as a dogman are also good. Crane operators usually start as dogmen before becoming crane operators so that they understand the process of lifting and moving objects with a crane before operating one.
However, like many building jobs, this role can be affected by economic conditions. A downturn in the economy can lower demand for crane operators.
According to the Census, 1,542 crane operators worked in New Zealand in 2018.
Approach employers directly if you have no experience
Crane operators tend to stay in the role for a long time, so turnover is low.
If you have little or no experience, your best chance of entering the crane industry is to approach crane companies directly with your CV and see if they are willing to take you on and train you.
Most crane operators work in construction
Most crane operators work for employers in the building and construction industry. They are also employed in:
manufacturing
engineering and civil construction
machinery equipment hire and leasing
forestry
water transport (operating dockyard cranes).
Sources
Auton, R, chief executive, Crane Association of New Zealand, careers.govt.nz interview, July 2018.
Ministry for Business, Innovation, and Employment, 'National Construction Pipeline Report 2017', July 2017, (www.mbie.govt.nz).
Ranchhod, S, 'Construction Bulletin - July 2018', July 2018, (www.westpac.co.nz).
Skills, 'A Career in Cranes', accessed August 2018, (www.skills.org.nz).
Stats NZ, '2018 Census Data', 2019.
(This information is a guide only. Find out more about the sources of our job opportunities information)
Progression and specialisations
Crane operators may progress to become training assessors, supervisors or managers.
Crane operators usually specialise in operating particular types of cranes, such as:
truck loader, tower and mini crawler cranes that move objects on construction sites
container and ships' cranes, and straddle cranes that move containers on wharves
mobile, non-slewing articulated and gantry cranes that shift heavy parts in factories
crawler, mobile and tower cranes that place concrete and build bridges
gantry cranes involved in steel fabrication.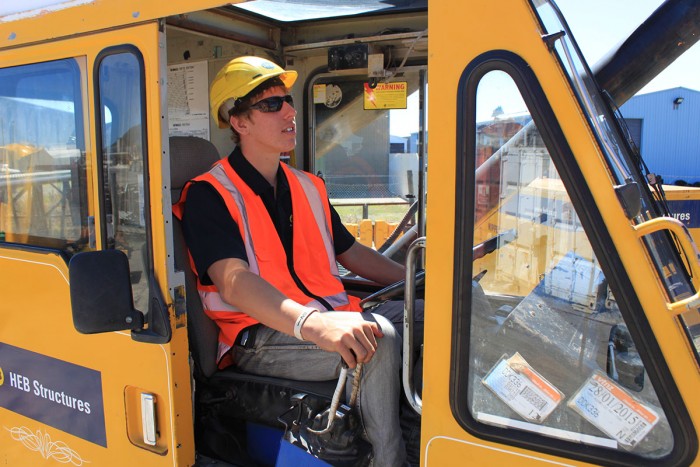 Last updated 17 June 2020