Working for yourself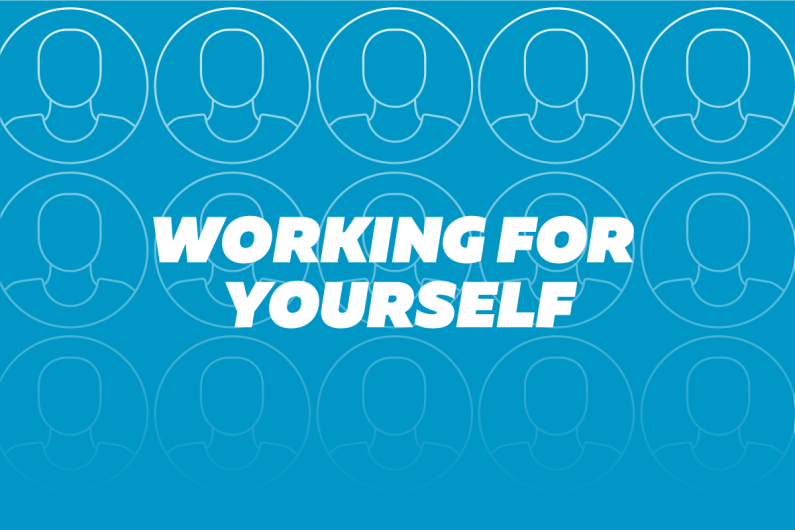 Find out what it takes to be a contractor or an entrepreneur, and set up a business.
What's on this page?
Working as a contractor
Reasons to become a contractor include:
you want to use your skills to earn more than you could as an employee
you prefer flexible work arrangements
permanent work is hard to find.
Contractors may do work similar to permanent employees. However, as a contractor, you:
do your own tax returns
don't get paid sick leave
aren't paid for public holidays that you don't work
aren't automatically enrolled in a KiwiSaver scheme.
As a contractor, you'll have to choose between being a sole trader and starting a company.
Business.govt.nz website has a tool you can use to work out the right choice for you.
Footwear business leads Gustavia Lui to success - video
Gustavia Lui talks about her experience as an entrepreneur since starting her footwear business, Staavias – 5.37 mins.
Gustavia: Island feet. Island feet is like feet that are very long and very wide and kind of flat. Hmm, island feet.
I am Samoan and Tuvaluan. I love shoes. I definitely love shoes and I love helping people.
So I was doing a course with Te Wānanga and the idea of business came up. The very first thing that came to my mind was I'm going to open a shoe store. I actually decided to roll with it after that. I thought, "I want to see if it can be done."
I have problems finding shoes myself. I have quite big, wide feet. I struggled so much finding shoes that I like. There were shoes that were big but they were never trendy. So I wanted to bring in some real hip, trendy, kind of shoes. I wanted something that fit my feet and so that's why I was quite focused, determined, on the big shoes idea.
So my upbringing was quite difficult. I got kicked out of school. I lived in a whole lot of different homes growing up. I got pregnant when I was 16 so I was a mum quite young. I got married. Now I'm stable, I have a good working history, I have three children, and I've been married for a long time.
One of the biggest things is attitude. Your attitude will determine how you look at a problem, whether or not you're going to face it and try to overcome it, or you're going to give up.
I read books a lot, so I'm always reading new books. I read a lot of self-help, business/marketing kind of books. I'm just reading, there's a book over there that I'm just currently reading. So that's working on my attitude as well.
One of the things is that you've got to be willing to learn. For example, when I first started I had no idea how to do a website. I know what a website is and that's about it, like I only know what a website is. Now I'm able to do basic coding.
I get a lot of people write to me about how they don't agree with my prices. They write to me and they say things like, "You're trying to rip off our community", "You're a Samoan, who do you think you are selling $200 shoes to Islanders?" You know, that sort of thing.
Johnson: How do you deal with that?
Gustavia: I usually write about it, just on my own. I will write a whole note about this person and how they made me feel. And usually once that's done, it's done.
My achievements and cool stuff that's happened to me in the last 12 months. The first thing I did was I started the brand, so I got it open. I've been featured in The Herald and 22 other publications, blogs, articles – including one by Shopify in Canada.
I've been to Australia, Hong Kong, China, and America. I've lasted a whole year, that's a big achievement.
By the end of 2017, I have a goal to make sure that we have shoes in Vienna, Spain, France, and every state of Australia. Oh, 2017 is super exciting.
Johnson: That's us, staavias.com.
Kia ora whānau, I hope that Gustavia's determination has inspired you. Here's some awesome tips that we've taken away from her business journey so far.
Gustavia's business idea came from a lightbulb moment at Wānanga and although she wasn't a savvy businesswoman yet, she didn't say no to that voice in her head.
Gustavia: So I was doing a course with Te Wānanga and the idea of business came up. The very first thing that came to my mind was I'm going to open a shoe store.
Johnson: Don't be that person who says, "I thought of that idea five years ago." It's the doers that take a chance at success and turn their dreams into reality.
Gustavia didn't have a heap of money, well actually she didn't have any money or a website when she first got started.
Gustavia: The first thing I did was I started the brand, so I got it open.
Johnson: You don't have to wait for perfection, or next year, to get started on your goal. Whether it's to study, start a business, or apply for a new job, you can solve any hurdle that comes your way with determination and a great attitude.
We grow our muscles in the gym and our minds when we study and learn. But how often do we invest in our attitude, mind-set, and self-awareness?
Gustavia: I read books a lot, so I'm always reading new books. I read a lot of self-help, business/marketing kind of books.
Johnson: There are heaps of free tools online to help you grow yourself. More Oompher stories are a great place to start.
Faafetai lava to you Gustavia for sharing your extraordinary story.
Don't forget to subscribe to our channel and check out more extraordinary Kiwi stories.
How to be an entrepreneur
An entrepreneur is someone who:
can identify what's missing in the market – an entrepreneur can spot business opportunities that will fill gaps in the market
can identify key people to help achieve goals – nobody is an expert in everything
takes risks – even if you've carefully researched the market, there's always a chance that customers may reject your product or service
shows drive and initiative – if you're launching a business you need determination and energy to overcome any obstacles
is resilient – all entrepreneurs have failures and successes. Your ability to learn from mistakes and move on is key to the success of your business.
Starting your own business
If you've got an idea for a business or spotted an opportunity for one, here's where to go for advice on creating a business plan and getting a startup off the ground.
Sort out your business finances
You need enough money to set up the business and cover operational expenses until the business starts to make a profit.
A range of organisations provide in-depth financial advice and information:
Choose a business mentor
A business mentor is an experienced business professional who provides you with advice, guidance and support as you launch and maintain your business venture.
A number of organisations have business mentoring programmes.
Choose a business incubator
Some organisations offer business incubators or accelerators. These help businesses that are starting up by providing services such as business advice, finances and access to shared premises.
Updated 17 Jan 2023