Skills employers are looking for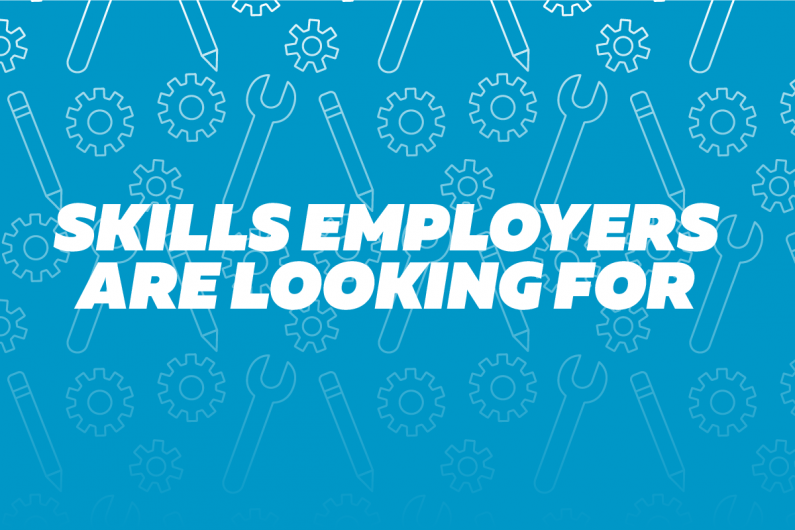 The skills employers most want you to have.
What's on this page?
These are the skills employers say make them want to hire you.
Employability skills in demand
Employability skills are the skills, qualities and attitudes that employers say are essential for their workplace.
The seven essential employability skills
Here are the seven essential employability skills with examples:
1. Positive attitude
Being calm and cheerful when things go wrong.
2. Communication
You can listen and say information clearly when you speak or write.
3. Teamwork
You help out when it gets busy at work.
4. Self-management
You get to work on time every day.
5. Willingness to learn
You want to learn new things to improve your skills.
6. Thinking skills (problem solving and decision making)
You try and solve problems or can see where something won't work.
7. Resilience
You get an angry customer but you keep calm, keep working and laugh about it later.
My employability skills – exercise
Employers want you to have all of the seven employability skills, but you'll find that you are better at some of the skills than others. The skills you are good at can give you career ideas.
Try this exercise
1. Use our worksheet to think of examples of when you've used each employability skill.
2. Review this worksheet. Which skills have more examples? Which skills are your strongest?
3. Use our Skill Matcher tool. Put your strongest skills into this.
4. Our Skill Matcher tool will suggest career ideas based on your strongest skills.
Skills employers are looking for – video
Employers share the skills they want you to have for their workplace – 3.00 mins.
Rakesh Naukira: Communication skills - they're absolutely vital and important both written and verbal communication skills ensuring that you write very, very clearly and articulate it well. And same within the verbal communication. Speaking slowly, articulate yourself and actually think about what you're saying so that the other person understands what you're saying.
Niels Alkemade: Teamwork and interpersonal skills in a candidate is extremely important for us. We're an organization that works in an agile way so you'll be working lots with people across the company and in different project groups.
Justin Ensor: Teamwork is essential. More and more collaboration is becoming the centrepiece of what makes us successful.
Rakesh: Organisations are about a group of people and it's about those people connecting together and in today's world that we live in it's very diverse. Having that connection between that diversity is extremely important.
Shailen Patel: Nowadays anyone needs to be confident proud of their achievements and be comfortable to show that in an interview. If you don't shout about yourself no one else will.
Sandra Lyall: When we're recruiting, we look at people that are aligned with the values of our organization. So the last value is excellence and that really is being the best that you are, bringing yourself to work and working as hard as you can and bringing that effort through.
Camilla Weinstein: Another quality that we look for in candidates is that they're passionate and driven. We are a technology, software-development house so people that are interested in technology and have a passion for and where the future of technology is going.
Justin: Self-management is really important because yeah New Zealand businesses as a whole tend to be a lot flatter in the organizational structure there's an expectation that you're proactive in recognising what needs to be done and doing it.
Sandra: So one of the key things that we're looking for people that we're recruiting for are agility, sort of, flexibility people that are really open to change and also partnered with that is the real willingness to learn and adapt and be curious.
Rekash: Networking always assists anyone in their own career and we also value that in our organisation. Understanding what's going on within the industry in developing relationships with people with internally and externally within your industry so you develop more that relationship but also that understanding.
Sandra: Depending on what skills and background you bring to New Zealand it may be more helpful to get some type of experience potentially voluntary for a while you're starting to look for a job in New Zealand. It's a way of understanding how we work getting familiar with the language, linking into the community and also aligning some voluntary work skills that can then be relevant for work skills.
Niels: Any candidate has analytical and critical thinking is someone we'd like to have on our radar as well but also with the world that's changing it's a key skill set that people will have to have to be successful.
Justin: If you look at where the future's going you know, problem solving and collaborating to solve problems is really important. They can be very hard to assess in an interview situation so building a CV or repertoire of stories which can illustrate how you've solved problems is important.
Niels: So I think initiative and drive for a candidate is very important in our organization so anyone that can demonstrate they can take something and drive it through to completion is someone we're looking for.
Camilla: We are a values-based business so really understanding how you fit with the values that we have and what your values are to make sure that you're not only the right person for us but it's also the right organisation for you.
Adam: We've got 51 different nationalities here at KPMG. Over 30% of all of our hires come from overseas. So we don't necessarily have a fit, we're looking for people that might add to the culture of the organisation.
Find out more
Learn more about the skills employers are looking for by searching online resources such as:
Next steps
Your next step is to figure out your skills:
Updated 26 Feb 2020