Figure out your skills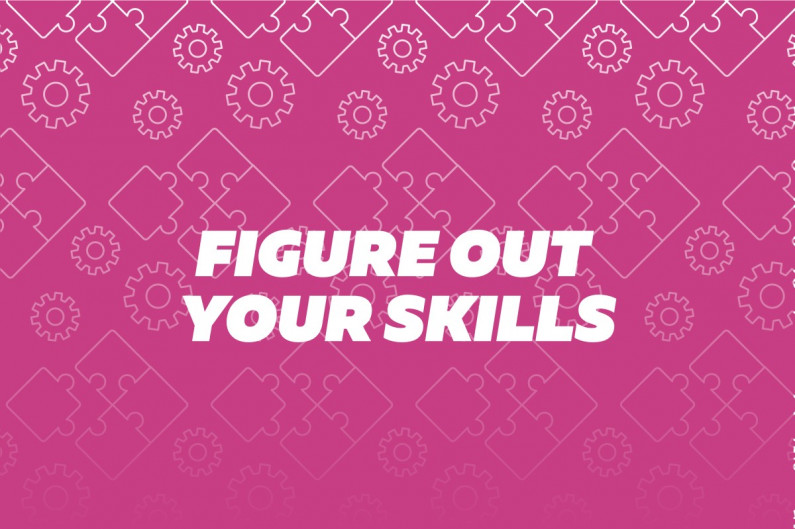 How to figure out your skills to help you identify your career options.
What's on this page?
Figuring out all the skills you have can increase your career options. This will also identify any skill or knowledge gaps.
Why you need to figure out your skills
Figuring out the skills you have will help you:
decide what sort of job you might like
decide what areas you need to focus your study or training on
write your CV if you're applying for a job
Figure out your skills in three steps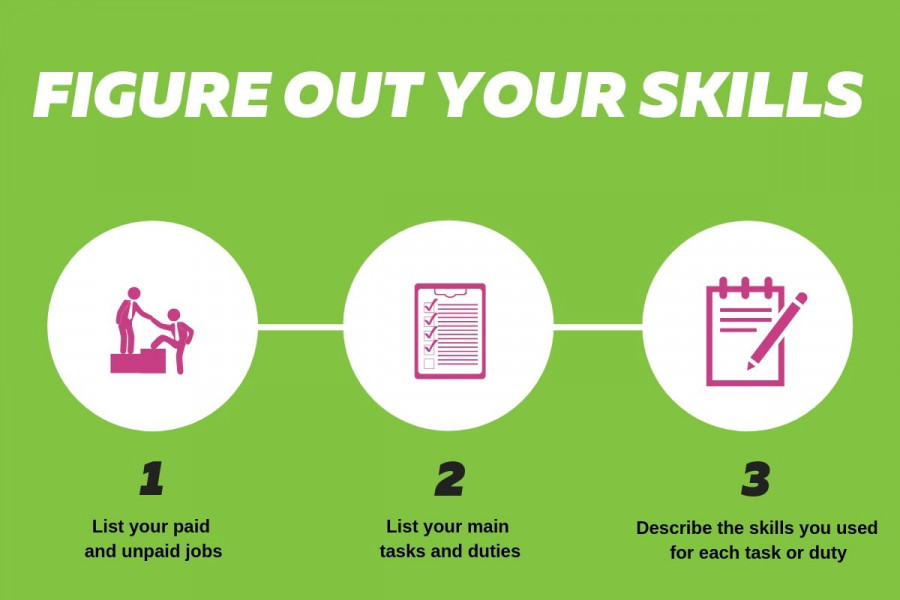 Brainstorming can help you figure out your skills. Follow these three steps to create a skills list.
1. List all your paid and unpaid jobs
Make a list of the jobs or positions or responsibility you've had and any voluntary work you've done.
I've never had a job. What are my skills?
If you've never had a job, focus on the skills you've gained from your interests or activities.
You can get skills from activities such as:
playing sports or belonging to teams
helping with hospitality or leadership on your marae
taking part in events such as debates or drama productions
belonging to organisations such as Scouts, Girl Guides, Air Training Corps or Student Volunteer Army
earning awards such as Duke of Edinburgh
having a school leadership role or being a student representative.
You can also learn skills from the subjects you study.
If you study maths, for example, you can learn:
analytical skills
problem-solving skills.
2. List your main tasks or duties for each job
For each job or role, write five or six sentences describing your main tasks, duties or responsibilities.
For subjects you studied at school, think about the assignments and projects you did.
3. List the skills you used or developed for each task or duty
For each task, duty or responsibility, write a sentence describing the skills you used or developed to do them. As you go through your list, ask yourself how advanced you are in that skill.
Get inspiration from job adverts and our job profiles
If you're having trouble figuring out your skills, you can get ideas by checking job adverts to find out what skills employers say they're looking for.
You can also find out more about the types of skills needed for jobs by checking our job profiles
Ask yourself:
Do I have any of these skills?
How can I show that I have this skill?
How to find out your skills - video
How to find out what your skills are for your CV and job hunting – 2.49 mins.
Matt: Need some help getting some skills down, eh? Don't worry your magical guide Matt is here to help! All jobs will expect you to bring some skills with you. Your skills are kind of what make you who you are and they're also your biggest advantage. Skills are what employers are most interested in.
Girl: But I don't know what to put down here.
Matt: That's OK. Don't freak out, even if you don't think you have the skills – you do. Let's go see. So you got a licence? Well, that's a skill – it's a technical one, like knowing a language or a computer program – like Photoshop. There's a whole range of other skills like this that you probably have that you didn't even realise. Hold on, wait for me! So, let's have a look at some of these other types of skills that we can see in this job description, skills you can transfer from other areas of your life. Hmmm … must be able to work in a team. Hey, heads up! Netball! You show up every week to the game, don't you? You train hard, you work as a group.
Girl: Yeah, but ...
Matt: Well, this is teamwork! This is dedication! In order to find out what skills you do have,you need to look at all areas of your life.
Girl: Mmm.
Matt: And don't be shy, promote yourself! Everyone else does. You gotta put your best foot forward. Ha!
Girl: Thank you.
Matt: Awesome! This volunteer work shows us how well you can manage your time in your weekends, by balancing sport, study and volunteer work. And hey, you're a natural at talking to people, and that shows you've got great communication skills as well! Here you go.
Girl: So the trick is to think about different areas of my life: being in a young enterprise scheme at school, volunteering, after-study activities, sports … that kind of thing?
Matt: Exactly. Think about the skills the employer is looking for and an example from your life that demonstrates that. Then, describe the activity on your CV and the skill it taught you. It doesn't have to be perfect at this stage, the important thing is you get something down and give it a go.
Girl: Thank you. Bye!
Matt: You may think you don't have any skills, but you do – you just need to know how to spot them. Letting people know what those skills are lets them know just how good you are.
Updated 3 Apr 2020