Pacific Work Connect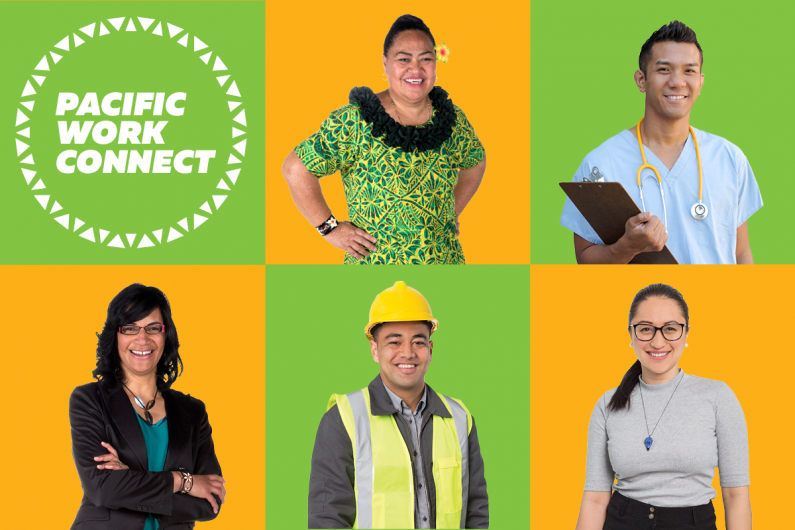 Pacific Work Connect is a free service to help eligible Pacific migrants become job-ready in the Aotearoa New Zealand job market.
What's on this page?
What is Pacific Work Connect
Pacific Work Connect is a free programme to help you become job-ready in the Aotearoa New Zealand job market.
Our Pacific career consultants deliver workshops and one-to-one career coaching in the 10-hour programme.
It's available anywhere in New Zealand. 
Talanoa with our Pacific team
You can email, phone or send us a Facebook message.
Meet Mele and find out about her work journey in Aotearoa New Zealand.
Talofa. You might be looking for a permanent job but while looking for a job you should not be afraid of taking other types of work such as casual work, contracting, fixed term work or volunteering. These types of work are all useful steps in your career.  
 Let's take a look at Mele's story. She took other types of work when she first came to New Zealand and then successfully moved into permanent work.
 I came to New Zealand from Samoa four years ago for better work opportunities. In Samoa I worked in a resort helping with food preparation and serving. I wanted to further my work and hospitality in New Zealand, when I got here I found the work culture and style were a bit different and I didn't know anyone, so I was a bit lost on how to get a job in the hospitality sector.
 One of my extended family told me I should do some volunteering. There are many community organisations looking for volunteers, like food hub, city mission and at churches. I volunteered with a local organisation helping to feed homeless people. The head chef noticed my great work ethic and food preparation skills and asked me about my background. Once she heard about my experience and skills, she offered me a casual role at her catering company which prepares food for corporate events.
 One day when I was picking up the plates from the company that we sent food for at an event, the person then asked us who prepared the food. I told him that it was me and about my experience from Samoa in the resort. He then told me that his friend was looking for someone to cover maternity leave at her cafe on a fixed term contract and that he would put the word in for me. The cafe owner was so happy with my hard work, strong work ethics, reliability and skills with food that she told her brother-in-law, who has a restaurant in the city.  
 After finishing my contract at the cafe, I got offered a permanent job in the restaurant with very good pay. I was being the person I wanted to be when I came to New Zealand.
 What a great story. Let's recap the different types of work Mele did. She volunteered, helping to feed homeless people where she met someone who got her a casual job for a catering company, where her skills were noticed leading to a fixed term contract. Mele's hard work and experience in this role led her to a permanent, well-paid job that she loves all of these steps help her end up where she wanted to be.
 Any type of work is good work. Take opportunities that come up, who knows where they will lead you.
Learn more about John Paul, Timote and Sam and their experience of working in Aotearoa New Zealand.
Hello.
If you are new to New Zealand and need help on your journey to finding rewarding work, then Pacific Work Connect is here for you. In our free programme you learn job searching tips, interview skills, and how to write your CV, and look at study or training options. We want to help you find success like John Paul, Sam and Timo.
Hello, my name is John Paul Adams. I come from a village in Samoa called Lotopa. It's been ten years since I've been in New Zealand.
Hello, my name is Timote Manako. I come from the village of Longolongo, Tongatapu. We moved here to New Zealand in 2010.
My name is Sam Steiner. I come from of Nukubati, a province of Macuata. My maternal side is Navidamu, also a province of Macuata. I came under the New Zealand Samoan quota scheme. I was meant to go down to Hawkes Bay for apple picking. I changed my mind and stayed in Auckland and worked at McDonalds. In Tonga I didn t have any work to do, other than the plantation, so when we moved to New Zealand, it was hard to find work because of the language barrier and adapting the new lifestyle here in New Zealand. I've been working in the company for two years now in the South Auckland region.
My role in Fulton Hogan is to work on the designs for the roading and construction and building footpaths and side-walks. I was given the opportunity to work for Fulton Hogan in 2011. Six years later, I'm here at Fulton Hogan looking after the West Auckland branch, the maintenance for Auckland Transport. My only advice for my brothers and sisters from Samoa is don't give up easily, work hard. Put your family and God first. No matter what or where you work, you must give your best and the saying from our elder that is to put God first in our lives!
Thank you, good bye!
Thank you John Paul, Sam and Timo for sharing your journey with us, if you want to learn more about how you, your partner and your family can find success in New Zealand, contact Pacific Work Connect. We'd love to hear from you.
Thank you.
What will you gain
You'll learn about:
your skills and talents
job opportunities
how to look for – and apply for – a job that matches your skills
how to be confident when talking to employers.
Who can apply
To be eligible for Pacific Work Connect, a client must be:
aged 16–65
from a Pacific nation
living in New Zealand for 10 years or less.
They must also hold:
a Samoan Quota Visa, or
a Pacific Access Category Visa (PAC) from Fiji, Tuvalu, Tonga or Kiribati, or
NZ citizenship from the Cook Islands, Tokelau or Niue, or
a Work Visa and be a partner or adult child (aged 16–24) of a Samoan Quota Visa or Pacific Access Category Visa (PAC) holder, or
a Skilled Migrant Visa, or
a Work Visa and be a partner or adult child (16–24) of a Skilled Migrant Visa holder, or
a Student Visa and be studying at Level 7 or above, and working on a PhD, or in their last six months of study, or
a Work Visa and be the partner of a student, studying at Level 7 or above, or
Principal Migrant status and be in postgraduate study after completing a Level 7 qualification in New Zealand.
Apply now
Contact us to book your talanoa, ask questions or find out if you meet the criteria.
Pacific Work Connect resources
Download Making your Kakala career journey
Download resources to help you get a job or promote Pacific Work Connect in your community
Pacific Work Connect privacy
 Find out how we collect and look after your information when you sign up to Pacific Work Connect.
Your career consultant can answer questions or explain anything you're unsure of.
Updated 27 Jan 2023