Become a life-changer with Inspiring the Future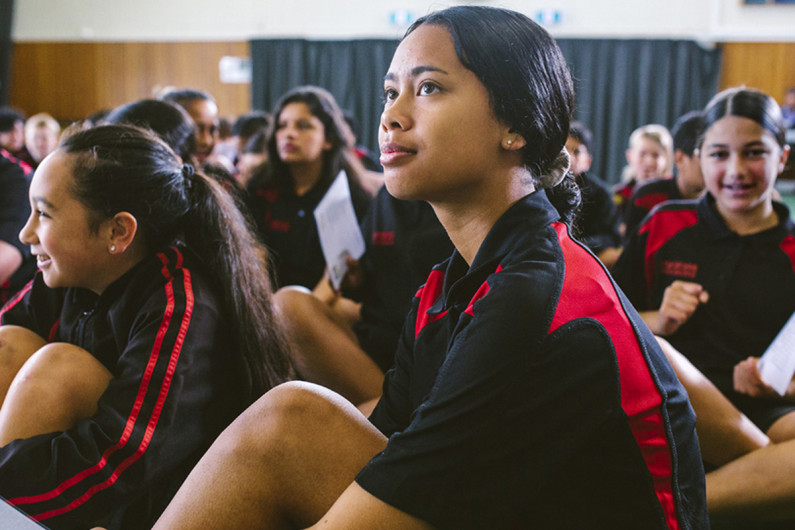 Share your career story with tamariki and broaden their horizons.
Share your story and connect tamariki to the world of work
Inspiring the Future is a programme for primary and intermediate students across Aotearoa New Zealand, who learn about jobs from volunteers, using storytelling.
When you volunteer for Inspiring the Future:
you tell young people about the mahi you do
you act as a role model, helping young people understand the world of work and opportunity that awaits them
you offer young people a deep connection to what you're passionate about – plus you'll have fun doing it.
Imagine sharing your story and connecting tamariki to the world of work.
At an Inspiring the Future school event, you'll join other volunteer role models and have a kōrero about your job. The students will learn about:
what you do
why you love doing it
your journey to get there.
Everyone has a story to tell.
Video - Hear from some of our life-changers
VIDEO STARTS
Text: Across Aotearoa, people with all sorts of jobs inspire tamariki through Inspiring the Future.
Brony: I felt lighter, I felt excited, it was really fun.
Alicia: It was just like fizzly and, and feeling like 'oh my god I need to do this again, that was awesome.'
Harsh: You can inspire somebody through your story.
Brony: It's just cool to, to be a part of something that, I guess you could see lights coming on in their head, and their eyes sparkling.
Jessica: When you look at what you do for a day job, don't underestimate the power that you will have of being able to tell your story.
Alicia: There was a point where I really connected with one of the, one of the kids. I mean it was that moment when I realised 'oh I'm actually inspiring someone, wow that's, and it really, it made my day but I'm still thinking about it. When I'm having a struggle at work and I'm like 'oh am I doing a good job' and then I think about that kid and I'm like 'yes it's fine'.
Harsh: I walked away with a sense of satisfaction that, beyond the economic work that I do in this country, I also got to engage with the community through a very meaningful event.
Jessica: It doesn't matter what you do or how you do it.
Harsh: You all have a story and you are the hero of that story. Heroes inspire people.
Alicia: If you care about the future, if you care about children, if you care about your community, it's a way of giving back.
Brony: It's really neat to be a role model and be part of that, yeah.
Text:  Inspiring the Future Aotearoa.  BRONY, Builder. Life-changer.
Text:  Inspiring the Future Aotearoa.  HARSH, Organisational Development Leader. Life-changer.
Text:  Inspiring the Future Aotearoa.  ALICIA, Instructional Designer. Life-changer.
Text:  Inspiring the Future Aotearoa.  JESSICA, Talent Specialist – Youth. Life-changer.
Text: Show tamariki what's possible. Volunteer now at InspiringTheFuture.org.nz.
How to take part
Inspiring the Future has in-person and online event options, so you can take part from anywhere. You can be there in person, or connect online from your home or workplace.
After you sign up on the Inspiring the Future website, teachers can view your profile and invite you to events. You can accept or decline based on your availability.
In-person events typically last three to four hours, and online events about an hour. It's a small commitment with a big impact.
You'll be well supported, with guidance and resources to help you get ready to share your story.
You'll get a step-by-step guide, plus a handy "tips and tricks" video from role models who have taken part.
Taking part can literally change lives
Tamariki can't be what they can't see. No matter what job you do, you'll broaden their horizons and help them imagine a future they might never have considered.
Your story is worth sharing.
Volunteer now and join our team of Inspiring the Future life-changers.
Find out more
Watch these videos to find out more.