Tom Lee on finding his own rhythm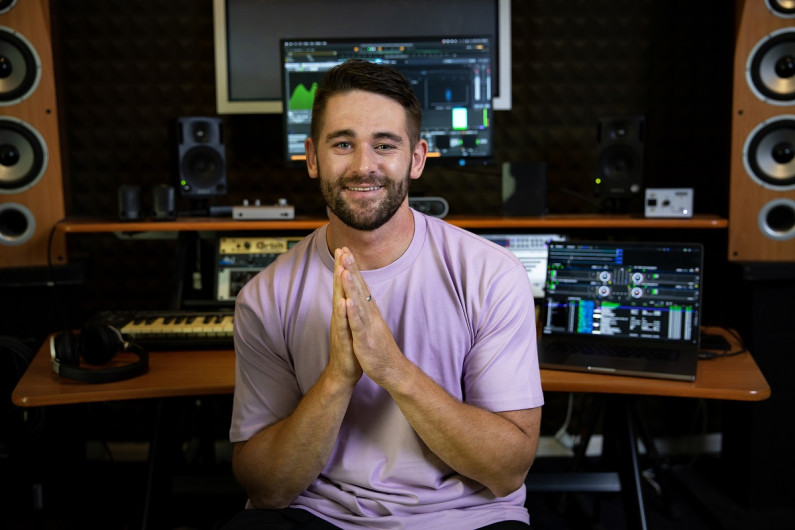 Tom Lee's passion for electronic music wasn't discovered until he came face to face with DJ Skrillex. Since then, it's been an impressive journey of finding his own sound (as one half of music duo Lee Mvtthews), and helping others find theirs. Listening to his instincts, he took a chance on a career that's seen him find his true identity and passion – proving to others that a career in music is anything but a pipe dream.
Having played in bands all throughout high school in Rangiora, I'd always liked the idea of music. But like lots of my mates, I had no idea what I wanted to do for a job. It wasn't until a friend of mine took me to an electronic music gig in Dunedin that I realised how fascinated I was by that world. Seeing artists like Skrillex perform, opened my mind to the possibilities of doing that for a living.
Choosing to study is what got me into music
I was offered a butcher's apprenticeship in my final year of school, but after seeing an opportunity to study DJ and electronic music production in Auckland, I chose to give music a crack. I had no idea what I wanted to do for a job, but I knew vocational education and training would help get me the right opportunities. I was excited to throw myself into a new environment.
My course wasn't what I was expecting. It was way more practical and less book work. Some days my assignments were to play and experiment with different records, how awesome is that? There was no trying to fit into a certain box. It made me realise I wanted to keep studying and learning. I loved being able to grow and explore, to find my own space and style.
Study is also pretty flexible. Say you had a job, you could work mornings, study in the evenings, or whatever worked for you. For an 18 year-old that loved freedom, it was perfect for me.
I got to carve my own path with vocational education and training.
If I'd never done that first year of vocational education and training, I'd never have moved into music, so it's been a great investment for me. It helped me discover my passion and gave me a clearer picture of what I wanted to do for a job. It's also where I met my DJ partner, Graham. We learnt how to do things like working with clients and recording voice-overs. I felt a sense of confidence going into the industry.
It feels great to say that I'm a successful artist. I took a risk, but it's paid off. People say music isn't a legitimate career, but I'm living it every day. Being self-employed as a DJ, and through teaching, means I'm in the driver's seat. I get to call the shots. It's awesome to be able to look back at my journey and know it all started with that first certificate. It helped me get where I am as fast as I did.
Doing what I love, every day
I've turned my vocation into something that I love and get to do every day, so I feel like I've cracked it. I love that feeling of being on stage, and the audience singing your songs to you. On the other hand, I love working on music with different artists, and teaching students who are hungry to learn. I had no idea how much I'd enjoy these opportunities until they came along.
I've still got lots I want to achieve. Graham and I are wanting to break into Europe. We're also working on an album. With audio engineering and teaching, I just want to continue working with passionate people on music that I love. That brings me joy.
I think music needs to be more visible as a career pathway. And you don't have to necessarily be the artist. How do you think Rhythm and Vines comes together? There's promoters, managers, hosts. There's so many different options out there. You can love music and still be part of the industry, even if you're not the musician.
For school leavers thinking about what to do next, I'd say spend some time figuring out what your passion is. Be patient and know that it might not come straight away. My vocation is a big part of my identity. I feel like I discovered who Tom is. And if I didn't follow that path, who knows where I'd be. I might still be in Rangiora.
Tom Lee is one part of music group Lee Mvtthews. Alongside DJing, he works as an audio engineer and teaches students through his own private business.