What to expect from a building apprenticeship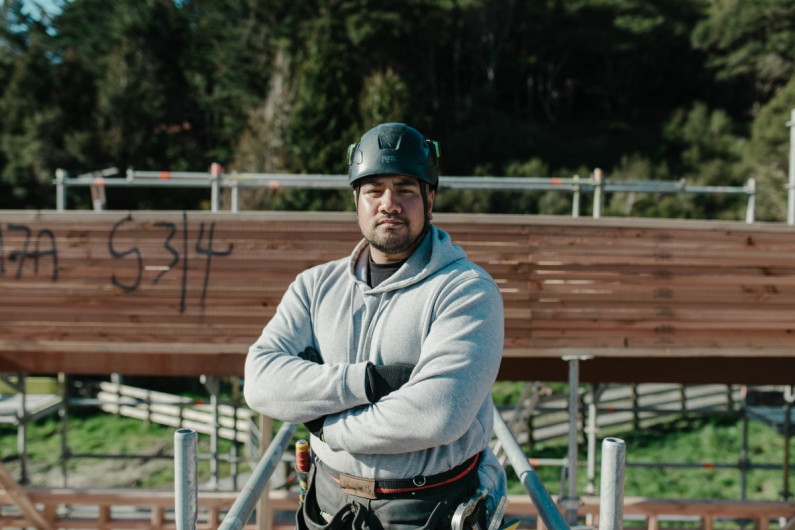 Read AJ's story and find out what it takes to be a building apprentice
Meet AJ, who loves being an apprentice builder
Discovering a passion for building makes AJ feel like he's working in his ideal job.
"It's true," the second-year building apprentice says, "that if you do something you love you'll never have to work a day in your life."
Since secondary school, his goal was to be a builder.
"I've always been someone to work with my hands and get things done."
Watch AJ's story
AJ: There's that common saying, do something you love and you never have to work a day in your life. That's what I've discovered with building. I always saw myself building fresh out of high school. I've always been someone to work with my hands getting the dirt and doing what needs to be done. That's just my character.
I do have a partner and a son back home in Samoa that I try and keep in contact with as much as I can. I'm always flying back home whenever I get the chance.
With carpentry you're constantly learning new things. There's a lot of problem solving. The atmosphere that I work in is really great. Awesome boss, awesome teacher as well.
When you're building a house and then walking into a house that's already been built you get to see how it was done, how it was put together, other things needed for it to come together so that is self rewarding for me.
Len: AJ's great so he's your typical apprentice - he's young, enthusiastic, he's like a sponge so he wants all the knowledge all at once. He's the sort of guy that's taken on the challenge. He's seeing what he really wants to do and he's loving the industry.
AJ: I see myself finishing up my apprenticeship. I can get into site management, project management but my goal right now is set on getting the experience I need and then starting my own thing.
Build your knowledge and problem solving skills
AJ gets a huge sense of achievement from gaining new skills.
I like that with carpentry you're constantly learning, and there's a lot of problem solving.
AJ's training adviser Len Matautia from the Building and Construction Industry Training Organisation (BCITO) says AJ is "like a sponge, absorbing all the knowledge he can!"
And AJ likes that as he progresses through his apprenticeship he gets better at identifying building techniques. "When you walk into a house, it's rewarding being able to recognise how it was built." 
An apprenticeship opens up future opportunities
AJ's enthusiasm for carpentry motivates his plans for the future.
"I can get into site management or project management, but my goal right now is set on getting the experience I need and then starting my own thing."
What happens when you do a building apprenticeship?
You first need to find a job where the employer agrees to take you on as an apprentice. They'll train and support you while you complete your New Zealand Certificate in Carpentry (Level 4). 
Once you have your job, you'll contact BCITO and sign into the apprenticeship.
You'll then work at your own pace through a set of workbooks with modules related to your on-site work. 
You may attend courses as part of the apprenticeship.
Your employer will make sure you achieve the skills you need and that your work is up to standard.
During your apprenticeship, a BCITO training adviser will support you. They'll meet with you on-site four times a year to: 
• keep track of what you're learning
• discuss any gaps in your skills and knowledge
• assess your competency based on your practical skills
• record your assessment results with NZQA.
How to make sure your building apprenticeship goes well
Get to know your team and the work they do.
Start and finish work on time.
Listen and communicate well. 
Write what you do each week in a diary or exercise book so you can discuss what you've learned with your training adviser. 
Take photos of your work to show your training adviser and record your progress. 
Maintain your tools.
Be accurate, as other tradespeople rely on your measurements.