Ranger
Āpiha Papa Atawhai
Alternative titles for this job
Rangers supervise, maintain, enhance and protect conservation areas such as forests, coasts, wetlands, national parks, maritime parks, regional parks, reserves, and sites of historical or cultural importance.
Pay
Entry level rangers usually earn
Experienced rangers usually earn
Source: Department of Conservation.
Job opportunities
Chances of getting a job as a ranger are average - although vacancies appear regularly, competition for jobs is strong.
Pay
Pay for rangers varies according to qualifications and experience:
Rangers with national certificate qualifications and limited experience usually start on about minimum wage. With experience, this could go up to about $42,000 a year.
Rangers with a Bachelor's degree in relevant fields and some experience usually start on $35,000, going up to about $47,000. Senior rangers in managerial roles earn more.
Source: Department of Conservation.
(This information is a guide only. Find out more about the sources of our pay information)
What you will do
Rangers may do some or all of the following:
monitor, manage and protect native wildlife and plants
control and monitor pests and weeds
patrol marine reserves
make or maintain tracks, toilets, huts, signs, fences and other park and reserve facilities
maintain and run native plant nurseries
protect and restore historic sites
assist and give information to visitors of parks or reserves
develop and oversee volunteer and education programmes
build and maintain links with the local community and iwi.
Skills and knowledge
Rangers need to have some or all of the following:
tramping and hiking experience and knowledge
horticulture and pest control skills
animal and bird-handling skills
an understanding of legislation relevant to conservation work
knowledge of New Zealand natural history, plants, animals and cultural issues
knowledge of outdoor recreation
building and track maintenance skills.
Working conditions
Rangers:
usually work regular business hours, but may also work evenings and weekends
work both in offices and outdoors, in areas such as national parks and wildlife reserves
work outdoors in all weather conditions
may have to spend days away from home working in remote areas.
What's the job really like?
Matiu Mataira talks about life as a ranger - 2.41 mins. (Video courtesy of Department of Conservation)
Kia ora. I'm Matiu Mataira. I work for the Department of Conservation as a Partnerships Ranger based out of the Whangarei Office.

I guess I've always had a sweet spot for the great outdoors. I love my hunting, I love getting out into the bush, and just love meeting people within our ngahere really.

I joined the Department 5 years ago now, as a Maori cadet. It was quite a unique program where a lot of our learnings was based on the marae noho, so we learned both the Maori world view of how of they look after conservation, and also our Western science and joining the two together - the best of both worlds.

What does your typical work day involve?
My typical work day involves a lot of meetings. I meet a lot of new people, particularly with iwi, hapu and whanau, but also with a lot with our community groups, and businesses as well.

Really it's based around listening to what their aspirations are and how we can both support each other.

What do you like most about your job?
I like the variety within the Department. One day I can be out on the island, the next day I can be on an international fire deployment.

I think the best thing I like about my mahi is the actual people involved in it. Particularly within the Department we have a lot of knowledgeable people based here. We have a lot of very passionate and dedicated people. But also meeting new people as well. Working alongside community groups, iwi, hapu, whanau, and also with businesses as well.

What's the best story you've been able to tell after a day at work?
I guess the best story so far has been sitting with the nannies and the koros in the marae, listening to their stories around the old ways on how they used to culturally harvest kiwi and kūkupa, and one of the nannies turning around and going "Kia ora boy. Who do you work for?", and my reply "I work for the Department of Conservation, nanny", and just the look on their faces when they heard that - priceless.

What's your advice for people wanting to work for DOC?
I guess my advice for people wanting to work for the Department is come down and meet your local rangers; come in and get involved – volunteer work; bring a bit of enthusiasm, passion; visit our careers website; and just enjoy the ride.
Entry requirements
There are no specific entry requirements to become a ranger. However, a National Certificate in Conservation (Trainee Ranger) is useful. This is a one-year course. A Bachelor of Science, or completing a conservation or management course is also useful.
Rangers gain many of their skills on the job and/or by completing work-based training courses.
Secondary education
Useful subjects include Māori, English, biology, agricultural and horticultural science, and geography.
Personal requirements
Rangers need to be:
adaptable and practical
safety conscious
able to remain calm in emergencies
motivated, as they may have to work in difficult conditions, such as outdoors in bad weather
able to work independently or as part of a team
friendly, patient and helpful, as they deal with the public
knowledgeable about first aid.
Useful experience
Useful experience for rangers includes:
volunteer conservation work
taking online courses run by the Department of Conservation
outdoor experience such as tramping, camping or farming
doing a First Aid Certificate or Risk Management Certificate course
building experience
experience with native birds and insects.
A knowledge and understanding of Māori culture and protocol is also useful.
Physical requirements
Rangers need to be fit and healthy as the job involves working outdoors in all kinds of weather and in rugged terrain.
Check out related courses
What are the chances of getting a job?
Competition for ranger jobs high, but targeted training helps
While ranger vacancies are frequent, competition for jobs is strong. 
The qualification most employers prefer is the Trainee Ranger Certificate, from the Nelson Marlborough Institute of Technology. However, competition for entry into the course is also high.
Experience doing short-term contract or volunteer work useful
You can also improve your chances of getting a ranger job (or of getting into the above course) by volunteering for the Department of Conservation (DOC) or for council or community projects. This can lead on to short-term contract work or longer-term work. Contract and volunteer work in the field is usually only available in summer.
Doing online courses through DOC may also help your chances of getting a job.
Types of employers limited
The Department of Conservation is the main employer of rangers. You can also work for:
regional councils
Fish and Game New Zealand.
Sources
Department of Conservation, Careers at DOC, accessed November 2014, (www.doc.govt.nz).
Ministry of Business, Innovation and Employment, 2003-2012 Occupation Data (prepared for Careers New Zealand), 2014.
Tully, S, senior capability development advisor, Department of Conservation, Career Services interview, November 2014.
(This information is a guide only. Find out more about the sources of our job opportunities information)
Progression and specialisations
Rangers may progress by moving into team leader or management positions.
Rangers can specialise in several areas, including:
building, carpentry, or plumbing (needed for building huts and other visitor facilities at national parks)
community relations and education
biodiversity, which involves looking after plants and animals.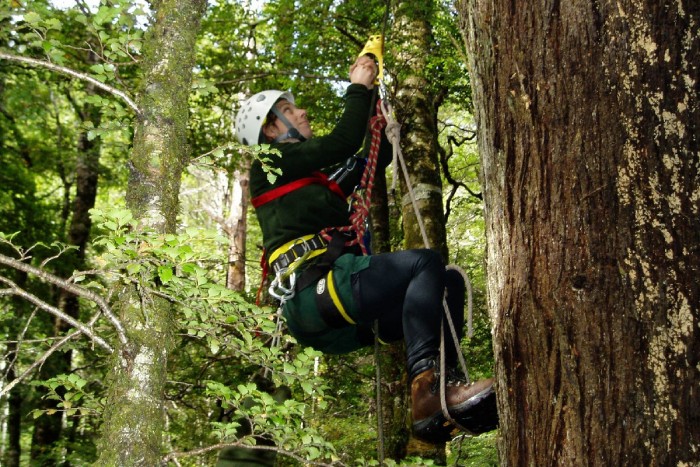 Last updated 30 May 2018