Environmental Engineer
Mataaro Taiao
Alternative titles for this job
Environmental engineers assess and reduce the impact of engineering projects on water, soil and air. They also plan and design systems to treat and remove waste.
Pay
Environmental engineers usually earn
Job opportunities
Chances of getting a job as an environmental engineer are good due to a shortage of workers.
Pay
Pay for environmental engineers varies depending on skills and experience.
Environmental engineers usually earn $65,000 to $140,000 a year.
Source: Hays, 'Salary Guide FY 22/23', 2023.
(This information is a guide only. Find out more about the sources of our pay information)
What you will do
Environmental engineers may do some or all of the following:
report on environmental impacts of construction, infrastructure, farming and engineering projects
advise how to minimise environmental impacts of projects 
prepare reports, sketches, technical drawings and specifications for projects

plan and manage projects, and visit and check sites
design waste-management systems
take air, water and land samples, and get them tested for pollution
advise on pollution treatment methods
prepare environmental assessments for resource consent applications
supervise contractors carrying out work.
Skills and knowledge
Environmental engineers need to have knowledge of:
civil engineering
air, water and land pollution control methods
public health issues
relevant legislation such as the Resource Management Act and New Zealand Building Code
analysis and interpretation skills to meet client requirements
computer modelling software.
Working conditions
Environmental engineers:
usually work regular business hours, but may work evenings and weekends to meet deadlines
work in offices, and at outdoor work sites
may travel to work and to attend conferences and seminars.
What's the job really like?
Environmental Engineer
Kayla Fairbairn talks about life as an environmental engineer - 2.14 mins.
Our building is Green Star-rated 6 stars,
so even better than 5 stars. Who knew?
So we really do a lot of things to be sustainable around here.
My name is Kayla and I'm an environmental engineer at an engineering
consultancy. As an environmental engineer,
we just make sure that all of our clients are meeting their
environmental requirements.
That could mean doing water monitoring to make sure that no one is polluting our
waterways,
air quality monitoring to ensure that we are keeping New Zealand clean and
green. I'm working on some air quality monitoring.
We are looking at the pollutant NO2 gas,
which is typically produced from vehicle emissions.
Cool to know that what I'm working on could help with traffic emission modelling
in the future. At university,
I studied chemical engineering and finance conjoint,
which was a really cool degree. I always knew that I wanted to be an engineer,
but studying chemical engineering can lead you to oil and gas
and personally I didn't want to go down that career pathway,
so I looked out for other opportunities. Yeah,
and found environmental engineering. We receive data from monitoring sites all
around New Zealand and then do analysis on how the trends in
those contaminants have increased or decreased over years.
What could be causing those increases or decreases,
yet providing recommendations for how they can improve emissions
across New Zealand. When we are analysing air contaminants for clients,
we typically draw up the data in different types of graphics to clearly
show and explain how air contaminants are going to affect nearby
residents.
If there were high NO2 concentrations in a wide radius around
the industrial emitter,
that could mean that residents nearby are really negatively affected. Choosing
this career, coming into this career,
it still surprises me that there are people that care about the environment and
it is happening in this space. So that's really cool.
Entry requirements
To become an environmental engineer you usually need to have a Bachelor's degree in engineering.
You can complete a four-year Bachelor of Engineering or Bachelor of Engineering with Honours, specialising in environmental, civil or natural resources engineering. 
Secondary education
A tertiary entrance qualification is required to enter further training. Useful subjects include physics, chemistry, maths, geography, and construction and mechanical technologies.
Personal requirements
Environmental engineers need to be:
practical and logical, with good problem-solving skills
accurate, with an eye for detail
good at planning and organising
good communicators
able to work well as part of a team
able to work well under pressure and meet deadlines.
Useful experience
Useful experience for environmental engineers includes:
drafting

surveying

engineering

environmental or outdoors work.
Registration
Bachelor of Engineering (Hons) graduates may apply to gain registration as a Chartered Professional Engineer (CPEng) with Engineering New Zealand.
Engineering technologists who meet set requirements may apply to Engineering New Zealand to be registered as an engineering technologist (CMEngNZ).
Find out more about training
Engineering New Zealand

(04) 473 9444 - hello@engineeringnz.org - www.engineeringnz.org
Check out related courses
What are the chances of getting a job?
Shortage of environmental engineers
Opportunities for environmental engineers are good due to a shortage of skilled workers.
Environmental engineer appears on Immigration New Zealand's long-term skill shortage list. This means the Government is actively encouraging skilled environmental engineers from overseas to work in New Zealand.
According to the Census, 357 environmental engineers worked in New Zealand in 2018.
Best job chances in the North Island
Job opportunities for environmental engineers are increasing as the Government invests in infrastructure in the North Island.
Auckland and Wellington in particular require civil infrastructure engineers with experience in stormwater systems.
Changing environmental rules mean increasing demand for engineers
New environmental standards mean local authorities are upgrading their stormwater infrastructure. Environmental engineers are needed to help design and supervise this work. 
Demand for environmental engineers to work on stormwater systems is likely to grow as more frequent, severe weather events cause increased flooding. 
Environmental engineers are also needed to help monitor the environmental impact of construction and infrastructure projects.
Types of employers varied
Environmental engineers may work for a variety of employers, including:
private engineering consultancies
regional and local government authorities
infrastructure and utility companies such as roading and electricity companies
government agencies such as the Ministry for the Environment.
Sources
Engineering New Zealand, 'Remuneration For Engineers', accessed January 2020, (www.engineeringnz.org).
Engineering New Zealand, 'Remuneration Survey 2019', accessed January 2020, (www.engineeringnz.org).
Envivo, 'Environmental Engineering', accessed February 2020, (www.envivo.co.nz).
Hays, 'FY 2019/20 Salary Guide', accessed January 2020, (www.hays.net).
Immigration New Zealand, 'Long Term Skill Shortage List', 27 May 2019, (www.immigration.govt.nz).
Michael Page, '2019 Salary Benchmark Guide: Engineering & Manufacturing: Industrial/Manufacturing', accessed January 2020, (www.michaelpage.co.nz).
Ministry of Business, Innovation and Employment, 'Engineering Professionals Occupation Outlook', accessed January 2020, (www.mbie.govt.nz).
Ministry of Business, Innovation and Employment, 'National Construction Pipeline Projections to 2024', August 2019, (www.mbie.govt.nz).
Rob Law Max, 'Environmental Engineer Jobs', accessed January 2020, (www.roblawmax.co.nz).
Stats NZ, '2018 Census Data', 2019.
Watercare website, accessed January 2020, (www.watercare.co.nz).
(This information is a guide only. Find out more about the sources of our job opportunities information)
Progression and specialisations
Environmental engineers may progress to set up their own business and work as self-employed contractors, or move into managerial roles or become partners in an engineering firm.
Environmental engineers may specialise in:
wastewater
stormwater
overland flow and flooding
erosion and sediment control
contaminated land management
earthworks management
industrial trade activities.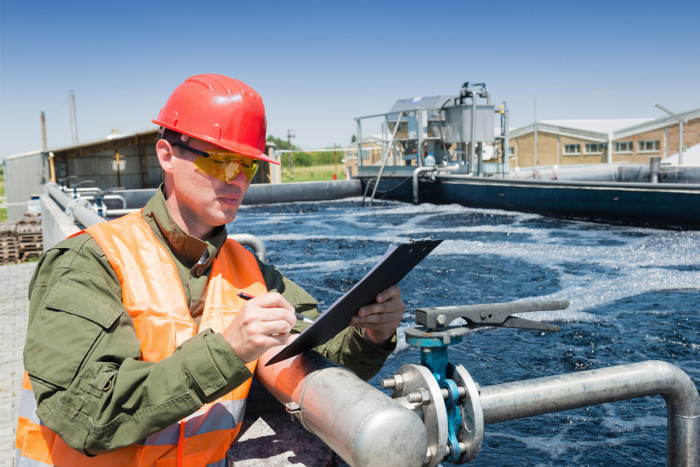 Last updated 6 June 2023