Environmental Engineer
Mataaro Taiao
Alternative titles for this job
Environmental engineers assess and reduce the impact of engineering projects on water, soil and air. They also plan and design systems to treat and remove waste.
Pay
New environmental engineers usually earn
Senior and principal environmental engineers usually earn
Source: Engineering NZ, Hays and Michael Page, 2020.
Job opportunities
Chances of getting a job as an environmental engineer are good due to a shortage of workers.
Pay
Pay for environmental engineers varies depending on skills and experience.
Graduate environmental engineers usually earn $45,000 to $75,000 a year.
Mid-level environmental engineers can earn between $75,000 and $95,000.
Senior environmental engineers who work as managers can earn between $95,000 and $130,000.
Principal environmental engineers responsible for overseeing projects can earn between $130,000 and $160,000. 
Sources: Engineering New Zealand, 'Remuneration Survey 2019', 2020; Hays, 'FY 2019/20 Salary Guide', 2020; and Michael Page, '2019 Salary Benchmark Guide', 2020. 
(This information is a guide only. Find out more about the sources of our pay information)
What you will do
Environmental engineers may do some or all of the following:
report on environmental impacts of construction, infrastructure, farming and engineering projects
advise how to minimise environmental impacts of projects 
prepare reports, sketches, technical drawings and specifications for projects

plan and manage projects, and visit and check sites
design waste-management systems
take air, water and land samples, and get them tested for pollution
advise on pollution treatment methods
prepare environmental assessments for resource consent applications
supervise contractors carrying out work.
Skills and knowledge
Environmental engineers need to have knowledge of:
civil engineering
air, water and land pollution control methods
public health issues
relevant legislation such as the Resource Management Act and New Zealand Building Code
analysis and interpretation skills to meet client requirements
computer modelling software.
Working conditions
Environmental engineers:
usually work regular business hours, but may work evenings and weekends to meet deadlines
work in offices, and at outdoor work sites
may travel to work and to attend conferences and seminars.
What's the job really like?
Environmental engineer video
Bernice Chiam talks about being a principal design engineer – 3.49 mins. (Video courtesy of Watercare)
My name is Bernice Chiam. I'm the principal design engineer at Watercare, currently working at Central Interceptor project. Before I worked with Watercare I worked with the Red Cross and my first job with the Red Cross was at the Maldives. That was after a tsunami in 2004.

After the Maldives I went to Liberia for 12 months also with the Red Cross and the role that I played over there was quite different from when I was working in the Maldives. Instead of installing desalination plants we were dealing with more basic water and wastewater treatment, so like, you know, hand dug wells, deep bores, as well as latrines, so it was just really basic water supply and basic waste treatment, and when I came back and there was an opportunity with Watercare, which I thought would fit in very well with the next step in my career, so I joined Watercare, and that was seven or eight years ago, and I've been with Watercare ever since.

I've been involved in two projects so far. One is a landfill and the second one is the Central Interceptor project and both of them are large in terms of scale and unique in terms of is you know its design and its construction.

The century interceptor is a 13-kilometre-long wastewater pipeline. It's one of the biggest projects that Watercare has ever done and basically it takes flows from Western Springs and gravity feed it all the way down to Mangere Wastewater Treatment Plant. This is a billion-dollar project and it'll take six years to complete from start to finish.

In some ways it's very similar to what I used to do when I was overseas in terms of the level of engagement and stakeholder engagement and community consultations but at the same time it's very different in terms of the technical difficulties and the complexities. When construction begins we'll be using a tunnel-boring machine very similar to what we used for Hobson tunnel.

The project is currently in its design state and so some of the design includes you know further investigation, such as geotechnical investigations. We've also carried out some typographic surveys just to make sure that we understand the places where we're going to be working and understand where the connections are.

There are three main key drivers for Central Interceptor project. First one being to replace part of the Western interceptor main lead in Manukau, second key driver is to provide for growth, and the third key driver is to protect the environment.

The manager of this huge project is David Warden. He's also a bit of a mentor for me. He's the kind of person that is very easily approachable. I use him as a bit of a sounding board when I get stuck with technical issues, as well as in terms of my career as well.

Part of being involved in such a large project is obviously to engage with different stakeholders, be it internal stakeholders or external stakeholders. So within Watercare the CI team actually work closely with the communications team, the property team, their planning and strategy team, as well as the service delivery team.

For me it's all about the people that we work with. I work with a fantastic group of people – the team of engineers within this same project. They're really supportive and they're really motivated and we all have the same objectives and that is to do our job and do our job well.

I'm Bernice Chiam and I'm proud to be a principal design engineer for Watercare.
Entry requirements
To become an environmental engineer you usually need to have a Bachelor's degree in engineering.
You can complete a four-year Bachelor of Engineering or Bachelor of Engineering with Honours, specialising in environmental, civil or natural resources engineering. 
Secondary education
A tertiary entrance qualification is required to enter further training. Useful subjects include physics, chemistry, maths, geography, and construction and mechanical technologies.
Personal requirements
Environmental engineers need to be:
practical and logical, with good problem-solving skills
accurate, with an eye for detail
good at planning and organising
good communicators
able to work well as part of a team
able to work well under pressure and meet deadlines.
Useful experience
Useful experience for environmental engineers includes:
drafting

surveying

engineering

environmental or outdoors work.
Registration
Bachelor of Engineering (Hons) graduates may apply to gain registration as a Chartered Professional Engineer (CPEng) with Engineering New Zealand.
Engineering technologists who meet set requirements may apply to Engineering New Zealand to be registered as an engineering technologist (CMEngNZ).
Find out more about training
Engineering New Zealand

(04) 473 9444 - hello@engineeringnz.org - www.engineeringnz.org
Check out related courses
What are the chances of getting a job?
Shortage of environmental engineers
Opportunities for environmental engineers are good due to a shortage of skilled workers.
Environmental engineer appears on Immigration New Zealand's long-term skill shortage list. This means the Government is actively encouraging skilled environmental engineers from overseas to work in New Zealand.
According to the Census, 357 environmental engineers worked in New Zealand in 2018.
Best job chances in the North Island
Job opportunities for environmental engineers are increasing as the Government invests in infrastructure in the North Island.
Auckland and Wellington in particular require civil infrastructure engineers with experience in stormwater systems.
Changing environmental rules mean increasing demand for engineers
New environmental standards mean local authorities are upgrading their stormwater infrastructure. Environmental engineers are needed to help design and supervise this work. 
Demand for environmental engineers to work on stormwater systems is likely to grow as more frequent, severe weather events cause increased flooding. 
Environmental engineers are also needed to help monitor the environmental impact of construction and infrastructure projects.
Types of employers varied
Environmental engineers may work for a variety of employers, including:
private engineering consultancies
regional and local government authorities
infrastructure and utility companies such as roading and electricity companies
government agencies such as the Ministry for the Environment.
Sources
Engineering New Zealand, 'Remuneration For Engineers', accessed January 2020, (www.engineeringnz.org).
Engineering New Zealand, 'Remuneration Survey 2019', accessed January 2020, (www.engineeringnz.org).
Envivo, 'Environmental Engineering', accessed February 2020, (www.envivo.co.nz).
Hays, 'FY 2019/20 Salary Guide', accessed January 2020, (www.hays.net).
Immigration New Zealand, 'Long Term Skill Shortage List', 27 May 2019, (www.immigration.govt.nz).
Michael Page, '2019 Salary Benchmark Guide: Engineering & Manufacturing: Industrial/Manufacturing', accessed January 2020, (www.michaelpage.co.nz).
Ministry of Business, Innovation and Employment, 'Engineering Professionals Occupation Outlook', accessed January 2020, (www.mbie.govt.nz).
Ministry of Business, Innovation and Employment, 'National Construction Pipeline Projections to 2024', August 2019, (www.mbie.govt.nz).
Rob Law Max, 'Environmental Engineer Jobs', accessed January 2020, (www.roblawmax.co.nz).
Stats NZ, '2018 Census Data', 2019.
Watercare website, accessed January 2020, (www.watercare.co.nz).
(This information is a guide only. Find out more about the sources of our job opportunities information)
Progression and specialisations
Environmental engineers may progress to set up their own business and work as self-employed contractors, or move into managerial roles or become partners in an engineering firm.
Environmental engineers may specialise in:
wastewater
stormwater
overland flow and flooding
erosion and sediment control
contaminated land management
earthworks management
industrial trade activities.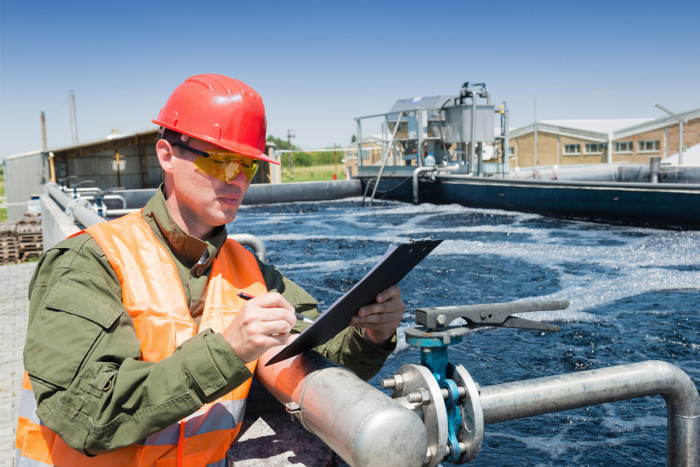 Last updated 2 April 2020