Concrete Worker
Kaimahi Raima
Alternative titles for this job
Concrete workers make, pour, spread, finish, reinforce and cut concrete for construction projects such as buildings and footpaths.
Pay
Qualified concrete workers usually earn
Source: Seek and Trade Me Jobs, 2018.
Job opportunities
Chances of getting a job as a concrete worker are good due to a shortage of workers.
Pay
Pay for concrete workers varies depending on skills and experience.
Concrete worker apprentices may start on the apprentice training rate.
Unqualified concrete workers usually earn between minimum wage or a little above, depending on their experience.
Qualified concrete workers usually earn up to $30 an hour.
Experienced qualified concrete workers and those in team leader roles may earn more than this.
Source: Seek and Trade Me Jobs, 2018.
(This information is a guide only. Find out more about the sources of our pay information)
What you will do
Concrete workers may do some or all of the following:
read and interpret plans or drawings
weigh and mix concrete materials (gravel, sand, cement and water)
sample and test the mix
prepare boxing (formwork) and/or lay reinforcing
pour, spread, compact, smooth and polish concrete, by hand or machine
drive heavy vehicles such as concrete trucks.
Specialised concrete workers may also:
install items such as anchor bolts into concrete
spray concrete on areas such as retaining walls and swimming pools
cut concrete using power cutters.
Skills and knowledge
Concrete workers need to have:
knowledge of concrete types and different ways of using them
knowledge of concrete-setting times
knowledge of how to lay and finish concrete and operate the machines that are involved
basic carpentry skills.
Working conditions
Concrete workers:
usually work regular business hours, but may also work early mornings, evenings and weekends
work on buildings and construction sites, roads, bridges, and other structures
work in most weather, in conditions that can be hazardous, dusty, dirty and noisy
travel locally to construction sites.
What's the job really like?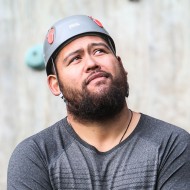 Will Wara
Concrete Worker
What do you enjoy most about being a concrete worker?
"It's challenging, and there's a broad range of work you can do in the concrete industry. I'm just realising that I only know a small part of it. I've been in the industry for just over four years and I've still got plenty to learn, which is good, but I've picked up a lot of skills as well."
What do you find most challenging about your work?
"I'm a foreman at Formstress Precast now so I'm managing around 40 people. The most challenging thing is just managing them all and making sure our targets are met. You do a lot of counselling as a foreman as well. It's more than just the physical work side of things."
How was it winning the Concrete Industry Apprentice of the Year award?
"It was amazing! I was surprised that I took it out and it was a cool event too. It is definitely something to keep on the CV and something I'll be proud of for the rest of my life."
What advice would you give to someone interested in the concrete industry?
"Learn as quickly as possible. I say that to everyone that comes through. There's so much to learn about concrete so you need to learn as much as possible as quickly as possible. Being willing to learn will push you forward quite quickly in this industry."
Concreter video
Jake Wallen talks about life as a concreter – 2.06 mins.
Hi, my name is Jake and I'm a concreter.
Concreter overall lays concrete for housing,
residential driveways for people to park their vehicles on and get to their
house. Factory floors in commercial areas.
Anywhere you go you'll see concrete so plenty of work to do.
Plenty of people needed to do it. Typical day as a concrete layer would be
getting up before the sun . Yeah,
I got up at about 10 to 5 this morning. We'll come here to the job site,
lay the concrete, try to smooth it off. Before we pour,
there's always setting up the job, so that means putting in these,
this boxing and these pegs to the right levels.
There's a lot of time constraints around my job and
it all starts from when the concrete's loaded at the yard.
You'll have to keep up with troweling it. Otherwise, if you don't,
before you know, it's hard.
It doesn't forgive if you get behind it. We've just poured this
driveway out of the truck and I'm just going over it now to smooth it out.
We'll use that machine to get out any lumps.
This here is to put a nice smooth edge on the concrete and then this one here
will come through and just smooth it out nicely.
So it's all neat. It's hard work, but it's rewarding.
The qualifications: at first,
I didn't have to do any to get into this job, but
as I got into it more, there was opportunity to do BCITO.
It's an apprenticeship. It took just over a year if you really get into it.
Otherwise it could take up to 2 years,
but just gave me more knowledge on what was going on with everything and kind of
opened up the whole new world to how everything works.
Every day is a new challenge. I've found I've never had a
day where there wasn't a challenge, so I'm happy doing this.
Entry requirements
There are no specific requirements to become a concrete worker. However, once you are employed it is useful to complete an apprenticeship and gain a National Certificate in precast concrete, concrete product manufacture, or concrete construction.
The Building and Construction Industry Training Organisation (BCITO) oversees concrete apprenticeships.
Secondary education
There are no specific secondary education requirements to become a concrete worker, but maths, physical education, English and construction and mechanical technologies to at least NCEA Level 1 are useful. 
Year 11 and 12 learners can find out more about the construction industry, and gain relevant skills, by doing a National Certificate in Building, Construction and Allied Trades (Levels 1 and 2) through the BConstructive programme.
For Year 11 to 13 learners, trades academies and the STAR and Gateway programmes are good ways to gain relevant experience and skills.
These programmes may help you gain an apprenticeship, but do not reduce the amount of time it takes to complete it.
Personal requirements
Concrete workers need to be:
careful and accurate
responsible and reliable
hard-working and practical
able to follow instructions
able to work well in a team.
You definitely need a good, strong work ethic because it isn't easy work.

---

Will Waru

Concrete Worker
Useful experience
Useful experience for concrete workers includes:
paving
bricklaying
work in the construction industry.
Physical requirements
Concrete workers need to have a good level of fitness, strong arms and a strong back as they have to do heavy lifting and climbing. They also need to be comfortable working at heights.
Find out more about training
Building and Construction Industry Training Organisation (BCITO)

0800 422 486 - info@bcito.org.nz - www.bcito.org.nz
Check out related courses
What are the chances of getting a job?
Strong demand for concrete workers
Chances of getting a job as a concrete worker are good due to:
steady growth in construction, which is predicted to continue until at least 2023
the $850 million Transmission Gully project north of Wellington, which is expected to be under construction until 2020
national and local government plans to spend over $5 billion on transport each year until 2028, with a focus on building and maintaining safer roads, walkways and cycleways
the tendency for concrete workers to move to less physically demanding roles as they age, which creates vacancies
a shortage of workers.
However, like many building jobs, this role can be affected by economic conditions. A downturn in the economy can lower demand for concrete workers.
According to the Census, 1,683 concrete workers worked in New Zealand in 2018.
Types of employers varied 
Concrete workers in the construction sector may be employed by:
contractors that specialise in working with concrete
builders and building firms that employ a range of tradespeople and labourers.
Some concrete workers are self-employed or work in small teams that contract to builders.
Cement and concrete plant workers are employed by cement and concrete manufacturers.
Sources
Building and Construction Industry Training Organisation, 'Concrete', accessed October 2018, (www.bcito.org.nz).
Leach, A, information and communications manager, Concrete NZ, careers.govt.nz interview, September 2018.
Lewes, A, industry advocate, Building and Construction Industry Training Organisation, careers.govt.nz interview, October 2018.
Ministry of Business, Innovation and Employment, 'National Construction Pipeline Report 2018', July 2018, (www.mbie.govt.nz).
Ministry of Transport, 'Government Policy Statement on Land Transport 2018/19-2027/28', June 2018, (www.transport.govt.nz).
New Zealand Transport Agency, 'Transmission Gully', accessed October 2018, (www.nzta.govt.nz).
Ranchhod, S, 'Construction Bulletin – July 2018', July 2018, (www.westpac.co.nz).
Stats NZ, '2018 Census Data', 2019.
(This information is a guide only. Find out more about the sources of our job opportunities information)
Progression and specialisations
Concrete workers can progress to become team leaders or may start a business and manage their own team of concrete workers. They may also move into construction project management. 
They may specialise in:
manufacturing concrete products
producing cement and concrete as a raw material
constructing buildings out of concrete.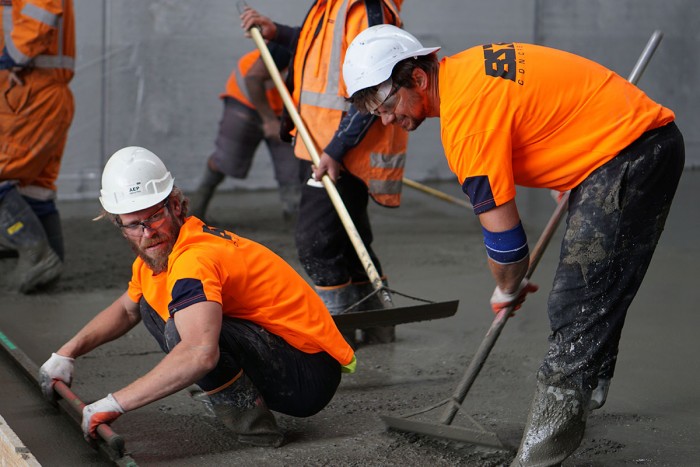 Last updated 3 April 2023