Concrete Worker
Kaimahi Raima
Alternative titles for this job
Concrete workers make, pour, spread and finish, reinforce and cut concrete for buildings, stairs, footpaths, driveways and bridges.
Pay
New concrete workers usually earn
Experienced concrete workers usually earn
Source: Cement and Concrete Association of New Zealand and Trade Me Jobs, 2016.
Job opportunities
Chances of getting a job as a concrete worker are good, particularly in Auckland and Canterbury.
Pay
Pay for concrete workers varies depending on skills and experience. 
Concrete worker apprentices may start on the apprentice training rate.
New concrete workers can expect to earn between minimum wage and $20 an hour, depending on their experience.
Experienced, skilled concrete workers may earn $20 to $25 an hour.
Very experienced concrete workers and those in team leader roles may earn more than this.
Source: Cement and Concrete Association of New Zealand; Trade Me Jobs, 2016.
(This information is a guide only. Find out more about the sources of our pay information)
What you will do
Concrete workers may do some or all of the following:
read and interpret plans or drawings
weigh and mix concrete materials (gravel, sand, cement and water)
sample and test the mix
prepare boxing (formwork) and/or lay reinforcing
pour, spread, compact, smooth and polish concrete, by hand or machine
drive heavy vehicles such as concrete trucks.
Specialised concrete workers may also:
install items such as anchor bolts into concrete
spray concrete on areas such as retaining walls and swimming pools
cut concrete using power cutters.
Skills and knowledge
Concrete workers need to have:
knowledge of concrete types and different ways of using them
knowledge of concrete-setting times
knowledge of how to lay and finish concrete and operate the machines that are involved
basic carpentry skills.
Working conditions
Concrete workers:
usually work regular business hours, but may also work early mornings, evenings and weekends
work on buildings and construction sites, roads, bridges, and other structures
work in conditions that can be dangerous, dusty, dirty and noisy, and in most weathers
travel locally to construction sites.
What's the job really like?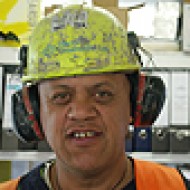 Kevin Matiaha
Concrete Worker
You can't beat experience
Being a concrete worker on a construction site is a young man's game, but sometimes there's no substitute for experience, says concrete worker Kevin Matiaha. Kevin has worked in construction for more than 25 years. He started out as a general labourer but has been a concrete worker for the past 16 years.
Picking up new skills is the way to get ahead in construction, he reckons. "Once your boss sees you can do the job and learn new skills, your pay goes up."
It's hard work come rain or shine
Kevin says the key attribute a concrete worker can possess is common sense. After that it's physical stamina and a willingness to work hard. "We work rain or shine – you can't just leave concrete – once you start you've got to get the job done.
"The hardest part of the job is laying foundations, when you can spend weeks scrambling round in the mud," he says. "You don't have to be a big guy but you've got to enjoy a bit of hard work."
Ricky finds out what it's like being a concrete worker - 6.33 mins. (Video courtesy of Building and Construction Industry Training Organisation)
Ricky: My name's Ricky Skipper, I'm 16 years old and this is concrete and cementing.

Clinton: Concrete is the most widely used construction material in the world. It might fabricate huge commercial buildings, create bridges, driveways, or be used in the creation of all manner of decorative work. First off Rick's headed to Firth's batching and production plant at Napier.

Helen: G'day Rick, how're you doing?

Rick: Good thanks.

Helen: My name is Helen, welcome to Firth.

Clinton: Here at the plant orders are taken and batches are mixed and delivered to a client's specification.

Helen: OK, what we've got here is, depending on what size aggregate they need in the load, in other words what kind of mix they're using, the loader driver comes up here and he will load whatever aggregate is needed for that load, into these hoppers here – this one here and this sand one over here.

Helen: The basic materials that go into concrete is stone, sand, and cement. We also use quite a few additives. We put in water-reducers for all of our concrete, and that means we don't actually have to put as much water in. The less water we put into concrete, the stronger it will be.

Clinton: Several times a day a sample is taken away for testing. The test, called a slump test, measures the strength of wet concrete in the batch.

Helen: One, two, three – well done, turn it over…

Helen: …Put your rod on the top…

Helen: …Get your ruler, highest point…

Clinton: Measure how far the sample has subsided, and this is the slump test reading. This test, a compression test, measures the strength of hard concrete. Showing Rick is Renata Fraser who's just completing his apprenticeship through the BCITO.

Helen: As an apprentice, you'd get to do a whole range of jobs, and if you are showing management skills, you would be able to move up into a plant supervisor role, or into a supply manager role.

Renata: See how we stopped our truck up there, we're walking up here to check the hazards and all that, to see if we're going to back up or drive up.

Helen: Safety is hugely important to Firth, they normally walk in, have a look at the site access – any hazards, it's their call whether they put their truck where the builder wants them. Builders aren't truck drivers, so it has to be the driver's call.

Renata: When you're discharging, push this one, and when it just rolls over that fin mate just slow it right down. And we'll get you to fill the next barrel up.

Helen: The opportunities are endless. The industry has a great culture – it tends to look after their staff and you very rarely do the same job twice.

Clinton: Before any delivery, or pour of concrete, some sort of container is built to shape the mix. This pour will form the heavy duty base of a new tank here at a Hastings winery.

Clinton: Rick's new mentor here, Angus, owns Angus McMillan Concrete, and is quick to get Rick on the job.

Angus: Rick, you've got a concrete vibrator here, this is to compact the concrete. It's going to bring all the air bubbles out of the concrete, which makes it more dense and compact, and stronger, alright, so this is how construction concrete should be alright?

Angus: Particularly around the edges is where you'll see them.

Ricky: Yep.

Clinton: Building an enclosure for concrete, known as boxing, is an important part of the job. This build will be steps to a brand new home.

Angus: Putting a peg in is not as simple as it looks. You've got to make sure for a start you're pointing the peg the right way, because you want it to be on line so that your boxing is straight.

Angus: Concreting is not the sort of thing you can learn in five minutes. Everything comes with practice and time. That's why these days there are apprenticeships available in the concreting industry, just like there are in building, and we've seen for quite a few years the need to have a recognised qualification.

Angus: This is a mag float, actually called a magnesium float, so that's what we use to float up the edges of the concrete.

Ricky: Level it off sort of thing?

Angus: Yeah, as we get going you'll be able to use that as we get into the job.

Angus: You don't have to get too fussy because we're going to screed it as well.

Angus: So now that you've closed those edges up I can just get in here with a screed. I can get a nice straight edge on there, close that edge up. This is the part of the job that you'll learn in time, you won't pick it up in five minutes. It takes a long time to learn how to use a screed.

Clinton: And behind every good screeder is a good raker.

Angus: This is a concrete rake, it's different to an ordinary rake – it hasn't got the tines like an ordinary rake. You watch the boys, they rake behind the screeder and they try and anticipate how he's going and they'll pull back the surplus, and if there's a hole there they'll try and push it forward into the hole.

Angus: The sort of people that are good at concrete are people that have got a good eye. They have to know how to see levels and rake the concrete to the right level and finish the concrete level, and see bumps or hollows.

Angus: Just keep your wits about you as you're holding the handle of it, so it's all in your hand-eye co-ordination.

Angus: That's it, now back you come! *Beep* I beg your pardon.

Angus: Not so easy, eh?

Rick: Nah!

Angus: That's alright.

Clinton: In this job a colour hardener is being dusted over the concrete while it's still wet. The float is run across the concrete a second time to produce more surface water and lock the colour in.

Angus: You definitely get a sense of pride with the work that you do. At the end of the day you can stand back and look at your work, the finished product, and say, "Well, I'm really pleased with my day's work." You've always got something to show for your work.

Angus: This is a hand-mat, it's got slate texture in there and it's feathered off on the edges, so that means it's not going to leave an edge mark. So we start of with the hand-mat, and we just come down the edges…that's it.

Angus: You'll notice that there's blue, yellow and red mats. They all have a different patterns on them. So we try and keep them…

Rick: …separate from each other?

Angus: Yeah, try to keep a different mat beside each other all the time so you get a random pattern occurring.

Clinton: The end product, a slate effect tiling, is already looking good.

Clinton: So has Rick got what it takes?

Angus: He probably would qualify for a job. He's got a good attitude to the job, that's for sure.

Rick: It's a lot more complicated than I thought – a lot of hard work and a lot of technical stuff as well. It will be a good job to get into later on.

Clinton: There are four national certificates available through the BCITO in cement and concrete, which cover areas such as ready mix, pre-cast, placing and finishing. There are no specific requirements to become a concrete worker but it's an advantage to hold a driving licence. Training is done on the job and you can complete your certificate in around 24 months. You can specialise in residential or commercial construction and eventually go on to run your own business.
Entry requirements
There are no specific entry requirements to become a concrete worker. However, most employers prefer you to:
hold a full driver's licence
pass a drug test.
A heavy vehicle licence can also help you find work.
Apprenticeships available for concrete workers who are employed
If you want to do an apprenticeship, the first step is to find an employer to take you on. The Building and Construction Industry Training Organisation (BCITO) can help you find an employer.
There are national certificates at Level 3 and 4 in concrete manufacture, production, and construction.  You may need to complete the National Certificate in Concrete Core Skills (Level 2) first. 
Secondary education
At least Level 1 NCEA in English, technology and maths is useful. 
Year 11 and 12 students can learn more about construction and gain relevant skills by doing National Certificates in Building, Construction and Allied Trades (Levels 1 and 2) through the BConstructive programme.
For Year 11 to 13 students, the Gateway programme is a good way to gain industry experience.
Personal requirements
Concrete workers need to be:
careful and accurate
responsible and reliable
hard-working and practical
able to follow instructions 
able to work well in a team.
Useful experience
Useful experience for concrete workers includes:
paving
bricklaying
work in the construction industry.
Physical requirements
Concrete workers need to have a good level of fitness and must be strong, with no back problems, as they need to do heavy lifting and climbing. They also need to be comfortable working at heights.
Find out more about training
Building and Construction Industry Training Organisation (BCITO)

0800 4 22480 - info@bcito.org.nz - www.bcito.org.nz
Check out related courses
What are the chances of getting a job?
 Chances of getting a job as a concrete worker are good due to:
government plans to spend over $13 billion on transport networks between 2015 and 2018
the $850 million Transmission Gully project north of Wellington, which is expected to be under construction until 2020
a construction boom that is predicted to last until 2021, meaning more building work
the extra 22,000 houses that are needed over the next 10 years in Auckland
building work needed to upgrade leaky homes and earthquake-prone buildings
the Christchurch rebuild, which is predicted to extend until at least the end of 2017
the tendency for concrete workers to move to less physically demanding roles as they age, which creates vacancies.
However, like many building jobs, this role can be affected by economic conditions. A downturn in the economy can lower demand for concrete workers.
Types of employers varied 
Concrete workers in the construction sector may be employed by:
contractors that specialise in working with concrete
builders and building firms that employ a range of tradespeople and labourers.
Some concrete workers are self-employed and/or work in small teams that contract to builders.
Cement and concrete plant workers are employed by cement and concrete manufacturers.
Sources
BRANZ and Pacifecon, 'National Construction Pipeline Report 4', July 2016, (www.branz.co.nz).
Gamman, J, education and development manager, Cement and Concrete Association of New Zealand (CCANZ), Careers New Zealand interview, March 2016.
National Infrastructure Unit, 'The Thirty-Year New Zealand Infrastructure Plan 2015', accessed March 2016, (www.infrastructure.govt.nz).
New Zealand Transport Agency, 'Transmission Gully', accessed March 2016, (www.nzta.govt.nz).
Ministry of Business, Innovation and Employment, '2006-2014 Occupational Data' (prepared for Careers New Zealand), 2015.
(This information is a guide only. Find out more about the sources of our job opportunities information)
Progression and specialisations
Concrete workers can progress to become team leaders or may start a business and manage their own team of concrete workers. They may also move into construction or project management. 
They may specialise in:
manufacturing concrete products
producing cement and concrete as a raw material
constructing buildings out of concrete.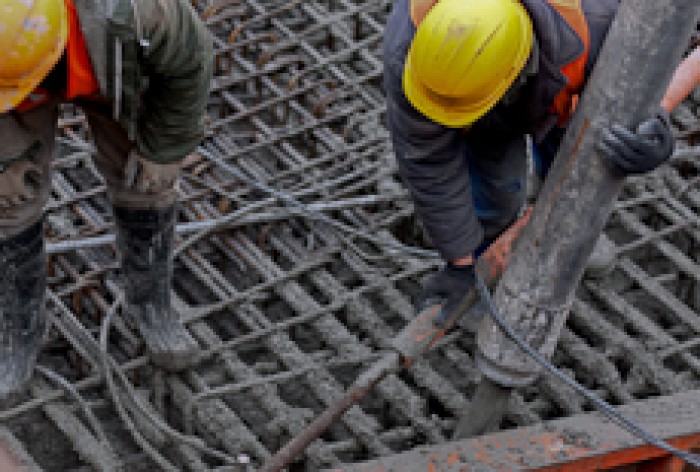 Last updated 10 August 2018