Plasterer
Kaiwhakapiri Uhi
Alternative titles for this job
Plasterers apply plaster or other materials to buildings. They usually specialise in either interior or exterior plastering.
Pay
New and trainee plasterers usually earn
Experienced plasterers usually earn
Source: Trade Me Jobs and Association of Wall and Ceiling Industries NZ, 2016.
Job opportunities
Chances of getting a job as a plasterer are good, particularly in Auckland and Christchurch.


Pay
Pay for plasterers varies depending on their employer, location and experience.
Apprentice plasterers may start on the training or adult minimum wage. The rate goes up as they gain experience and unit standards.
Inexperienced plasterers without a qualification may start on minimum wage or a little more.
After a year or two, plasterers usually earn between $18 and $22 an hour.
Experienced plasterers may earn between $22 and $27 an hour. 
Income for plasterers who run their own business varies depending on the success and size of their business.
Sources: Trade Me Jobs, 2016; Association of Wall and Ceiling Industries of New Zealand, 2016. 
(This information is a guide only. Find out more about the sources of our pay information)
What you will do
Plasterers may do some or all of the following:
advise clients on suitable products for their projects and prepare quotes for work
erect scaffolding (if it is less than five metres high)
clean and prepare surfaces for plastering
mix and apply plaster to surfaces
sand surfaces ready for painting
run their own business.
Skills and knowledge
Plasterers need to have knowledge of:
plastering materials, compounds and equipment
plastering methods, such as how to prepare a surface and apply plaster
how to apply different flashing and cladding systems
health and safety regulations.
Plasterers running their own business need small business skills.
Working conditions
Plasterers:
usually work regular hours, but may work weekends and evenings
work on building sites and in buildings being renovated, where conditions can be noisy and dusty
may have to travel locally to job sites.
What's the job really like?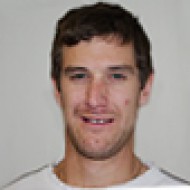 Mark Holtom
Interior Plasterer
Plastering – simple to learn, but not so easy to master
"I've learned how to plaster on the job with tools in hand, which is how you have to learn, really.
"For the first six months you learn by working with other people and after that you get thrown in and start doing jobs yourself. It's a relatively simple thing to start to learn, but not so easy to master. You only get that through practice."
Patience is important to get the job right – the first time
"I've been self-employed for two years now. It's really good. I employ a couple of other people as well. Being an employer has its good sides, but can have downsides as well. It's hard to predict who is going to make a good plasterer and who's not. Some people manage to pick it up fast and some people don't.
"My girlfriend also works with me. She wasn't a plasterer before she met me, but she's been great, and picked things up really quickly.
"It's a job where you have to pay attention to detail, that's where my girlfriend is good. You don't have to be so quick when you only have to do something once – and get it right first time."
Watch the video above to find out about becoming an exterior plasterer - 6.05 mins. (Video courtesy of the Building and Construction Industry Training Organisation)
Greg: I'm Greg, I'm 17 years old and I think plastering would be pretty easy, so I'd like to give it a go.

Clinton: You might be in for a bit of a shock there, Greg. Solid plastering is used to coat the outsides of houses and offices covering brick, blocks and other surfaces. It involves a set of skills that must be mastered in order for the finished plastered surface to make the house look great. Copley Solid Plasterers' foreman Nik will be starting you on that path.

Nik: There's normally three coats in block work for plastering. The first coat which we'll be doing today is called slushing. This consists of a 50/50 mix of sand and cement, so today we'll just be doing three and threes, which is three sand and three cement.

Clinton: They call plaster "mud" in the trade, and mixing it is where all apprentices start, but that doesn't mean it's easy.

Nik: Ah hang on bro. You need to fill that right up to the top, so if you can just put a bit more sand in.

Clinton: If you get it wrong the plaster won't stay on the wall and that can be costly, so Nik keeps an eye on Greg.

Nik: We like to have kind of a stronger-type person, because there's quite a lot of manual and physically hard stuff to do during the day. We look for a person who can walk on to a site and just say yes to everything we want, and will give anything a go.

Clinton: The first layer is a slush coat that acts as a key for the second coat to grip on to.

Nik: I'm flicking it on with quite a bit of force.

Greg: Is that so it sticks on to the wall?

Nik: Yeah, exactly.

Clinton: Greg's got the muscle and he gets the theory, so do the skills come as naturally?

Nik: Sweet.

Nik: Any of the bald patches that you can see, you need to get those as well or else we'll have the second coat peeling off the wall.

Clinton: Greg's showing a real enthusiasm to get the job done, which is good because the entrance wall is ready for a second coat of mud to go up.

Nik: OK mate, so there's the mission, you've chosen to accept it, we'll see what you can do by yourself. No training, here you go…

Clinton: He's looking confident, but will Greg regret his earlier words?

Greg: I think plastering will be pretty easy…

Nik: One of the biggest myths that comes to mind is people always coming up to you and saying, "Oh, it's just like buttering a piece of bread, eh mate?" Or, "icing a cake", when in actual fact it's nothing like icing a cake or buttering bread!

Nik: All right, that's all very well if we want to get finished by Christmas! But we'll give it another go and I'll show you how we do it in the trade.

Nik: OK mate, that's how we do it, so I'll just give you a few pointers. Stick your hawk inside the mud barrow, push some mud up on to it…

Greg: Um, what's a hawk?

Nik: This thing here. And you do it above the barrow so you're not dripping mud anywhere else. Just one motion, flip it over, and it's centred in the middle of your hawk.

Nik: Some people come on site and have it sussed in a day and totally freak everyone out. But me myself, I spent hours and hours practising using a hawk and trowel.

Nik: You tip your hawk over, and flip it on to your trowel like that.

Nik: Not quite, once again…

Nik: Generally the hardest thing to pick up is taking the mud off the hawk. It takes a bit of getting used, getting the knack of it.

Nik: I'll just tidy this up for us bro, and you can carry on practising over the barrow.

Nik: It's all a combination of angle of the tool, pressure on the wall and the speed that you're putting it on.

Clinton: Practice makes perfect and Greg is getting the hang of it.

Greg: Yeeaaah!

Clinton: Nik uses a screed to wear the plaster back to a flat surface and any hollows are refilled. With the wall drying, it's Greg's chance for morning tea and a chat with apprentice Norton.

Greg: Had you been doing plastering before you started your apprenticeship?

Norton: Yep, I did it for about three years after I signed up – I did a year and a half on the mixer, just making the plaster and that. Then the boss slowly got me on the wall every now and then, building up those skills.

Nik: OK Greg, we're onto the third and final stage of our plastering mission today.

Clinton: The final coat is a premix, which includes a range of resins to help it harden after a few hours. The coat has to go on fast, so Greg and the team rip into it.

Nik: They're a good bunch of blokes that you work with, and you get used to each other, so you can give each other a bit of stick and they can give it back, which is great. And it's a good way to get through the day quickly, while at the same time doing your job.

Nik: Well we're coming to the final stage – the sponge finish. We use one of these puppies here, which is a sponge flat. It helps to bring the grain all to the surface and hopefully it will be really consistent and look really good for the client.

Clinton: That's one column finished, and the boys will be sad to see Greg go.

Nik: OK Greg, that's the end of our two days together. I hope you've enjoyed it, it's been a real pleasure having you on site with us these last couple of days, and just a small question – what was your favourite part of the job that we've had you doing?

Greg: Probably the actual plastering, getting to do what you guys do every day, that was good to have a go at it.

Nik: I'm glad you liked it, because you seemed to have picked it up quite naturally I thought, and I hope that all our apprentices in the future can come on site and just pick up things, and ask the same questions that you have over the last couple of days. Hopefully everything goes well for you in the future and hopefully we'll see you on site sometime soon.

Clinton: Exterior plastering apprentices learn plastering skills on the job, and can specialise in either solid plastering or proprietary plaster cladding systems. On top of plastering skills, an apprentice will also learn general building and construction skills – like scaffolding, safe use of hand and power tools, health and safety and first aid. If you are creative, love being outside, getting physical and seeing the result of your work at the end of the day, then a BCITO apprenticeship in exterior plastering is for you.
Entry requirements
There are no specific entry requirements for becoming a plasterer.
However, many employers prefer to employ plasterers who are working towards, or have, a qualification. The Building and Construction Industry Training Organisation (BCITO) oversees plasterer apprenticeships. 
Plasterers usually specialise in exterior (solid) or interior (fibrous) plastering.
Secondary education
There are no specific secondary education requirements to become a plasterer. However, NCEA Level 2 maths, English and workshop technology are useful.
Year 11 and 12 students can learn more about the construction industry, and gain relevant skills, by doing National Certificates in Building, Construction and Allied Trades (Levels 1 and 2) through the BConstructive programme.
For Year 11 to 13 students, the Gateway programme is a good way to gain industry experience. 
Personal requirements
Plasterers need to:
be careful, methodical and accurate, with an eye for detail
be able to follow instructions
have good problem-solving skills.
Useful experience
Useful experience for plasterers includes any work in building or construction, especially as a plasterer's assistant.
Physical requirements
Plasterers need to:
be fit and healthy as their work can be physically demanding
have a strong back and arms, good eyesight (with or without corrective lenses) and steady hands
be comfortable working at heights.
Registration
To carry out certain exterior plastering work you need to be a licensed plasterer as part of the Licensed Building Practitioners Scheme.
To get a licence, you need to prove your experience and/or have appropriate qualifications.
Find out more about training
Building and Construction Industry Training Organisation (BCITO)

0800 422 486 - info@bcito.org.nz - bcito.org.nz
Check out related courses
What are the chances of getting a job?
Opportunities for plasterers are good due to:
a construction boom that is predicted to last until 2021, meaning more building work
the extra 22,000 houses that are needed over the next 10 years in Auckland
building work needed to upgrade leaky homes and earthquake-prone buildings
the Christchurch rebuild, which is predicted to extend until at least the end of 2017
not enough people training as plasterers.
However, like many building jobs, this role can be affected by economic conditions. A downturn in the economy can lower demand for plasterers. Being willing to adapt and learn new skills means you are more likely to keep a job if there is a downturn.
Plasterer appears on Immigration New Zealand's immediate skill shortage list. This means the Government is actively encouraging skilled plasterers from overseas to work in New Zealand.
Plasterers needed to help rebuild after Canterbury earthquakes
Demand is strong in Canterbury, where plasterers are needed to work on new constructions or rebuilding after the earthquakes. As a result, both interior (fibrous) and exterior (solid) plasterer appear on Immigration New Zealand's Canterbury Skill Shortage List.
Most plasterers work for small businesses or for themselves
Most plasterers work for small companies of between one and five employees. Almost 40 percent of plasterers are self-employed.
Sources
BRANZ and Pacifecon, 'National Construction Pipeline Report 4', July 2016, (www.branz.co.nz).
Immigration New Zealand, 'Canterbury Skill Shortage List', accessed May 2016, (www.immigration.govt.nz).
Ministry of Business, Innovation and Employment, '2006-2014 Occupation Data' (prepared for Careers New Zealand), 2015.
Phelps, S, president, AWCINZ, Careers New Zealand interview, May 2016.
(This information is a guide only. Find out more about the sources of our job opportunities information)
Progression and specialisations
After gaining experience, plasterers may progress to start their own business.
Plasterers usually specialise as:
Exterior or Solid Plasterer

Exterior or solid plasterers apply cement-based plaster or modified plaster to the ceilings, floors and inside and outside walls of buildings.

Interior or Fibrous Plasterer

Interior or fibrous plasterers plaster joints in walls or ceilings and coat them to make a paintable finish. They may also "fix" (secure) plasterboard to the inside framing of a building.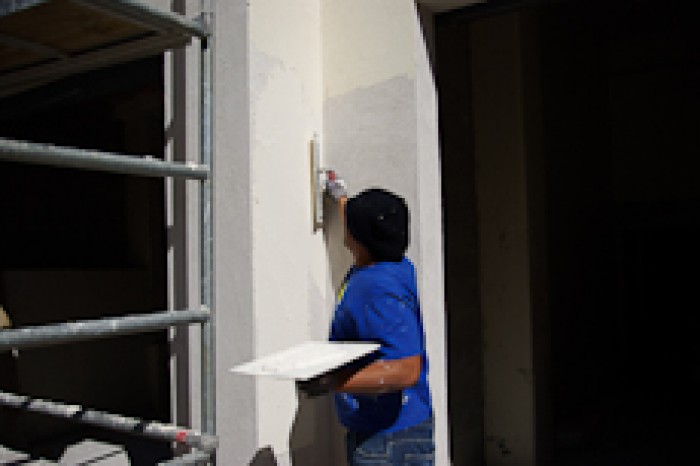 Last updated 14 August 2018