Plasterer
Kaiwhakapiri Uhi
Alternative titles for this job
Plasterers apply plaster or other materials to buildings. They usually specialise in either interior or exterior plastering.
Pay
Source: Assn of Wall and Ceiling Industries NZ and Trade Me Jobs, 2018.
Job opportunities
Chances of getting a job as a plasterer are good due to a shortage of workers.
Pay
Pay for plasterers varies depending on their employer, location and experience.
Apprentice plasterers may start on the training or adult minimum wage. The rate goes up as they gain experience and unit standards.
Plasterers without a qualification may start on minimum wage or a little more.
Plasterers can earn between $23 and $30 an hour. 
Those running their own business may earn more than this, but their income depends on the success of their business.
Sources: Association of Wall and Ceiling Industries of New Zealand; and Trade Me Jobs 2018. 
(This information is a guide only. Find out more about the sources of our pay information)
What you will do
Plasterers may do some or all of the following:
advise clients on suitable products for their projects and prepare quotes for work
erect scaffolding (if it's less than five metres high)
clean and prepare surfaces for plastering
mix and apply plaster to surfaces
sand surfaces ready for painting
run their own business.
Skills and knowledge
Plasterers need to have knowledge of:
plastering materials and equipment
plastering methods, such as how to prepare a surface and apply plaster
how to apply different flashing (to keep water out of building walls) and cladding systems (to provide insulation and weather resistance)
health and safety regulations.
Working conditions
Plasterers:
usually work regular hours, but may work evenings and weekends
work on building sites and in buildings being renovated, where conditions may be noisy and dusty
may travel locally to job sites.
What's the job really like?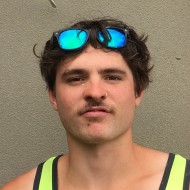 How did you get into plastering?
"I was in my last year of school when Steve, who is now my boss, put a notice up at school looking for somebody who wanted to do some plastering work with him. I didn't know what I wanted to do when I left school, and plastering sounded great."
What do you find most enjoyable and most challenging about your work?
"The most challenging thing is putting up the cladding and polystyrene on a house. You've got to get it perfect so the house comes out good. It requires a lot of time and patience.
"The thing I enjoy most is probably the final result, seeing it all come together. There are lots of different finishes so each house looks different."
What's one highlight from your career so far?
"Winning the apprentice of the year competition was pretty cool. It just showed that I knew what I was doing."
What advice would you give someone interested in becoming a plasterer?
"It's a physical job, so be prepared for a lot of hard work. But at the end of the day it pays off once you see the end result."
Plasterer video
Find out about a career in plastering – 1.09 mins. (Video courtesy of the Building and Construction Industry Training Organisation)
Narrator: Exterior plasterers ensure buildings are weathertight and look good by applying a lightweight but tough exterior skin to buildings.

There are two types of exterior plaster systems used on structures. Solid plastering where you apply protective and decorative coats of sand and cement based plaster and PPCS or proprietary plaster cladding system which is often used at heights for the same look but with a lightweight application.

In an apprenticeship, a skilled exterior plasterer will teach you how to mix plaster and how to apply it to walls. Applying plaster, smoothing with trowels and floating are all part of the progression of skills you'll learn on the job.

It's good to be physically strong and to enjoy working outside. The work is labour-intensive and often involves working in a team.

If you've already been working in the trade for some time, BCITO offers excellent opportunities to recognise your skills and also to further your skills to become a supervisor with advanced on-the-job training.

Check if you're eligible. Getting qualified could be fees-free.
Entry requirements
There are no specific requirements to become a plasterer. However, you usually need to complete an apprenticeship and gain a National Certificate.
To become a qualified exterior plasterer you need to obtain one of the following qualifications:
National Certificate in Solid Plastering (Level 4)
National Certificate in Proprietary Plaster Cladding Systems (Level 4)
To become a qualified interior plasterer you need to obtain a National Certificate in interior systems (interior plastering) (Level 3 or 4).
The Building and Construction Industry Training Organisation (BCITO) oversees plasterer apprenticeships.
Secondary education
There are no specific secondary education requirements to become a plasterer. However, NCEA Level 2 maths, English and construction and mechanical technologies are useful.
Year 11 and 12 learners can find out more about the construction industry, and gain relevant skills, by doing National Certificates in Building, Construction and Allied Trades (Levels 1 and 2) through the BConstructive programme.
For Year 11 to 13 learners, trades academies and the STAR and Gateway programmes are good ways to gain relevant experience and skills.
These programmes may help you gain an apprenticeship, but do not reduce the amount of time it takes to complete it.
Personal requirements
Plasterers need to:
be careful, methodical and accurate, with an eye for detail
be able to follow instructions
have good problem-solving skills.
Useful experience
Useful experience for plasterers includes any work in building or construction, especially as a plasterer's assistant.
Physical requirements
Plasterers need to:
be fit and healthy as their work can be physically demanding
have a strong back and arms, good eyesight (with or without corrective lenses) and steady hands
be comfortable working at heights.
Registration
To carry out certain exterior plastering work you need to be a licensed plasterer as part of the Licensed Building Practitioners Scheme.
To get a licence, you need to prove your experience and have appropriate qualifications.
Find out more about training
Building and Construction Industry Training Organisation (BCITO)

0800 422 486 - info@bcito.org.nz - bcito.org.nz
Check out related courses
What are the chances of getting a job?
Strong demand for plasterers
Job opportunities for plasterers are good due to:
steady growth in construction, which is predicted to continue until at least 2023
KiwiBuild, which is set to deliver 100,000 homes for first home buyers over the next 10 years
a shortage in the number of people going into plastering apprenticeships.
The construction industry needs at least 25,000 more qualified people in the next five years to meet demand.
Solid plasterer and fibrous plasterer appear on Immigration New Zealand's construction and infrastructure skill shortage list. This means the Government is actively encouraging skilled plasterers from overseas to work in New Zealand.
However, like many building jobs, this role can be affected by economic conditions. A downturn in the economy can lower demand for plasterers.
According to the Census, 4,605 solid and fibrous plasterers worked in New Zealand in 2018.
Most plasterers work for small businesses or for themselves
Most plasterers work for small companies of between one and five employees. Almost 40 percent of plasterers are self-employed.
Sources
Building and Construction Industry Training Organisation, 'Exterior Plastering', accessed October 2018, (www.bcito.org.nz).
Building and Construction Industry Training Organisation, 'Interior Systems', accessed October 2018, (www.bcito.org.nz).
Immigration New Zealand, 'Construction and Infrastructure Skill Shortage List', 27 May 2019, (www.immigration.govt.nz).
Ministry of Business, Innovation and Employment, 'National Construction Pipeline Report 2018', July 2018, (www.mbie.govt.nz).
Phelps, S, executive council member, Association of Wall and Ceiling Industries New Zealand, careers.govt.nz interview, September 2018.
Ranchhod, S, 'Construction Bulletin - July 2018', July 2018, (www.westpac.co.nz).
Stats NZ, '2018 Census Data', 2019.
Wenman, E, 'NZ needs more than 50,000 construction workers by 2022 to keep up with demand', Stuff, May 2018.
(This information is a guide only. Find out more about the sources of our job opportunities information)
Progression and specialisations
Plasterers may progress to set up their own plastering business.
Plasterers usually specialise as either one of:
Exterior or Solid Plasterer

Exterior or solid plasterers apply cement-based plaster or modified plaster to the ceilings, floors and inside and outside walls of buildings.

Interior or Fibrous Plasterer

Interior or fibrous plasterers plaster joints in walls or ceilings and coat them to make a paintable finish. They may also "fix" (secure) plasterboard to the inside framing of a building.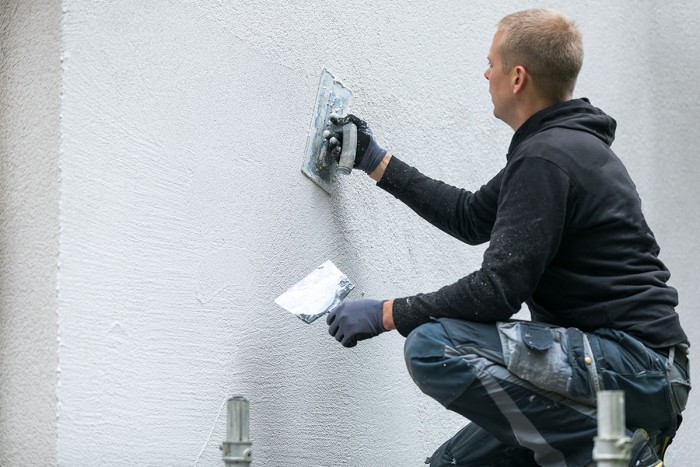 Last updated 4 April 2023