Coachbuilder/​Trimmer
Kaihanga Pahi/​Kaiwhakarākei Waka
This job is sometimes referred to by alternative titles
Coachbuilders manufacture and assemble the frames and parts for cars and commercial vehicles such as buses, vans, trucks, caravans and motor homes. Vehicle trimmers install, repair and replace the interior trim of vehicles.
Pay
Coachbuilders/trimmers usually earn
Job opportunities
Chances of getting work as a coachbuilder/trimmer are average due to stable worker numbers and average worker turnover.
Pay
Pay for coachbuilders/trimmers varies depending on experience and employer.
They may start on minimum wage or a little more.
With 2-3 years experience they can earn between $18 and $22.
Very experienced coachbuilders/trimmers, or those running their own business, may earn more than this.
(This information is a guide only. Find out more about the figures and diagrams in our job information)
What you will do
Coachbuilders/trimmers may do some or all of the following:
cut, shape, glaze and spray-paint metal parts
build vehicle frames
assemble and join parts to the frame such as the floor, roof and side panels
install electrical wiring
fit additional parts, such as hydraulic lifts and refrigeration equipment, to vehicle bodies
repair, replace and modify the frame or parts.
install or repair upholstery.
Coachbuilders/trimmers working on motor homes may also install plumbing, pressure-water systems, waste-water systems and gas in the vehicle.
Skills and knowledge
Coachbuilders need to have:
knowledge of vehicle building materials and equipment
welding and collision repair skills, including the ability to cut and shape metal
skill in interpreting plans and sketches
knowledge of NZ Transport Agency regulations
knowledge of safe working practices.
Vehicle trimmers need to have:
sewing and pattern making skills
knowledge of different fabrics used in upholstery work.
Working conditions
Coachbuilders/trimmers:
usually work regular business hours
work in factories or workshops.
What's the job really like?
Watch the video below to find out about motor trimming and vehicle upholstery. 6.33 min.
Jordan: Hi my name is Jordan Walsh and I'm looking at a career in motor trimming.

Clinton: From seats to covers to carpet, motor trimming is part of the industrial textile fabrication industry. The work may involve restoring classic cars, as well as fitting out the carpets, seats and fabric surrounds to boats, yachts, and super yachts. Charman Motor Trimmers and Upholsterers carry out a huge range of motor trimming and Charman's was recognised with the OFPANZ apprentice of the year in 2008. The company's managing director is Kimber Buglass.

Kimber: Hi Jordan, how are you?

Jordan: Good, how are you?

Kimber: Come on through.

Clinton: Kimber takes Jordan through the company's safety procedures before they suit up for the first job of the day.

Kimber: OK Jordan, what we're going to do now is take the seat off this bike – as you can see, it's got a tear in it.

Kimber: That's it, cool.

Kimber: Right, we'll turn this over and what we're going to do is remove all the staples around the base.

Kimber: Just do one corner, turn it…that's it.

Kimber: Motor trimming involves basically the interiors of cars, planes, trains, boats, seating, carpets, headlining – right across the board.

Kimber: Excellent. I'll get you to go over and see Paul now, and he'll show you how to mark one out and do some screening on the back of the cover.

Paul: Hi Jordan, Paul. How are ya?

Jordan: Good, how are you?

Paul: Good. Right, this is one of our patterns here for our motorbike seat cover here, and we just want to lay it out on the vinyl as economically as possible. Just use this chinagraph pencil here and just mark around the outside. Hold it down with a weight to keep it place and just go for it, mark it out.

Jordan: Sweet.

Paul: Marking out is really the most important part of the job – it's really getting all your marks to line up and all the nicks, if they don't get put on the material properly, then you'll find that when they come to sew it and they don't line up, then your job is a failure. The precision of marking is the most important part of the trimming trade.

Paul: OK. Now that you've marked around, we can go ahead and cut it out now. A great job.

Jordan: Cheers.

Clinton: He can handle a pencil, but how good is he at cutting?

Paul: Yeah, speed comes with age in the trade, but to start off with we always encourage them to do it slowly to get it right. And then later on down the track they'll find that hand-eye co-ordination with the scissors comes in.

Paul: Great, that's a good job of cutting it out. You've stayed on the line, that's perfect.

Paul: OK Jordan, this is where we do the screen-printing. We're going to use this Honda logo here and we'll screen it on to the vinyl there.

Kimber: Basically, you need a flair for detail, a bit of an artistic flair helps, a bit of imagination, thinking before you start the job what it's going to look like when it's finished. Then hopefully with the skills that you've picked up through the trade you'll see that in the end result, when the job is completed.

Kimber: Good Jordan, that's well done. OK, we'll get you to sew that together soon. But first of all, we'll test your sewing skills. I'll get you to have a go on this machine.

Kimber: That's good.

Kimber: Start off slowly, learning how to sew a straight line. Then move on to curves, and once that skill has been adapted through the years, it just comes naturally.

Entry requirements
To become a qualified coachbuilder you need to complete an apprenticeship and gain a Level 4 National Certificate in Coachbuilding.
To become a qualified vehicle trimmer you need to gain a Level 4 National Certificate in Motor Trimming. Both qualifications are available through MITO.
Entry skills course useful
Some employers prefer their apprentices to have completed a Level 2 National Certificate in Motor Industry (Entry Skills) prior to starting an apprenticeship.
Secondary education
At least three years of secondary education is preferred. Useful subjects include English, maths and workshop technology.
Personal requirements
Coachbuilders/trimmers need to be:
efficient and practical
accurate, with an eye for detail.
Useful experience
Useful experience for coachbuilders/trimmers includes:
fabrication work such as welding and working with sheet metal
assembling vehicles
work as a panelbeater.
Upholstering experience is useful for those wanting to work as a vehicle trimmer.
Find out more about training
MITO

0800 882121 - info@mito.org.nz - www.mito.org.nz
Check out related courses
What are the chances of getting a job?
The Ministry of Business, Innovation and Employment estimates the number of coachbuilders/trimmers remained static between 2010 and 2012.
Increase in road freight likely to help sustain demand for coachbuilders
The New Zealand Transport Agency predicts that freight volumes will increase by 75% over the next 25 years. This could lead to increased demand for coachbuilders to build truck and trailer bodies.
Employment concentrated in certain locations
According to Census data, a third of coachbuilders/trimmers are employed in Auckland, with other notable areas of employment being Waikato, Christchurch, Tauranga and Wellington. Outside these regions the chances of getting work are likely to be more limited.
Types of employers vary
Coachbuilders/trimmers work for:
bus servicing and manufacturing companies
heavy truck and other commercial vehicle companies
motor home and caravan manufacturing and servicing companies
vehicle upholstering businesses.
Sources
Department of Labour, '2003-2012 Occupation Data' (prepared for Careers New Zealand), 2012.
MITO,'Investment Plan 2014', 2014.
Progression and specialisations
Coachbuilders/trimmers may progress into supervisory or management roles. They may specialise in buses, vans, trucks, caravans or motor homes.
Coachbuilders/trimmers may specialise as a:
Coachbuilder

Coachbuilders manufacture and assemble the frames and parts for special cars and commercial vehicles such as buses, vans, trucks, caravans and motor homes.

Vehicle Trimmer

Vehicle trimmers install, repair and replace the interior trim of vehicles, such as seat coverings.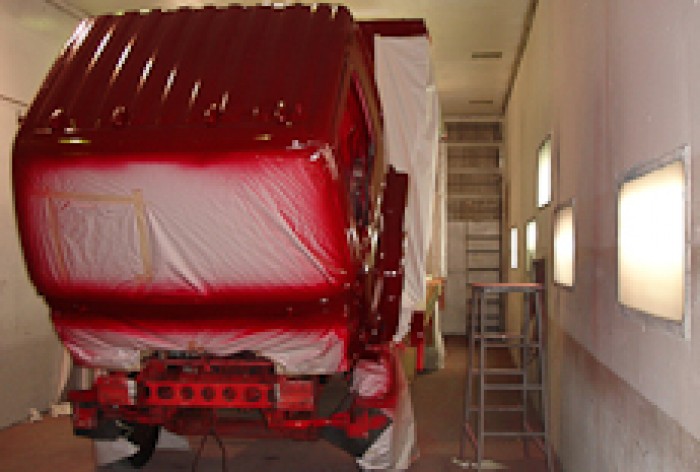 Last updated 8 June 2017