Vehicle Groomer/​Cleaner
Kaiwhakapaipai Waka
Alternative titles for this job
Vehicle groomers/cleaners clean and polish vehicles, and may also drive, park and maintain vehicles.
Pay
Vehicle groomers/cleaners usually earn
Source: Careers New Zealand research, 2017.
Job opportunities
Chances of getting a job as a vehicle groomer/cleaner are good due to a shortage of workers
What you will do
Vehicle groomers/cleaners may do some or all of the following:
vacuum and shampoo vehicles
clean door jambs, rubber seals, and plastic work
clean the vehicle's exterior, including wheels, mudflaps and bumpers
steam-clean the engine, boot, door sills and outside of the vehicle
remove surface scratches on bodywork
shift and position vehicles
pick up and drop off vehicles and their owners
perform basic mechanical checks such as water, oil and tyre pressure.
Those who work for car rental companies may also:
complete paperwork
assist clients with their luggage
identify and report damage 
check and report on fuel levels.
Skills and knowledge
Vehicle groomers/cleaners need to have:
good cleaning skills, including knowledge of cleaning equipment and substances, and how to use them safely
knowledge of paint technology (how paints are made, and their properties)
knowledge of skills and techniques required for cleaning and polishing different paint types
customer service skills.
Business management skills may also be useful for vehicle groomers/cleaners who run their own business.
Working conditions
Vehicle groomers/cleaners:
usually work regular business hours but may also work weekends or evenings, or have early starts or late finishes
work indoors and outdoors in workshops, showrooms and at rental car companies
work in conditions that can be noisy, with strong smells of solvents and chemicals (although there is usually equipment to remove fumes).
What's the job really like?
Dianne Palmer
Vehicle Groomer/Cleaner
Trade secrets help with the harder jobs
Dog hair on carseats is a vehicle groomer's worst enemy, according to Dianne Palmer. "It's one of the hardest things to get out because of the different fabrics used on car upholstery. It can take me hours and hours to try and vacuum it out, but I have some trade secrets that allow me to get it out a little easier."
Teamwork key to a successful business
Dianne has owned and operated her own vehicle grooming business for nearly seven years and still finds every day different. "I get to meet my clients, organise and train my staff, and get out there doing the hard work of cleaning vehicles."
Dianne puts her success down to a great team who put their heart into the work they do. "My team is great, they have a good eye for detail, they are motivated and full of energy on every car they work on. We aim for quality and that keeps our clients coming back.
"I love standing back admiring a finished product and going 'Wow, we did that.' It's those moments that keep me motivated in this job."
Entry requirements
To become a vehicle groomer/cleaner you usually need to have a full, clean driver's licence, although some employers may accept a restricted licence.
Vehicle groomers/cleaners must be able to drive manual as well as automatic vehicles.
Personal requirements
Vehicle groomers/cleaners need to be:
organised
accurate, with an eye for detail
reliable and honest.
Useful experience
Useful experience for vehicle groomers/cleaners includes:
work as a cleaner
work with cars, particularly paint or panel work.
Physical requirements
Vehicle groomers/cleaners need to be reasonably fit and healthy, and agile enough to easily move around the interior of a vehicle.
Find out more about training
What are the chances of getting a job?
Chances of getting a job as a vehicle groomer/cleaner are good because:
there is high staff turnover in the job
vehicle grooming and cleaning is not thought of as a long-term career
more than 30% of vehicle groomers/cleaners are 15 to 24 years old.
Job chances better in spring and summer
Demand for vehicle groomers/cleaners rises during spring and summer, when both rental car hires and car sales tend to increase.
According to the Census, 3,675 vehicle groomers/cleaners worked in New Zealand in 2018.
Types of employers varied
Vehicle groomers/cleaners may work for:
specialist car grooming businesses
new and used car dealers
car and van rental companies
panelbeaters and garages
owners of large fleets of vehicles such as the police.
Some vehicle groomers/cleaners own their own businesses and are self-employed.
Sources
Cropp, A, 'Rental Car Companies Scramble to Meet Demand from Overseas Visitors', 2 February 2016.
Maetzig, R, 'Accelerate! New Zealand New Vehicle Sales Blast Off on a 2017 flyer', 3 February 2017, (www.stuff.co.nz).
Ministry of Business, Innovation and Employment, '2006-2014 Occupation Data' (prepared for Careers New Zealand), 2015.
Stats NZ, '2018 Census Data', 2019.
(This information is a guide only. Find out more about the sources of our job opportunities information)
Progression and specialisations
Vehicle groomers/cleaners may progress to set up their own business.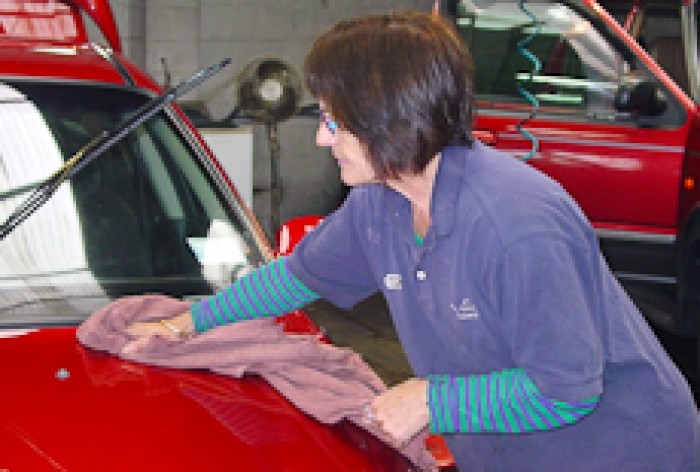 Last updated 3 April 2023