Vehicle Groomer/​Cleaner
Kaiwhakapaipai Waka
This job is sometimes referred to by alternative titles
Vehicle groomers/cleaners wash, vacuum, clean and polish the outside and inside of vehicles.
Pay
Vehicle groomers/cleaners usually earn
Job opportunities
Chances of getting a job as a vehicle groomer/cleaner are good due to high worker turnover.
Current job prospects
Chances of getting a job as a vehicle groomer/cleaner are good due to high worker turnover.
How many people are doing this job?
2014

2,826

2013

2,724

2012

2,747
Source: Ministry of Business, Innovation and Employment, '2003-2012 Occupation Data' (prepared for Careers New Zealand), 2012.
Pay
Pay for vehicle groomers/cleaners varies, but they usually earn between the minimum wage and $16 an hour.
What you will do
Vehicle groomers/cleaners may do some or all of the following:
vacuum the inside of vehicles and shampoo seats, carpet and roof lining
clean door jambs, rubber seals, and plastic work inside the vehicle
clean the vehicle's exterior, including wheels, mudflaps and bumpers
steam-clean the engine, boot, door sills and outside of the vehicle
remove surface scratches on bodywork, if possible.
Skills and knowledge
Vehicle groomers/cleaners need to have:
good cleaning skills, including knowledge of cleaning equipment and substances, and how to use them safely
knowledge of paint technology (how paints are made, and their properties)
knowledge of skills and techniques required for cleaning and polishing different paint types
customer service skills.
Business management skills may also be useful for vehicle groomers/cleaners who run their own business.
Working conditions
Vehicle groomers/cleaners:
usually work regular business hours but may do some weekend or evening work
work indoors and outdoors in workshops and showrooms
work in conditions that can be noisy, with strong smells of solvents and chemicals (although there is usually equipment to remove fumes).
What's the job really like?
Dianne Palmer - Vehicle Groomer/Cleaner
Dog hair on car seats is a vehicle groomer's worst enemy, according to Dianne Palmer. "It's one of the hardest things to get out because of the different fabrics used on car upholstery. It can take me hours and hours to try and vacuum it out, but I have some trade secrets that allow me to get it out a little easier."
Teamwork key to a successful business
Dianne has owned and operated her own vehicle grooming business for nearly seven years and still finds every day different. "I get to meet my clients, organise and train my staff, and get out there doing the hard work of cleaning vehicles."
Dianne puts her success down to a great team who put their heart into the work they do. "My team are great, they have a good eye for detail, they are motivated and full of energy on every car they work on. We aim for quality and that keeps our clients coming back.
"I love standing back admiring a finished product and going 'wow' we did that. It's those moments that keep me motivated in this job.
Entry requirements
To become a vehicle groomer/cleaner you need to have a full driver's licence.
A National Certificate in Vehicle Grooming (Level 2), available through MITO, may be useful.
Personal requirements
Vehicle groomers/cleaners need to be:
organised
accurate, with an eye for detail
reliable and honest.
Useful experience
Useful experience for vehicle groomers/cleaners includes:
work as a cleaner
work with cars, particularly paint or panel work.
Physical requirements
Vehicle groomers/cleaners need to be reasonably fit and healthy and agile enough to easily move around the interior of a vehicle.
Find out more about training
MITO

0800 882121 - info@mito.org.nz - www.mito.org.nz
Check out related courses
What are the chances of getting a job?
Ministry of Business, Innovation and Employment estimates show that the number of vehicle groomers/cleaners grew 1% between 2010 and 2012.
Because of growth in the industry and people often staying in the job for a short time, vacancies arise reasonably regularly. Employers sometimes struggle to find and keep staff because vehicle grooming and cleaning is not thought of as a long-term career by some job seekers.
Job chances better in spring and summer
Demand for vehicle groomers/cleaners rises during spring and summer, when both rental car hires and car sales tend to increase.
Types of employers varied
Employers of vehicle groomers/cleaners include:
specialist car grooming businesses
new and used car dealers
car and van rental companies
owners of large fleets of vehicles, such as the police.
Some vehicle groomers/cleaners own their own businesses and are self-employed.
Sources
Ministry of Business, Innovation and Employment, '2003-2012 Occupation Data' (prepared for Careers New Zealand), 2012.
Progression and specialisations
Vehicle groomers/cleaners may progress to set up their own business.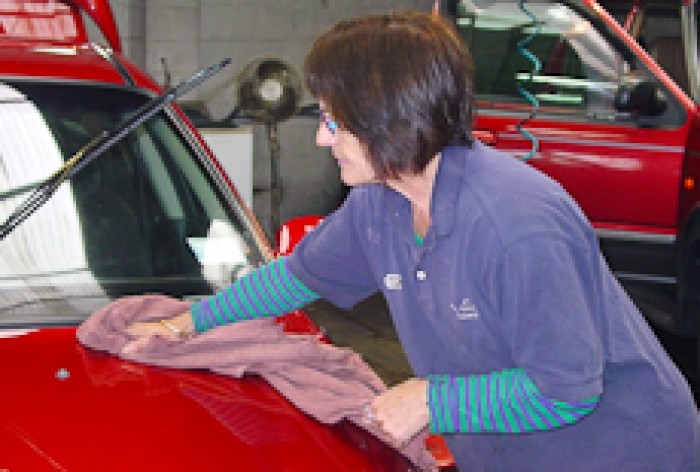 Last updated 27 October 2016