Motor Vehicle Salesperson
Kaihoko Waka Huarahi
Alternative titles for this job
Motor vehicle salespeople sell new or used cars, trucks, and other vehicles.
Pay
New motor vehicle salespeople usually earn
Experienced motor vehicle salespeople usually earn
Source: Automotive Employment NZ, 2018.
Job opportunities
Chances of getting a job as a motor vehicle salespeople are good as there is a shortage of workers.
Pay
Pay for motor vehicle salespeople varies depending on skills, experience and vehicle type.
New motor vehicle salespeople usually earn between minimum wage and $50,000 a year.
Motor vehicle salespeople with more than one years' experience usually earn between $50,000 to $140,000.
Heavy vehicle salespeople and used vehicle buyers usually earn between $75,000 and $220,000.
Motor vehicle sales managers can earn up to $220,000.
In addition, motor vehicle salespeople usually earn commission of between 10% and 20% of a vehicle sale.
Source: Automotive Employment New Zealand, 2018.
(This information is a guide only. Find out more about the sources of our pay information)
What you will do
Motor vehicle salespeople may do some or all of the following:
prepare vehicles for sale
help customers decide which vehicles will best suit their needs
accompany customers who are test-driving vehicles
decide on the trade-in value of the customer's used vehicle
collect payment or arrange finance on vehicles
arrange vehicle insurance for customers
organise advertising and promotions
keep a database of customers and potential customers
deal with painters, panelbeaters and vehicle parts suppliers.
Skills and knowledge
Motor vehicle salespeople need to have knowledge of:
the vehicles they sell
new cars on the market, and market trends
how vehicle engines work
relevant legislation such as the Consumer Guarantees Act and Motor Vehicles Sales Act
finance and payment options.
Working conditions
Motor vehicle salespeople:
often work long hours, which may include evenings and weekends, and may also be on call
work in showrooms and car yards
may deliver cars locally and nationally, and those with more experience may travel overseas to look at vehicles for the New Zealand market.
What's the job really like?
Motor vehicle salesperson video
Mark talks about life as a car sales manager – 0:50 mins. (Video courtesy of MITO)
Mark: When I became a sales manager in 2011 I was the youngest one in the country.

It's in the blood. My father has actually been in the industry for a long time as well.

There is a career in vehicle sales. From here we can move forward within the company, or there's the option that I can look at purchasing my own business. It's a long-term goal. I'd like to own something myself.

But the reward you get at the end of the day with shaking someone's hand and saying thanks for your purchase – nothing else like it really. They might be handing over $5,000, $50,000 or $100,000 – it's all the same – you treat everyone the same.

You've just got to make sure that what you're doing is best for the customer and they get the best value and they leave with a smile on their face.
Entry requirements
To become a motor vehicle salesperson you need to have a clean driver's licence.
Secondary education
There are no specific secondary education requirements for this job, but accounting, business studies, English and maths are useful.
Personal requirements
Motor vehicle salespeople need to be:
confident dealing with people
self-motivated, proactive and resilient
friendly, polite, helpful and honest
good listeners, to ensure they understand their clients' needs
skilled at negotiating and selling
good at communicating
organised.
Useful experience
Useful experience for motor vehicle salespeople includes:
sales work
customer service experience
vehicle servicing and grooming work.
Registration
Motor vehicle salespeople who have their own car dealerships need to be registered on the Motor Vehicle Traders Register (MVTR).
Find out more about training
MITO

0800 88 2121 - www.mito.org.nz
Check out related courses
What are the chances of getting a job?
Shortage of experienced motor vehicle salespeople
Job opportunities for motor vehicle salespeople are good as there is a shortage of experienced workers and a strong demand for vehicles, due to:
the popularity of cheap, imported new cars
availability of electric and hybrid vehicles and the incentive of the Clean Car Discount scheme.
According to the Census, 1,599 motor vehicle salespersons worked in New Zealand in 2018.
Sales experience improves chances of finding work
Employers prefer to take on trainees who already have sales experience as they have limited time to train staff.
Most salespeople work for car dealerships
Motor vehicle salespeople usually work for vehicle dealerships. Some may run their own business.
Sources
Carroll, D, 'Record-setting 2021 a Huge Year for New Car Sales', 6 January 2022, (www.stuff.co.nz).
Phillips, R, managing director, Automotive Employment NZ Ltd, careers.govt.nz interview, 5 September 2018.
Stats NZ, '2018 Census Data', 2019.
(This information is a guide only. Find out more about the sources of our job opportunities information)
Progression and specialisations
Motor vehicle salespeople may progress to set up their own business, or move into managerial roles.
Motor vehicle salespeople may specialise in:
selling a particular vehicle type
fleet sales
importing used vehicles from overseas.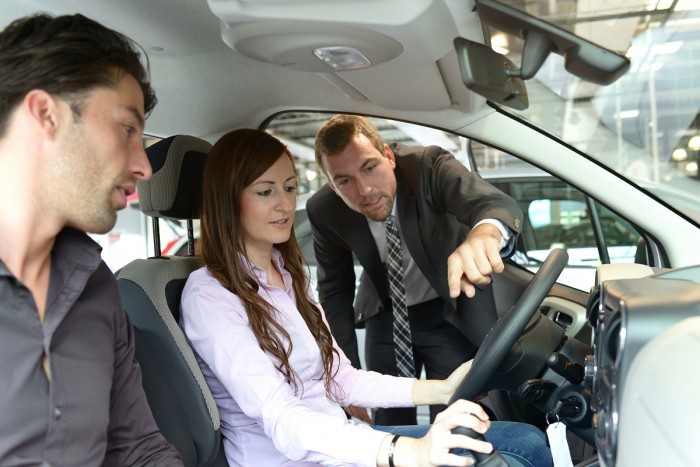 Last updated 4 April 2023