Dairy Farm Assistant
Kaiāwhina Pāmu Kau
Alternative titles for this job
Dairy farm assistants help farmers with a variety of tasks, including caring for and milking cows, repairs and maintenance, and other farming activities.
Pay
Dairy farm assistants usually earn
Source: Federated Farmers/Rabobank, 2017/2018.
Job opportunities
Chances of getting a job as a dairy farm assistant are good due to high demand for their services.
Pay
Pay for dairy farm assistants varies depending on experience, location, farm size and level of responsibility.
Dairy farm assistants can earn between $47,000 and $80,000.
Source: Federated Farmers/Rabobank, 'Farming Salaries 2018', 2017/2018.
(This information is a guide only. Find out more about the sources of our pay information)
What you will do
Dairy farm assistants may do some or all of the following:
milk cows
feed and safely handle animals, and report any health and welfare issues
weeding, fencing and pest management
use and maintain farm vehicles, machinery and infrastructure

follow health and safety and wellbeing procedures
nutrient, effluent and water management work.
Skills and knowledge
Dairy farm assistants need to have knowledge of:
dairy farming methods
the life and breeding cycles of cattle
how to use and maintain farm equipment and machinery
practical skills for tasks such as fencing and effluent management
driving skills for motorbikes, tractors or farm utility vehicles.
Working conditions
Dairy farm assistants:
may work long and irregular hours depending on the season and size of farm
work on farms and in milking sheds
work outside with animals, crops and machinery in all weather conditions
usually live on or near the farm where they're employed. 
What's the job really like?
Dairy farm assistant video
James Luo talks about his dairy farming career – 2.24 mins. (Video courtesy of DairyNZ)
James: I'm a farm assistant at DairyNZ. I'm involved with daily operations like
cow chasing, milking, drenching, fencing, all that.

I'm interested in farming because farming involves a lot of things, including animals, soils, pastures, financial skills and it's very diverse. Because I can't see myself just like sitting in front of a computer or in the factory or like doing the same thing every day. Yeah I'd like to see myself doing different things.

I come from an eight million people city. In China the city's always bordered by
rurals. But in China the distance between rural and the urban is even bigger.

When I was in primary school I was playing a game on the Game Boy called Harvest Moon. The main character wakes up at 6 o'clock everyday and the starts farming and he's got a cow and chicken barn and a piece of land.
It was fascinating to me.

When I came to New Zealand I was very confused with what I was going do for my career, and I travelled around New Zealand's North Island seeing those farms. Beautiful things. And it reminded me of the game I played, so I just thought that's why I'm here. That's how I got into dairy farming.

I changed all my papers to focus on an agriculture degree. I started with calculus, which is not really related with farming.

I just started my job and I still have a lot to learn. Definitely I want to progress by working on the farm and accumulating my experience. I definitely can step up in the farm profession as well.
Entry requirements
There are no specific requirements to become a dairy farm assistant as you can gain skills on the job. However, many employers prefer to hire people who have experience, pre-employment training, or have or are working towards a qualification.
Dairy farmers will often train inexperienced people if they have a can-do attitude and willingness to learn. They may offer their employees training through the Primary Industry Training Organisation (Primary ITO), which oversees apprenticeships.
Pre-employment training 
Pre-employment training options include internships, work experience and short courses available through private training organisations and polytechnics.
Apprenticeships 
Apprentices earn while they learn and develop their skills and career prospects through on-the-job experience over two or three years. Apprenticeships are available through different industry organisations and companies. 
On-the-job training
Dairy farm assistants may choose to study towards a qualification while in work, or attend farming discussion groups.
Secondary education
No specific secondary education is required for this job, but agricultural and horticultural science, maths and English to at least NCEA Level 2 are useful.
For Year 11 to 13 learners, Gateway and trades academies are good ways to gain relevant experience and skills.
Personal requirements
Dairy farm assistants need to be:
confident and caring with animals
hard-working and motivated
adaptable and efficient 
responsible 
willing to learn
able to work well under pressure and in a team.
Useful experience
Useful experience for dairy farm assistants includes:
working with animals, especially cows or calves
farm, forestry, engineering or labouring work
operating farm machinery and tools
driving heavy vehicles.
Physical requirements
Dairy farm assistants need to have a good level of fitness as dairy farm work can be physically demanding.
Find out more about training
GoDairy

0800 43247969 - info@dairynz.co.nz - www.godairy.co.nz

Primary ITO

0800 208020 - info@primaryito.ac.nz - www.primaryito.ac.nz
Check out related courses
What are the chances of getting a job?
Good demand for dairy farm assistants
Chances of getting a job as a dairy farm assistant are good because of high demand for people with dairy farming skills. Dairy farm assistants with experience and qualifications are particularly in demand. There are opportunities for skilled workers throughout the dairy farming year, not just at busy times such as calving.
Large industry with career pathway opportunities
Dairy farming is a large occupation employing many entry-level workers.
Most dairy farm assistants don't stay in the same job for more than a year, so there's a high turnover rate.
According to the Census, 5,304 dairy cattle farm workers (dairy farm assistants) worked in New Zealand in 2018. 
Small range of employers 
Most dairy farm assistants work for private farmers, farm managers or private companies.
Sources
DairyNZ, 'QuickStats About Dairying - New Zealand', January 2019, (www.dairynz.co.nz).
DairyNZ, 'Employee Career Pathways', accessed December 2019, (www.dairynz.co.nz).
DairyNZ, 'Employee', accessed December 2019, (www.dairynz.co.nz).
Federated Farmers/Rabobank, 'Farming Salaries 2018: Remuneration Summary Report 2017/2018', accessed November 2019, (www.fedfarm.org.nz).
GoDairy, 'Dairy Farming - Find Out How To Make Your Career Happen', accessed December 2019, (www.godairy.co.nz).
LIC/DairyNZ, 'New Zealand Dairy Statistics 2017-18', accessed December 2019, (www.dairynz.co.nz).
Stats NZ, '2018 Census', 2019.
(This information is a guide only. Find out more about the sources of our job opportunities information)
Progression and specialisations
Dairy farm assistants may progress to other roles in the dairy industry such as: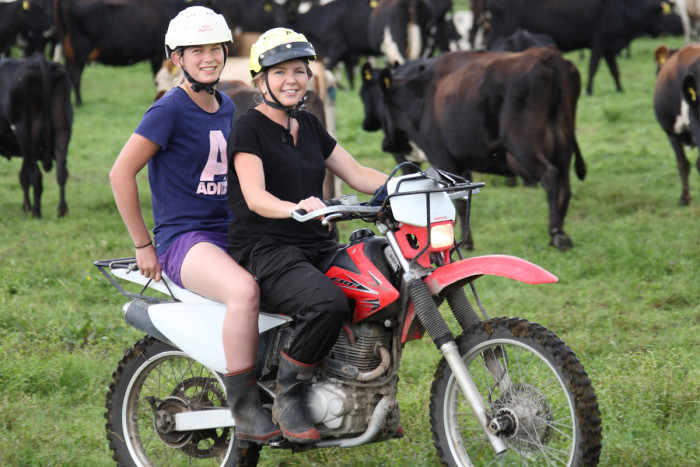 Last updated 7 November 2023