Mortgage Broker
Kaitakawaenga Pūtea Taurewa
Alternative titles for this job
Mortgage brokers offer financial advice to people wanting to buy a house or property and help them apply for a home loan. 
Pay
Mortgage brokers who are permanent employees usually earn
Source: Robert Walters, 2020.
Job opportunities
Chances of getting a job as a mortgage broker is good due to a strong housing market.
Pay
Pay for mortgage brokers varies as they are usually paid on commission. 
Mortgage brokers who are permanent employees usually earn between $70,000 and $100,000 a year. 
Mortgage brokers who are self-employed may earn more or less than this.
Sources: Robert Walters, 'Australia and New Zealand Salary Survey' 2020, and careers.govt.nz research, 2020.
(This information is a guide only. Find out more about the sources of our pay information)
What you will do
Mortgage brokers may do some or all of the following:
research the mortgage market to find options for clients
advise clients on mortgage options, the home-buying process and the property market
help clients structure their loan, use funding options and calculate repayments
help clients complete a mortgage application
organise building reports, home valuations and insurance.
Skills and knowledge
Mortgage brokers need to have:
knowledge of different mortgage options and processes home-buying 
negotiation and sales skills
communication and relationship-building skills 
the ability to interpret financial reports and statements
computer skills, including accounting software and Microsoft Office.
Working conditions
Mortgage brokers:
may work regular business hours or in evenings and weekends to meet clients
spend most of their time working in an office environment
may travel to clients' homes or workplaces.
Entry requirements
To become a mortgage broker you need to be registered as a financial adviser under your employers or your own Financial Advice Provider (FAP) licence.
To get a financial advice provider licence you need to:
join and register with a dispute resolution scheme (DRS)
register on the Financial Service Providers Register (FSPR).
Licensing and registration for financial service providers is provided by the Financial Markets Authority (FMA).
Financial advisers need to meet the personal requirements listed in the Code of Professional Conduct for Financial Advice Services.
You can meet these requirements by gaining the New Zealand Certificate in Financial Services – Financial Advice (Level 5).
Secondary education
There are no specific secondary education requirements to become a mortgage broker. However, useful subjects include maths, economics, accounting and business studies.
Personal requirements
Mortgage brokers need to be:
accurate
motivated and organised
able to work under pressure
good communicators
able to pass a criminal convictions check.
Useful experience
Useful experience includes:
work in real estate, finance, accounting or banking
sales experience
valuation and property management work
managing others.
Registration
To practice as a mortgage broker, you must be registered as a financial adviser under your employers or your own Financial Advice Provider license. This involves registering on the Financial Services Provider Register (FSPR) and joining a Dispute Resolution Scheme (DRS).
Find out more about training
Strategi Group

09 414 1300 - www.strategi.co.nz
Skills

0508 754 557 - www.skills.org.nz
Check out related courses
What are the chances of getting a job?
Strong demand for mortgage brokers
Demand for mortgage brokers is good because:
the occupation continues to grow 
there is strong demand for housing and houses are being sold quickly
banks are competing with each other to loan money to home buyers.
According to the Census, 1,596 mortgage brokers worked in New Zealand in 2018.
Most mortgage brokers work for brokerages
Many mortgage brokers work for national chains of brokers or smaller independent mortgage broking agencies.
Mortgage brokers may also be self-employed.
Sources
Ministry of Business, Innovation and Employment, 'Occupation Outlook for Financial Advisers', accessed November 2020, (occupationoutlook.mbie.govt.nz).
Radio New Zealand, 'Interest Rate War Predicted as Banks Look to Lend More', 13 October 2020, (www.rnz.co.nz).
Real Estate Institute of New Zealand, 'November Monthly Property Report', 12 November 2020, (www.reinz.co.nz).
Real Estate New Zealand, 'October Property Market Report', 2 November 2020, (www.realestate.co.nz).
Stats NZ, '2018 Census Data', 2019.
Stats NZ, 'NZ Citizens Migrating Home in Record Numbers', 14 May 2020, (www.stats.govt.nz).
(This information is a guide only. Find out more about the sources of our job opportunities information)
Progression and specialisations
Mortgage brokers may progress to buy their own franchise or move into property management roles.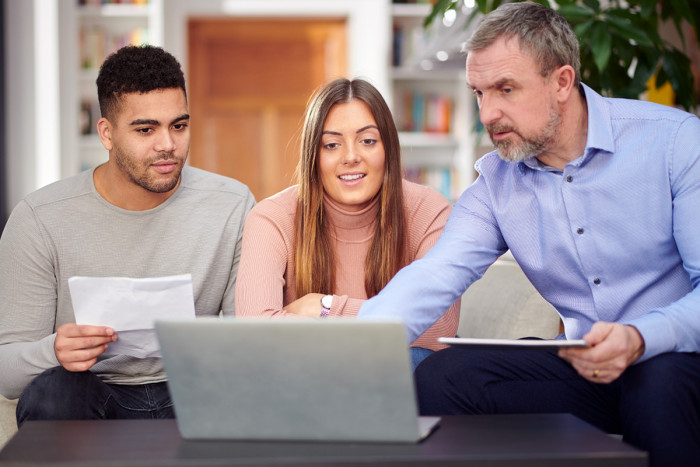 Last updated 23 March 2021