Accountant
Kaikaute Pūtea
Alternative titles for this job
Accountants provide accounting systems and services relating to taxation and the financial dealings of organisations and individuals.
Pay
Assistant accountants usually earn
Source: Hays Salary Guide, 2014.
Job opportunities
Chances of getting a job as an accountant are good due to demand for experienced workers.
Pay
Pay rates for accountants vary depending on the region they work in, their level of experience and the size of the organisation they work for.
Graduates start as assistant accountants, and earn between $35,000 and $75,000 a year.
Accountants earn between $60,000 and $115,000.
Source: Hays, 'Hays 2014 Salary Guide', 2014.
(This information is a guide only. Find out more about the sources of our pay information)
What you will do
Accountants may do some or all of the following:
prepare financial statements and reports for clients or company management
record the amount of money spent and received daily by clients or company management
develop, forecast and check budgets
prepare goods and services tax (GST) and other returns, such as surveys, pay as you earn (PAYE) and tax forms
advise on financial aspects of businesses such as budgets, tax and cashflows
review accounting procedures and analyse the financial performance of businesses
assist management with strategic planning and human resources.
Skills and knowledge
Accountants need to have:
knowledge of finance, economics and marketing
knowledge of business management practices, including business ethics
accounting and maths skills.
Working conditions
Accountants:
usually work regular hours, but may work weekends or evenings to meet deadlines
work in offices, but may travel to visit clients within their local area.
What's the job really like?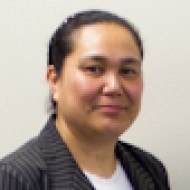 Akanesi Havea
Financial Accountant
Akanesi Havea came to New Zealand in 2001, and had many years of experience in the finance sector in the Solomon Islands. However, whenever she applied for jobs, the message from prospective employers was the same – her experience in another country counted for little. She realised she had to do more.
"I needed the piece of paper."
Though Akanesi felt confident she could succeed at university, she had never envisaged a time when she would be able to combine motherhood and study. "I never thought that dream would come true."
Family support helped Akanesi achieve her qualification
Attending eldest daughter Loisi's parent/teachers' evening proved to be Akanesi's turning point. She discovered that Loisi did not want to go to university.
"Right," Akanesi said to Loisi, "from now on you will have all the responsibilities at home and I will go to school."
With Loisi's help, Akanesi managed to juggle three years of full-time study, completing the Bachelor of Commerce and Administration at Victoria University at the same time as looking after her family.
In 2009, she got her "piece of paper", and as she led the graduation parade through the streets of Wellington, Loisi was by her side.
Leon Wijohn talks about his pathway to success in accounting – 2.54 mins. (Video courtesy of Oompher)
Kia ora koutou.
Ko Leon Wijohn ahau.
I te taha o tōku matua ko Ngā Puhi ko Te Rarawa ngā iwi, ko Rawiri Wihone tōku matua no Pangaru.
I te taha o tōku whaea ko Ngai Tuhoe, ko Ngāti Tahu, Ngāti Whaoa ngā iwi. Ko Hariata Huriwaka toku whaea no Ngā Putahi.
Youngsters who are either at school or at university need to look at what they enjoy first. Because if they're going to get into a job like accounting and it's not something they enjoy, then they're going to just dread it.
So they really need to look at what they enjoy in a job first. And if they're not sure whether they would enjoy a job, then go out and meet people doing that job. Ask them what their job's like, ask them what their lives are like, is that the sort of lifestyle that they would like to have one day.
People might see me now and see me as a partner in a big firm, doing reasonably well, and I've got some other businesses that I own as well and they sort of comment that. When I did my final exam to become a Chartered Accountant, I struggled actually throughout that whole year with all the coursework and assignments. I wasn't succeeding, I don't think. I think for one of the exams I got pretty much one of the worst marks. And then when my final marks came out and I was one of the top marks, everyone would go, "Oh yeah, yeah, we knew you'd do well," and what have you. But they only see the final mark at the end of the day, they don't really see all the struggles that you've gone through, not just with your exams but in life.
Life throws you all sorts of things.
I know when you first start working you can't have it all your way cos you need to learn the ropes and stuff like that, but I've managed to get to a point where I really enjoy the work that I do. I don't see it as a burden because I'm eager and excited to get back to my work so I can finish things that I've started or finish things for clients.
You know, they've got this much to achieve and if I've made a difference, which is that much, which has really contributed to their success, then you know I get really excited about contributing to their journey.
Entry requirements
To become an accountant you need to have a commerce, business or accounting degree majoring in accounting.
Most people working in accountancy are members of Chartered Accountants Australia New Zealand (CA), and employers prefer this.
To become a chartered accountant with CA you must:
complete a commerce, business or accounting degree at a CA-approved university
complete three years of workplace experience
complete the Graduate Diploma of Chartered Accounting run by CA.
Accounting technician entry requirements
To become an accounting technician you need to complete two years of tertiary study. This could be either:
a New Zealand Diploma in Business
degree-level study in accounting and business.
Accounting technicians must also complete one year of relevant accounting experience before, during or after they complete their tertiary study.
Secondary education
A tertiary entrance qualification is required to enter further training. Useful subjects include accounting, economics, English and maths with statistics or calculus.
Personal requirements
Accountants need to be:
methodical and accurate, with a good eye for detail
able to work well under pressure
honest and responsible
skilled in analysing and interpreting information
skilled in organising and planning
good problem-solvers
good communicators and able to deal well with people.
Useful experience
Useful experience for accountants includes:
accounts and auditing work
accounting software experience
work in offices and administration.
Registration
Membership with Chartered Accountants Australia New Zealand is recommended.
Find out more about training
Chartered Accountants Australia New Zealand (CA)

0800 469 422 - service@charteredaccountantsanz.com - www.charteredaccounantsanz.com

CPA Australia

(09)913 7450 - nz@cpaaustralia.com.au - www.cpaaustralia.com.au
Check out related courses
What are the chances of getting a job?
Your chances of getting work as an accountant are best if you are an experienced chartered accountant with strong people skills. 
Demand for experienced accountants is expected to stay constant because:
the improved economy has meant increased sales for businesses
commercial accountants are needed for the Christchurch rebuild.
Accounting software has yet to impact on demand for experienced chartered accountants with well-developed communication and leadership skills.
Accountant appears on Immigration New Zealand's immediate skill shortage list. This means the Government is actively encouraging skilled accountants from overseas to work in New Zealand.
Types of employers varied
Most accountants work for accounting firms, which can range in size from small firms employing just a few people, to large, nationwide firms employing hundreds of people.
Other types of businesses also employ accountants to help with finances and planning. These include:
legal firms
marketing and business management companies
central and local government departments and organisations
financial asset investors.
Sources
Hays, 'Quarterly Report – Accountancy and Finance – Commerce and Industry April to June 2015', 2015.
Michael Page, 'New Zealand Salary and Employment Forecast 2014/2015', 2014.
Ministry of Business, Innovation and Employment, 'Occupation Outlook 2015', 2015.
Robert Half, '2014 Salary Guide', 2014.
(This information is a guide only. Find out more about the sources of our job opportunities information)
Progression and specialisations
Accountants may begin their careers as accounting technicians.
Many accounting technicians move into chartered accounting after completing further training with Chartered Accountants Australia New Zealand. They may also move into senior management or financial adviser roles.
Accountants may also specialise in an area of accounting such as:
Management Accountant

Management accountants analyse the financial information needs of organisations, provide advice on financial planning and risk management, and provide management with reports to assist in decision-making.

Taxation Accountant

Taxation accountants report and provide advice on taxation issues to organisations or individuals, prepare taxation returns and reports, and handle disputes with taxation authorities.
Last updated 12 July 2018