Firefighter
Kaitinei Ahi
Alternative titles for this job
Firefighters educate the public about fire safety and fire prevention, and they control and put out fires.
Pay
Firefighters usually earn
Station officers can earn
Source: New Zealand Fire Service, 'Collective Agreement', 2015.
Job opportunities
Chances of getting a job as a firefighter are poor due to strong competition for limited positions.
Pay
Pay for firefighters varies depending on experience, responsibilities and performance.
Newly qualified firefighters usually earn $42,000 a year.
Firefighters with more than two years' experience can earn between $53,000 and $64,000.
Station officers can earn between $67,000 and $83,000.
Firefighters also receive allowances for working overtime.
Source: New Zealand Fire Service, 'Collective Agreement 1 July 2015 - 30 June 2018', 2015.
(This information is a guide only. Find out more about the sources of our pay information)
What you will do
Firefighters may do some or all of the following:
educate the public about fire prevention and provide services such as installing and inspecting smoke alarms
put out fires and prevent fires from spreading using hoses or portable extinguishers, as well as investigating fires to determine the cause
attend accidents or emergencies such as motor vehicle accidents, chemical spills and chemical fires, natural disasters and weather-related emergencies
provide first aid in the absence of paramedics
carry out search and rescue operations in buildings, vehicles or aircraft
help plan and develop evacuation schemes for commercial buildings
participate in physical and emergency training.
Skills and knowledge
Firefighters need to have knowledge of:
different types of fires and how to deal with them
different methods for rescuing people from dangerous situations
how to check, maintain and use firefighting equipment
relevant fire safety legislation
fire safety precautions, and how these relate to buildings and building construction
how to handle dangerous goods
how to identify potential fire dangers and risks and eliminate or reduce them
how to educate people about fire prevention.
Working conditions
Firefighters:
are usually rostered to work four days on, then four days off, which include weekends and public holidays. They work two 12-hour day shifts from 8am to 8pm and then two 12-hour night shifts from 8pm to 8am
are based at fire stations
may work in dangerous conditions involving fire, poisonous smoke, chemicals and structurally unsound environments. However, these risks are minimised by training and safety equipment
travel within the community to teach people about fire prevention and fire safety, carry out building inspections and trial evacuations and attend emergencies.
What's the job really like?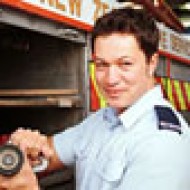 Deaths spurred Turi to become a firefighter
When Turi Hodges first dropped into his local fire station to ask how he could get into firefighting, he was told they weren't recruiting. "So I asked what I would need for when they were. I was told to get a First Aid Certificate and a heavy vehicle licence. I got out there and got those qualifications and they helped me become a professional firefighter.
"This is my dream job. I've always wanted to be a firefighter. I wanted to help prevent fires from happening and be an active member of my community. I was brought up in a low socio-economic area that had witnessed several fatalities because of fire. I wanted to do something about it so I joined the fire service."
Helping others is a huge reward
"There are the obvious things that give you a sense of achievement being a firefighter, like helping somebody in an emergency situation or installing home smoke alarms, but then there are the little things like driving past kids and seeing their faces light up, and they always smile and wave out to you. You wouldn't get that if you were driving a BMW in a suit."
Sam checks out a career as a firefighter – 8.55 mins. (Video courtesy of NZ Fire Service)
Sam: Hi, I'm Sam, I go to Otago Girls' High School in Dunedin, I'm Year 13 and I'm here to learn more about careers in firefighting.

Clinton: The NZ Fire Service employs around 1800 full-time firefighters around the country – and a growing number of these are women.

Clinton: Sam is about to have an insight into the high-octane life of a professional firefighter, by jumping on board the fire truck, along with station officer Kate Hill and her crew in the Dunedin seaside suburb of St Kilda.

Sam: Hi, I'm Sam!

Kate: Hi, I'm Kate Hill. Welcome to the fire station.

Kate: I've been a Station Officer for just a short while actually, I've been acting in the role for a fair few years and its actually been in the last two weeks that I've been promoted to station officer as a permanent position, so it's a role that I'm quite looking forward to grabbing by the reins and running with.

Kate: Hey guys, this is Sam. Sam's going to be riding along with us for the day. She's very interested in becoming a firefighter, so this is our crew for the day – this is Josh…

Sam: Hey!

Kate: …this is Cam who will be driving…

Cam: How're ya going?

Kate: …and Andre.

Sam: Hey.

Clinton: Five minutes later, Sam is kitted out ready for action.

Sam: Hey!

Kate: Oh wow! Fabulous, suits you!

Kate: Being a station o fficer is basically looking after the truck – the crew on the truck – running the day-to-day activities and just broadly to ensure operation readiness of myself, my crew, of the appliance and working with the community to aid in risk-reduction.

Kate: OK, so around here we've got quite a few ladders, as you can see, pop and have a look if you like…

Kate: Multiple ladders for multiple jobs?

Sam: So what's the wooden one for – wouldn't it burn?

Kate: A lot of people think that because it's wooden, but we use wooden ones because it doesn't conduct electricity.

Sam: So, what do you usually do now?

Kate: Well next we usually do some drill, which is training, and we're actually off to city station to do that, because we've got another crew waiting for us, so we'll head off now.

Sam: Awesome.

Clinton: On the way to the central fire station, Kate and her crew make a detour to help out Edna, an elderly woman who needs the battery on her smoke alarm changed.

Kate: So what we're doing here is what we do quite often, is to check people's smoke alarms. So today what we're going to do is we're going to change this battery.

Clinton: But suddenly, the crew gets an emergency call-out.

Kate: OK, we've got a fire in South Dunedin.

Kate: Let's go!

[Sirens blaring.]

Kate: So it looks like we've got a rubbish fire – at this point we're not too sure how big or how small – it might not be anything but what I want you to do is hang back with the driver and I will let you know if you can come forward, OK?

Sam: Yep, sweet as.

Kate: For a young woman joining the fire service, it's not for every woman – you've got to be a little bit of a tomboy. You've got to be able to get your hands dirty and not worry about it.

Clinton: At the scene, Kate, her crew and Sam head around the back of the house, where a man has been burning a big pile of rubbish.

Clinton: The fire is already out, but he still gets a stern warning from Kate.

Kate: So they're not actually allowed to have that fire going but we have told him if he does it again then we will contact the regional council.

Clinton: Next, they return to Edna's house to finish changing her alarm battery.

Kate: So we'll just set this up over here.

Clinton: The new battery is finally in place. Good work Sam…

Clinton: Now it's on to the Dunedin central Ssation, where she meets the man in charge of recruitment.

Craig: Hello.

Sam: Sam.

Craig: Sam?

Kate: This is Craig Geddes.

Craig: Craig Geddes.

Craig: Yeah, there is that perception that you need to be big and strong and yes that is important, but the female firefighter can equally foot the role with their male counterparts. From an education point of view, they certainly can deliver the message to the community. Then obviously we've got a number of female firefighters in the career rank but also a much larger representation in the volunteer ranks and we'd like to see that continue to grow.

Kate: You do have to go to the gym to work out and make sure you are fit and strong because genetically woman don't have that upper body strength naturally, so you do have to work out to get in shape.

Clinton: Sam's about to get a serious work out climbing the 70-metre tall training tower.

Kate: Now I hope you're not scared of heights!

Sam: Nah!

Clinton: Next, Sam is about to help Kate and the crew cut up a car.

Kate: What we're going to simulate here is there's somebody stuck in the driver's seat and we're going to basically take off these two doors.

Clinton: Out come the hydraulic powered jaws of life, and mechanical spreader.

Kate: Now the trick here is to never fight the tools as well – the tools are always stronger than what you are and never standing on the inside because things have the tendency of moving in.

Sam: Yeah.

Kate: The ambulance may say that their injuries – well that they may have spinal injuries so they may want to get them out of the top, out of the roof, so we're going to get rid of the roof.

Kate: And traditionally how we do it is we crush these to start with, so we make them smaller so the cutters can actually get through them, because at the moment they're quite wide.

Sam: Yep.

Clinton: After the pillars are crushed and cut, with Sam's help.

[Sound of machinery cutting car]

Clinton: …this car becomes a convertible.

Clinton: Sam's firefighting adventure then starts to heat up, with the help of one of Kate's colleagues, Amy.

Kate: Sam, this is Amy.

Clinton: Amy's going to show Sam how to put out a fire using a powder extinguisher.

Amy: Come in…

Amy: …aim!

Clinton: Amy has just started as a full-time firefighter, but she's a seasoned volunteer.

Amy: So that's how we do it.

Amy: Started with the volunteer brigade, 40km north of here in Waikouaiti about four years ago and that's where I got my taste for the fire service.

Clinton: Now it's Sam's turn on the extinguisher.

Amy: Originally I worked in hotel management, prior to this, but, yeah, decided I wanted to do the best job in the world! For other young women that are wanting to get into the fire service, go for it.

Amy: And there you go!

Sam: Sweet as!

Kate: I think Sam went really well. She was very keen, very eager. For this job you have to be practically minded and I felt that she certainly was that. She's very capable, very enthusiastic. When she's got out and had a bit of life experience I think it would be very valuable for the fire service to have someone like Sam.

Sam: I've had an awesome experience – Kate and the guys have been awesome, letting me do as much as possible and telling me how things work and stuff. Firefighting is definitely something I would consider when I leave school.

Clinton: The New Zealand Fire Service has two recruitment rounds each year, usually in March and July. Candidates must pass literacy, numeracy and fitness tests. A medical exam, and undergo a police background check. NCEA Level 1 English, maths and science may be helpful to pass pre-entry testing. Firefighters must be able to relate well to people from different cultures, lifestyles and age groups, and must enjoy working in the community. For more information about careers with the New Zealand Fire Service, visit fire.org.nz/jobs
Entry requirements
There are no specific requirements to become a firefighter.
To begin work as a trainee firefighter you need to pass a 12-week training course based in Rotorua, which involves theory and practical training.
To be eligible for the training course, you need to be a New Zealand citizen or have permanent residency status, and be living in New Zealand permanently. You also need to pass:
literacy, numeracy and abstract reasoning assessments
a fitness test
a practical assessment
an interview and reference checks.
You also need to undergo a medical exam and a police background check. Some convictions, such as arson, drink driving, violence, drugs and dishonesty offences, mean your application will be automatically declined. Some medical conditions, such as having asthma, may also make you ineligible for entry, due to high health risks.
You can also train as a firefighter through the Royal New Zealand Air Force. You must enter basic military training before being accepted onto their firefighting training programme.
Secondary education
No specific secondary education is required for this job, but maths, science and English to at least NCEA Level 1 are useful.
Personal requirements
Firefighters need to be:
able to relate well to people from different cultures, lifestyles and age groups, and enjoy working in the community
confident and able to remain calm in emergencies
able to make good judgements
patient, quick and efficient
resilient, disciplined and reliable
honest and trustworthy
able to work well in a team
good at problem solving and decision making
good at communicating.
Useful experience
Useful experience for firefighters includes:
volunteer, rural, airport or armed services firefighting
working with people from a diverse range of communities, ethnicities and backgrounds and/or having an understanding of different languages and cultures
public speaking
experience in being part of a team environment, such as a sports team
involvement in community-based activities and programmes
teaching, training or coaching experience.
Physical requirements
Firefighters need to have excellent fitness and health and must be strong as the job is physically demanding. They also need to have good hearing and eyesight and no breathing problems.
Contact lenses should be worn to pass the medical check, due to glasses being incompatible with breathing apparatus equipment.  
Find out more about training
New Zealand Fire Service 

recruiting@fire.org.nz - 0800 347 373 - www.fire.org.nz

Royal New Zealand Air Force

air.recruiting.wellington@nzdf.mil.nz - 0800 136 723 - www.defencecareers.mil.nz
Check out related courses
What are the chances of getting a job?
Two intakes a year
The New Zealand Fire Service has two intakes of trainees each year, normally filling a small number of vacant positions each time.
There are limited opportunities for school leavers, as people with life experience are preferred.
How to improve your chances
You can improve your chances of getting a job as a firefighter by being experienced in:
interacting with people from different backgrounds
making good decisions under pressure
working effectively in a team
working in community-based roles.
Gaining experience as a volunteer firefighter is also an advantage. Currently the New Zealand Fire Service employs around 8,500 volunteer firefighters.
Most firefighters employed by the fire service
The largest employer of firefighters is the New Zealand Fire Service, employing around 1,700 firefighters. Other organisations that employ firefighters include airport authorities and the New Zealand Defence Force.
Sources
Ministry of Business, Innovation and Employment, '2006-2014 Occupation Data' (prepared for Careers New Zealand), 2015.
New Zealand Fire Service, 'Annual Report June 2015', (www.fire.org.nz).
New Zealand Fire Service website, accessed August 2016, (www.fire.org.nz). 
(This information is a guide only. Find out more about the sources of our job opportunities information)
Progression and specialisations
Firefighters may progress to managerial positions, training roles or fire risk adviser roles. They can also be seconded into project roles at national headquarters, or firefighting positions in the defence force.
Last updated 7 August 2017