Police Officer
Pirihimana
Alternative titles for this job
Police officers work to prevent and solve crime, keep the peace, and respond to criminal activities and emergencies.
Pay
Police officers with one to four years' experience usually earn
Police officers with more than four years' experience usually earn
Job opportunities
Chances of getting a job as a police officer are average due to low turnover and high competition for vacancies.
Pay
Pay for police officers varies depending on skills, experience, and the type of work they do. 
Police officers in training can expect to earn $45,000 a year. 
Graduate police officers usually start on $61,000.
Police officers with one to four years' experience usually earn $61,000 to $68,000.
Police officers with more than four years' experience usually earn $68,000 to $129,000.
Police officers may receive allowances for items such as travel, food and clothing, extra duties, overtime and insurances.
Source: New Zealand Police, 'New Zealand Police Constabulary Collective Employment Agreement 1 July 2018 to 30 June 2021', 2020.
(This information is a guide only. Find out more about the sources of our pay information)
What you will do
Police officers may do some or all of the following:
patrol selected areas on foot or by car
help people in a wide range of emergencies
investigate crimes, domestic disturbances, serious crashes and sudden deaths
interview people and take statements
search for and arrest suspected criminals
write reports
give evidence in court
direct traffic 
work with schools to provide safety and crime prevention education. 
Skills and knowledge
Police officers need to have:
knowledge of police policy and procedures, the legal system and community support services
skills in observation
skills in interviewing, problem solving and negotiation.
Working conditions
Police officers:
usually work shifts, including nights and weekends 
work in a variety of locations, including offices, courts, urban streets and rural areas
may be at risk of verbal or physical abuse
may travel to different sites around the country and overseas to help investigate crimes and attend conferences.
Entry requirements
To become a police officer you need to complete the police training course, which involves:
16 weeks of training at the Royal New Zealand Police College in Porirua
two years of supervised police work, which is regularly assessed 

a compulsory 12-week university distance learning course.
To enter police training you must:
be at least 17 years old
hold a full driver's licence
be a New Zealand or Australian citizen or permanent resident
be able to speak, read, write and listen in English
pass psychological, maths and problem-solving tests
pass physical fitness and eyesight tests
attend an interview
notify police of any previous traffic or criminal offences. 
The Vulnerable Children Act 2014 means that if you have certain serious convictions, you can't be employed in a role where you are responsible for, or work alone with, children.
Secondary education
No specific secondary education is required for this job, but maths, English, physical education and social studies to at least NCEA Level 2 are useful.
Personal requirements
Police officers need to be:
good communicators
able to relate to a wide range of people and cultures
mature and responsible, and able to keep information private
good at solving problems and making decisions
patient and helpful
honest and committed to people's safety
disciplined and able to remain calm in emergencies
good at written and verbal reporting
able to work as part of a team.
Useful experience
Useful experience for police officers includes:
being part of a team such as a sports team
working in a security role
working with people from a diverse range of communities, ethnicities and backgrounds
involvement in community-based activities such as coaching sports, mentoring young people and volunteering.
Physical requirements
Police officers need to have:
excellent fitness and health 
good hearing
normal colour vision
good eyesight (with or without corrective lenses). 
Find out more about training
Police Recruitment

0800 639 2677 - www.newcops.govt.nz
Check out related courses
What are the chances of getting a job?
Temporary freeze on new recruits 
New Zealand Police usually has multiple intakes of recruits each year, with 40 to 80 each time. There is high competition for these places.
However, the Police have temporarily closed police officer applications in all regions due to low turnover of staff and a backlog of recruit applications.  
Demand for police officers varies between districts
Demand for police officers is usually higher in Auckland and rural areas. Applications are currently closed but districts will reopen as and when there is demand for more police officers.
According to the Census, 9831 police officers worked in New Zealand in 2018.
Diversity valued in police force        
New Zealand Police values recruits from different cultures and backgrounds so they can effectively serve the needs of diverse New Zealand communities. 
One employer of police officers
All police officers are employed by New Zealand Police. 
Sources
Maher, J, recruitment coordinator, NZ Police, careers.govt.nz interview, March 2021.  
Ministry of Business, Innovation and Employment, 'Occupation Outlook - Police', accessed March 2021, (www.mbie.govt.nz).
Stats NZ, '2018 Census Data', 2019.
Weeks J, 'Police recruitment freeze: Cops staying in jobs longer as sharp recession looms', June 2020, (stuff.co.nz). 
(This information is a guide only. Find out more about the sources of our job opportunities information)
Progression and specialisations
Police officers may progress to leadership positions such as detective or sergeant.
Police officers may join a specialised police unit such as:
armed offenders squad
child protection team
dog handling
forensics
road policing
search and rescue
youth aid.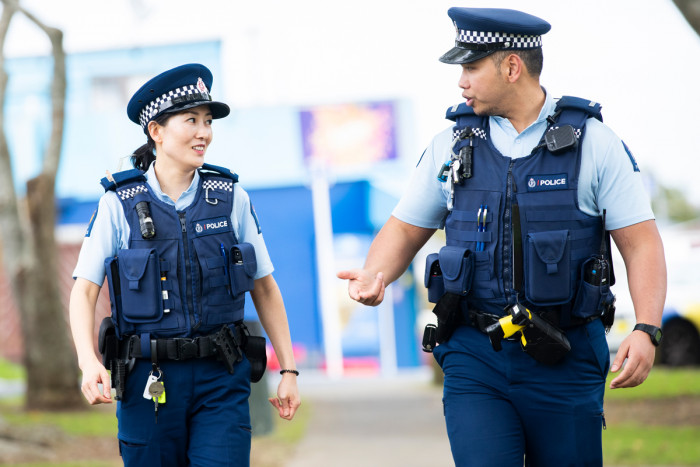 Last updated 16 September 2021