Maitre d'Hotel
Kaiwhakarite Hōtera
Alternative titles for this job
Maitres d'hotel oversee the service of food and beverages to guests in restaurants and other eating places. They also check reservations, greet guests and supervise the waiting staff.
Pay
Maitres d'hotel earn an average of
Source: Restaurant Assn NZ, 2023
Job opportunities
Chances of getting a job as a maitre d'hotel are good due to a shortage of workers.
Pay
Pay for maitres d'hotel varies depending on skills, experience and where they work.
Maitres d'hotel earn an average of $27 an hour.
Source: Restaurant Association of New Zealand, '2023 Hospitality Industry Remuneration Survey', 2023.
(This information is a guide only. Find out more about the sources of our pay information)
What you will do
Maitres d'hotel may do some or all of the following:
receive and confirm reservations
supervise waiters, waitresses and wine stewards
train new staff
hold pre-service briefings with staff
liaise with kitchen staff about specials and menu changes
allocate table sections for service
ensure tables are set correctly
greet and seat guests
offer and serve drinks to guests
deal with any problems that may arise
check bills
order stock
organise the clean-up and closing of the restaurant.
Depending on the restaurant, maitres d'hotel may also do cashing up and other accounts work.
Skills and knowledge
Maitres d'hotel need to have:
waiting skills
knowledge of table service and menu items
barista (coffee-making) skills
wine knowledge
bar service skills.
Working conditions
Maitres d'hotel:
usually work irregular and long hours, often during the evenings and weekends
often have to be on call when they are not working
work in hotels, restaurants, cafes or other eating places
work in conditions that may be noisy, hot and stressful.
What's the job really like?
Restaurant manager video
Andrea Martinisi talks about life as a restaurant manager – 2.35 mins.
I don't think I have a favourite wine. That's a very hard question. I have
lots of favourite wines. It's like having a lot of children.
I have a lot of favourites. I can't pick one.
Impossible. My name is Andrea Martinisi and I am a restaurant manager.
Three things that I do in my job,
taking care of the day-to-day operations of the restaurant.
The first thing I do, I check the emails, taking reservations,
ask the chef if there's any changes. If there are,
I would update and reprint all of the menus. And then I take care of our staff.
Staff trainings are extremely important. If you have knowledgeable staff,
you're gonna be able to give the great experience to our guests.
We are in the business of making people happy,
and we need to do everything we can to deliver that.
Leadership is a very important part of what we do.
We need to be able to inspire our team and guide them to achieve the
common goal,
which is giving to the guests the best experience possible. Being a restaurant
manager is like being captain of a ship.
You need to make sure everybody that is on the ship is
rowing at the same time, at the same speed,
to be able to achieve the same goal. I chose this career because it came sort of
natural for me. I always been passionate about food and wine.
I'm originally from Italy.
I started my hospitality career in Italy.
To start with I was an electrician but [that] was not a job that
I enjoyed. And hospitality was one of the things that I,
I was interested in because I, as I said, I've always been into food and wine.
So I quit my job as an electrician and
then I started to work in hospitality and I loved it from day one. The
hardest part about my job is probably the long hours and the late
nights. So you do work very long hours in hospitality.
So that's probably the hardest thing. You don't necessarily need a degree to
be a hospitality professional, but it would definitely help.
You can gain experience on the job. You learn a lot about food,
about service, and about all of the different aspects of the business. Well,
in hospitality, one of my favourites, to be honest,
is the opportunity to be able to travel and use your experience
as a waiter or a sommelier or restaurant manager,
and apply pretty much anywhere in the world. Get out there and do it.
It's a lot of fun.
Entry requirements
There are no specific entry requirements to become a maitre d'hotel.
If you're working in a cafe or restaurant that serves alcohol, you may be required to hold a General Manager's Certificate. To apply you must be over 20 years old and hold a Licence Controller Qualification (LCQ).

Maitres d'hotel gain skills on the job, but there may be opportunities to work towards different hospitality qualifications.

Secondary education
There are no specific secondary education requirements to become a maitre d'hotel. However, home economics (food and nutrition) and English are useful.
Personal requirements
Maitres d'hotel need to have:
a reliable work ethic
a polite, friendly nature
confidence when dealing with others
good communication skills
the ability to lead and motivate staff
the ability to make decisions under pressure
strong attention to detail.
Useful experience
Useful experience for maitres d'hotel includes any customer service work in the hospitality, tourism or retail industries.
Physical requirements
Maitres d'hotel need to be reasonably fit and healthy as they spend long periods on their feet.
Find out more about training
Hospitality New Zealand

0800 500 503 - info@hospitality.org.nz - www.hospitality.org.nz

Restaurant Association of New Zealand

0800 737 827 - info@restaurantnz.co.nz - www.restaurantnz.co.nz

ServiceIQ

0800 863 693 - intel@serviceiq.org.nz - www.serviceiq.org.nz
Check out related courses
What are the chances of getting a job?
Good demand for maitres d'hotel
Job opportunities for maitres d'hotel are good because low unemployment and an increase in job vacancies means there is a shortage of people available to do this role.
Types of employers varied
Maitres d'hotel work for:
hotels
restaurants
private clubs
cocktail lounges.
Sources
Clearwater, M, senior advisor, Service IQ - Workforce Development, careers.govt.nz interview, June 2020.
Service IQ, 'Workforce Development', accessed July 2020, (www.serviceiq.org.nz).
(This information is a guide only. Find out more about the sources of our job opportunities information)
Progression and specialisations
Maitres d'hotel may progress to work in roles such as cafe/restaurant manager or event manager, especially in larger restaurant and hotel chains.
Many hotels have training programmes that rotate employees through a number of different roles.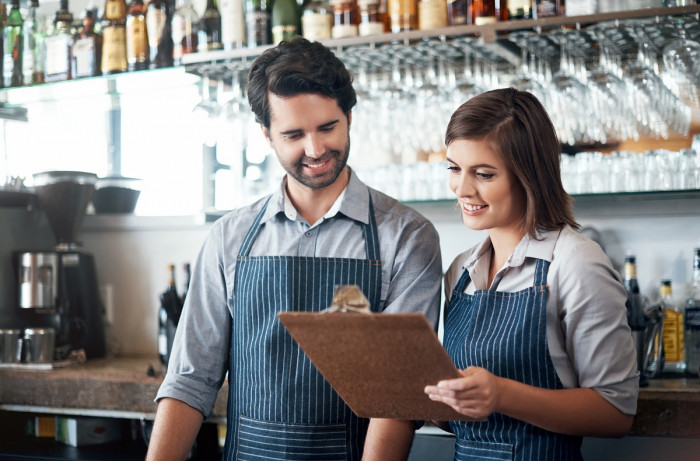 Last updated 21 November 2023