Cafe/​Restaurant Manager
Kaiwhakahaere Toa Kawhe/​Wharekai
Alternative titles for this job
Cafe/restaurant managers are in charge of running cafes, restaurants and fast food outlets. They may also run catering businesses.
Pay
Cafe managers earn an average of
Restaurant managers earn an average of
Job opportunities
Chances of getting a job as a cafe/restaurant manager are good due to a shortage of workers.
Pay
Pay for cafe/restaurant managers varies depending on experience, responsibilities and where they work.
Cafe managers earn an average of $28 an hour.
Restaurant managers earn an average of $36 an hour.
Source: Restaurant Association of New Zealand, '2023 Hospitality Industry Remuneration Survey', 2023
(This information is a guide only. Find out more about the sources of our pay information)
What you will do
Cafe/restaurant managers may do some or all of the following:
hire, train and supervise staff
ensure customer service is maintained at a high level
ensure health, safety and liquor licensing regulations are followed
take customer bookings and help serve food and drinks
ensure food is prepared and cooked to set company specifications
organise supply purchases, and keep stock records
plan budgets and rosters
plan menus with cooks or chefs
marketing and promotion
organise food and beverage events, promotions and advertising.
Skills and knowledge
Cafe/restaurant managers need to have:
people management skills
business management knowledge, including budgeting, accounting, sales and marketing skills
knowledge of health, safety and food hygiene regulations and procedures 
good understanding of current licensing and employment laws
knowledge of food and drink preparation and presentation
the ability to plan menus and organise catering for functions such as weddings or conferences
awareness of competitors' prices and services, and market trends.
Working conditions
Cafe/restaurant managers:
often work long hours, including evenings and weekends, and may also do shift work
work in bars, cafes, catering kitchens, cafeterias, fast food and restaurant kitchens, and offices
work in conditions that may be hot, noisy and stressful
may travel locally to visit suppliers and other restaurants.
What's the job really like?
Cafe/restaurant manager video
Andrew Waddington talks about what it's like to be a cafe manager – 1.21 mins.
Andrew: Would you like cream or yoghurt?

Customer: No, as it comes.

Andrew: Good as gold, that's great.

Customer: Thanks a lot.

Andrew: Hi, I'm Andrew Waddington, I'm the cafe manager here at Morrison Street Cafe.

A few basic things that I do during the day would be to make sure that the staff interests are held quite highly. Rosters, making sure that everyone is on time. Customer satisfaction always comes first and looking at a few things to sort of change round the cafe to keep the systems in place.

A few other things to think about is how to problem solve on your feet and make sure you can do things in a cool, calm and collected manner.

A few things that really make my day are when I can see the satisfaction on customers' faces when they walk in and they go, 'Wow, what a wonderful crew of people you've got working here, everyone's happy and smiling', and they walk away feeling better than when they walked in.
Entry requirements
There are no specific requirements to become a cafe/restaurant manager. However, you usually need to have experience working in hospitality, and business management skills or experience.
A New Zealand Diploma in Hospitality Management (Level 5) may also be useful. The industry training organisation Service IQ oversees hospitality qualifications.
If the establishment you work at sells alcohol, you also need to:
be at least 20 years old
hold a Manager's Certificate and a Licence Controller Qualification (LCQ).
Secondary education
No specific secondary education is required for this job, but accounting, economics and home economics (food and nutrition) to at least Level 2 are useful.
Personal requirements
Cafe/restaurant managers need to be:
good at managing and leading people
good at customer service
good at communicating
able to work well under pressure
friendly, patient and helpful
motivated and organised.
You need to have quite a thick skin to be able to handle some cafe situations.

---
Useful experience
Useful experience for cafe/restaurant managers includes:
any work at a cafe, fast food outlet or restaurant such as bartending or waitering
retail or sales management
administrative work for large events
staff management experience.
Physical requirements
Restaurant managers need to be reasonably fit and healthy, and have a good level of stamina as they spend long periods on their feet.
Find out more about training
Restaurant Association of New Zealand

(09) 638 8403 - info@restaurantnz.co.nz - www.restaurantnz.co.nz

ServiceIQ

0800 863 693 - intel@ServiceIQ.org.nz - www.serviceiq.org.nz
Check out related courses
What are the chances of getting a job?
Good demand for cafe/restaurant managers
Job opportunities for cafe/restaurant managers are good because low unemployment and an increase in job vacancies means there is a shortage of people available to do this role.
According to the Census, 11,586 cafe/restaurant managers worked in New Zealand in 2018.
Types of employers varied
Cafe/restaurant managers may work in any establishment that serves food and drink to the public, including:
cafes, restaurants and fast food outlets
bars and hotels
catering businesses
convention and conference centres
sports arenas.
Cafe/restaurant managers may also be self-employed, and run their own establishments.
Sources
Clearwater, M, senior adviser, Service IQ – Workforce Development, careers.govt.nz interview, June 2020.
Cropp, A, 'More Than 2,700 New Hospitality Outlets Split the Dining Dollar', 2 September, 2018, (www.stuff.co.nz).
Hospitality New Zealand, '2018 Hospitality Report Shows Kiwis Eating Out More Often' (media release), 2 September 2018, (www.scoop.co.nz).
Stats NZ, '2018 Census Data', 2019.
Waldren, N, general manager, Restaurant Association of New Zealand, careers.govt.nz interview, September 2018.
(This information is a guide only. Find out more about the sources of our job opportunities information)
Progression and specialisations
Cafe/restaurant managers may progress to own and operate their own cafe/restaurant business.
Cafe/restaurant managers may specialise in areas such as:
Caterer

Caterers manage and co-ordinate the preparation of food for functions or events.

Fast Food Manager

Fast food managers supervise staff and the running of fast food outlets.

Food and Beverage Manager

Food and beverage managers are responsible for the operation of all food and beverage outlets and services in a hotel or conference centre.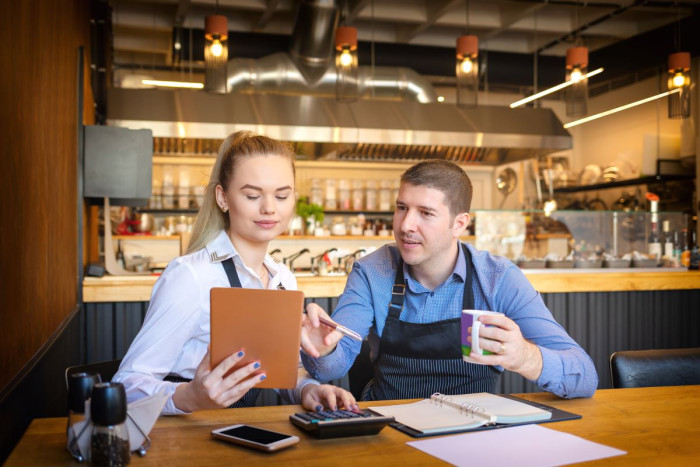 Last updated 7 August 2023