Brewer
Kaitoroī
Alternative titles for this job
Brewers use brewing equipment and processes to convert malted barley or other grains into beer, and control or manage the production and packaging of beer.
Pay
Brewery managers usually earn
Source: careers.govt.nz research, 2019.
Job opportunities
Chances of getting a job as a brewer are average for those wanting to enter the role, but good for those with experience.
Pay
Pay for brewers varies depending on experience and location.
New brewers usually earn the minimum wage.
Brewers with five years' experience can earn between $47,000 and $60,000.
Brewery managers can earn from $60,000 to $120,000.
Source: careers.govt.nz research, 2019.
(This information is a guide only. Find out more about the sources of our pay information)
What you will do
Brewers may do some or all of the following:
select and check the type of malted barley or grain needed to make a brand of beer
add hops, yeast, hot or cold water and other ingredients at the correct times
operate computerised machinery that controls the brewing process
monitor the temperature, acidity, fermentation and colour of beer throughout the brewing process
sterilise and maintain brewing equipment
package beer and deliver it locally
monitor the costs of production, do stock counts, and order ingredients
manage a team of brewery workers.
Skills and knowledge
Brewery workers need to have knowledge of:
chemistry, microbiology and biology, to understand the technical and scientific processes that produce beer
the raw materials used in brewing (such as yeast and types of malted barley)
hygiene and sterilisation methods and food safety regulations
brewery machinery and technology

quality control methods.
Working conditions
Brewers:
usually work regular business hours, but may do shift work and weekend work
work in laboratories, brew houses, brewpubs or small craft breweries
work in conditions that can be hot, cold, noisy or wet
may be required to work in enclosed spaces.
What's the job really like?
Becoming a brewer
Wellington brewer Zane Piercey worked for a liquor distributor in Canada when he was 18. He got to know a delivery driver of a craft brewery which eventually took him on as a general labourer.
Zane eventually came to New Zealand and started working in a smaller brewery in Wellington before moving on to work at Garage Project about six months later.
His advice to new brewers? "Don't be afraid to stay an hour or two late, and get really dirty and soaking wet. You have to understand that working at a brewery isn't easy, and won't involve much relaxing."
Shifts and types of work vary
Zane switches between early and late shifts during the week.
Early shifts start at 6am and involve checking tanks of fermenting beer or monitoring and sampling things like sugar content and pH levels. 
Late shifts start at 2pm and involve either taking over the morning brew or transferring beers into different tanks, or packaging.
Zane says there's always something to clean or fix in a brewery, and the work can be physically demanding. But he enjoys other aspects. "The longer I've been in the industry, the more I've become interested in the scientific side, and quality control."
Weekly beer tasting
Zane's team meets on Friday afternoons for sensory evaluation, or beer tasting.
"We all taste the beer we've brewed or packed over the week and make sure everything is tasting okay."
Entry requirements
Entry requirements for brewers
There are no specific requirements to become a brewer. However, employers often prefer you to have a qualification such as a: 
New Zealand Certificate in Brewing (Levels 4 and 5)
New Zealand Diploma in Brewing
Bachelor of Science in biochemistry, microbiology or chemical or process engineering.
Brewers at independent breweries are less likely to need a qualification than at large breweries.
To gain further qualifications, such as Master Brewer (MBrew), you must be a member of the Institute of Brewing and Distilling to sit the required examinations, and have relevant experience.
Training opportunities for brewery assistants
While working, brewery assistants may gain:
New Zealand certificates in food and beverage manufacturing, or in mechanical engineering through Competenz
certificates or diplomas in brewing or beer packaging through the Institute of Brewing and Distilling 
Secondary education
A minimum of three years of secondary education is recommended. Useful subjects include maths, biology, chemistry and processing technologies.
Personal requirements
Brewers need to be:
able to take the initiative
practical and efficient
accurate, with an eye for detail
patient and reliable
able to work well in a team
skilled in communicating with others
good at solving problems.
Useful experience
Useful experience for brewers includes:
working in a factory, laboratory, brewery or winery
dairy technology, food processing or production work
working with machinery.
Physical requirements
Brewers need to have good hand-eye co-ordination and be reasonably fit and strong, as they may need to lift kegs or other heavy objects.
Brewers must also be comfortable working in confined spaces.
Find out more about training
Competenz

0800 526 1800 - info@competenz.org.nz - www.competenz.org.nz

Institute of Brewing and Distilling - Asia Pacific

secretary@ibdasiapac.com.au - www.ibdasiapac.com.au
Check out related courses
What are the chances of getting a job?
Craft beer industry creating more roles
The number of workers at breweries that produce mainstream beer is continuing to drop due to increased automation. However, the number of independent or craft breweries is growing to meet increasing demand in New Zealand. Increased production of craft beer is creating more brewer, assistant brewer and brewery assistant jobs. 
Brewers may have more of a chance at securing a job if they apply at independent breweries.
Chances best if you have experience
Employers report difficulty finding skilled brewers, so your chances of securing a job are best if you have relevant experience.
According to the Census, 504 brewers and 561 cellar hands worked in New Zealand in 2018.
Two main types of employers
Brewers may work for large or independent breweries. Lion Pty Ltd and DB Breweries Ltd are the largest beer producers in New Zealand. 
As large breweries have automated brewing processes,they have few traditional brewer roles. For example, there are just 13 brewers employed at DB Breweries. 
Independent or craft breweries usually have teams of up to 20 brewers who share a variety of different responsibilities.
Sources
ActionPoint, 'The Alcohol Industry in New Zealand', accessed September 2019, (www.actionpoint.org.nz).
Brewers Association of New Zealand, '2018 Brewing in New Zealand Report', accessed July 2019, (www.brewers.org.nz).
Ministry of Business, Innovation and Employment, 'Occupation Outlook, Brewers', accessed July 2019, (www.occupationoutlook.mbie.govt.nz).
Hoult, S, communications and public affairs manager, DB Breweries Ltd, careers.govt.nz interview, 12 September 2019.
NZ Business, 'Report Highlights Economic Contribution of Beer Brewing', 26 February 2019, (www.nzbusiness.co.nz).
Shaw, A, 'Growth in Craft Beer Almost Trebles in Five Years', 26 February 2019, (www.nzherald.co.nz).
Stats NZ, '2018 Census Data', 2019.
(This information is a guide only. Find out more about the sources of our job opportunities information)
Progression and specialisations
Brewers may progress to set up their own breweries or become managers of breweries.
Brewers in large brewery companies may specialise in one area of the brewing industry such as production or laboratory work.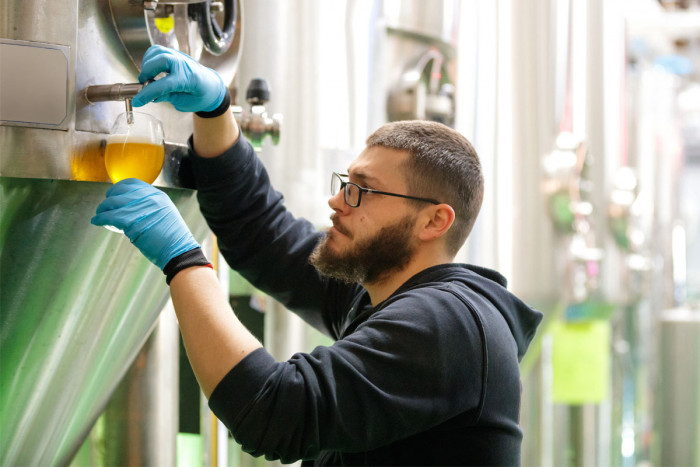 Last updated 3 April 2023