Textile Process Operator
Kaimahi Kaka-aku
Alternative titles for this job
Textile process operators carry out a variety of tasks in the production of materials such as yarn, cloth and carpet.
Pay
Textile process operators usually earn
Job opportunities
Opportunities for textile process operators are poor due to few new positions being created.
Pay
Pay for textile process operators depends on their skills, experience and level of responsibility.
People starting out in the role may start on minimum wage or a little more.
Experienced textile process workers can earn up to $24 an hour. 
Source: Plastics and Materials Processing Industry Training Organisation (now part of Competenz).
(This information is a guide only. Find out more about the sources of our pay information)
What you will do
Textile process operators may do some or all of the following:
weave or knit fabrics, clothes and carpets
operate the machinery used to make textiles
wash and blend wool, yarn or cloth
check the quality of products
spin wool or other fibres to make yarns
dye or bleach materials
press, stretch or waterproof materials.
Skills and knowledge
Textile process operators need to have:
knowledge of textiles and the products being made
knowledge of weaving, sewing and knitting methods
knowledge of safety regulations 
understanding of quality control methods 
practical skills, including the ability to use machinery 
good communication skills because teamwork is an important part of the job.
Those interested in senior positions may also find supervisory skills useful.
Working conditions
Textile process operators:
work full or part-time hours, and may work overtime and weekends on rotating shifts
work in factories that may be noisy.
What's the job really like?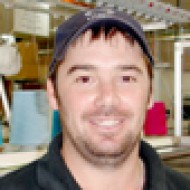 Glen Signal
Textile Machine Operator
Attention to detail key to doing a good job
Glen Signal works as a textile machine operator, running the machines that produce knitwear, setting them up, and making sure they don't break down.
"In the knitting office they design different styles of knitwear and put those patterns onto a computer disk, which tells the machines how to make each garment piece. The disks then get put into bags with a style sheet. I put those disks into the machines, make sure the right-coloured yarn is set up and then start up the machines according to instructions on the style sheet."
Checking for faults, and admiring results
Once the machines are operating, Glen has to keep an eye on them to make sure they're working properly and not running out of yarn. He also has to check the garment pieces for faults before sending them to another department in the factory.
"When I've got all the fronts, backs and sleeves together I bundle them up and send them over to sewing. I enjoy being able to see what the garments look like once they're finished. We mostly make golf jerseys and I play a lot of golf, so it's pretty cool to be out on the golf course and see people wearing jerseys I've helped make."
Entry requirements
There are no specific requirements for becoming a textile process operator, as you gain skills on the job.
Textile process operators can complete National Diplomas in Textiles Manufacture while working.
Secondary education
Three years of secondary education is recommended. Useful subjects include clothing and textiles and other practical technology subjects.
Personal requirements
Textile process operators need to be:
able to follow instructions  
accurate and careful
patient
quick and alert 
responsible 
practical.
Useful experience
Experience in assembly work is useful for textile process operators.
Physical requirements
Textile process operators need to have good hand-eye co-ordination. They need to be reasonably fit and healthy, with no back problems, as some lifting (of boxes of yarns and rolls of fabric), crouching down and reaching overhead to change yarn on machinery is involved.

Due to the repetitive nature of the work, textile process operators must be careful to take proper breaks so that they don't get occupational overuse syndrome (OOS).
Find out more about training
Competenz

0800 526 1800 - info@competenz.org.nz - www.competenz.org.nz

Outdoor Fabric Producers Association of New Zealand

(03) 379 9756 - ofpanz@quicksilver.net.nz - www.ofpanz.co.nz/
Check out related courses
What are the chances of getting a job?
The industry has been steady for the past couple of years, recovering from a number of textile processing plant closures in 2011.
Approaching employers best way of getting into textile processing 
Job opportunities for textile process operators are still limited but an ageing workforce means that employers still look to train new operators, and opportunities for apprenticeships are there if you can:
approach employers directly
demonstrate that you have a good work attitude and are willing to learn
show an aptitude for machines and technical processes.   
Textile processing predominantly in three main regions  
The three regions with the largest number of workers employed in the textile industry are Auckland, Canterbury and Manawatu-Wanganui.  Many textile workers in these regions are employed in exporting companies for example Weft Knitting in Christchurch (Canterbury). The Manawatu-Wanganui Region includes the Levin Textile Cluster with exporting companies such as Comfort Socks, Levana, Swazi and Tararua Yarns.
Types of employers 
Textile process operators work for:
carpet manufacturers
synthetic textile manufacturers
natural textile manufacturers
yarn manufacturers.
Sources
Exporters Blog, 'Textile Industry in New Zealand', 4 May 2011, accessed November 2014, (http://exportersblog.blogspot.com).
Henderson, K, industry manager, Competenz, Careers New Zealand interview, November 2014. 
Ministry of Business, Innovation and Employment, "2003-2012 Occupation Data" (prepared for Careers New Zealand), 2012.
(This information is a guide only. Find out more about the sources of our job opportunities information)
Progression and specialisations
Textile process operators can progress to work in carpet and yarn manufacturing, or into technical and/or supervisory or managerial positions.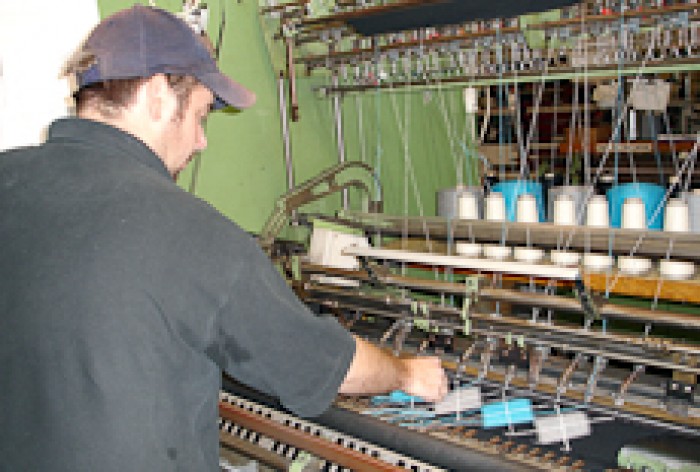 Last updated 10 April 2018