Hairdresser/​Barber
Kaikutikuti Makawe
Alternative titles for this job
Hairdressers/barbers cut, colour and style hair. Barbers also shave and trim hair, moustaches and beards.
Pay
Hairdressers/barbers usually earn
Highly skilled hairdressers/barbers usually earn
Source: Trade Me Jobs and Vivo Hair & Beauty, 2018.
Job opportunities
Chances of getting a job as a hairdresser/barber are average for those wanting to enter the role, but good for those with experience.
Pay
Pay for hairdressers/barbers varies depending on experience and how many clients they have. They may also receive bonuses and commissions.
Apprentice hairdressers and barbers can expect to start on the training wage with pay increasing as they gain skills and complete unit standards.
Qualified hairdressers/barbers usually earn at least minimum wage.
Qualified and experienced hairdressers/barbers with a good client base usually earn up to $65,000 a year.
Highly skilled and experienced hairdressers/barbers can earn from $65,000 to more than $100,000. 
Hairdressers/barbers running their own business may earn more than this, but their income depends on the success of the business.
Sources: Trade Me Jobs, 'Salary Guide', 2018; and Vivo Hair & Beauty, 2018.
(This information is a guide only. Find out more about the sources of our pay information)
What you will do
Hairdressers/barbers may do some or all of the following:
consult with clients about the style and cut they want
wash, cut, colour, style and blow-wave hair
shave and trim beards and moustaches
sell haircare products and products for hair and scalp problems
clean and sanitise equipment and their work area
promote their services on social media 
run their own business.
Skills and knowledge
Hairdressers/barbers need to have:
skill in different hairdressing and barbering methods, including cutting, styling, perming and colouring
knowledge of current hair and barbering trends
knowledge of hair and skin types, and how they react to chemicals such as colouring products
knowledge of health and hygiene regulations
creative and artistic skills
basic maths skills.
Hairdressers/barbers who run their own businesses also need bookkeeping and management skills.
Working conditions
Hairdressers/barbers:
usually work on week days, at least one weekend day, and some evenings
work in hairdressing salons or barbershops, which can be very busy
work with equipment that can cause cuts or burns.
What's the job really like?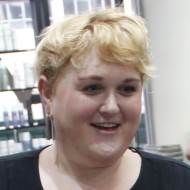 Bonnie Jo Worsfold
Senior Stylist
How did you get into hairdressing? 
"At school, I had to have my hair done differently every day and Mum was like, 'You should be a hairdresser'."
Not ready to take that advice at the time, Bonnie went to music school, and then on to acting school. But eventually, needing some way to pay the bills, she enrolled in a hairdressing course and found her perfect job.
What's your favourite part of the job?
"I don't have a favourite part – I enjoy it all. I have to have a creative career and hairdressing is about working with colour – like painting.
"I have a good memory and I'm interested in technology and the special ingredients in products. I get to talk to people all day and feel good about them."
How do you deal with clients who have impossible hair dreams?
"You have to be honest. If they want something that's not possible I say, 'No, I don't think your hair is going to survive that', but I always try to find some way to give them what they want – it's about problem solving and giving them the best value."
Hairdressing is glamorous, right?
"Hairdressing is a lot harder than people think. You get sweaty, you're rushing around, you're constantly on your feet. You do get used to it but it's not for everyone. I don't wear high heels any more!"
Did your mother have any other career advice?
"Mums are always right. She told me, 'It's a great job if you want to travel, and no one is going to want a computer or a robot to cut their hair'." 
Hairdresser/barber video
Cole talks about life as a barber - 1.05 mins. (Video courtesy of Got a Trade? Got it Made!)
I get the best buzz out of making people feel good about their haircut. What I found out is that I can give someone a really good cut and then they will be walking out of the shop saying "I love this cut, I'm going to come back again".

And it makes me feel really good that they feel really good about their haircut and they feel new and fresh and everything, that's the main thing I like about barbering.

I wake up looking forward to coming to work, I'm thriving more and I'm learning way more than I ever did at school and I'm more onto it and I love it, and if I really enjoy something then I will stick to it.

No regrets, no, I reckon it's probably the best decision I've made. You've got to put your effort into it, what's the point in being in an apprenticeship if you're just going to slack off, so you've got to put your all into it and you will receive your all after.

It's a really good trade, it can lead on from a lot of jobs especially overseas as well, wherever you go pretty much, someone's going to want a haircut.

My name's Cole, I've got a trade and I've got it made.
Entry requirements
There are no specific requirements to become a hairdresser/barber. However, employers usually prefer people with either:
New Zealand Certificate in Hairdressing - Professional Stylist (Level 4)
New Zealand Certificate in Commercial Barbering (Level 4).
You can gain a hairdresser/barber qualification by:
completing an apprenticeship, which the New Zealand Hair and Beauty Industry Training Organisation (HITO) oversees
applying to have your hairdressing experience recognised by HITO through the Qualification by Experience (QbyE) programme.
Secondary education
There are no specific secondary education requirements to become a hairdresser/barber. However, maths, science, English, visual arts, and design and visual communication (graphics) are useful. 
For Year 11 to 13 learners, trades academies and the STAR and Gateway programmes are good ways to gain relevant experience and skills.
These programmes may help you gain an apprenticeship, but do not reduce the amount of time it takes to complete it.
Personal requirements
Hairdressers/barbers need to be:
good at communicating and listening
friendly and polite
organised
able to follow instructions
accurate, with an eye for detail.
Useful experience
Useful experience for hairdressers/barbers includes:
work as a hairdresser's/barber's assistant
sales or other work involving contact with people.
Physical requirements
Hairdressers/barbers need to be reasonably fit and healthy and able to stand for long periods. They also need to have good hand-eye co-ordination and steady hands. Also, they should not be allergic to chemicals.
Registration
Hairdressers/barbers can join Hair and Barber New Zealand. 
Find out more about training
New Zealand Association of Registered Hairdressers

(04) 548 9818 - office@nzhairdressing.org.nz - www.nzhairdressing.org.nz

New Zealand Hair and Beauty Industry Training Organisation (HITO)

(04) 499 1180 - info@hito.org.nz - www.hito.org.nz
Check out related courses
What are the chances of getting a job?
Qualified and experienced hairdressers/barbers in demand
Demand for hairdressers and barbers is increasing, as clients want extra services such as special hairstyles, colouring and hot-towel shaves.
Although there are nearly 12,000 hairdressers, barbers and beauty therapists, there are not enough to meet demand and employers report difficulty finding skilled hairdressers. 
According to the Census, 10,488 hairdressers/barbers worked in New Zealand in 2018.
Beards and short hair trends drive demand for barbers
Barbers are also in demand due to:
the popularity of beards and short haircuts for men
the preference of many men to attend a barber rather than a hairdresser
the demand for barbers' services from migrants and tourists from countries where barbering is common.
High competition for apprenticeships 
Chances of finding work as a hairdresser/barber apprentice are average. There is good demand from employers for apprentices, but there are many applicants for each position. 
Experience and direct approach increase your chances
Useful experience to show employers you are keen and also have a realistic idea of the role includes:
the Gateway programme for hairdressing/barbering
work experience at hair salons
study at a hairdressing/barbering school
customer service experience, either paid or voluntary.
Few hairdresser/barber apprenticeships are advertised, so it is useful to contact salons or the New Zealand Hair and Beauty Industry Training Organisation (HITO) directly about apprenticeships. 
Types of employers varied
Hairdressers/barbers may work for:
hair salons and barber shops
beauty spas and health clubs
large department stores
luxury hotels and cruise ships
nursing homes.
Hairdressers/barbers can be self-employed, run their own salons, or hire a chair in an existing salon. 
Sources
IBISWorld, 'Hairdressing and Beauty Services - New Zealand Market Research Report', October 2018, (www.ibisworld.com.au).
Mason, L, director, Vivo Hair & Beauty, careers.govt.nz interview, October 2018.
McNicol, 'Booming Barbering Industry Looks to Sharpen its Blade', 30 July 2017, (www.stuff.co.nz).
Manch, T, 'Barber Boom in Hamilton as Men Queue for High-end Haircuts', 5 July 2017, (www.stuff.co.nz).
New Zealand Hair and Beauty Industry Training Organisation (HITO) website, accessed October 2018 (www.hito.org.nz).
Peters, K N, 'Māori Find Success in Booming Barber Industry', Māori television, 21 May 2018, (www.maoritelevision.com).
Robson, P, strategic advisor – brand, marketing and communication, New Zealand Hair and Beauty Industry Training Organisation (HITO), careers.govt.nz interview, October 2018.
Stats NZ, '2018 Census Data', 2019.
Stats NZ, NZ.Stat website, Business Demography Statistics, accessed October 2018 (nzdotstat.stats.govt.nz).
(This information is a guide only. Find out more about the sources of our job opportunities information)
Progression and specialisations
Hairdressers/barbers may progress to set up their own hairdressing/barbering business or move into management, training or education roles.
Last updated 8 July 2022