Storeperson
Tangata Whakaputu
This job is sometimes referred to by alternative titles
Storepeople receive, check, store and send out goods from a warehouse, business or organisation.
Pay
New or intermediate storepeople can earn
Storepeople that are skilled or managers can earn
Source: Pay Scale NZ and Superior Personnel, 2015
Job opportunities
Job opportunities for storepeople are good because it's a large, growing occupation.
Pay
Pay for storepeople depends on their employer, level of experience, and their responsibilities.
Unskilled storepeople usually earn the minimum wage.
Semi-skilled storepeople earn about $18-$20 an hour.
Skilled storepeople can earn $22 an hour.
Warehouse managers/distribution supervisors can earn $28 an hour.
Sources: Pay Scale NZ and Superior Personnel, 2015.
(This information is a guide only. Find out more about the figures and diagrams in our job information)
What you will do
Storepeople may do some or all of the following:
receive and unpack incoming goods
make and take orders for goods
assemble and pack outgoing orders, and send them out
check the quantity and quality of goods coming in, and going out
check invoices and keep records up to date
drive a forklift or use a pallet jack to unload or move goods.
Skills and knowledge
Storepeople need to have:
knowledge of the type of goods they are handling
knowledge of stock control and storeroom/warehouse procedures
knowledge of health and safety regulations and procedures to minimise any potential hazards
skill operating machinery such as forklifts or pallet jacks
people management skills if in a management or supervisory role.
Working conditions
Storepeople:
can work regular business hours but shift work is common, which may involve irregular hours or night work
generally work in warehouses, storerooms, and large open spaces
work in a variety of conditions, depending on the type of goods involved.
What's the job really like?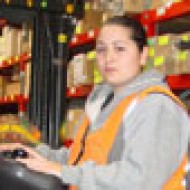 Stacey Wright
Warehouse Worker
Keeping track of stock in a warehouse containing over 9,000 different lines of hardware, including hinges, handles, runners and brackets, can be tricky, but it's all in a day's work for Stacey Wright.
"Keeping track of 9,000 products means there's always something to do. But it's fun because everyone works together."
Stacey says learning the basics about each product is something all new warehouse staff must do.
"When you first start you get shown how the warehouse system works. There's a right way of doing everything. After that, you slowly start to build up knowledge of the products. It takes a long time. You have to be careful at first, and ask if you don't know something."
Some days are busier than others. "The beginning of every month is always really busy. Heaps of orders come in, and some of them can be over four pages long. It's flat out. Our regional branches put in orders around this time as well – they're always bulk orders, often for whole pallets of each item."
Despite all the hard work, Stacey loves her job. "It's awesome to be doing stuff all day, not just sitting at a desk."
Fallon King finds out what it takes to work in a busy warehouse - 8:02 mins. (Video courtesy of MITO.)
Fallon: Hi, I'm Fallon, I'm 16 years old and I go to Onehunga High School. I'm looking at the career of warehousing and distribution.

Clinton: Every day over 200 million dollars worth of goods move in and out of New Zealand. A lot of it is handled by reliable and flexible warehousing and distribution companies – like Linfox. The operation involves 3 aspects: warehousing - the storage and sorting of product, customer services – liaising with customers, and distribution - the transport of products to customers.

Paul: Gidday Fallon, how're you going? My name's Paul. I'm the sight manager here, welcome to Linfox.

Fallon: Thank you.

Paul: Good to see you've got your safety footwear on. Here is a safety vest which we have to wear at all times while onsite. We're pretty big on safety here.

Clinton: The Linfox warehouse is a very busy place and Heath and Safety is always a top priority, so Fallon receives a full safety briefing and site induction talk before she starts any work.

Paul: Lets go!

Clinton: A number of major food manufacturers use this warehouse as a storage and distribution centre.

Paul: About 99% of the product that we get in here is imported in containers – most of it out of Australia. The operation de-vans those containers at the back, the pallets are then checked in, put away into the racks, the orders then come through to us from our clients and we run the pick/pack operation so it could be one carton or a full pallet and that's all controlled by this one desk here for the whole shed so if they follow the instructions from here, nothing can go wrong.

Clinton: Once the Order has been picked, it's wrapped… then moved to the staging area for trucking to customers – like supermarkets and shops.

Paul: Just through here.

Fallon: Wow!

Paul: Welcome to what 35 and a half thousand pallets looks like! We go seven high, we've got a staff of about 80-100 full-time equivalents and we go across two shifts starting at 6am going through to midnight.

Paul: My role here is that I'm the sight manager, and what that means is I have plenty of contact with the staff on the floor, sorting out any issues that may occur with them but also offering encouragement and support for them plus also with our clients making sure they've got no issues and helping them out with any difficulties they may have.

Paul: So here we go Fallon, here's one of the picking machines that we use to pick our client's orders on. It's electric powered and very nice and easy to use. Do you want to get on and have a quick wee go?

Fallon: Yep!

Paul: So here's the steering wheel – backwards and forwards, side to side, and up and down.

Clinton: After Paul has instructed Fallon in driving the picking machine, it's time to head out into the racks.

Paul: Here we go, come on down. There it is – AN209A1.

Fallon: Yep.

Paul: Yep, you're just level with it there. So what we need to do now, is use the RF Gun.

Clinton: The RF gun is used to scan the shelf, then the product, to check the right quantity is being picked. As a double check, the quantity left at the pick face is also calculated.

Paul: So 44, 42.

Paul: Cool, we're onto the next one!

Paul: Fallon! Where are you going?!

Fallon: I don't know! Oh too far!

Paul: AN200A1.

Paul: So what do you do now?

Paul: The gun. Correct.

Paul: I first started working in the warehouse when I was out of university, as a holiday job and just continued going and just slowly went further and further and further up the chain and every opportunity that was presented to me, I took it.

Fallon: Yep! 64.

Paul: Excellent.

Clinton: Fallon's catching on fast, but there's so much more that can be learnt. Tranzqual is the Industry Training Organisation that handles qualifications for the warehousing and distribution industry. Robert Adin is Tranzqual's Communication's Advisor.

Robert: For someone who is entering a role such as this, straight from school, they could possibly get into Level 2 Distribution and Warehousing National Certificate. That would be a really great start where they could come in, be working full time, they could earn while they learn, without a student loan, and from the there the opportunities are endless.

Clinton: Fallon's made the most of this job opportunity by mastering reversing. Customer Services is another important aspect of the operation and Suzanne Restieaux, Linfox's New Zealand fleet administrator, shows Fallon what's involved.

Suzanne: So what we do in this office is we handle all our queries for all our customers when they call in.

Suzanne: The customer service role basically is the point of contact for all of our customers. They come to us with any queries and we help them out as much as we can with either warehousing or the transport side of things. So we'll go and source what the problem is, fix it and then go back to them and give them their solution and everything has a solution as far as we're concerned.

Suzanne: So what we need to do next is we just need to confirm with our customer that we've got the pick-up request and that we've received it and that it will be actioned as soon as possible for them.

Fallon: Hi, this is Fallon from Linfox…

Suzanne: The pressure is on in this industry. It's a fast-paced industry and you're juggling 10 different things at once and you've got to know where you are at any point, at any time in regards to customer queries.

Fallon: Cool, thank you very much. Bye.

Suzanne: That was really good, that was really good.

Paul: In a trainee, you're really looking for aomeone that's going to turn up, is reliable, good work ethic and they want to learn as well, like put their hands up and say, "look, can I learn more?", rather than just sitting back and just carrying on as being one of the flock of sheep. You've got to stand out in a sort of way if you want to get ahead.

Clinton: Well, it's been a busy day for Fallon – she's already dreaming of driving the big fork lift called the reach truck, but how did she find the job?

Fallon: It was fun, I like it!

Suzanne: Fallon was a great girl – she's bright, she's confident, she took on the tasks willingly. I think she's be and asset for anyone's company. I was really pleased with her.

Fallon: Paul: I've seen Fallon trying to reverse a picking machine and I know she has gotten better but putting her in a reach truck would be like putting her in a formula one car, I think. Maybe next year!

Clinton: To start a career in Warehouse & Distribution, a basic knowledge of English and Maths is preferred. Some companies like Linfox provide on the job training for skills like forklift driving and IT skills. Other opportunities for training include Modern Apprenticeships, and National Certificates in Distribution. There are lots of prospects for specialising in the specific areas of warehousing, customer service, transport and dispatch.

Clinton: Never Mind Fallon, I am sure you'll master driving that big fork lift one day! Coming up after the break we head to Christchurch as Alisha finds out about a career as a Nurseryman.

Entry requirements
There are no specific requirements to become a storeperson, but some employers may require you to have a National Certificate in Occupational Safety and Health (Workplace Safety).
If the job involves using a forklift, you will need a Class 1 driver licence with an F endorsement.
The NZ Defence Force also recruits and trains people with similar skills and duties to storepeople.
Warehouse managers more experienced
Warehouse managers need to have previous experience in a warehouse. A National Certificate in Distribution at Levels 2, 3 or 4 may also be useful.
More advanced qualifications in logistics and transport management are also available.
Secondary education
There are no specific secondary education requirements, but English and maths are useful.
Personal requirements
Storepeople need to be:
accurate, with an eye for detail, as they need to record which goods have been received and dispatched
honest, as they have access to their business's goods
able to work well with others.
Useful experience
Useful experience for storepeople includes:
retail work
work as a courier
truck or forklift driving
work involving taking inventories.
For those wanting to get into management roles, any supervisory or management experience is useful.
Physical requirements
Storepeople need to be reasonably fit and strong, as much of their work involves lifting and standing up for long periods.
Check out related courses
What are the chances of getting a job?
Growth of import/export industry requires more storepeople
Recent growth of the import and export industry in New Zealand has meant a larger amount of warehousing and storage. This has resulted in an increase in demand for storepeople.
Casual work may lead to full-time employment
Many people get into warehousing jobs by starting as casual workers, who are often hired during busy times and in peak seasons such as around Christmas time. Often casual work can lead to full-time employment. Registering with an employment agency that specialises in warehouse recruitment is a good way to get a casual job.
Job opportunities better for warehouse workers with experience in logistics
Warehousing and product distribution is increasingly being done from national rather then regional warehouses, so demand is higher for warehouse workers and managers with experience in logistics (buying, storing and delivering goods), especially at the bulk or wholesale level.
Types of employers varied
Storepeople work for large warehousing and distribution firms, or in the storerooms or warehouses at a range of companies and organisations. These include:
retail stores such as supermarkets and hardware stores
importing or exporting companies
freight and logistics companies
food or drink wholesalers
machinery or equipment wholesalers
storage companies
building suppliers
government departments.
Sources
Auton, S, Owner and manager, Oob Organic, Careers New Zealand interview, November 2015
Ready, D, Senior recruitment consultant, Superior Personnel, Careers New Zealand interview, November 2015.
Progression and specialisations
Storepeople generally specialise in a certain type of product that is handled by their warehouse. They may progress to become supervisors, or store/warehouse managers.
Storepeople may also specialise as a:
Contract Warehousing Worker/Manager

Contract warehouse workers/managers work in warehouses that provide space for companies without their own warehouses. This means they may deal with a wide variety of products and many freight companies.

Inventory Control Manager

Inventory control managers work in warehouses and keep track of goods on hand and ensure the warehouse has adequate stock at all times.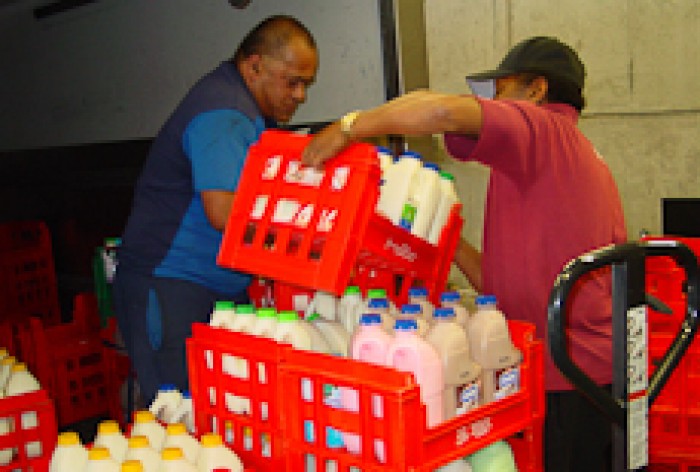 Last updated 7 December 2017