Forklift Operator
Kaitaraiwa Waka Uta
Alternative titles for this job
Forklift operators operate vehicles that have a lifting platform for shifting and stacking heavy articles such as pallets, bales, crates, containers or cartons.
Pay
Forklift operators usually earn
Source: Hays Recruitment and Trade Me Jobs, 2018.
Job opportunities
Chances of getting a job as a forklift operator are good due to steady demand.
Pay
Pay for forklift operators depends on the industry they work in and their level of experience. However, they usually earn between minimum wage and $22 an hour.
Source: Hays Recruitment and Trade Me Jobs, 2018.
(This information is a guide only. Find out more about the sources of our pay information)
What you will do
Forklift operators may do some or all of the following:
maintain forklifts
operate forklifts in warehouses, construction sites and wharves
ensure forklift loads are stable and safe
fill in paperwork, such as delivery forms, and electronically record the movement of goods.
Skills and knowledge
Forklift operators need to have:
good driving skills
thorough understanding of the operation and limitations of a forklift
ability to judge distances, weights and volumes
knowledge of the code of practice for forklift operators, including health and safety regulations
knowledge of the fuel requirements of different forklifts including diesel, LPG, CNG (compressed natural gas) and battery-operated models.
Working conditions
Forklift operators:
usually work regular business hours, but may work evenings and weekends as some warehouses are 24-hour operations
may be required to work extra hours during busy periods
work in warehouses, factories, coldstores, timber yards and shipping terminals
work in most weather conditions.
What's the job really like?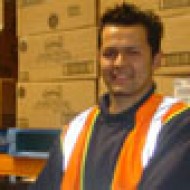 Mark Harris
Forklift Operator
About 15,000 pallets (wooden platforms) of stock are in the warehouse where Mark Harris works as a forklift operator. "Each pallet of goods costs anywhere from $2,000 to $6,000, so if you drop one, it's potentially quite costly. Luckily I haven't done that."
How do forklifts handle?
Mark says the key to doing a good job is not speed, but safety. "It's not like driving a car. The machines have different turning points and balance points, and you have to learn what they can handle. It's all about momentum and balance."
Staying alert key to a safe workplace
"The stock you're shifting may be sitting on the hoists' forks properly, but if you whip around a corner too fast with a full load, it might just slip off. You have to stay alert; there are a lot of tight corners in warehouses and more importantly, a lot of staff walking around. You have to keep an eye out for them at all times."
What do you like about the job?
"I love driving and I like to keep pushing for higher standards of work every day. Meeting this challenge helps to keep things interesting."
Sam finds out what it's like to be a forklift driver - 6.03 mins. (Video courtesy of MITO)
Sam: Gidday I'm Sam Henry. I'm 17 years of age and a student at Massey High School. Today I'm hoping to get an insight of the training that's involved in becoming a truck driver.

Clinton: Sam's already had a taste of truck diving, so today he's come to DECA, a driver training facility. He's going to get an idea of what training is all about, and also how to drive a forklift truck. Mike Poa is DECA's training director.

Mike: DECA stands for Driver Education Centre of Australia. We're a one-stop shop training provider. We cover anything and everything with wheels.

Mike: Welcome to DECA training.

Sam: Thanks.

Clinton: Sam's sitting in on a course for forklift driving.

Mike: There's a whole raft of things that we do. Example – all the category of driver licensing. We set out to achieve things like raising the standards on our roads in particular, increasing the individual trainee's skills.

Mike: Right, the aim of the course. At the end of this training session, I'll be able to send you out with the basic and simple knowledge of operating the forklift safely within your workplace.

Clinton: The classroom video graphically illustrates the dangers of this common workplace tool.

Clinton: Sam first learns the safety basics.

Mike: Right, let's recap. What about climbing on, you always hear people say jump on the forklift, jump off the forklift – what do you think is the correct method?

Sam: You have to make sure you have three points of contact on the forklift.

Mike: Well done Sam. My God you're a quick learner!

Clinton: The theory over, time to get out in the yard.

Sam: I expect it to be a bit challenging, I've never done it before but I like a challenge.

Mike: Now that you're seated and you're comfortable – obviously the steering wheel, one can never make that assumption, and of course the steering wheel or steering column adjuster. And with that, we just pull it upwards, and if you've got a puku like mine, we need to push it out of the way!

Clinton: With the basics learned, a practice forward, and back, the challenging part of the day can begin.

Mike: The whole object of this exercise is keeping as close as practicable to your turning points. Right I'm pivoting the forklift, and you watch, OK, as I go round, holding the same lock. Right?

Mike: People don't have to be licensed to operate a forklift, but the type of people we look for are those people who are going to consistently apply safe practices. Safety with forklift operations is paramount.

Mike: Good man, now look for a line through here, then hard lock around and facing back in that direction.

Sam: So Mike, you must have quite a bit of driving experience to be a trainer?

Mike: Yes I have actually. In fact I'll show you my licence. That licence to me is like hammer to a carpenter.

Sam: Quite impressive!

Mike: Well I guess it's something for you to aim to.

Sam: It's definitely harder than I thought it would be. I thought you just hop on and you just drive it, but you have to be really conscious of the things around you and safety.

Mike: Well done Sam.

Clinton: So with forklift skills on board, Mike takes Sam to Halls Trucking, a big refrigerated trucking company. Rob Bates, driver trainer there, will take Sam out on a delivery run.

Rob: This is what we're going to be loading up.

Sam: So what's inside these?

Rob: These have got fruit pulp inside them, I think they're around about 800 kilograms each. We're just going to put in some empty pallets and then we'll load this stuff in, we'll put a shoring bar across, which holds the product in there, and then we're ready to go.

Clinton: With the fruit pulp on the road, there's time for a chat.

Rob: We'll take the current employees out and see what their skill sets are like. Basically, it's like an in-cab assessment. I'd normally go out, I'd be sitting in the passenger seat and I'd just observe, see what they actually do. Bad habits creep in, but I feel as though some of the drivers aren't actually aware of them until they're pointed out.

Clinton: A trip like this has to include a classic truckies' food stop. But for Sam it's not a stop with classic truckers' food.

Rob: The healthy stuff. A couple of bottles of water, mate! Drink plenty of fluids through the day when you're out on the road. The hours can get quite long. Even though older truck drivers will tell you to drink a lot of coffee, it's not actually that good for you. Through the day it loses its effect. Safer on the road mate, keep those eyelids open!

Clinton: So with eyes wide, that fruit pulp's back on the road.

Rob: OK Sam, well I'll give you a shot at unloading the pallet, see what DECA training has taught you. Rip into it.

Rob: Sam seems to have a very good attitude for a young fella. He's been asking questions all day, which is always a good sign that people are interested.

Mike: Sam's had a good couple of days, in fact I'm so impressed with his learning aptitude, very quick on the uptake, that as the training director of DECA training, I'm going to award him, free of charge, an OSH training course.

Sam: Mike's great, he's awesome. He's been really supportive and he is a good instructor. I didn't even think about how aware you've got to be of others' safety. But now I've got a good insight now of what training needs to be done to become a truck driver.

Clinton: You don't need a licence to drive a forklift but if you drive it on a road you'll need an F endorsement.

To learn to drive a small truck you must have had the full Class 1 category licence for two and half years, and then apply for the Class 2 learner licence.

There are national certificates available for a wide range of commercial transport driving – courier driver, perishable products, livestock and logging are just some. The job prospects for commercial drivers are good and the more licences you hold, the better your prospects.
Entry requirements
To become a forklift operator you need a Forklift Operator Certificate. The certificate shows that you have been trained according to the Ministry of Business, Innovation and Employment's code of practice.
To operate a heavy forklift, you need to have a Class 2 driver's licence.
To operate a forklift on a road or in a public space, you must have a Class 1 driver's licence with a forklift (F) endorsement.
Secondary education
There are no specific secondary education requirements to become a forklift operator, but employers usually prefer you to have NCEA Level 1 with maths and English.
Personal requirements
Forklift operators need to be:
accurate
co-ordinated
careful and alert
practical
able to follow instructions.
Most of the time you're using one hand to move the forks up and down and tilt them, the other hand is on the steering wheel and you're watching how it is going. So good hand-eye co-ordination is really important.

Deb Carson

Forklift Operator
Useful experience
Useful experience for forklift operators includes:
warehouse and coldstore work
stevedoring
work as a loader-driver
any driving work.
Experience driving heavy vehicles or any work in manufacturing, or transport and logistics is also helpful.
Physical requirements
Forklift operators need to have good hand-eye co-ordination and reflexes, as well as good eyesight (with or without corrective lenses). They also need a good level of strength, as they may need to lift heavy products (up to 20 kilograms).
Find out more about training
Competenz (ITO)

0800 526 1800 - info@competenz.org.nz - www.competenz.org.nz
Check out related courses
What are the chances of getting a job?
Demand for forklift operators is steady because:
high volumes of goods are being imported and exported, and forklift operators are needed to unload and move these goods
the transport and logistics industry – where many forklift operators are employed – is large
turnover among forklift operators is high, with many seeing the role as a temporary one.
About 4,300 people work as forklift operators in New Zealand.
Forklift operators work in a wide range of industries
Forklift operators may work for:
manufacturers
distributors
freight companies
port companies
forestry companies
horticulture companies
supermarkets.
Many companies own or lease a forklift but do not employ a full-time forklift operator. Instead, they employ staff in other positions who are qualified to use a forklift.
Sources
McCormick, M, recruitment consultant, Hays Recruitment, Careers Directorate – Tertiary Education Commission interview, January 2018.
Ministry of Business, Innovation and Employment, '2006-2014 Occupation Data' (prepared for Careers Directorate – Tertiary Education Commission), 2015.
(This information is a guide only. Find out more about the sources of our job opportunities information)
Progression and specialisations
Forklift operators may progress to:
work with heavier machinery such as 15-tonne forklifts or straddle carriers in ports
work as dispatch co-ordinators or inventory controllers within the company they work for
supervisory or management positions within the company they work for.
They may also set up their own businesses, or become forklift operator trainers.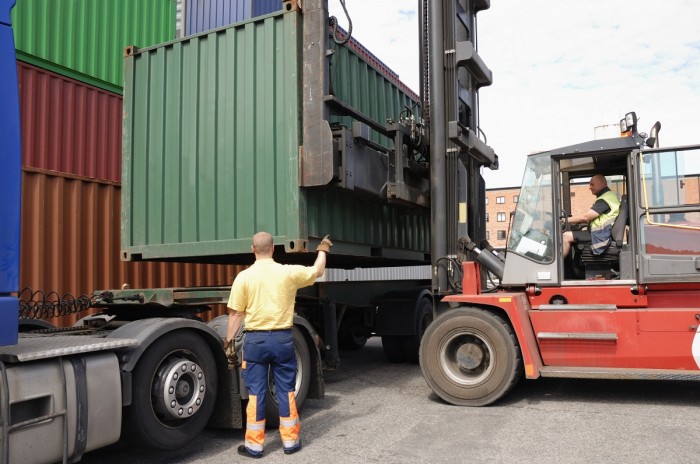 Last updated 14 September 2019