Taxi Driver/​Chauffeur
Kaitaraiwa Waka Pāhihi
Alternative titles for this job
Taxi drivers/chauffeurs drive vehicles to transport passengers from one place to another.
Pay
Taxi drivers/ chauffeurs usually earn between
Source: New Zealand Taxi Federation.
Job opportunities
Chances of getting a job as a taxi driver/chauffeur are good, due to steady growth in the industry and reasonably high workforce turnover.
Pay
How much a taxi driver/chauffeur earns depends on:
whether they own their own vehicle
where they work, what hours they work and how many hours they work
their employer.
However, they usually earn between $15 and $25 an hour.
Source: New Zealand Taxi Federation.
(This information is a guide only. Find out more about the sources of our pay information)
What you will do
Taxi drivers/chauffeurs may do some or all of the following:
drive a taxi, limousine or luxury vehicle
collect passengers and drive them to where they want to go
ensure passenger safety
collect fares and give change
look after passengers' luggage, sometimes checking it in at airports or hotels
keep records of rides and fares
keep the vehicle clean and tidy
be responsible for maintaining the vehicle if they own it.
Skills and knowledge
Taxi drivers/chauffeurs need to have:
excellent driving skills
knowledge of the Road Code and relevant transport regulations
good map reading skills, and knowledge of local places, street names and the fastest routes to take
an understanding of basic car maintenance, so they can care for their vehicle.
Owner-drivers need to have business skills.
Working conditions
Taxi drivers:
may work regular hours or work shifts including nights and weekends. By law they can only work 13 hours and then must have at least a 10-hour break
spend most of their time in their vehicle.
Chauffeurs/ride-share drivers:
book their customers in advance with an approximate pre-approved price (private drivers cannot use a taxi meter)
may be reviewed by their customers.
What's the job really like?
Starting out
"I'd worked in a bank for 15 years and just thought I needed to do something different, so I went to a driving school and got my passenger licence."
Lyn's first stint with a taxi company lasted only a few months. She bought a second-hand taxi that continuously had mechanical problems. She was about to splash out and purchase a new car when the firm she now works for, Green Cabs, came to her attention and she signed up with them.
Running your own business
To become an owner/operator takes an initial outlay but it's worth it, Lyn says.
"You've got to buy a car but you can get one new or second hand and it's a business expense, so you can write it all off [as a tax expense]. It was a commitment, but it's been almost a year and it's looking like a good move."
She says owning her own vehicle appealed to her.
"It's like running your own business and is probably the only business where you start making good money from day one.
"My only regret is that I didn't make the move years ago. I wish I'd known about taxi driving when I was 20; all those stressful office days!"
Entry requirements
To become a taxi driver you need to:
have held a Class 1 (full) driver licence for at least two years
have a Passenger (P) endorsement, which includes police clearance
gain an Area Knowledge Certificate
pass a medical test and a taxi knowledge test.
To become a chauffeur or ride-share driver you need to:
have a current driver licence of the appropriate class for the weight/type of the vehicle you are driving
have a Passenger (P) endorsement, which includes police clearance
be employed by the holder of a passenger service licence (PSL) or hold your own PSL.
Some chauffeurs working with VIPs will need to pass security checks.
Further information on driver licensing is available from New Zealand Transport Adgency, which also provides a list of approved course providers for occupational drivers.
The Vulnerable Children Act 2014 means that if you have certain serious convictions, you can't be employed in a role where you are responsible for, or work alone with, children. 
Secondary education
There are no specific secondary education requirements for taxi drivers/chauffeurs, but English and maths are useful.
Personal requirements
Taxi drivers/chauffeurs must be:
punctual
able to communicate in English
honest, friendly and polite
responsible, as they must look after their passengers' safety
alert and patient
reasonably good at maths so they can calculate change.
Useful experience
Useful experience for taxi drivers/chauffeurs includes:
customer service work
any work that involves driving.
Physical requirements
Taxi drivers/chauffeurs need to have good hearing, reflexes and eyesight (with or without corrective lenses), so that they can drive safely in busy areas.
They must pass a medical exam every five years (or more frequently if they have a medical condition that may affect their driving).
Registration
Chauffeur drivers need to be registered as a private hire service.
Taxi drivers need to obtain and display a current driver identification card.
Find out more about training
MITO

0800 882 121 - info@mito.org.nz - www.mito.org.nz

Uber

Online contact only - www.partners.uber.com/drive
Check out related courses
What are the chances of getting a job?
Job opportunities come up regularly
Opportunities regularly become available due to:
many taxi drivers taking up the role towards the end of their working lives, so retirement rates are high
some people staying in the role for a short time only
the easy process of becoming a ride-share (e.g Uber) driver
the cost and licensing process of becoming a taxi driver putting off casual job seekers.  
Drivers have different employment options
There are different options for drivers:
owner-operators – self-employed taxi drivers who own their own vehicle and have a share in one of New Zealand's 200+ taxi companies 
contract drivers – self-employed contract drivers who drive someone else's car and pay a set weekly amount to the owner, who holds the share with the taxi company
ride-share drivers – drivers who use their own vehicle and set their own hours, connecting with customers using an application such as Uber
chauffeur drivers – chauffeurs are mostly employed by limousine rental companies, but others work for wealthy individuals, tourism operators, large companies, or the military. VIP Transport Service, responsible for transporting members of parliament, is also a large employer of chauffeurs.
Sources
Heale, R, executive director, New Zealand Taxi Federation, Careers New Zealand interview, September 2015.
Wong, S, 3 News, 'Taxi drivers warned against Uber slave labour', accessed September 2015, (www.3news.co.nz).
Progression and specialisations
Taxi drivers/chauffeurs may start off driving for someone else before progressing to buying their own vehicle and working as an owner-operator. They can eventually own more than one car and employ other drivers.
Drivers usually specialise as:
Chauffeur

Chauffeurs drive passengers in luxury vehicles to the places they wish to go.

Ride-share Driver

Ride-share drivers use applications such as Uber to connect with passengers and drive them to their destination for an approximate pre-approved fare.

Taxi Driver

Taxi drivers drive cars or vans and charge passengers fares to take them from one place to another.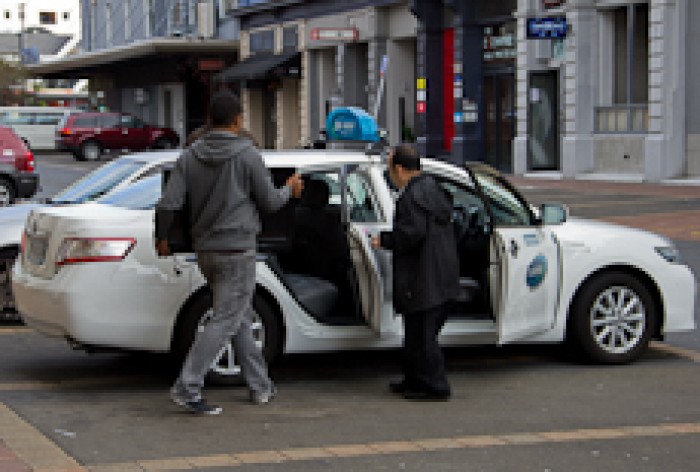 Last updated 14 August 2017