Returning to work after a gap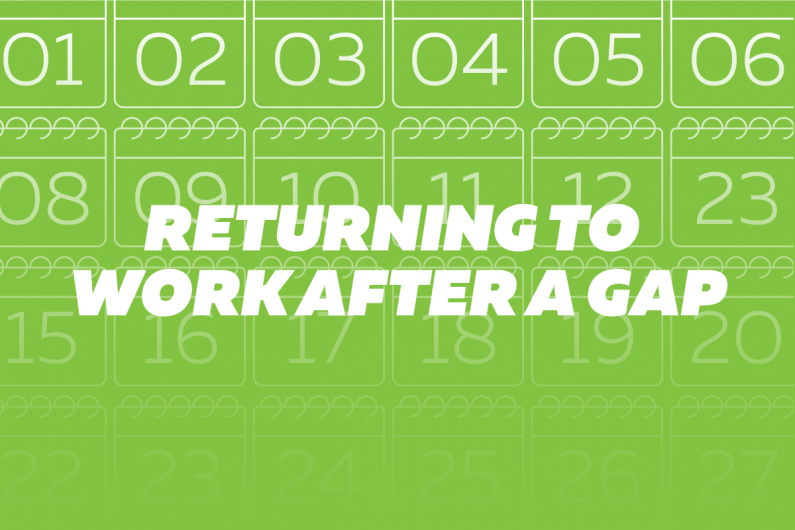 Find out how to return to paid work or change your career after a gap.
What's on this page?
You may have had a gap in paid work due to:
looking after children or others
travel
study
illness or accident
redundancy
criminal convictions or prison time.
If you're returning to work after a gap, you may need to make sure your family/whānau is happy to support you and understands what you'll need. Discuss with them:
how many hours a week you'll be at work
whether you may have to work nights or weekends and what extra support you'll need
who will do childcare, after-school care, and household chores.
Returning to a previous job
If you're returning to a previous job after a planned gap such as parental leave:
organise your start date and hours with your employer
find out about changes – for example, restructuring, a new location, or changed job requirements
renew professional certificates.
Flexible work options
Flexible work options may be useful – for example:
if you have children or others to look after
if you've been recovering from illness or an accident. You might want to start with one or two days of work a week, depending on the advice from your doctor.
Employers must consider requests for flexible work, including part-time hours, and working from home, but it's not a right.
Looking for a new job
If you're applying for a new job after a gap, you'll need to refresh your CV, think about explaining your gap in your cover letters, and use your networks to find out about vacancies.
Show your skills in your CV and cover letter
Make sure your CV emphasises your skills, rather than your employment gap, by using a skills-focused style. 
Use our CV Builder and CV templates to create a skills-focused CV.
Show you're up to date in your CV
Employers prefer people with up-to-date knowledge and experience, so make sure your CV includes any recent:
training and qualifications
events attended – for example, seminars and conferences
articles or social media posts you've written
volunteer work.
Include transferable skills gained during your gap in your CV 
Make sure you identify and list your transferable skills in your CV.
Transferable skills, also known as employability skills, are the abilities, qualities and attitudes that employers say are essential for their workplace. They are known as transferable skills because you can gain these skills in one area of life, and transfer them to other areas, including paid work.
Examples of transferable skills include:
managing people and coaching skills – from sports
budgeting skills – from housekeeping
people skills – from voluntary sales work in an op shop
organising skills – from planning family holidays
fundraising and social media marketing skills – from community work.
Have current referees in your CV
Previous employers may be willing to be referees. For current referees, consider:
community or church leaders
tutors
people you worked with on community projects
voluntary work supervisors.
Explain gaps from paid work in your cover letter
Consider explaining work gaps in your cover letter. For example:
"After raising children and running our home, I'm looking for..."
"I'm keen to return to work after recovering from injury..."
"While looking for work after redundancy, I've been busy..."
Use your networks to find jobs
Many jobs are filled by word of mouth, so use and extend your networks by:
asking previous employers and colleagues if they know anyone needing staff
joining professional associations
attending industry events such as seminars or conferences
having a LinkedIn profile
telling people you're looking for a job.
 Struggling to get a new role
If you're struggling to find jobs or get interviews:
check our job profiles to find out what experience employers prefer
approach Work and Income for training to help you get a job
consider whether you need to get a job at a lower level than before to gain up-to-date experience
consider a temporary job in another area while you find out more about your options.
Contact us for free career planning help and information.
After health problems, prison or serious convictions
Gaps due to health problems
If you've had a gap because of serious health issues that could affect your ability to work, you can contact Workbridge, which offers free support with job search and interviews.
Gaps due to prison or serious convictions
If you've been in prison or had serious convictions, you need to answer honestly if asked about criminal convictions during the application process. Not disclosing convictions can lead to dismissal if you get the job and are then found out.
You may find it useful to:
approach previous employers for support
contact People at Risk Solutions (PARS) which helps you to prepare for, and get work
get advice from employment lawyers, or free legal advice from community law centres.
Changing career
If you want to change career, use our website tools to get career ideas, and find out how to enter over 400 jobs.
Updated 28 Jul 2023