How to make a career decision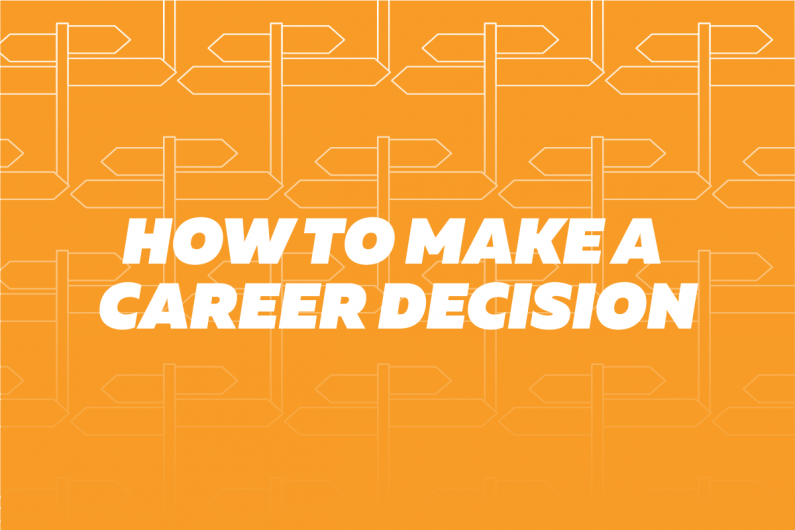 Consider and compare your options to decide what career you could do.
What's on this page?
Consider your career options
If you're choosing between several career or course options, take a look at each one and ask yourself these important questions.
How well does this career fit with my skills, values and interests?
How will this career affect my family, friends, interests and other commitments?
Is this a career I can commit to?
How can I progress in this career?
Consider your course options
If you're considering different course options, ask yourself these important questions.
How well does this course fit with my skills and interests?
Will this course help me get the career I want?
4 steps to a career decision - video
Need help making a career decision? Try following these steps – 0.46 mins.
Steps you can take to make a career decision.
1. List the good and bad points of each career idea.
2. Chat to a career expert.
3. Choose a career that fits your skills, interests and talents.
4. Test the career through work experience.
Get career ideas. Visit careers.govt.nz
What can you afford to do?
Your career choice will affect your finances and any financial commitments you have.
Study – if you have to study for your career, you'll have fees to pay and won't earn a full-time wage.
Apprenticeships – if you're doing an apprenticeship, you'll have fees to pay and will only earn a training minimum wage.
Work – if you're starting a new job, you may have relocation costs to pay.
Budget your career choice
Before you choose a career:
plan your living costs, such as rent, food, household bills
budget for training or work costs, such as fees, computers, transport
check if this career will help you reach your financial goals, such as buying a house, saving for travel or owning a business.
Consider your family/whānau
Career or course decisions can affect your family/whānau. Do you have any responsibilities you need to consider, such as being a parent or caregiver?
Consider how your career might fit with your values
Ask yourself how your career will fit with your values.
Your career or study may affect other parts of your life, such as how much time you have for your interests or your ability to:
do volunteer work
belong to a sports team
be involved in your community.
Ask others for advice
If you're having trouble making a decision by yourself, consider talking to:
your family/whānau and friends
career advisers or consultants
course providers
people who have jobs that interest you.
Updated 17 Sep 2019