How to choose study or training for your career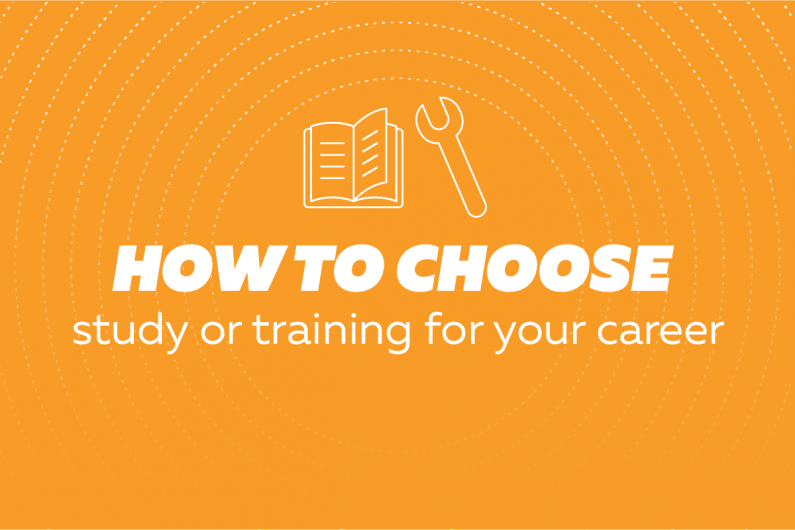 Tips on choosing the right study or training for your career.
What's on this page?
Consider what qualification you'll need
Some jobs have specific pathways. For example, if you want to become a physiotherapist you must have a Bachelor in Physiotherapy degree.
Other jobs may have more than one pathway. To become a food technologist, it's useful to have a degree in either food technology, food science or food engineering.
If you're interested in an industry but aren't sure which job you'd like, there may be different entry-level jobs with different entry requirements. For example, a career protecting the environment may be important to you. To become a ranger either a Level 4 certificate or a degree may be useful, depending on the entry-level job you want.
Many jobs need an NZQA-approved qualification, but some may accept qualifications from non-approved programmes.
Consider what level of qualification you'll need
Your qualification may affect the type of entry-level job you get and how much you earn.
Ask yourself:
What type of qualification will get you the job you want?
How will your qualification support your financial goals?
Is the qualification recognised by NZQA?
I know what I want to study
If you know what you'd like to study, you may have to choose between different training providers and the type of qualification you'd like.
I know what job I want but don't know what to study for it
If you're interested in a job or industry but not sure what to study for it, use the job profiles to find out what subjects and qualifications are useful.
Choosing a course - video
Learners talk about how they chose their courses – 2.21 mins.
TC: I ended up staying in the Tasman region just because of my rugby commitments, and so the applied fitness course complemented well.
Amy: When I first finished high school I was one of those people that wasn't entirely sure what I wanted to do.
Shevaun: Before applying for my course at university to teach, I did have second thoughts about doing real estate. But then once I really thought about it I have never wanted to do real estate, whereas teaching I have always wanted.
Amy: I ended up going to Wellington and doing the animal care and husbandry course. I, as an animal lover, found it really hard and I ended up coming home from placement absolutely distraught. And so I thought I can't do this - not right now.
Shannon: I considered studying mechanical engineering to continue on from my previous experience; however knowing the market and what the jobs are like, I decided to study civil.
Amy: I ended up deciding to do the Travel and Tourism course. I had a day at a travel agency, absolutely hated it.
Francis: Apart from applying down south, I also considered applying up in Auckland, which is just specific for music production. I also considered taking a gap year and working, and just sticking around here in Nelson, but I kind of just thought that I'd lose motivation.
TC: I was thinking of going to Otago University for PE because a lot of my friends were also going down there, so it was enticing me quite a bit.
Shannon: Choose something you're passionate about. It's not going to feel like a chore.
Francis: I was in a hall this year and I met a lot of people thinking about the outcome in terms of how much money they're going to make in getting future jobs, and a lot of them pulled out of their courses because they weren't enjoying them at all.
TC: I'd want you to make sure you choose a course that you're really interested in.
Amy: And ... decided to look into marketing and business, so here I am. I'm doing a Bachelor of Commerce with a degree in Marketing and loving it.
Find out how your qualifications will help you
It's useful to know how the qualification you're interested in may have helped other people.
Key Information for Students can help you make a decision by giving you information such as how much people with a qualification usually earn, how many are employed and how many are still studying.
Research course providers
Once you know what type of qualification you'd like, you'll have to choose where you'd like to study.
Education Performance Indicator (EPI) reports can give you information about course providers.
I'm interested in a job I haven't studied for
One job can be a pathway to another one within a workplace or industry.
You may be able to get micro-credentials for skills you've already developed, or there may be a micro-credential you can do which could help you move into a new job.
You may be able to transfer the personal and technical skills you develop doing one qualification or job to other jobs.
Talk to employers to learn what skills they're looking for and find out if they'd be interested in your skills.
Updated 9 Mar 2021