Building a new career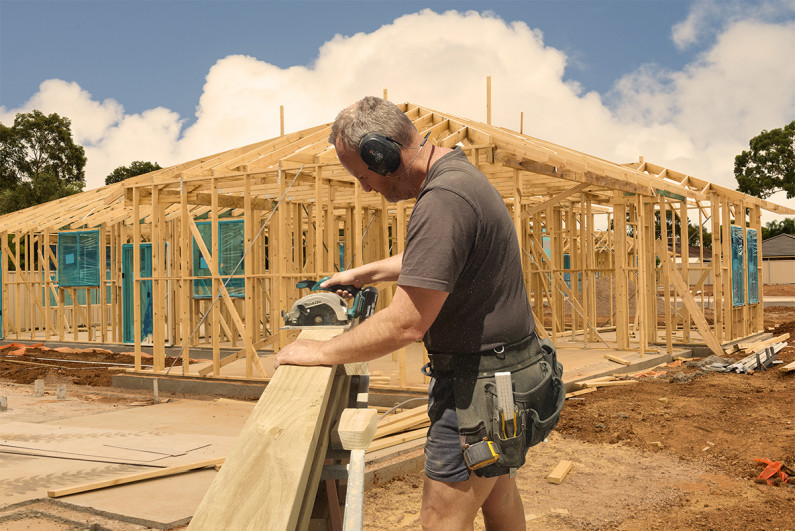 Find out how Justin Pescini changed careers with a carpentry apprenticeship.
Turning a dream into a reality
Changing careers is a big step, but for Justin Pescini it's been worth it.  
Doing a carpentry apprenticeship has given Justin the opportunity for ongoing employment as a well-paid tradesperson.
Justin had a long career as a police officer but always wanted to be able to build his own house one day.
"When I decided to leave my previous job I asked my neighbour who is in the construction industry, and he asked a friend who owned a building company. A month later, I had a job."
Changing careers – not as hard as you think
Justin's interest in building and the promise of a trade qualification at the end of his apprenticeship meant he moved from one industry to another easily.
The people skills he'd gained as a police officer also helped him shift into his new career.
"There were no real difficulties when I changed careers. Financially it was hard, but before I made the change I planned my household budget. When I realised it was possible to do the apprenticeship I decided to go for it."
Building a career to be proud of
One thing Justin loves about being a builder is the satisfaction of looking back and seeing something he's created.
"I'm really proud of two big cladding jobs I worked on. The city art gallery and a building on Cuba Street in Wellington both took a long time due to having to line up lots of tricky joins. It was definitely worth it though, because the end results look amazing."
Justin says anyone considering a career in construction should go for it because there is plenty of work and you have some job security.
The great thing about being trade-qualified is that if you try other careers later you can always come back to the trade.
Training for a career in construction
A carpentry apprenticeship can take between three to four years to complete, depending on the employer. The apprenticeship included a year of night courses, first aid certification and a site-safe course.
Justin recently completed his apprenticeship and is now a qualified builder. 
"My life experience has also been useful on the job when dealing with customers and colleagues."
Check out these websites to find out how to get qualified in construction:
Find out more
Sources
Building and Construction Industry Training Organisation website, accessed December 2019, (www.bcito.org.nz).
Immigration New Zealand, 'Construction and Infrastructure Skill Shortage List', 27 May 2019, (www.immigration.govt.nz).
Ministry of Business, Innovation and Employment, 'National Construction Pipeline Report', August 2019, (www.mbie.govt.nz).