What to wear to a job interview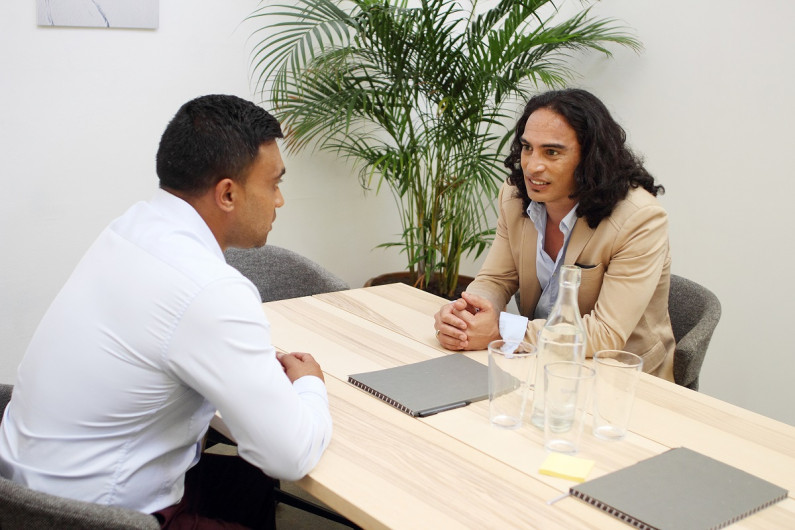 Here's what to wear at any kind of interview.
What's on this page?
It's important to carefully consider what to wear to a job interview. Research shows that someone will form a first impression within only seven seconds of meeting you.
Your clothes and shoes should be tidy, clean and well-fitted. Make sure your hair and nails are also clean and tidy, and don't overdo your makeup.
Avoid wearing anything distracting – odd or bright clothing could mean your interviewer will just think about how you're dressed, instead of how you'll add value to the company.
Dress to suit the role and company
Research the company to find out what clothes would suit their working environment. Don't be afraid to ask about the dress code. The industry of the company can also be a good guide.
Corporate office job or internship
Well-fitted suit or dress in plain colours such as navy, grey and black, with low heeled and closed-toed shoes. Men may need to add a tie for very formal or conservative workplaces.
Office job or internship at a more casual or creative company
Well-fitted suit or tidy skirts and pants in plain colours such as navy, grey and black with long-sleeved tops. Wear low-heeled and closed-toed shoes.
Your shirt or accessories can add personality with understated patterns and colours. For very casual offices, choose tidy jeans with a shirt and blazer or cardigan.
Trade job or apprenticeship
Tidy and well-fitting work trousers or tidy jeans and plain top or polo shirt. Wear closed-toed shoes or safety boots.
Tie your hair up if it is long and don't wear jewellery.
Hospitality job
A tidy, long-sleeved white top with a black skirt or black work pants and black closed-toed, low-heeled shoes.
Nails should be short and clean and long hair should be tied up.
What not to wear
Sneakers and dirty, unpolished shoes
Low cut tops, see-through tops and shirts with no sleeves
Skirts high above the knee
Ripped jeans
Shirts with slogans or writing
Large and unusual pieces of jewellery or belts
Wrinkled clothes.
You don't need expensive clothes
You don't need to spend a lot of money to find suitable clothes. You can often find good options in second-hand shops and in low-cost chain stores, or ask friends or family to loan you clothes. Organisations like Dress for Success can help, and if you're unemployed you can ask Work and Income for a clothing grant.
Sources
Carey, A, 'Expert reveals the top outfit mistakes jobseekers make', 18 July 2018, (www.nzherald.co.nz).
Davies, A, 'What To Wear To An Apprenticeships Interview', November 2016, (www.aimapprenticeships.co.uk).
Robert Half, 'What to wear to a job interview', accessed April 2019, (www.roberthalf.co.nz).
Seek, 'What to wear to an interview, really', accessed April 2019, (www.seek.co.nz).