Retail Sales Assistant
Kaiāwhina Hokohoko
Alternative titles for this job
Retail sales assistants serve customers, look after stock items and process sales.
Pay
Retail sales assistants usually earn
Source: Retail NZ 2020 Wages Guide, 2020.
Job opportunities
Chances of getting work as a retail sales assistant are average, with regular vacancies but strong competition for the roles.
Pay
Pay for retail sales assistants varies depending on experience and the company they work for. 
Entry-level sales assistants usually start on minimum wage.
Mid-level sales assistants usually earn up to $45,000 a year.
Senior sales assistants can earn between $45,000 and $48,000.
Source: Retail NZ 2020 Wages Guide, 2020.
(This information is a guide only. Find out more about the sources of our pay information)
What you will do
Retail sales assistants may do some or all of the following:
greet customers and help them choose products
advise customers how to use and care for products
assist with customer purchases, price enquiries and special orders
carry out stocktakes and order new stock
check delivered stock against orders and ensure it is in good condition
price and display stock
handle customer complaints
keep the retail space tidy and clean.
Skills and knowledge
Retail sales assistants need to have:
sales skills
knowledge of the products they are selling, and how they are used
knowledge of the Consumer Guarantees Act
cash-handling and basic maths skills
knowledge of their employer's policies and regulations for operation and sales
ability to display stock
good communication skills.
Working conditions
Retail sales assistants:
usually work regular business hours, but may also work evenings and weekends
work in shops or warehouses and may also work outdoors – for example, in garden centres.
What's the job really like?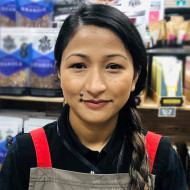 Trishna Khadji
Retail sales assistant
Lots of variety in retail
While studying for a diploma, Trishna Khadji began working part-time as a retail sales assistant for grocery retailer Farro Fresh. After completing her studies she was offered full-time work and has continued to enjoy the day-to-day activities in a busy retail environment.
"Most days I do a variety of things in the grocery and checkout departments. A typical work day includes receiving stock from our central warehouse in the morning, labelling and putting products on display and restocking shelves, dealing with suppliers, checking for expiring products, and also serving customers."
Always opportunities to learn
Trishna enjoys the way that there is always something new to learn when working in retail. While there can be challenges, such as handling customer complaints if they arise, the many opportunities to learn make it all worthwhile.
"I like learning about new things. When I started I had no knowledge of working in a retail store but I've always had a passion for learning new things. There are so many products and things to learn about, so my love of learning has helped me a lot."
Trishna suggests that if you stay motivated and focus on the work and opportunities to learn, retail can be a rewarding and enjoyable career.
Entry requirements
There are no specific requirements to become a retail sales assistant.
However, you can work towards a qualification on the job such as the New Zealand Certificate in Retail (Levels 3 and 4).
Secondary education
No specific secondary education is required for this job, but English and maths to at least NCEA Level 1 are useful.
Personal requirements
Retail sales assistants need to be:
good communicators
friendly and helpful
good at customer service
honest and reliable.
Useful experience
Useful experience for retail sales assistants includes:
cash handling
customer service
visual display and merchandising
other work that involves helping people.
Physical requirements
Retail sales assistants need to be reasonably fit and healthy, as they spend a lot of time on their feet and may do heavy lifting.
Find out more about training
Retail NZ

0800 472 472 - info@retail.kiwi - www.retail.kiwi

Service IQ

0800 863 693 - intel@serviceiq.org.nz - www.serviceiq.org.nz
Check out related courses
What are the chances of getting a job?
Impact of COVID-19 on retail jobs
The retail sector has experienced steady growth in recent years, but has been impacted significantly by the COVID-19 crisis. 
Vacancies for retail sales assistants are still being frequently advertised because:
it is a large industry with many roles
the job is often seen as an entry-level position, and once people gain experience they move on to higher positions
wages tend to be low, so people move on to better-paid roles.
However, getting a job can still be difficult due to high competition for roles and the impact of COVID-19.
According to the Census, 108,702 retail sales assistants and 1,464 pharmacy sales assistants worked in New Zealand in 2018.
Work flexibility and experience boost your chances
Chances of getting work as a retail sales assistant are best for those who:
have some retail experience
are flexible about their work hours (including working evenings and weekends).
Chances of finding work are also better between November and January, when retailers take on more staff to deal with the rush before and after Christmas.
Types of employers varied
More than half of those employed in the retail sector work in supermarkets and grocery stores.
Retail sales assistants also work for:
department stores
specialist clothing shops
hardware, building and garden suppliers
electronics goods stores
motor vehicle and parts outlets
food and beverage businesses.
Sources
Harford, G, chief executive, Retail NZ, careers.govt.nz interview, July 2020.
Stats NZ, '2018 Census Data', 2019.
Retail NZ, 'Retail Radar Report: Covid-19 Special Edition', July 2020, (www.retail.kiwi).
(This information is a guide only. Find out more about the sources of our job opportunities information)
Progression and specialisations
Retail sales assistants may move into senior sales, supervisory, shop management or regional management roles.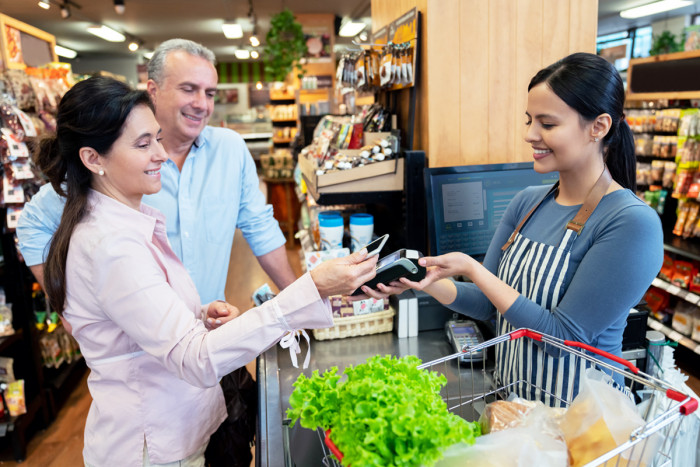 Last updated 1 April 2022