Graphic Designer
Kaihoahoa Whakairoiro
Alternative titles for this job
Graphic designers create artwork or designs for published, printed or electronic media, such as magazines, brochures and websites. They may also help to develop television advertisements.
Pay
Graphic designers with one to five years' experience usually earn
Senior graphic designers with more than five years' experience usually earn
Source: Careers New Zealand research, 2016.
Job opportunities
Chances of getting a job as a graphic designer are poor for people entering the role, but good for those with experience.
Pay
Pay rates for graphic designers depend on their experience, skill and employer.
A graduate graphic designer usually earns $32,000 to $50,000 a year.
Intermediate graphic designers with three to five years' experience usually earn between $45,000 and $65,000.
Senior graphic designers with more than five years' experience may earn $65,000 to $85,000.
Source: Careers New Zealand research, 2016.
(This information is a guide only. Find out more about the sources of our pay information)
What you will do
Graphic designers may do some or all of the following:
discuss and analyse the requirements and purpose of the project with their client
discuss how to approach the project with colleagues
develop design ideas by researching and brainstorming with colleagues
prepare sketches, instructions and layout diagrams
suggest production methods, materials and costs
show design ideas to the client
receive client feedback and alter the design accordingly.
Skills and knowledge
Graphic designers need to have:
knowledge of art materials and techniques
the ability to use colour and design effectively
expertise in printing and production methods
knowledge of advertising and marketing, and how people think and react to visual images
awareness of current market trends
artistic ability, including good sketching, drawing and painting skills
the ability to use computed-aided design (CAD) software
ability to use digital technology to aid in the creative/presentation process
the ability to understand clients' needs and turn them into suitable designs.
Working conditions
Graphic designers:
usually work regular business hours, but may be required to work evenings and weekends to meet deadlines
usually work in offices and studios, but may also work from home or travel locally to attend photo shoots
work in conditions that may be stressful due to deadlines.
What's the job really like?
Calum Robb
Director, Graphic Design Company
Like many other design graduates, Calum Robb struggled to find a job after his degree. So he and a friend, Ryan, set up a design business with a couple of laptops – Calum doing design and Ryan doing website coding. They kept their hospitality jobs, working on the business in their spare time. Working mostly from home, they have low overheads, so can charge a competitive rate.
Doing what he loves
"I am mainly working on website design. It's the creative flow from it that I like. Sometimes I regret studying design because of the lack of jobs there but then, I still love what I do, and I wake up every day and I'm happy with what I'm doing."
Business side tedious but vital
Calum says Ryan's business skills have been vital. "He did our partnership agreement and business plan. I find that side tedious – but I have to take responsibility as well, I can't just give it all to my partner.
"I'm proud of the business. We set it up when we were 22. I never would have thought it would last this long, and we've achieved a lot for how young we are."
Entry requirements
To become a graphic designer, you usually need a tertiary qualification in graphic design, media arts or visual communication.
You also usually require a portfolio of work to show prospective employers.
Secondary education
Four years of secondary education, to NCEA Level 2, is preferred. Useful subjects include art, art history, design, technical drawing, photography, English and maths.
Personal requirements
Graphic designers need to be:
organised
motivated
creative
accurate, with an eye for detail
able to accept criticism
able to work well under pressure
problem-solvers
good at communicating, and able to work well in a team.
Useful experience
Useful experience for graphic designers includes:
art or design work or courses
advertising or marketing work
publishing or printing work
media production work
typographic work (for example, working with type, font and page layout).
Find out more about training
Communication Agencies Association of NZ (CAANZ)

(09) 303 0435 - office@caanz.co.nz - www.caanz.co.nz

Designers Institute of New Zealand (DINZ)

(09) 529 1713 - designer@dinz.org.nz - www.dinz.org.nz
Check out related courses
What are the chances of getting a job?
There is a need for more senior graphic designers in New Zealand, however there are many graduates with little industry experience who are struggling to find work.
Competition for graphic design jobs high
Competition for graphic design vacancies is strong, so graphic designers in the early stages of their career need to be flexible. Your chances of getting a job are better if you have experience working in one of the following areas:
as a Mac operator, mainly working on existing designs, and preparing design work for publication
as a freelancer on short-term graphic design contracts
in an administration role at a graphic design company, to get industry experience.
Work not limited to design agencies
Work for graphic designers is not limited to just design agencies. Businesses also recruit graphic designers to manage the design and delivery of their marketing needs.
Graphic design as a role not clear-cut
Graphic design work is not clear-cut. There are a lot of overlaps with digital design, digital artistry, experiential design and advertising. Design studios expect their graphic designers to be capable of working across these different areas.
Networking and web design skills help your chances of getting work
Increasing numbers of graphic design and advertising firms are choosing to hire freelancers rather than full-time staff. Being able to market yourself and network with employers will give you a better chance of finding work.
Good web design skills will also help you find both freelance and full-time work, as more businesses are using the internet to promote themselves or their products and services.
Types of employers varied
Most graphic designers work for:
design and advertising agencies
print production and publishing companies
film and multimedia companies
web design companies
signmaking companies.
Some graphic designers do freelance work.
Sources
Careers New Zealand research, 2016.
Design Institute of New Zealand website, accessed July 2016, (dinz.org.nz).
Ministry of Business, Innovation and Employment, '2006-2014 Occupation Data' (prepared for Careers New Zealand), 2015.
(This information is a guide only. Find out more about the sources of our job opportunities information)
Progression and specialisations
Graphic designers can progress into managerial roles at graphic design companies, or may start their own graphic design businesses.
They may specialise in a particular area, such as:
illustration
print publishing
web design
advertising
corporate design.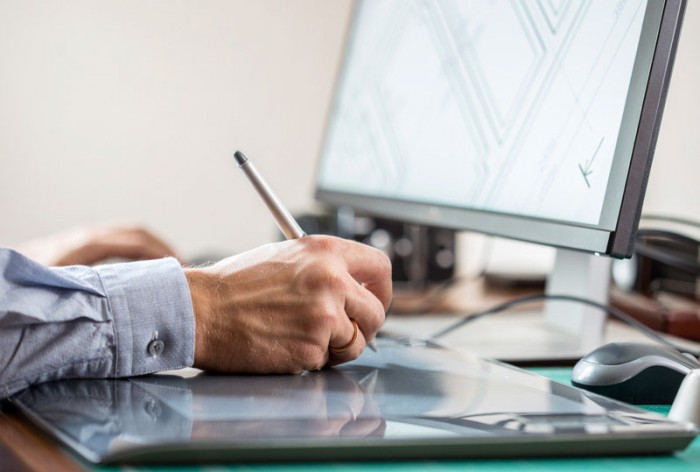 Last updated 12 July 2018