Graphic Designer
Kaihoahoa Whakairoiro
Alternative titles for this job
Graphic designers create artwork or designs for published, printed or electronic media such as magazines, brochures, television advertisements and websites. 
Pay
Graphic designers usually earn
Job opportunities
Chances of getting a job as a graphic designer are average for those wanting to enter the role, but good for those with experience.
Pay
Pay for graphic designers varies depending on skills, experience and employer.
Graphic designers usually earn between $54,000 and $100,000 a year.
Source: Hays, 'Hays Salary Guide FY 22-23', 2022.
(This information is a guide only. Find out more about the sources of our pay information)
What you will do
Graphic designers may do some or all of the following:
discuss project requirements with their client
discuss the project with colleagues
develop design ideas by researching and brainstorming with colleagues
prepare sketches, instructions and layout diagrams
create designs for different media
suggest production methods, materials and costs
show design ideas to the client
receive client feedback and alter the design accordingly.
Skills and knowledge
Graphic designers need to have:
knowledge of art materials and techniques
the ability to use colour and design effectively
expertise in printing and production methods
knowledge of advertising and marketing, and how people think and react to visual images
awareness of current market trends
artistic ability, including good sketching, drawing and painting skills
the ability to use computed-aided design (CAD) and creative software
the ability to understand clients' needs and turn them into suitable designs.
Working conditions
Graphic designers:
usually work regular business hours, but may be required to work evenings and weekends to meet deadlines
usually work in offices and studios, but may also work from home or travel locally to attend photo shoots
work in conditions that may be stressful due to deadlines.
What's the job really like?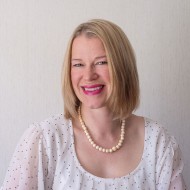 Mary Pickett
Director, MCP Design
Expect to start in a junior role
"I went to uni and studied visual communication and design and it was a case of finding any job I could when I graduated, which was working for smaller companies in junior roles. This often meant following templates that were already set-up and getting design experience that way."
Working with clients best part of the job
"What I like about the job is the creativity, and being curious about people's businesses and their goals. It's quite interesting dealing with people."
"I meet with clients and discuss not just the job, but also their business so I can get to understand it. I'll then work on concepts on the computer and take them back to the client to see which direction they like best. I enjoy helping them to think differently about how they can achieve their goals – I enjoy seeing them light up when they hear new ideas and get excited."
Networking and refreshing skills important
"It's important to keep learning, keep your skills up to date and be aware of trends. If you're freelancing it's really important to keep making contacts, as cold calling for new clients can be challenging. Always take advantage of any organised business networking opportunities in your area – you never know who you are going to meet! 
Networking usually works best through social interactions – which was how I was able to land several dream projects such as the art direction and design of a coffee table book for a major agricultural company."
Graphic designer video
Qeyloux and Izzy check out the work of Ariki Creative – 5:38 mins.
Tama: Chur, I bet you're wondering who this skux Māori boy is on your computer screen? And if you are thinking that…Chur again. Trending in 2k16 is Māori and employment and I'll let you in on a bit of a secret, the way to make gaining employment easier is whānaungatanga or networking. That way you will have the right people around you and you can have a Chur kind of day.

Qeyloux: Hi I am Qeyloux and I am in my last year of school. Next year I am out in the "working world" and heading out to test the waters. Ask the questions that not only help me find a job but a job that I will love.

Izzy: And to make sure we forget nothing on our fact finding mission, we're making a video diary out of it.

Kia Ora, ko Izzy, tōku ingoa.

Morgan Hale: Kia Ora, Morgan, tōku ingoa. I am the owner of Kaitiaki Studios and I am the lead designer at Ariki Creative.

Hori Mataki: My name is Hori Mataki. Head operator of Ariki Creative, we do graphic design, web design,mobile apps, VR/virtual reality.

Qeylouz: Is Māoritanga portrayed in your jobs, if so how?

Hori: Māoritanga portrayed in our Mahi, sort of underpins everything. It's like a big kaupapa of what we do. So being a design business, it's not just the thing that helps set us away from the pack, it's part of our brand and also part of who we are because we are Māori. The narratives of the stuff are not just there for business sake it's there because it's our tīpuna, it's our responsibility
to tell the stories of our ancestors and our tīpuna with mana and respect.

Izzy: What does a Māori wahine have to do to establish themselves in this career?

Morgan: It's hard - I am the only female in the hub as a digital native. A lot of my time goes into my family, and I have got a four year old so it takes a lot of my time and a lot of my mind power I guess. I am lucky as well I am the only one that is a virtual artist and tā moko artist and things like that. So I just make sure that those things that I do that they can't, are sort of seen in my work.

Qeyloux: So what do you guys do? Can it be taught?

Hori: If you can learn, you can learn anything, I reckon. And if you are not so good at learning, try and get better at learning because then you can learn anything. We got pretty much the world's at our fingertips now with the internet and things like that, resources, digital stuff. You can go online and pretty much find out anything you want in the world and you can try it and become anything you want.

Morgan: As long as you have that innovative spirit.

Izzy: Do you want to tell us a bit more about your tā moko career then?

Morgan: So I work as a Tattoo tā moko artist at Expression on New Regents Street in Christchurch. Varies it's not just Moko, I do lots of tattoo work, lots of Pacific Island work. Moko, I have been lucky enough to have some external influence from Fayne Robinson on bits and pieces of my work, which is awesome but I guess learning in a traditional tattoo studio you learn a lot about the machines and the techniques and things like that and a lot of what I learn here and the Māoritanga of what I learn as part of this hub carries on
to what I can do over there so everything compliments each other.

Qeyloux: So what are you doing here?

Hori: Working on a bit of design stuff for clothing, just working on some things for trade training.

Qeyloux: So what kind of process do you have to go to make this kind of stuff?

Hori: So we get approached by a client and they come and give us a design brief like what kind of colours they are into, the kind of look and feel that they are after, who's gonna be wearing the clothes. Who's gonna be wearing the design? And we work back from there, to come up with a look and feel.

Izzy: What inspires you to create your own designs?

Hori: We have a philosophy around whakapaka and tikanga so we will get a story that's grounded in traditional Māori design and bring it to the modern age and look at how we digitise things to make them look more contemporary.

So it's pretty much our goal with all our designs to carry the narrative from the people of the land.

Qeyloux: Kia Ora, so what are you doing here?

Morgan: At the moment we're doing some installations at the new Māori land courts. These are gonna be made out of wood slates, wrapped around.

Qeyloux: What kind of process do you go through around the concept of each design?

Morgan: Well at the start of it when we're sort of in brainstorming I usually draw lots of concepts on my tablet like this. We started playing with the idea of a Māori snowflake and I import the files into here and they get carried away as you can see in working files and we can use our software to integrate what we have designed.

Izzy: We heard you guys do VR as well - would you be able to show us?

Hori: Alright do you want to chuck this on?

What she is experiencing now is spherical videos, degrees virtual reality so she's pretty much seeing what's on here, on the screen at the moment.

Izzy: Looks quite awesome.

Tama: So let's recap what we just learned. Choose a job that fits in with your whānau and values.

Your skills and talent can transfer from job to job.

Have a passion for digitising and modernising Māori narratives.

Make sure you check out other awesome industry videos on the Māia website.
Entry requirements
To become a graphic designer, you need to have a tertiary qualification in graphic design, media arts or visual communication.
You also need to have a portfolio of work to show potential employers.
Secondary education
NCEA Level 3 is required to enter tertiary training. Useful subjects include design and visual communication (graphics), digital technologies, English, te reo Māori, art history, maths and painting, sculpture, photography, printmaking combined.
Personal requirements
Graphic designers need to be:
organised
motivated
creative
accurate, with an eye for detail
able to accept criticism
able to work well under pressure
problem solvers
good at communicating, and able to work well in a team.
You need to be artistic, methodical and detail orientated. You also need to be able to think laterally, be curious and be willing to learn.

---

Mary Pickett

Director, MCP Design
Useful experience
Useful experience for graphic designers includes:
art or design work 
advertising or marketing work
publishing or printing work
media production work
typographic work (working with type, font and page layout).
Find out more about training
Check out related courses
What are the chances of getting a job?
High competition for graphic design jobs
Competition for graphic design vacancies is strong. For graduates, chances of getting a job are best if you have work experience as a Mac operator or as a freelancer on short-term graphic design contracts.
Employers prefer graphic designers who can work across all media, including print, video and digital.
Chances good for experienced designers
Job vacancies for experienced graphic designers have been increasing.
According to the Census, 7,461 graphic designers worked in New Zealand in 2018.
Types of employers varied
Graphic designers may work for:
design and advertising agencies
print production and publishing companies
film and multimedia companies
web design companies
signmaking companies.
Some graphic designers do freelance work.
Sources
Pickett, M, director, MCP Design, careers.govt.nz interview, September 2018.
Ministry of Business, Innovation and Employment, 'Jobs Online Quarterly Report July 2017-July 2018', 2018, (www.mbie.govt.nz).
Stats NZ, '2018 Census Data', 2019.
Yoobee website, accessed September 2018, (www.yoobee.ac.nz).
(This information is a guide only. Find out more about the sources of our job opportunities information)
Progression and specialisations
Graphic designers may progress to set up their own graphic design business, or move into management roles at graphic design companies.
Graphic designers may specialise in a particular area, such as:
advertising
animation
digital design
illustration
print publishing
user experience design
visual effects
web design.
Last updated 16 August 2022