Signmaker
Kaihanga Tohu
Alternative titles for this job
Signmakers design, print and install signs in a range of materials, for indoor and outdoor use. They use computer technology, and occasionally produce signage by hand.
Pay
Newly qualified signmakers usually earn
Signmakers with at least five years' experience usually earn
Job opportunities
Chances of getting a job are poor for newly-qualified signmakers, but good for those with experience.
Pay
Pay for signmakers varies depending on experience.
Newly qualified signmakers usually earn between minimum wage and $50,000 a year.
Signmakers with at least five years' experience usually earn between $60,000 and $90,000 a year.
Signmakers who own their own businesses may sometimes earn more than this.
Source: Competenz, 2016.
(This information is a guide only. Find out more about the sources of our pay information)
What you will do
Signmakers may do some or all of the following:
discuss design ideas with clients
create designs, lettering and layouts using a computer or sometimes by hand 
make neon or illuminated (LED) signs
put signs onto a variety of surfaces, including billboards, vehicles and buildings
seal finished surfaces with a chemical spray and clear vinyl
clean and maintain equipment
prepare quotes.
Skills and knowledge
Signmakers need to have:
skills and knowledge in art, design and layout techniques
skills in using computers and industrial printers, and knowledge of computer graphic design programmes
knowledge of hand-lettering techniques for traditional signmaking
knowledge of paints and solvents, and how they react on different surfaces
practical abilities – for putting up scaffolding and signs.
Signmakers who run their own companies also need business and marketing skills.
Working conditions
Signmakers:
usually work regular office hours, with some early mornings, evenings or weekends 
work in workshops and studios, and may work indoors or outdoors erecting signs
work in all weather conditions, and may work in environments where they need to use protective equipment because of chemical fumes from paints and sprays.
What's the job really like?
Paul Mendes da Costa
Signmaker
Always another challenging project
"I've had some really interesting assignments in this job. One that comes to mind is when the team and myself had the privilege of doing the very first aircraft wrap [a large printed design applied to a plane's exterior] on a 747 for an All Blacks World Cup campaign.
"Since then we've done quite a few planes and travelled around the world to put these wraps on large aircraft."
Computer design and artistic skills required
"Signmaking now is so computer-generated. You are expected to produce a digital print, mount it on a board and stick it up. Most sign businesses now will have a graphic designer who has all the computer skills – Photoshop and Illustrator – so they can create new art, or work with the art that a client is giving us.
"Previously you had to be an artist, and although you don't need to do art to the same degree, it is always beneficial to have those skills. I think you are better off doing this job with a combination of computer and artistic skills."
Dion talks about life as a signmaker - 2.30 mins. (Video courtesy of Got a Trade? Got it Made!)
Dion: My name's Dion Wharemate. I've been an apprentice for six months now. Why I chose signwriting is because I wanted to get in touch with my creative side and I thought it would be a great opportunity to build a career.

Smudge Signs, well basically this is my family away from home. We help each other, I've learnt a lot of skills from my supervisor, also my boss, and also my peers here.

Corey: Smudge Signs was started six and a half years ago. We're a sign manufacturing company with extensive in-house sign manufacturing equipment. So, pretty much a one-stop shop really.

We believe it's important having apprentices on board to upskill and bring through the next generation of sign writers.

Kylie: Coming from someone who wasn't in the industry, didn't know it at all, I love it. And the reasons I love it are because it's so varied, no day's the same.

Steven: The variety in the job is pretty awesome.

Peter: It's always challenging, it's always something fresh and new, new ideas.

Dion: It's using my mind now instead of just physical labour. I have learnt a lot of things, a lot of skills, which is quite hard at times but that's why the boys, they're all here to help. From window frosting all the way to –

Steven: – CNC cutting 3D letters –

Dion: – welding –

Steven: – vinyls that'll wrap around cars, that's another highlight for me, love that –

Peter: – company signage, building signage, big pylon prints –

Dion: – also there is a bit of electronics involved as well –

Steven: – when all that comes together it's amazing.

Corey: You need to have a passion in something regardless of what type of business or what type of trade that you decide to do, I think if you don't have a passion in something I don't think you'll go far.

Dion: I can basically use these life skills to apply in everyday life. Whether I want to build something at home which makes my partner feel a lot better.

Peter: Whatever I learn here I can definitely apply in any other area wherever my career path will take me after this. I do recommend signwriting to anyone who's interested.
Entry requirements
To become a signmaker you need to complete a four-year apprenticeship, which involves on-the-job training and working towards a New Zealand Certificate in Signmaking (Level 4).
Signwriting apprenticeships are available through Competenz.
Secondary education
A minimum of NCEA Level 1 is preferred to enter further training. Useful subjects include English, mathematics, visual arts, digital technology, media studies and design and visual communication.
You can also earn signmaking unit standards through the Gateway programme at your school. The standards include both theory and practical components, so you can gain NCEA Level 2 and Level 3 credits as well as practical work experience. 
Personal requirements
Signmakers need to be:
creative, with an eye for layout and design
good at communicating with clients and interpreting their design briefs
able to work to deadlines 
good at working in a team environment
practical, with a hands-on approach to their work
accurate and detailed.
Useful experience
Useful experience for signmakers includes working as a:
painter
screen/digital printer
carpenter
graphic designer
draughtsperson.
Physical requirements
Signmakers need to have:
good hand-eye co-ordination
normal colour vision
a good level of fitness – some jobs require climbing and balancing to erect a sign.
Signmakers who erect signs on high billboards or buildings must be comfortable working at heights.
Find out more about training
Competenz

0800 526 1800 - info@competenz.org.nz - www.competenz.org.nz
Check out related courses
What are the chances of getting a job?
Approach companies directly when starting out
The best way to get work as a newly qualified signmaker is to approach signmaking companies in person, as this shows employers you are motivated and enthusiastic.
Sometimes you can gain employment where you did your apprenticeship, if you have shown a willingness to learn and have a positive attitude.
Qualified and experienced signmakers have a good chance of getting work in larger cities.
Most signmakers work for small businesses or for themselves
Signmakers work for:
sign companies
printing companies
visual display companies
graphic design companies.
Some signmakers are self-employed and may work freelance or run a local franchise.
Sources
Competenz website, accessed September 2016, (www.competenz.org.nz).
New Zealand Sign and Display Association (NZSDA) website, accessed September 2016, (nzsda.org.nz).
(This information is a guide only. Find out more about the sources of our job opportunities information)
Progression and specialisations
Signmakers may progress to set up their own signmaking business.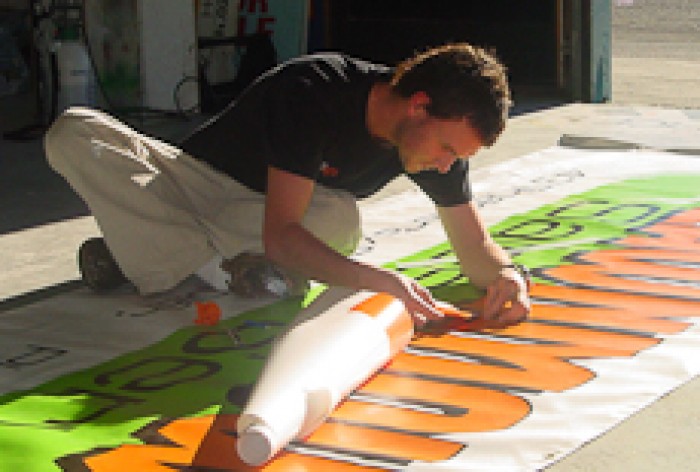 Last updated 12 July 2018