Animator/​Digital Artist
Kaiwhakahauora/​Ringa Toi Mamati
Alternative titles for this job
Animators and digital artists use software, models, photography and drawings to create still and moving images for advertisements, film, print, web or television. 
Pay
Animators/digital artists can earn
Motion designers can earn
Source: The Creative Store, 2023.
Job opportunities
Chances of getting a job as an animator/digital artist are average for those wanting to enter the role, but good for those with experience.
Pay
Pay for animators/digital artists varies depending on skills, experience and the type of work they do.
Animators can earn $55,000 to $100,000.
Motion designers can earn $47,000 to $120,000.
Self-employed animators/digital artists may be paid by the frame/picture.
Sources; The Creative Store, 'NZ Salary Survey', 2023.
(This information is a guide only. Find out more about the sources of our pay information)
What you will do
Animators/digital artists may do some or all of the following:
meet with directors, clients or employers and agree on a brief (work plan)
plan animation and design work for their team
illustrate books and other print media
build models, puppets or sets, or hand-draw or paint characters, and give them skin surfaces with texture and colour
film models and hand-drawn animations
create 3D mesh wireframes to produce backdrops for 2D and 3D animation scenes
use computer programmes to "rig" characters, giving them skeletons that allow them to be animated
use computer animation programmes to animate characters and objects in 2D or 3D
direct the filming of motion capture (recording physical movements that are then translated into digital images)
be involved in hiring and managing staff.
Skills and knowledge
Depending on the media they work with, animators/digital artists need to have:
drawing, painting and design skills, if they are making models
animation skills (2D and 3D)
coding skills
knowledge of animation software
an understanding of how people and animals move and express their feelings
the ability to create different moods and feelings in characters
knowledge of print, film, television or video game production.
Working conditions
Animators/digital artists:
often work irregular hours and may be required to work evenings and weekends to complete projects
often work on contracts, which may range from two weeks to two years
usually work in offices or workshops, and may move frequently from location to location on different projects.
What's the job really like?
Visual effects artist and animator
Vania Chandrawidjaja talks about life as a visual effects artist and animator – 1.57 mins
Hi, I'm Vania and I'm a motion designer.
So motion designers: we take 2D images and make them move on screen.
We unpack a lot of complex information and simplify those into
charts, graphs,
and other visuals. So motion design is a hybrid of graphic design and animation.
Usually you can see it on billboards and on TV advertisements.
I work in the news and current affairs departments.
We collaborate with the journalists and help them to deliver the message they're
wanting to say,
and we help them visualise that. There's a lot of moving images and moving text,
right? We take those images,
get rid of the background in Photoshop,
and then export that into After Effects where we animate them using key
frames. So we would time those in and then make them move.
Yeah, that's how you make moving images and text. I studied a Bachelor of Media
Design, and I took motion design as my course,
and it took 3 years to complete. Some of my teammates actually,
they built up their portfolio through online courses as well.
So you don't really need to do a bachelor if you do want to get in the motion
industry. The most difficult thing about my job is when you need to come up with
an idea very quickly, especially with news, but we also get to discuss that.
Say, oh, I'm working on this graphic, but I'm stuck on this idea.
You could just like pop by someone else's desk and say "Hey,
could you help me?". I've always been a creative person.
So being a motion designer is a very nice mix of
doing something creative for yourself and also for other people because for news
is very informative and educational.
So I guess that's a plus point for me working as a motion designer.

Entry requirements
To become an animator/digital artist you need to be able to show the quality of your work. You can do this either through a portfolio of work or a website, or a showreel with a shot list.
Employers usually require you to have one or all of the following:
experience in a particular type of animation
experience with particular animation software
a tertiary qualification such as a Bachelor of Creative Media Production, Bachelor of Design majoring in visual communication design, or a Diploma in Animation.


Secondary education
A tertiary entrance qualification is required to enter further training. Useful subjects include design and visual communication (graphics), design (practical art), digital technologies, art history, maths, te reo Māori and painting, sculpture, photography, printmaking combined.
Personal requirements
Animators/digital artists need to be:
creative and imaginative
disciplined, motivated and good at setting goals
comfortable promoting themselves and their work
adaptable, and able to accept criticism of their work
able to work well under pressure and to deadlines
good communicators.
Useful experience
Useful experience for animators/digital artists includes:
drawing, life drawing, cartooning or graphic design experience
experience in film or photography
computer design and drawing experience
computer programming experience
experience in animation software.
Check out related courses
What are the chances of getting a job?
Strong competition for entry-level animator/digital artist jobs
Competition for entry-level animator/digital artist jobs is strong. For graduates, chances of getting a job are best if you:
have showreels of your work that target an employers' needs
promote your personal brand (your unique skills, style and technique)
showcase your work through social media and websites such as Art Station and The Rookies
have work experience such as internships, summer scholarships, collaborations, team projects or freelance work
have a positive, can-do attitude
network to get your work and name known
are prepared to adapt to a wide range of tasks and learn new skills rapidly.
According to Massey University's College of Creative Arts, around 60% of their graduates find work related to animation.
According to the Census, 621 animators/digital artists worked in New Zealand in 2018.
Experienced and multi-skilled animators/digital artists in demand
There is a shortage of experienced and talented animators/digital artists. They are in demand from animation, advertising and design companies in New Zealand and overseas.
Also in high demand are animators/digital artists with technical skills in coding and computer software, game development, simulation and rendering research, technical directing, rigging and lighting. Animators who can work as producers managing staff or workflows, or have marketing skills are also needed.
Animators/digital artists who combine their animation qualification with computer software development training can increase their chances of finding work.
Multimedia specialist (film animator) appears on Immigration New Zealand's long-term skill shortage list. This means the Government is actively encouraging skilled animators/digital artists from overseas to work in New Zealand.
Most animation work project based
Experienced animators/digital artists are usually employed as freelancers for one-off projects such as commercials, films or events which have a limited production time. 
Animators/digital artists need to be able to plan and manage their contracts, and network to find new work.
Types of employers varied
Employers of animators/digital artists include:
major feature film studios
television studios
digital companies that create commercials, TV shows, TV and film credits and music videos
web and mobile game design companies
publishing companies.
Animators/digital artists may work as freelancers, or work on contract for companies that offer graphic design, animation and advertising services.
Sources
Boucher, N, project manager - outreach, Massey University College of Creative Arts, careers.govt.nz interview, October 2018.
Feron, R, lecturer - 3D, Media Design School, careers.govt.nz interview, October 2018.
Immigration New Zealand, 'Long Term Skill Shortage List', 27 May 2019, (www.immigration.govt.nz).
Miles, N, Toybox, careers.govt.nz interview, October 2018.
Reece, S, 'SIT to Offer Gaming, Animation Courses', 26 September 2018, (www.odt.co.nz).
Stats NZ, '2018 Census Data', 2019.
Stats NZ, 'The Screen Industry Survey 2016/17', 10 April 2018, (www.stats.govt.nz).
(This information is a guide only. Find out more about the sources of our job opportunities information)
Progression and specialisations
Animators/digital artists may progress to set up their own animation or digital business, or move into management roles.
Animators/digital artists may progress to become narrative designers (designing the stories of games), art directors, animation directors, producers, production managers or technical directors.
Animators/digital artists may specialise in:
2D animation or 3D animation
concept art
game and app development
lighting
modelling
motion scheduling and stop-motion
previs layout (laying out scenes before they're animated)
rendering
rigging (creating a skeleton for an animation)
shading and texture
storyboarding
visual effects.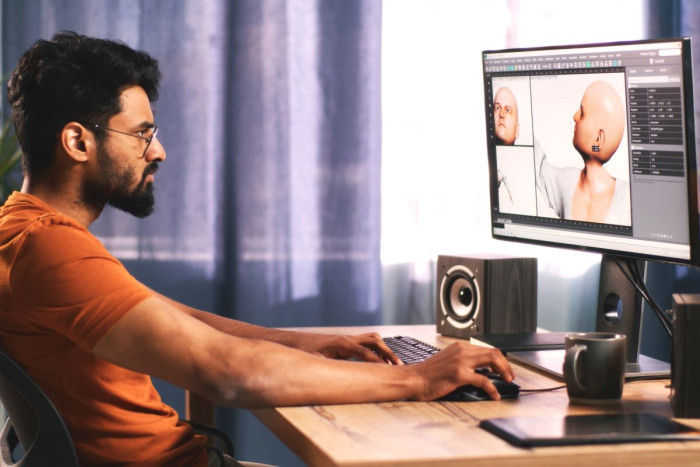 Last updated 21 November 2023