Electrical Engineering Technician
Kaihangarau Take Pūhiko
Alternative titles for this job
Electrical engineering technicians interpret designs and technical instructions from an electrical engineer and ensure that they are accurately implemented. They also develop, install, test and maintain equipment that produces, transmits or uses power.
Pay
Electrical engineering technicians with one to three years' experience usually earn
Electrical engineering technicians with more than three years' experience usually earn
Job opportunities
Chances of getting a job as an electrical engineering technician are good as there is a shortage of people in the role.
Pay
Pay for electrical engineering technicians varies between employers and depends on experience and the work being done. According to industry sources:
most electrical engineering technicians start out on between $20 and $30 an hour
those with over three years' experience usually earn between $30 and $35 an hour
senior electrical engineering technicians in management roles can earn between $70,000 and $120,000 a year.
(This information is a guide only. Find out more about the sources of our pay information)
What you will do
Electrical engineering technicians may do some or all of the following:
research new ways to solve electrical problems
prepare charts, drawings and test models from instructions, technical data and system requirements
perform tests, record the results and report the findings, recommendations and conclusions
estimate materials and costs required for new equipment and installations
prepare the technical specifications of contracts, and prepare service reports for clients
assess the condition of electrical equipment, and ensure safety and design standards are met
install, repair, test, find faults and maintain equipment
be involved in the design of complex electrical installations and control circuits under the supervision of an engineer
assist electrical fitters with complex problems in the field.
Skills and knowledge
Electrical engineering technicians need to have:
knowledge of electrical theory and practice
an understanding of health and safety, and industry standard guidelines
knowledge of how to use and care for their equipment
good practical and technical skills to operate and maintain equipment
drawing skills and the ability to interpret design drawings.
Working conditions
Electrical engineering technicians:
usually work regular business hours but may work irregular and long hours to meet deadlines. They may work evenings and weekends, and are sometimes on call to fix emergency faults
work in laboratories, workshops, power stations and substations.
What's the job really like?
Neil Matheson
Power Technician
Keeping the lights on
Neil Matheson's role as a power technician in the electrical supply industry is diverse. He spends most of his time working in power stations and substations ensuring that the equipment used in these important electrical supply facilities is in good working order.
"A lot of our work is insulation and testing, involving maintenance and commissioning new equipment."
Satisfaction from fixing faults
Another part of Neil's job is responding to faults that may be affecting the power supply. While they don't happen all that often, Neil finds it a satisfying part of the work.
"It's good when you get a fault in the middle of the night and you're initially not sure what's wrong. You get a bit of a kick out of it when you manage to fix it."
A job with a future
Whether it's testing, installing or repairing faults, Neil knows his role is crucial in keeping the power flowing. "Job security is a huge plus and even if there is a downturn, everyone needs power. Technicians are in a strong position and we get paid well because there are so few of us around."
Entry requirements
To become an electrical engineering technician you need to complete a New Zealand Diploma in Engineering (NZDE) (Electrical). This qualification takes two years of full-time study to complete.
Once on the job, electrical engineering technicians can work towards completing the New Zealand Diploma in Engineering Practice (NZDEP), which leads to certification as an engineering technician with the Institution of Professional Engineers of NZ (IPENZ).
Secondary education
NCEA Level 2 is required to enter tertiary training. Useful subjects include mathematics, physics and technology. 
Personal requirements
Electrical engineering technicians need to be:
accurate, methodical, reliable and responsible
able to follow instructions and remain calm under pressure
skilled in making calculations
skilled in using computers
skilled in problem-solving and decision-making.
Useful experience
Useful experience for electrical engineering technicians includes:
engineering work
draughting work
experience in electrical or mechanical roles.
Physical requirements
Electrical engineering technicians need to have good hand-eye co-ordination and normal colour vision.
Registration
Electrical engineering technicians can register as chartered members of Engineering New Zealand.
Find out more about training
Electrical Workers Registration Board (EWRB)

Electricity Engineers' Association of NZ (EEA)

Connexis

Engineering New Zealand
Check out related courses
What are the chances of getting a job?
Connexis, who are responsible for electricity supply industry training, estimate that around 43 new electrical engineering technicians are required each year; however, in recent years only about 14 people are completing training.
Government looking to attract electrical engineering technicians to New Zealand/Canterbury
Electrical engineering technician appears on Immigration New Zealand's long-term skill shortage list. This means the Government is actively encouraging skilled electrical engineering technicians from overseas to work in New Zealand.
Electrical engineering technician has also been added to Immigration New Zealand's Canterbury skill shortage list. This means the Government is actively encouraging skilled electrical engineering technicians to work on the rebuild in Canterbury following the 2010 and 2011 earthquakes. 
Infrastructure investment has created more jobs for electrical engineering technicians
Demand for electrical engineering technicians has grown with increased government spending on the upgrading and replacement of the national grid (the network that distributes electricity around New Zealand). 
Power companies have also increased the rate at which they are building new high-voltage substations, in order to cope with increases in the population and the subsequent increased demand for power. Electrical engineering technicians who specialise in this type of work are in short supply.
Types of employers
Electrical engineering technicians work for companies that install, service and maintain electrical networks. These can be:
electrical maintenance and contracting companies
power generation companies
engineering firms.
Sources
Berry, P, executive director, Electricity Engineers' Association, Careers Directorate – Tertiary Education Commission interview, February, 2018. 
Electricity Supply Industry Training Organisation (ESITO), 'Electricity Supply Sector Workforce Forecast 2010-20', (www.esito.org.nz).
Hays Recruitment, 'Hays Quarterly Report, Energy', January 2018, (www.hays.net.nz).
Immigration New Zealand, 'Canterbury Skill Shortage List', accessed February 2018, (www.immigration.govt.nz).
Immigration New Zealand, 'Long-term Skill Shortage List', accessed February 2018, (www.immigration.govt.nz).
Ministry of Business, Innovation and Employment, 'Engineering Technicians Outlook', 2018, (www.mbie.govt.nz).
(This information is a guide only. Find out more about the sources of our job opportunities information)
Progression and specialisations
Electrical engineering technicians may progress to supervisory roles overseeing a team of technicians, or complete a Bachelor of Engineering (Electrical) or equivalent qualifications and move into an electrical engineering role.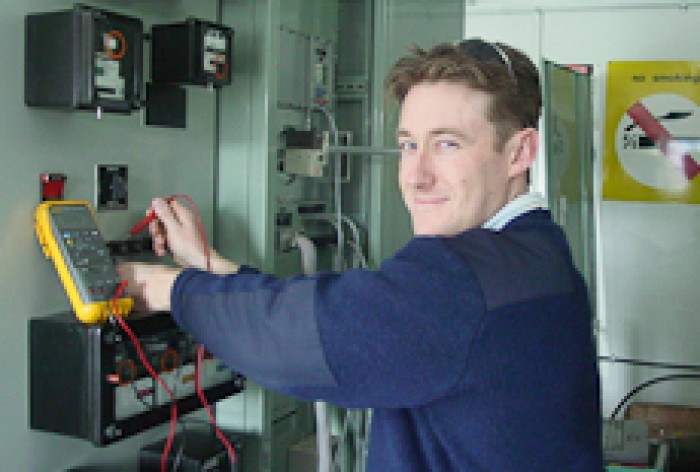 Last updated 20 July 2018