Electrical Engineer
Mataaro Pūhiko
Alternative titles for this job
Electrical engineers design, construct and manufacture electrical systems. They also maintain, operate and manage these systems.
Pay
The median salary for electrical engineers is
Source: Engineering NZ, 2021.
Job opportunities
Chances of getting a job as an electrical engineer are good due to a shortage of workers.
Pay
Pay for electrical engineers varies depending on skills and experience.
For graduate electrical engineers, the median salary is $63,000 a year.
For electrical engineers in independent practice, the median salary is $101,000.
For electrical engineers in positions such as team leader, the median salary is $125,000.
For electrical engineers in positions such as technical manager, the median salary is $181,000. 
Source: Engineering New Zealand, 'Engineering New Zealand 2021/2022 Remuneration Survey',  2021.
(This information is a guide only. Find out more about the sources of our pay information)
What you will do
Electrical engineers may do some or all of the following:
develop, design or update engineering plans
design ways to generate, distribute and manage electricity
design automated and computerised methods to control electrical processes
calculate the cost of projects, and materials needed
write reports and develop instruction manuals for installing new electricity systems and equipment
supervise the installation and maintenance of electrical systems and equipment
oversee electricity system tests and correct any faults.
Skills and knowledge
Electrical engineers need to have:
knowledge of electronics
knowledge of key electrical principles such as circuit theory
an understanding of electrical engineering equipment and safe practices
knowledge of the laws, resource management and industry standards that apply to electrical engineering
design and drawing skills, including knowledge of computer-aided design (CAD) software.
Working conditions
Electrical engineers:
usually work regular business hours, but may have to be on call or work irregular hours
usually work in offices, but may also work in laboratories, workshops or on-site at power stations or building sites.
What's the job really like?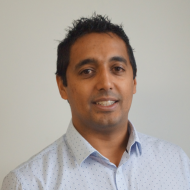 Rishen Maharaj
Work Group Manager – Mechanical and Electrical
An international career in electrical engineering
A career in electrical engineering has taken Rishen Maharaj around the world, and given him many memories. He has completed projects in the Middle East, the UK, France, Italy and Australia.
But the job he remembers best is working at the Edgbaston Cricket Ground in Birmingham, England.
"To see the Cricket World Cup this year, and to have been involved in developing the ground they were playing on – it's a good feeling," says Rishen.
A managerial role in New Zealand
Now back in New Zealand, Rishen works for WSP Opus in a managerial role.
"I'm currently working on a hospital on the West Coast, and a few government contracts are coming up."
Rishen also recently set up Engineering New Zealand's electrical engineering group.
A career full of opportunity
Rishen's advice to aspiring electrical engineers is to work hard, as it will pay off.
"I've done a lot of hard work and tough projects, but it's a good feeling to leave behind a great legacy.
"If you put the effort into your career, you can get some great opportunities in engineering."
Entry requirements
To become an electrical engineer you need to have a Bachelor of Engineering with Honours.
Secondary education
NCEA Level 3 is required to enter tertiary training. Useful subjects include maths with calculus, physics, construction and mechanical technologies, and processing technologies.
Personal requirements
Electrical engineers need to be:
accurate and organised
safety-conscious
good at maths
adaptable
practical
able to work well in a team.
Useful experience
Useful experience for electrical engineers includes work as:
an electrician
a mechanic
an electrical engineering technician.
Physical requirements
Electrical engineers need to have normal colour vision, as electrical components are often colour-coded.
They also need to be reasonably fit as they may have to walk long distances to work sites, and carry equipment.
Registration
Professional engineers who have five to eight years of experience can apply to Engineering New Zealand to become a chartered professional engineer (CPEng).
Find out more about training
Engineering New Zealand

(04) 473 9444 - hello@engineeringnz.org - www.engineeringnz.org
Check out related courses
What are the chances of getting a job?
Shortage of electrical engineers
Opportunities for electrical engineers are good due to a shortage of workers, and high demand for their services.
Electrical engineer appears on Immigration New Zealand's long-term, and construction and infrastructure skill shortage lists. This means the government is actively encouraging skilled electrical engineers from overseas to work in New Zealand.
According to the Census, 3,576 electrical engineers worked in New Zealand in 2018.
Growing population creates demand for electrical engineers
New Zealand's growing population means demand for electrical engineers is expected to remain strong. They are needed to work on:
new housing developments and substations
upgrades of the the national grid – the high-voltage network that carries electricity around the country.
Types of employers varied
Electrical engineers often work for power supply companies.
They may also work for:
regional lines companies, which carry electricity from the national grid to homes and businesses
engineering consultancies
engineering firms.
Sources
Adriaansen, R, recruitment consultant, RobLawMax Recruitment, careers.govt.nz interview, July 2019.
Hays Recruitment, 'Hays Job Report', accessed July 2019, (www.hays.net.nz).
Immigration New Zealand, 'Construction and Infrastructure Skill Shortage List', 27 May 2019, (www.immigration.govt.nz).
Immigration New Zealand, 'Long Term Skill Shortage List', 27 May 2019, (www.immigration.govt.nz).
Stats NZ, '2018 Census Data', 2019.
Wikipedia, 'National Grid (New Zealand)', accessed July 2019, (www.wikipedia.org).
(This information is a guide only. Find out more about the sources of our job opportunities information)
Progression and specialisations
Electrical engineers may progress to work:
as managers
for engineering consulting firms
their own consultancies.
Last updated 20 September 2022