Fishing Skipper
Kaiurungi Hao Ika
This job is sometimes referred to by alternative titles
Fishing skippers are responsible for running a fishing boat. Responsibilities range from navigating the vessel and organising the crew, to catching and processing fish.
Pay
Inshore fishing skippers usually earn
Deep-sea fishing skippers usually earn
Source: New Zealand Maritime School
Job opportunities
Chances of getting a job as a fishing skipper are average, but expected to improve due to an ageing workforce.
Pay
Pay for fishing skippers varies depending on the size and type of the boat they operate and whether they own it, the fish species being targeted, and the size of their catch.
Inshore fishing skippers usually earn between $40,000 and $80,000 a year, and a few may earn more than $100,000.
Deep-sea fishing skippers usually earn between $130,000 and $280,000.
Source: New Zealand Maritime School
(This information is a guide only. Find out more about the figures and diagrams in our job information)
What you will do
Fishing skippers may do some or all of the following:
hire and direct the crew
navigate their fishing boats to and from fishing grounds
manage the deck and fishing duties
record fish catches and keep quality control records
ensure the ship is properly equipped and maintained
ensure the health and safety of the crew
undertake maintenance and emergency repairs.
Skills and knowledge
Fishing skippers will learn or have:
vessel-handling skills and an understanding of their vessel's capabilities and equipment
good navigational skills
knowledge of the habits and location of the fish species they're catching
the ability to identify fish using radar and echo-sounders
knowledge of tides, coastlines, marine hazards and the weather
an understanding of health, safety and hygiene rules and regulations
knowledge of the Fisheries Act, Maritime Safety Authority requirements, and fishing quotas.
Working conditions
Fishing skippers:
usually work 12-hour days, including weekends, when they are at sea
may work at sea for periods ranging from a day to many weeks
work in all types of weather, and in conditions that may be cramped and hazardous.
What's the job really like?
Captain Chris Patrick, deepwater fishing skipper
Captain Chris Patrick talks about working as a captain on a deepwater fishing vessel - 3:08 mins (Video courtesy of Seafood New Zealand)
My name is Chris Patrick, I am a captain for Talley's Fisheries on the Amaltel Columbia. We work a deep sea factory trawler predominantly around the coast of New Zealand, off the west coast of the south island as well. The deep sea fleet is predominantly bigger vessels and the inshore fleet being the smaller vessels.

We generally do around six weeks, 30 to 40 days is an average trip. Generally for fishing we use electronic - we've also got in conjunction with our sounders now, we've got the 3D mapping system which maps the ocean floor so basically it's a topographical map of the ocean floor and we build those with our sounders, ourselves. So we take depths and they're becoming detailed, the more we use them, we get a very very good look at the ocean floor.

You can actually see where and why the fish go to certain places and it allows you to keep away from certain places too. You find after the spawn it quite often happens, you'll have a substantial amount of fish on the coast that are there spawning, they're grouping up and schooling up. You can't even track them, they go from massive schools of fish and then all of a sudden they're instantly gone. Then we go back to what we call the feeding grounds which is predominantly what we spend most of the time during the year on, fishing hoki.

Careerwise it's absolutely fantastic, it really is a good career. From the age of seven I wanted to be a fisherman so, you know, I cranked into it at 15 and really never looked back, you know, it's been fantastic. I mean it is a challenging role, as a captain you're not just catching fish - that's probably 50% of your role.

They formed a company specifically for the sustainability of our main industry that we predominantly fish which is the hoki, and they do for the other species as well. We have a lot of areas that we don't fish for small fish stocks, which is one of the reasons our stocks have increased substantially in the last five to six years. It's in our best interest to protect all the other species, we have a lot of codes and rules we stick to with the likes of seals and seabirds and anything like that - move on rules - so we might steam on two or three miles and leave them behind just so there's no, or very minimal risk of catching them and getting them in the nets.

Probably on average at least three to four times a week we'll have fish somewhere in the menu, either lunchtime or dinnertime. I mean you can't work on a fishing boat and not you know, the fish is fresh and nice and you know a good selection so it's pretty hard to go past fresh seafood that's for sure. Fresh hoki is absolutely beautiful and the snap frozen stuff we did is great. I'm quite fond of beer batter and plenty of lemon, a bit of lemon pepper, it's beautiful.
Entry requirements
To gain fishing skipper qualifications you must complete vessel time (time at sea working on a boat or ship) and classroom training.
To become a deep-sea fishing skipper you need to have:
experience working as a first or second mate on a ship's bridge
skipper fishing vessel unlimited certificate.
To become an inshore fishing skipper you need to have:
experience working as a deckhand
skipper restricted limit certificate
skipper fishing vessel certificate. 
Fishing skippers who run their own boat must hold a fishing permit and Annual Catch Entitlement (ACE) and/or quota shares.
Secondary education
NCEA Level 2 English and maths are useful.
Personal requirements
Fishing skippers need to be:
responsible, practical, and able to work well under pressure
safety-conscious 
able to think on their feet and remain calm in emergencies
good at communicating and leading others
good at making decisions.
"When you take a boat to sea you've got to keep it running, keep everybody safe, make a dollar and come home at the end of the week."

Jeff Morton - Fishing Skipper
Useful experience
Useful experience for fishing skippers includes:
general deckhand work
work as a first or second mate on a fishing boat
navigational work
other sea or boat work
other commercial fishing experience.
Physical requirements
Fishing skippers on inshore fishing boats need to be fit and healthy, as their role involves a lot of physical labour. Physical fitness is less important for deep-sea fishing skippers, as their role is usually confined to the wheelhouse.
Registration
Fishing skippers who own their own boat must register their vessel.
Find out more about training
Nelson Marlborough Institute of Technology - Maritime

0800 422 733 - www.nmit.ac.nz

Maritime New Zealand

0508 22 55 22 - enquiries@maritimenz.govt.nz - www.maritimenz.govt.nz
Check out related courses
What are the chances of getting a job?
Retiring skippers create opportunities
Most fishing skipper opportunities arise due to retirements. The fishing skipper workforce is ageing, and a significant number are likely to retire between 2017 and 2022, which will create more opportunities for people wanting to enter the role.
Some skippers own their boats, others are employed by fishing companies
Most of the 1,500 fishing boats registered in New Zealand are used on inshore waters – only about 35 have deep-sea fishing permits.
On smaller inshore fishing boats, skippers either own the boat they operate, or are directly employed by the owner.
On larger deep-sea fishing boats, skippers are employed by the company operating the boat.
Sources
Ministry for Primary Industries, 'The New Zealand Fishing Industry', accessed June 2013.
Seafood Industry Council, 'Industry Fact File', accessed September 2011, (www.seafoodindustry.co.nz).
Walker, K, manager, International Maritime Institute of New Zealand, Careers New Zealand interview, August 2015.
Progression and specialisations
Fishing skippers can progress to work in onshore management roles, such as vessel manager, within a fishing company.
They specialise in either deep-sea or inshore fishing.
Deep-sea Fishing Skipper

Deep-sea fishing skippers may lead a large crew and play a managerial role on the fishing boat, they must hold a skipper fishing vessel unlimited diploma.

Inshore Fishing Skipper

Inshore fishing skippers may have just one crew member working for them. They have a more hands-on role in operating the boat and catching fish. They must hold a skipper fishing vessel limited licence.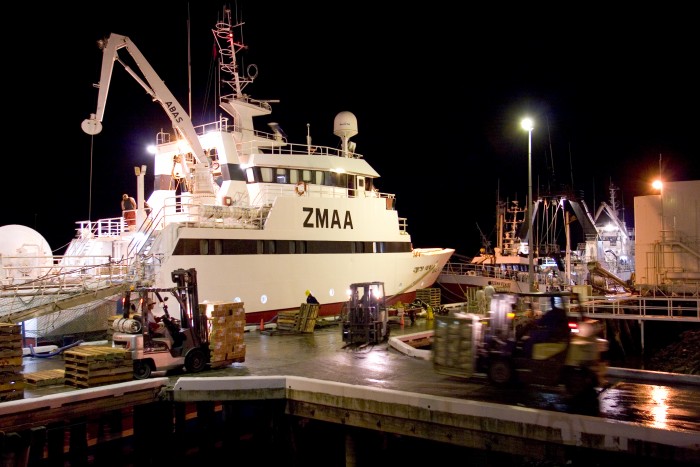 Last updated 12 June 2017