Miner/​Quarry Worker
Kaimahi Huke Kōwaro
Alternative titles for this job
Miners and quarry workers operate machinery, vehicles and equipment to extract and process minerals and rocks.
Pay
Quarry workers usually earn
Source: Mito and Minex, 2018.
Job opportunities
Chances of getting a job are average for miners and good for quarry workers, due to demand for minerals and building materials.
Pay
Pay for miners and quarry workers varies depending on experience and level of responsibility.
Quarry workers usually earn between $60,000 and $80,000 a year.
Miners usually earn between $80,000 and $150,000 a year.
Sources: MITO, 2018; Minex National Health and Safety Council, 2018.
(This information is a guide only. Find out more about the sources of our pay information)
What you will do
Miners and quarry workers may do some or all of the following:
extract, process and transport minerals or rocks
maintain, repair and operate mining or quarrying machinery
construct underground tunnels and install ventilation and roof supports
prepare and maintain roadways within the work area
set fuses and detonate explosives
carry out safety checks on air quality, machinery, equipment, vehicles and work areas
keep records of hazards.
Skills and knowledge
Miners and quarry workers need to have knowledge of:
different mining or quarrying methods
how to operate mining or quarrying machinery
how to handle explosives and blasting
mechanical skills to diagnose faults and carry out basic repairs
health and safety regulations
environmental regulations.
Working conditions
Miners and quarry workers:
often work long hours and usually do shift work, including nights, weekends and being on call
work in conditions that are dangerous, noisy and dirty
work in cramped or confined conditions in underground mines, or varied weather conditions in opencast mines and quarries.
What's the job really like?
Jamie checks out the job of quarry worker – 7.09 mins.
Jamie: Hi my name's Jamie Philip. I'm 17 years old and I go to Manurewa High School and I'm gonna find out what it takes to be a quarry worker.

Clint: First stop for Jamie is one of four quarries owned by HG Leaching Company.

Dean Torkleson: Gidday Jamie, Dean Torkleson H G Leach and Company. A little bit skinny for a bloody quarry worker. We'll tell you what we can do for ya.

Jamie: Cheers.

Dean: O.K Jamie let's get this makeover underway - hard hat for your head, pair of overalls to keep you clean. Nice hi-viz shirt to make sure you don't get run over 'cos I don't want to clean the mess up after you.

Dean: Crikey mate - that was quick! Right let's get out amongst it and see what it's all about.

Clint: Without the rock from quarries we would have no roads or buildings. There's a massive demand for aggregate and every year 11 tonnes, or one truckload of it, is used for every man, woman and child in New Zealand.

Dean: So the red represents what we're currently extracting, the blue is an overburden which is a material that we don't use - it's not suitable for extraction, but it still has to be removed to give us access to the rock below.

You fancy a go on that digger?

Jamie: Oh yeah.

Dean: Are you sure? Come on then, let's go.

Our guys can multitask to the point where they can operate loaders, they can operate the trucks, they're familiar with the crushing plant, the maintenance of that equipment even down to the diggers and bulldozers - so they get a huge variety.

Aaron Thwaites: Now engage that mate. Now she's ready to rock and roll OK?

Jamie: OK.

Aaron: OK mate for a start what you can do is just pull that arm back, the motor will rev itself.

Jamie: OK.

Aaron: OK mate now this is the motion you want to go for, you want to go down and then you want to pull back and curl at the same time.

Jamie: OK.

Aaron: OK? Hehe.

Jamie: Oh man, it feels a bit scary eh, you know? You are in control of a big metal object.

Dean: What we look for in a new employee is someone that's got a bit of enthusiasm, someone that's not too afraid to get dirty. You've got have a bit of a good mechanical aptitude.

Aaron: Very, very similar to playing PlayStation mate. What I found in this industry so far is that people that are good with playing computer games are normally good operators.

Jamie: I should have no worries then.

Aaron: Hahaha, exactly.

Dean: And another one is the team fit - what we look for too - which is very important.

Aaron: You go there, you go there, excellent Jamie! Nice mate, looks like you got a future.

Jamie: Haha.

Aaron: Hehehehe a future in this business.

Clint: But for now Jamie got to do what would be the envy of his mates.

Jamie: Jeez, I don't know, I don't know they'd believe me, you know, controlling a big digger like that, yeah it was really amazing you know just um, just you just feel the power of it you know, and you're picking up the rocks and everything and you can feel the machine shaking around and yeah, it was awesome!

Clint: Winding up the second year of his on-the-job Modern Apprenticeship Corbin is manning the machines, processing the very aggregate which Jamie dug up.

Corbin: This is the control panel for the bottom fixed part and then one feeder controls the number one bin, now there, and brings the rocks down to your number two bin. And it goes along your belt up to your AP screen. The screen separates oversized metal from the correct sized metal.

Jamie: You know, what's your, what's your favourite part of this job, what do you like doing?

Corbin: Ah, that'll be operating the machines, yeah probably the loader.

Clint: The final product finds itself separated into neat little mountains of metal, each graded by size and quality, each destined for various uses – from roading to building to concreting.

Jamie: So it's worth quite a bit?

Dean: Yes, very much so.

Jamie: And how much for this handful here?

Dean: Hehahaha, for you mate because you've done such a good job today it's free.

Jamie: Awesome.

Dean: Take it home with ya.

Jamie: So do you get much satisfaction out of your job?

Dean: Mate, love it, absolutely love it. Good team environment to work in, everybody chips in and does the same, everybody helps each other out. You will not get a better industry to be in.

Jamie: And what's the go with this thing hear, do you drive these?

Dean: Do you want to have a go?

Jamie: You sure?

Dean: Come on mate, let's have a look.

Mate, you're taking it down the road just a couple of kms down, all the best, good to meet you.

Clint: But Jamie's playdate with the big boys' toys is not over yet. He's paying a visit to the McDonald's quarry which specializes in lime, and today everyone's counting down to one hell of a bang.

Jamie: So what we're standing on here is this all going to be exploded?

Darcy Maddern: It is. This rock here for today, the area that we're blasting is going to equate to approximately 27 thousand ton of rock. This won't be here in the ten minutes time.

To do that we are actually using 3.5 ton of explosives in the ground.

Clint: Darcy started out at the bottom as a machine driver and worked his way up. He's now quarry manager and in charge of 15 men and millions of dollars of machinery.

Darcy: That detonator there, that's what we call a category eight, it will blow your hand off OK?

So we poke it down through there, push it right through, grab the rubber, put it back up and it locks - it can't go any further OK? So we load that into the hole holding it all the time so you've got control, you'll feel it hit the bottom, so from there we will let them load the explosives we'll come on up and put the surface delays on, OK?

Tory Norris: Today we're initiating the shot with our remote control system. The reason we're using the remote control system is for safety, safety is paramount in the quarry.

Jamie: Yip.

Tory: And we have the remote system, which pulls apart, and screws together. And you stand up to one kilometer away with this remote system.

Jamie: OK, and do you enjoy your job?

Tory: I love it. I love it. I've got customers right throughout New Zealand and I say if you're into a good explosion and a lot of travelling it's a brilliant job to be in.

And how would you like to try and fire this remote system today?

Jamie: Serious?

Tory: Yep, there's no worries I'll talk you through it.

Jamie: Awesome.

Clint: From packing bags to packing explosives - there's no doubt about it - Jamie's having an action-packed day.

Tory: So now what we'll do is press both buttons, keep that one pressed down and press that one down and the shot will go off.

(Loud explosion)

Tory: How was that?

Jamie: Hohoho, that's crazy!

(Loud explosion)

You can feel the ripple through your body.

Tory: You feel the shockwaves coming out – it's called the air blast, it's called the air blast when you feel the shockwave.

Jamie: It's awesome, it's cool.

Tory: It's what we do every day.

Clint: So did our boy Jamie blow it, or have a blast?

Darcy: Ah, Jamie did very well. Take him up to the blasting, the explosives, and he looked like a kid with fireworks. So that was great.

Dean: Jamie give me a call mate, I'm more than happy to take you on board.

Jamie: It's definitely been worth it, eh. I really recommend this for anyone else looking to go for a job in a quarry, it's really awesome.

Clint: To become a quarry worker you should be reasonably fit and strong with a liking for working outdoors. It also helps to have a mechanical interest and be able to work as part of a team.

You need to be over 16 and school certificate or NCEA equivalent English and maths are useful. Almost all skills are learned on the job and further education and training is available through the Extractive Industries Training Organisation.
Entry requirements
To become a miner or quarry worker you need to have a full driver's licence and pass drug and alcohol tests.
A heavy vehicle licence and a first aid certificate is useful.
Some employers may expect you to complete a relevant qualification such as a New Zealand Certificate in Mining and Quarrying (Level 2) while working.
Secondary education
There are no specific secondary education requirements to become a miner or quarry worker. However mathematics, construction and mechanical technologies, geography and physical education are useful.
Personal requirements
Miners and quarry workers need to be:
safety-conscious and able to remain calm in emergencies
able to work well under pressure
comfortable working underground, and in cramped conditions
able to follow instructions, but capable of acting on their own initiative
responsible, disciplined and able to work in a team
efficient and practical.
Useful experience
Useful experience for miners includes:
operating machinery
driving heavy vehicles
work in the construction industry
engineering or general labouring.
Physical requirements
Miners and quarry workers need to have a good level of fitness and must be strong as they work with heavy equipment. Miners must pass a physical examination every six months.
Miners and quarry workers may also be required to undergo regular drug and alcohol tests.
Find out more about training
MITO

0800 882 121 - www.mito.org.nz

Check out related courses
What are the chances of getting a job?
Limited opportunities for miners may improve
Opportunities for miners in New Zealand have declined since 2014 and around 600 jobs have been lost in the coal mining industry. This is due to:
poor prices for coal, oil and gold worldwide
limits on land for mining
closure of a major coal mining company.
However, opportunities for miners are still average and likely to increase due to:
an expected price rise for coal, gold and oil in 2018
new mines opening 
miners leaving to find better paid work in Australia
an ageing workforce, so many miners will retire soon.
There are around 4,000 people working in the New Zealand mining industry.
Construction boom creates good demand for quarry workers
Opportunities for quarry workers are good, with a 3% increase in jobs since 2007.
This is due to our construction boom, which has created high demand for building materials such as aggregates (the rocks used to make concrete).
Chances of getting a job as a quarry worker are expected to stay good until 2023, as the demand for building materials continues and older quarry workers retire, leaving vacancies.
There are currently around 1,900 people working in quarrying.
Types of employers varied
Miners and quarry workers' employers vary from small quarries that employ two people to large quarries and mines that employ hundreds of staff.
Sources
Collins, B, 'Everyone Wants to see any Job Opportunity', 23 November 2017, (www.radionz.co.nz).
Mito, 'Mining 2017','Quarrying 2017',2017, (www.mito.org.nz).
McDonald, L, 'Industries Fear Effects of new Government's Environmental Stance', 9 November 2017, (www.stuff.co.nz).
Parton, R, CEO, The Aggregate and Quarry Association of New Zealand, Careers Directorate - Tertiary Education Commission interview, March 2018.
Scanlon, L, 'Stockton Mine Workers to Keep Jobs', 28 June 2017, (www.odt.co.nz).
Scott, W, CEO, Minex National Health and Safety Council, Careers Directorate - Tertiary Education Commission interview, March 2018.
Stats NZ, 'Primary Sector Weakens', 21 September 2017, (www.stats.govt.nz).
Stuff, 'New Zealand's Coal Exports are on the Decline', 2 October 2017, (www.stuff.co.nz).
World Bank, 'Commodity Prices Likely to Rise Further in 2018: World Bank', 26 October 2017, (www.worldbank.org).
(This information is a guide only. Find out more about the sources of our job opportunities information)
Progression and specialisations
Miners and quarry workers may progress into jobs in supervision, management and engineering.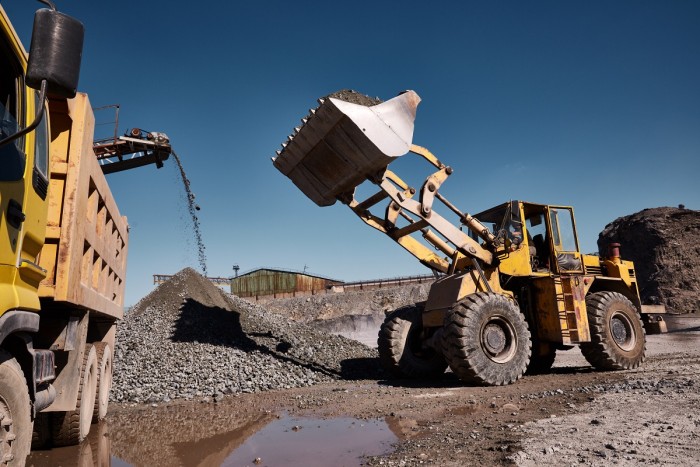 Last updated 31 October 2019